Estelí Gomez is having herself a February.
In addition to working with her voice students on the second floor of the Music-Drama Center, the Lawrence Conservatory's newest music professor is in the midst of a whirlwind schedule that has her, among other things, sharing a New York stage this week with the iconic Renée Fleming and then visiting New Zealand and Australia with an opera featuring her Grammy-winning chamber music ensemble Roomful of Teeth.
Preceding all that was a concert last week with the Fox Valley Symphony Orchestra and newVoices choir at the Fox Cities Performing Arts Center — her first public performance as a resident of Appleton — a brief stopover in New York to perform at the Lincoln Center on the American Songbook series, and an overnight to St. Louis for a recital with the Kingsbury Ensemble.
In between flights and performances, her teaching continues — from hotel rooms and rehearsal spaces she connects with her students remotely via Zoom for voice lessons, all the while showing them in real time what life as a working musician can look like.
"I'm living it," Gomez said of the Conservatory's mission to prepare students to live their best musical lives.
It's a blistering schedule, but Gomez, an in-demand soprano, makes no excuses. This is what she signed up for when she accepted an offer last year to join the Conservatory faculty, her first full-time teaching gig after a decade living on the road.
"What I desired was that both sorts of existences — the academic and the performer — would feed one another," she said.
A native of Watsonville, California, with a bachelor of arts from Yale and a master of music from McGill, Gomez spent 10 years in constant motion, touring with Roomful of Teeth and performing and recording with the likes of the Seattle Symphony and Silk Road Ensemble, among others. She won a Grammy Award with Roomful of Teeth in 2014 — the ensemble's 2013 debut album also earned composer Caroline Shaw a Pulitzer Prize — and is featured on the Silk Road Ensemble album that scored a Grammy win in 2017.
See more on the Lawrence Conservatory of Music here.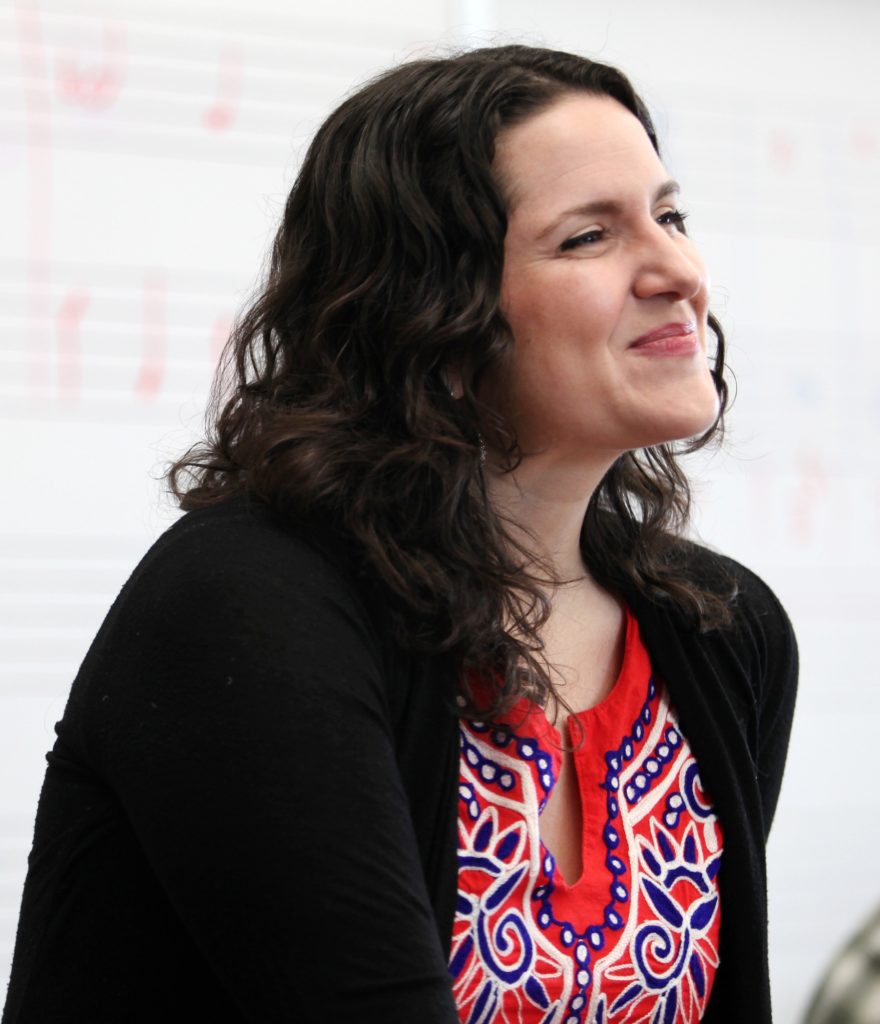 Chasing a dream
Gomez and her seven Roomful colleagues have served a number of teaching residencies and master classes at universities across the country, including two at Lawrence. The Lawrence experiences were so satisfying for Gomez that she listened intently when Dean of the Conservatory Brian Pertl in late 2018 first mentioned a coming opening on the Conservatory faculty.
"That was the beginning of this dream," Gomez said. "What would it look like if I actually lived somewhere? I'd been living out of my suitcase for about a decade. I had a storage unit in Montréal, my parents live in California, my partner lives in Austin, Texas, and I have a crash pad in New York City."
She was drawn to the idea of teaching in a Conservatory setting, especially one she held in such high regard.
"I had already been bitten by the bug of spending more time in an academic environment, for the resources, for the people who were interested in diving deep in creative ways," Gomez said.
But she also wanted to continue to perform on stages around the world. At Lawrence, that's a path that has already been paved many times over. Her performing would be embraced as an opportunity, not a problem. Pertl called her "a perfect fit for Lawrence, an exquisite musician with the heart of a liberal arts scholar."
The Conservatory's mantra to provide holistic music education for the 21st century, recognizing many paths to living a musical life, was all Gomez needed to hear. 
"It was the fact that my interests lined up so well with this place," she said. "That's what sealed the deal for me."
Gomez knew she had huge shoes to fill as she was joining the voice faculty following the retirements of the talented and much-respected Kenneth Bozeman and Joanne Bozeman, whose influences on Lawrence University had been long and impactful. She's tried to pick up where they left off.
"I'm so lucky they were my predecessors," Gomez said. "They have such wonderful systems set up."
She said she's soaking in the talent, expertise, and teaching wisdom of her Conservatory colleagues. At the Fox Cities PAC performance last week, she was joined on stage by two of those colleagues, Steven Paul Spears, a tenor and voice professor, and Phillip Swan, the co-director of choral studies who serves as artistic director and conductor of newVoices, a semi-professional community choir.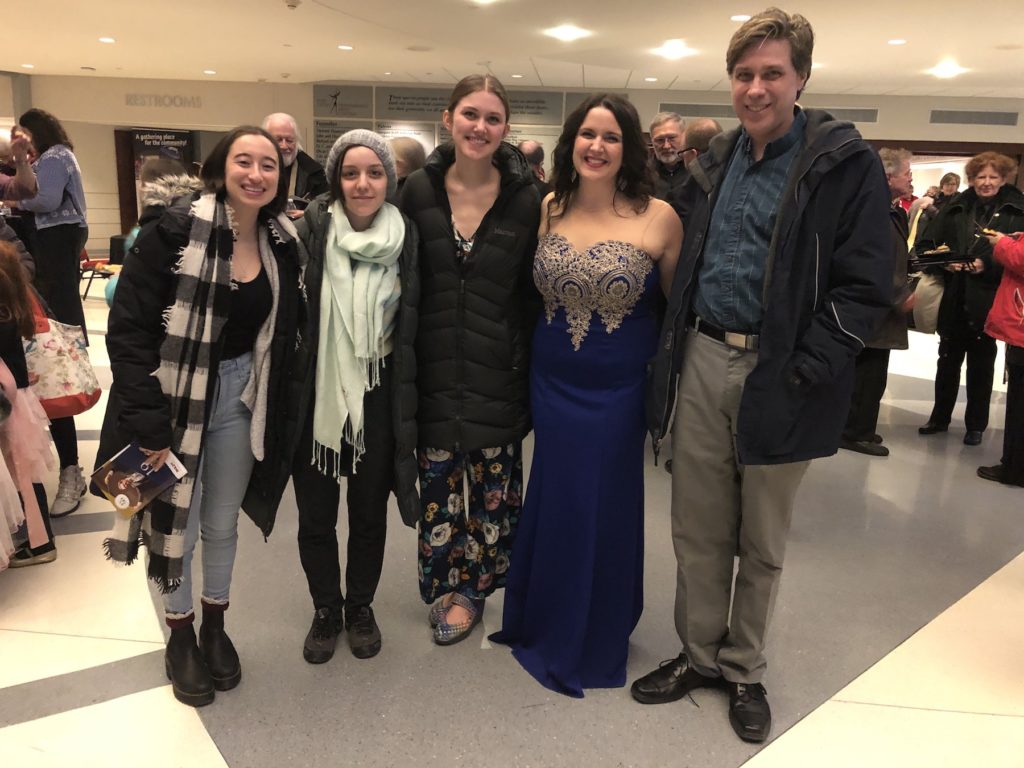 A new sense of place
The reality of her new gig —and the lifestyle change it signified — began to sink in for Gomez shortly after she arrived in Appleton last summer. She had a kitchen all to herself. And a consistent place to sleep. It had been a long time since she could say that.
It took some time to adjust, she said. Fall term was challenging, learning new systems and meeting new people. It wasn't until winter term that she began to settle into the rhythms of life on campus.
"There was a point where I slept better on airplanes than I did in my new place," Gomez said. "I had to remind myself, this is what is normal. But, slowly, the normal is shifting. I'm still getting to tour, but now I have more of an essence of grounding here, which has been a blessing."
Most satisfying, she said, is that it's giving her a chance to spread her wings as an educator.
"Now I have this long arc of getting to work with students on a weekly basis and really connect with them as people," she said. "It feels so much deeper. I so appreciate the chance to get to know them in a longer-form way than being a visiting master class artist."
Several of Gomez's students showed up at the Fox Cities PAC last week to show support for her performance with the Fox Valley Symphony and newVoices. That's part of the relationship-building between faculty and students that is so pronounced at Lawrence, where class sizes are small and one-on-one sessions with faculty are the norm.
"They're the building blocks for their singing life here," Gomez said of those faculty-to-student relationships.
They also are where her performance life and her academic life can intersect to provide teachable moments for her students, who are exploring what their own musical paths might be. Her performances, Gomez said, help inform her teaching. And her teaching helps inform her performances, whether here in Appleton or on the other side of the world.
"I think it's good for them to have somebody who is in it," Gomez said of her students. "And it's also good for my performing that I'm engaged with how to articulate what I believe is really good singing, really healthy singing, really efficient singing. I have to articulate that every day to my students over and over again and in a million different sorts of languages."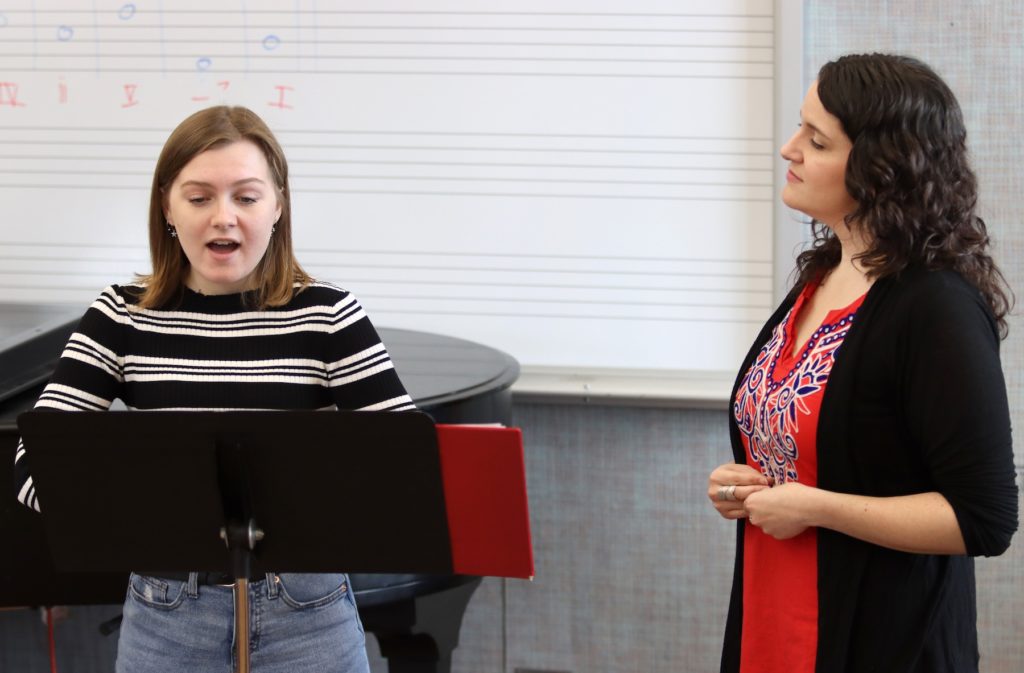 Sharing the stage with Renée Fleming
That brings us to this busy stretch. It's the three performances with the New York Philharmonic Feb. 20-22 in Lincoln Center's David Geffen Hall that's garnering the most attention.
Gomez is one of three soloists in the world premiere of a piece written by 2019 Pulitzer Prize winner Ellen Reid. It was commissioned by the Philharmonic as part of Project 19, which is marking the centennial of the 19th Amendment by commissioning works by 19 women composers.
"It should be a really eclectic, innovative program," Gomez said.
Fleming is featured in the second half of the concert, singing music of Björk.
Gomez has sung with the New York Philharmonic before, but this will be her first time performing on the same stage as Fleming, one of the country's most renowned sopranos. They have plenty of connections, though. Gomez's frequent duet partner has sung duet recitals with Fleming. And Gomez has sung with Susan Graham, Fleming's frequent duet partner.
"And apparently she's a Roomful fan, so I'm excited to meet her," Gomez said.
From there, Gomez will be back in Appleton for three days to teach, and then reconnect with her Roomful of Teeth collaborators for the trip to New Zealand and Australia for the Peter Sellars-directed opera Kopernikus.
Interestingly, Gomez was performing in Kopernikus in Europe when she had her first interview — via Skype — for the Lawrence position.
"I think it was something like 11 p.m. for me; it was maybe 4 p.m. here," she said. "We had just finished opening night in Toulouse, France. I joined for the champagne toast, ordered dinner at the cafe upstairs, then went down to the basement of the theater and said, 'OK, let's answer some interview questions.' So, all this now feels really interconnected."