Writing Door to Remain was a healing process for Austin Segrest.
The book of poetry, released this spring by University of North Texas Press, draws its focus and its inspiration from Segrest's late mother, known as Susu. She died in 2003, when Segrest was 23.
"She's kind of always been my muse," said Segrest, now an assistant professor of English at Lawrence University. "She taught me to write and was very literary herself. I always wrote to her; she was sort of my first audience for writing."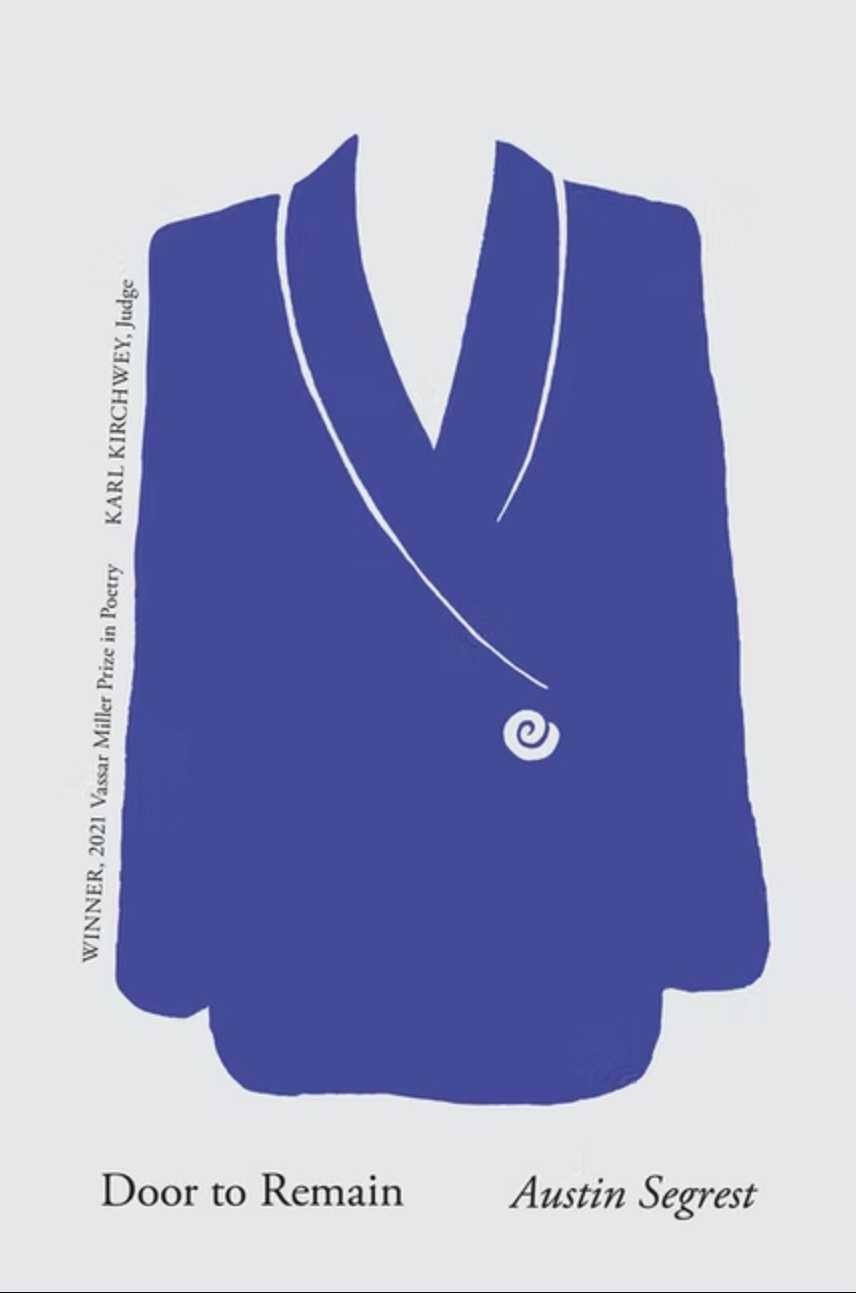 Door to Remain arrived in March, winner of the 2021 Vassar Miller Prize in Poetry.
The poems are not only about losing his mother, but about his childhood in Alabama and his journey in relating to her as a person and as an adult as he himself grew into adulthood after her death.
Door to Remain has been in the making for 12 years, Segrest said, but the journey has not always been a smooth one.
---
My Mother's Morning Walks
She took her turn around the house—
unreachable circumference.
She dropped below a hundred pounds,
a snail shell with the back blown out.
The shell's eye whorled around the house.
A roundhouse horse that walked her course
that circumscribed my universe,
she took a turn for the worse.
The axel's force that turned the stars
unharnessed from the horse.
---
Segrest began his career as a fiction writer but felt he was hitting a wall. After he picked up a copy of Mary Oliver's Twelve Moons, he started to fully embrace poetry. Before that, contemporary poetry seemed elusive and unapproachable, he said, but Oliver's direct approach seemed to give him permission to write poems about his life.
Amidst his grief and learning to cope with the loss of his mother, Segrest poured his emotions into his work.
He experienced ups and downs while writing and pushing for publication. But stepping away from his work at times enabled Segrest to gain fresher perspectives and refocus his energy. The passing of time enabled the poetry to come together and become more honed, he said.
Another challenge was the overall organization of the book. Door to Remain ended up relating solely to his mother, but initially he intended to include poems about other subject matter. However, during the final stages of its publication, everything clicked, he said. He stuck with the theme surrounding his mother and organized everything chronologically.
"It was a healing process for me to write the book," Segrest said. "But I think it helps others who have lost people, or with other traumas that are brought up in the book, and it speaks to them and it connects with them."
Lawrence has more than one path available for its English majors, including creative writing 
Segrest also knew that he wanted to work with a designer for his first book. He found Sarah Schulte's website, admiring her minimalist style. She came up with the purple suit design after being inspired by one of the book's poems, "Italian Suit." The suit in question was a spur-of-the-moment purchase by his mother while in Rome.
"It was so great that she wanted it, and Mom had that flair in her, but we were in the conservative, deep South," Segrest said. "So, I was trying to remember in the poem, did she ever wear it after she brought it back?"
Sadly, the last time Segrest remembers her wearing the suit was just before she passed away. He felt it was a beautiful, fitting design cover for Door to Remain because of all the mixed emotions that he associates with the suit.
---
Italian Suit
And surely she wore it
a few times before it would hang
bodiless, unoccasioned in her closet —
the sharp lines the flair
loud for Birmingham or Atlanta. 
—No, she wore it, I remember,
her last Easter at my cousin's,
blazing betrayed because she'd only come
out of propriety, because I said I would,—
but when I finally turned up,
booze-puffy and twenty, she was through.
So I made my Bloody and said fine,
you want to be like that.
---
Segrest teaches classes in poetry writing and literature, as well as First-Year Studies, at Lawrence.
He earned a bachelor's degree from Emory University, an MFA in poetry at Georgia State University, and a Ph.D. in literature and creative writing (poetry) at the University of Missouri.
He came to Lawrence as a visiting assistant professor of English in 2014 and was hired as a tenure-track faculty member in 2019.
Door to Remain is Segrest's first published book of poetry. In addition, his poetry can be found in POETRY, Ploughshares, The Threepenny Review, The Yale Review, Ecotone, The Common, New England Review, and other journals.
Segrest has shared his poetry in several book readings in and around Wisconsin this spring. Next up is a reading from Door to Remain at 7 p.m. May 7 at Cristian Andersson's Liminal Art Gallery in Neenah.
He also has been selected to deliver the spring Honors Convocation address at Lawrence, "Door to Remain: Community in Poetry's Threshold," at 12:30 p.m. May 27 in Memorial Chapel.