Lawrence University student organizations will celebrate Earth Day with a week of activities beginning April 17.
The sustainability-focused events will culminate with Earthfest, to be held on Main Hall Green on Earth Day, April 22.
The organizing of Earth Week is led by the LUCC Sustainability Committee, which brings together students from Lawrence's numerous environmentally centered student organizations, including Greenfire, Outdoor Recreation Club (ORC), LU Environmental Organization, and Sustainable Lawrence University Gardens (SLUG), among others, to discuss and support sustainability efforts.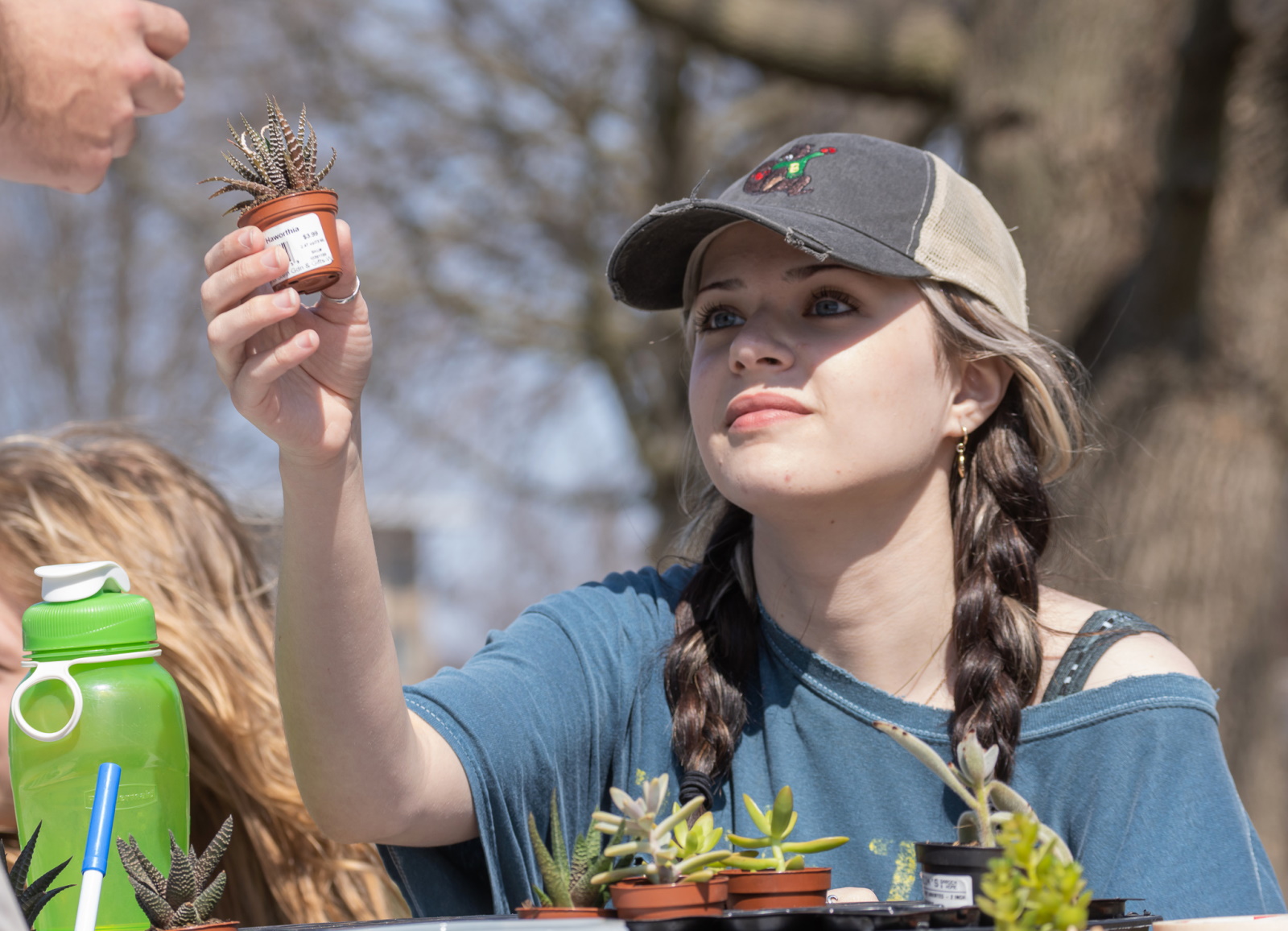 The student organizations will hold Earthfest on April 22, showcasing their efforts, recruiting volunteers, and bringing attention to important environmental initiatives. Meanwhile, each group will lead other activities throughout the week—Greenfire with a stargazing excursion to High Cliff State Park, ORC with a paddle outing on the Fox River, the Environmental Organization with a campus cleanup, and SLUG with garden celebrations dubbed Garden Power Hours.
Sustainability outreach
The LUCC Sustainability Committee launched as an ad-hoc committee in Spring 2021 and has continued to build momentum.
"We have helped Lawrence University commit to carbon neutrality, have provided sustainable menstrual products to hundreds of students, implemented new education programs around zero waste, and distributed sustainability kits to over 425 first-year students the past two years," said junior Anders Hanhan, a government and environmental studies double major who is serving as LUCC president.
Hanhan said he hopes outreach such as Earth Week will get students, faculty, and staff thinking pro-actively about sustainability.
"I hope that people can better understand how thinking and acting around environmental issues can be used as a stress reliever, or a learning tool, or to learn about a new way to have fun," he said. "Just being willing to think about ideas like sustainability, connectedness to the Earth, spending recreational time outside; these are all really important for people."
In the SLUG garden, Lawrentians will be invited to work side-by-side on tasks critical to preparing the garden for the growing season. The Garden Power Hours offer a chance to get your hands dirty while kicking in on a project that benefits the environment locally.
"Students can learn horticulture practices and skills from SLUG members, explore our ever-expanding garden, orchard, and apiary, and contribute positively to this beautiful community space," said Will Brenneman, outreach director for SLUG.
In addition to the garden hours, SLUG will be selling basil and tomato starts, as well as maple syrup, at the April 22 EarthFest.
While many of the Earth Week events are specific to Lawrence, some provide a connection with the wider Fox Valley. That is intentional, Hanhan said.
"Us internally acting in the best interest of the climate as Lawrence University is great, but there is so much amazing work in sustainability happening in the Fox Valley," he said. "It is important to empower and support each other. We really want to see Lawrence and Appleton as partners in addressing social, economic, and environmental inequality."
Earth Week schedule
April 17
5-5:30 p.m.: Lecture by Israel Del Toro, assistant professor of biology, in Wriston Auditorium. Del Toro has led research in the role that insects play in mediating ecosystem services. Working primarily in urban ecosystems, he investigates questions of biodiversity management and conservation in greenspaces, largely focused on insect pollinators. He also guides student work in the Sustainable Lawrence University Garden (SLUG).
6-7 p.m.: Garden Power Hour in SLUG.
April 18
5-5:30 p.m.: Native planting behind Warch Campus Center. This is an activity organized by the Center for Community Engagement and Social Change (CCE) and Appleton Rotary.
7:30-10 p.m.: Stargazing at High Cliff State Park. Organized by Greenfire.
April 21
5:30-7:30 p.m.: Garden Power Hour at SLUG.
8-10:30 p.m.: Wall-E movie showing at Warch Cinema.
April 22
10 a.m.-12:30 p.m.: Campus cleanup (meet at Main Hall Green)
1-4 p.m.: Earthfest, held on Main Hall Green.
April 23
11 a.m.-1 p.m.: Paddle on the Fox River (led by the Outdoor Recreation Club; meet at the Wriston turnaround)
2-5 p.m.: A recycling event led by the LU Environmental Organization.