Michael O'Connor has been selected as the new Riaz Waraich Dean of Lawrence University's Center for Career, Life and Community Engagement.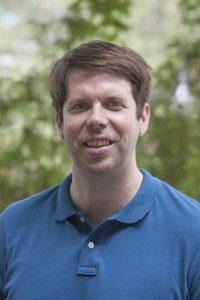 Currently the Director of Career Exploration at Williams College in Williamstown, Massachusetts, O'Connor will fill the newly endowed deanship. It's supported by a $2.5 million gift from J. Thomas Hurvis '60 that was announced in November at the launch of Lawrence's $220 million Be the Light! Campaign.
O'Connor will begin his new role May 1, overseeing a revamped and reenergized office that prepares students for life after Lawrence, develops and sustains networking connections with alumni near and far, assists in fellowship opportunities and enhances career connections in the community. He will report to Christopher Card, Vice President for Student Life.
For O'Connor, the opportunity to put into play the recommendations that came from the Task Force on Life After Lawrence – the final report was released in May 2018 – was too good to pass up. He praised President Mark Burstein's leadership, saying the enhanced commitment to career services for all Lawrence students ties in well with other initiatives designed to make Lawrence more accessible and increasingly responsive to student needs.
"I love the strategic direction the school is going under Mark's leadership," O'Connor said. "I love how the college is smart for investing in its core strengths, and raising its national profile while increasing affordability/accessibility and leveraging its unique learning environment.
"I love the integration of fellowships, community engagements, and career services under CLC, and see limitless potential for connecting our broader mission to both the broader Lawrence and Appleton communities."
Card said O'Connor's appointment "is the culmination of a national search for a distinguished professional to lead the center."
O'Connor comes to the Riaz Waraich Deanship following more than five years as director of the Career Exploration program that is part of the Career Center at Williams College. He is second in command at the Career Center, and spent seven months as its interim director in 2015-16.
He previously served as director of the Office of Career Planning at Sage Colleges in New York, and worked in career services at Union College in New York and Hiram College in Ohio.
He has a bachelor's of arts degree with a major in psychology from the University of Connecticut and a master's of arts and social sciences degree from Binghamton University with a concentration in student affairs and diversity.
Associate Professor of History Monica Rico, who was a member of the Lawrence search committee, said she was impressed not only with O'Connor's wide-ranging work with students but also his collaborations with faculty.
"Mike has a proven record of developing, implementing, and refining approaches to post-graduate life that connect with students at all phases of their college experience," Rico said. "He's emerging as a nationally known expert on career planning for liberal arts students."
Anne Jones, who has served as the interim dean of the CLC for the past year, will continue in that role until O'Connor arrives in May.
"I want to acknowledge the amazing work by Anne Jones, who has led that department with distinction since February of last year," Card said.
The deanship is named after Hurvis' business partner, Riaz Waraich, as recognition of how quality partnerships are often key to career success.
That's a theme O'Connor is looking to build on in his new role.
"I loved the thoughtful design of the position and fabulous work by the Life After Lawrence Task Force," he said. "I think the CLC team is poised for big things."