Brighter Together banners and the flags of 31 countries and five indigenous tribal nations displayed on the front of Main Hall provided a dazzling backdrop Thursday as Lawrence University welcomed the Class of 2025 to campus.
"I want you to remember that you are surrounded by light at Lawrence," President Laurie A. Carter said in a President's Welcome ceremony that was moved from its traditional space in Memorial Chapel to the outdoor setting in front of Main Hall. "Look around you at your classmates, your faculty, your staff and administration, and the upper-class students. Our lights will always be here to light your path when you need us. That is what it means to be a Lawrentian."
The President's Welcome was the centerpiece of a busy move-in day across campus, kicking off four days of New Student Orientation. The sun shone bright and temperatures topped out at 70 degrees; the banners—along with Brighter Together T-shirts worn by students, faculty, and staff—and the flags representing members of the incoming class added to a gorgeous setting as Lawrence continued to bring back to campus all of its students for the first time since the COVID-19 pandemic began more than a year and a half ago.
Large gatherings such as the President's Welcome and the parents' reception were moved outdoors to accommodate pandemic protocols.
Returning students will move in this weekend in advance of Fall Term classes beginning on Monday. But New Student Orientation is all about the first-year students, more than 410 strong, and the 15 transfer students now calling Lawrence home. Events ranging from open houses and tours to a resource fair and the signing of the Honor Code highlighted opening day.
Lawrence plans in-person classes with safety protocols in place.
The President's Welcome ceremony also marked Carter's first in-person address to the Lawrence community since beginning her tenure as the university's 17th president on July 1.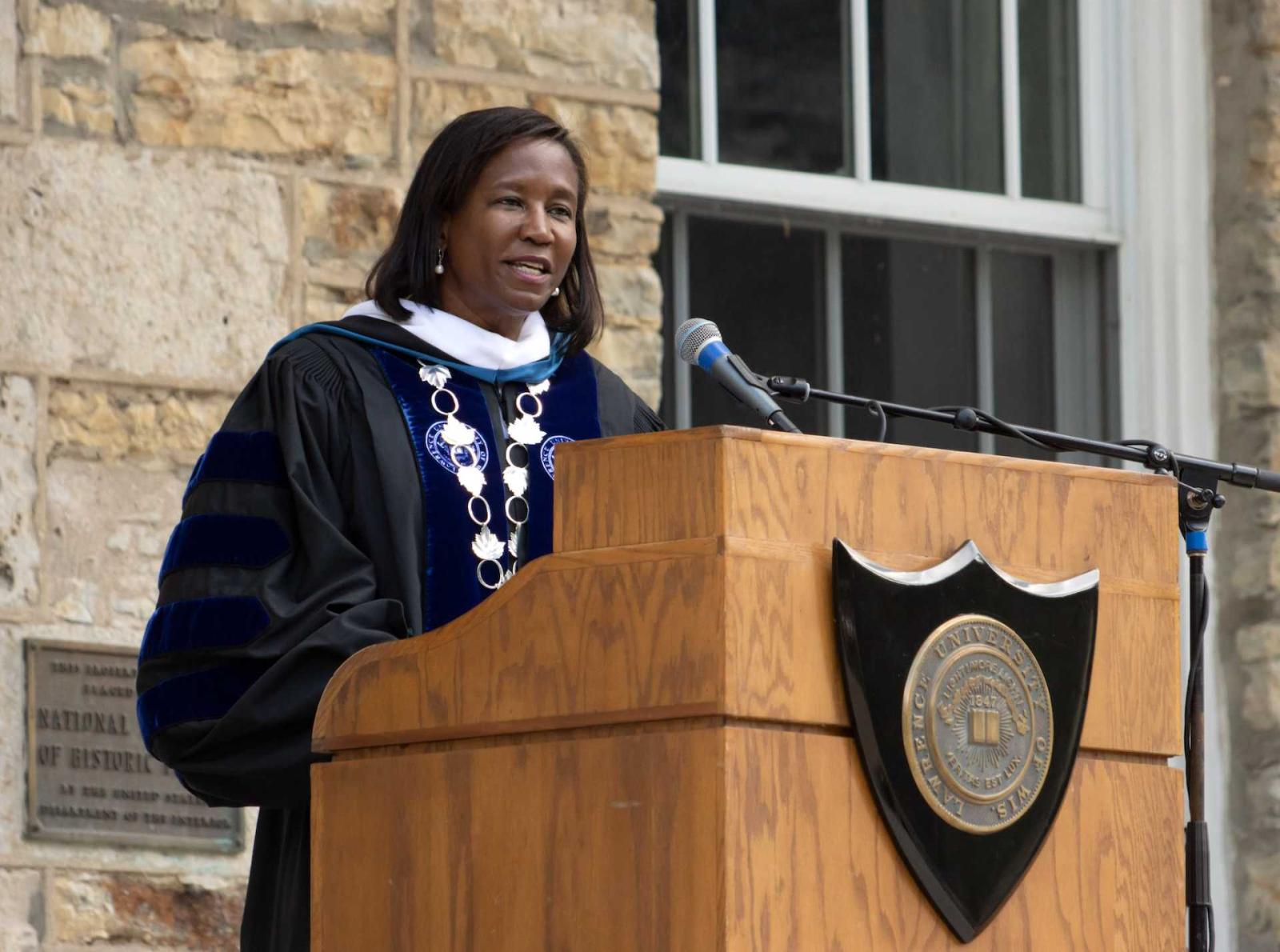 "I came to Lawrence because I was drawn to its light," Carter told the incoming students and their families, gathered amid the trees and flowers in front of Main Hall. "Lawrence's mission of creating lifelong learners who are committed to making meaningful contributions to society inspires me. But I was also attracted to its faculty, staff, and students, who are committed to working together to make the world a brighter place."
John Holiday, associate professor in the Lawrence Conservatory of Music, sang of light and unity at the outset of the ceremony. Christopher Card, vice president for student life, and Catherine Gunther Kodat, provost and dean of faculty, welcomed the students, imploring them to be actively engaged with their fellow Lawrentians in and out of the classroom.
Senior Kelsi Bryant, president of the Lawrence University Community Council, encouraged the new students to embrace the traditions of Lawrence, many of them built on gratitude and outreach. She joined other members of the Class of 2022 in presenting the class color—purple—to the Class of 2025.
"With our dynamic faculty and supportive staff, you are in very good hands," she told the first-year students.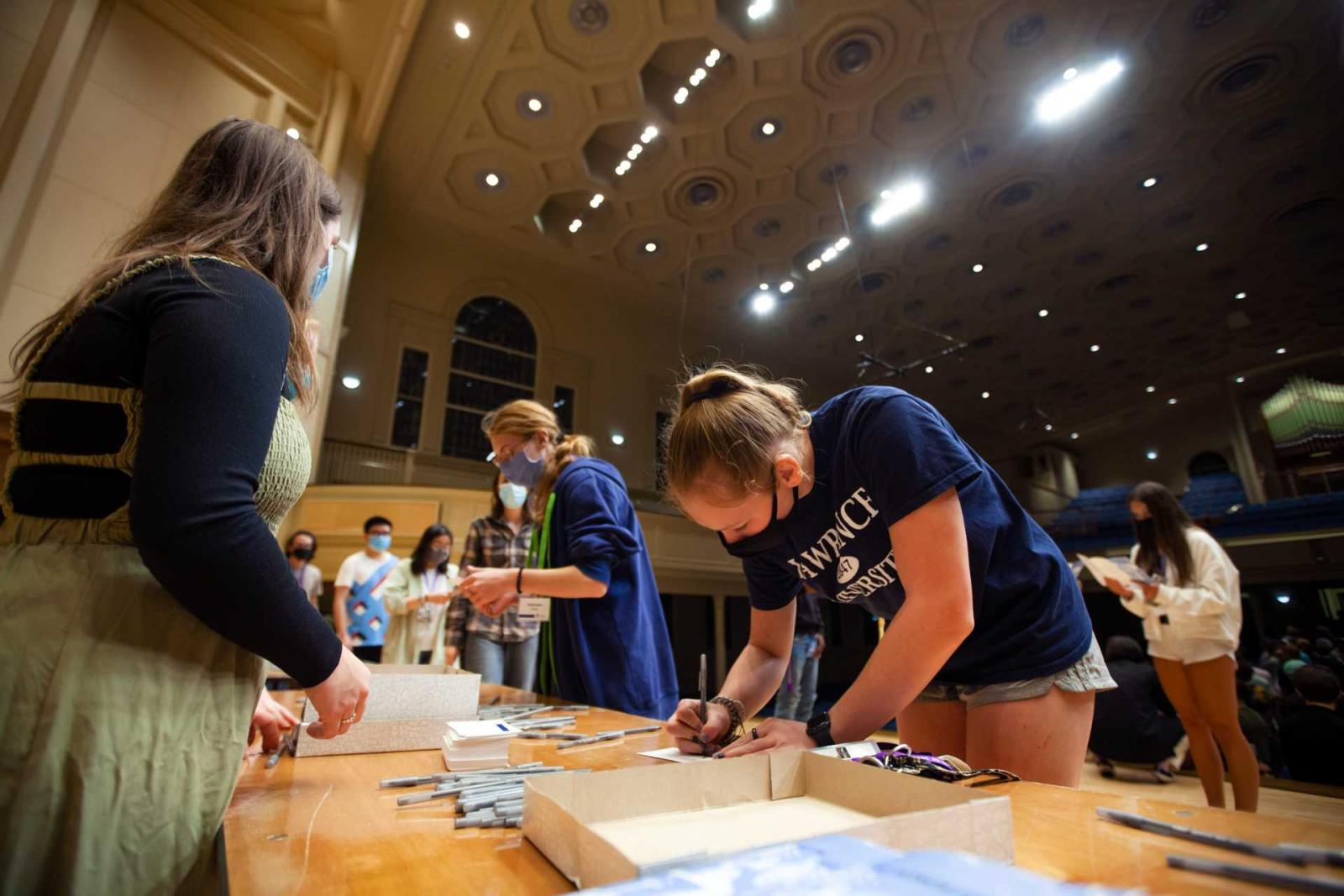 Ken Anselment, vice president for enrollment and communications, called the incoming class "one of the largest and most impressive" in the history of Lawrence.
"This class has some of the strongest academic credentials we have seen in a long time," he said. "Considering that they have performed at such a high level while learning in the midst of a pandemic speaks volumes about the resilience and readiness of our newest Lawrentians. They are going to do great things."
Anselment said members of the class come from 34 states, the District of Columbia, and Puerto Rico. Another 30 countries are represented, as are five sovereign native nations (Menominee Nation, North Dakota Mountain Chippewa, Hopi Nation, Nenana Native Association in Alaska, and Native Hawai'i).
The state with the largest number of incoming students is Wisconsin (23%), followed by Illinois, Texas, Minnesota, California, New York, Colorado, Washington, and Oregon.
Anselment said 27% of the Class of 2025 identify as BIPOC or domestic students of color. Another 10% are international students, led by China, South Korea, Japan, Vietnam, and Canada.
About 84% of the students are pursuing a degree in the college, with the other 16% seeking a degree in the Conservatory. Twenty-six of those students are doing both.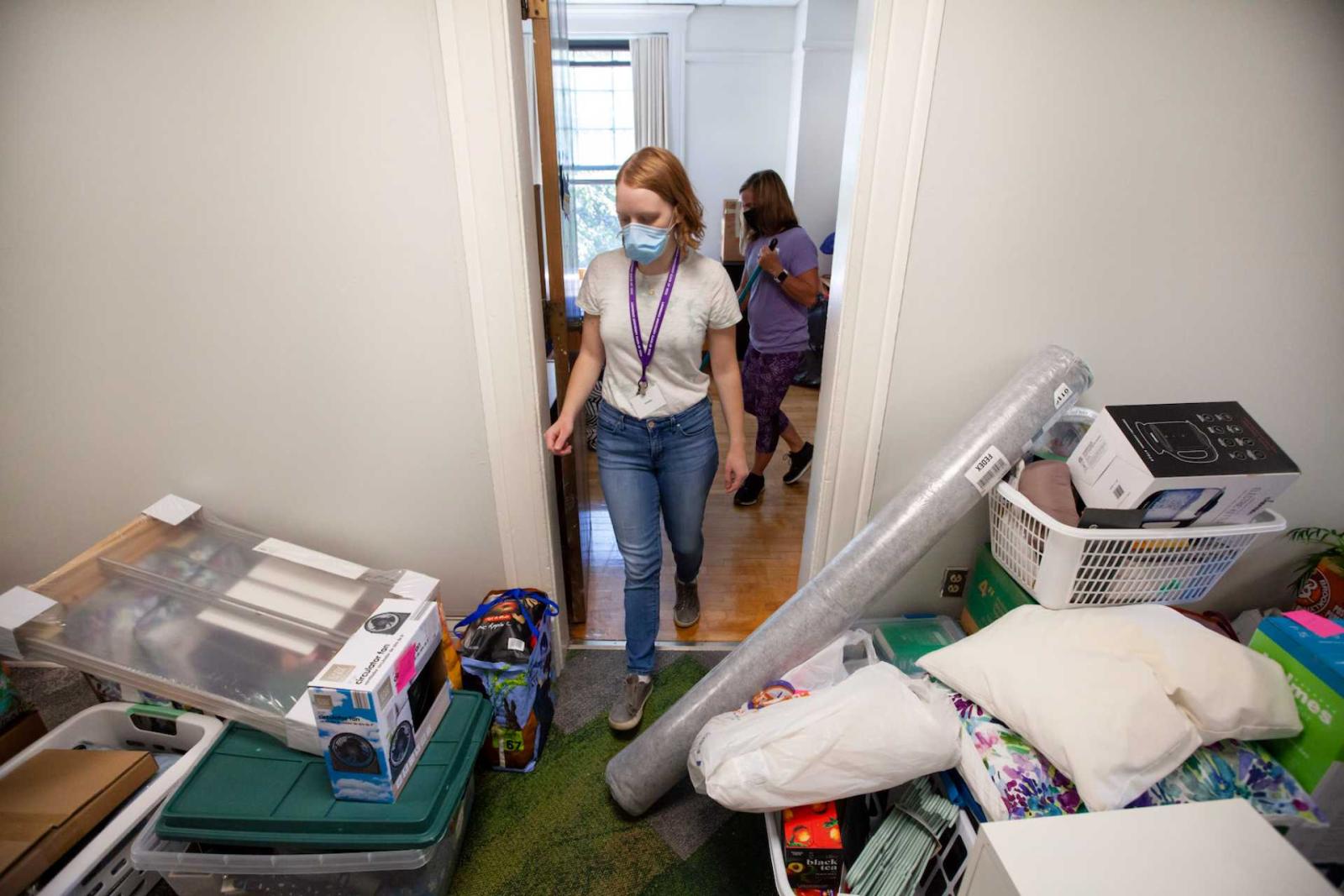 More than 20% are first-generation college students.
About 100 members of the class will be competing as varsity athletes.
"Brighter Together" was adopted as a mantra to begin this academic year, a nod to both the power of collective light that Lawrence has long leaned into and the return of in-person classes after four terms of mostly distance learning. It is reflected in signage placed all across campus, on the T-shirts donned by faculty and staff to show support for students, and in the words shared by Carter in her welcoming message.
"The last 18 months have been dark days for many of us," Carter told the incoming students. "The pandemic changed how we live and learn, but it did not change your desire to grow and develop. Your resilience and strength have led you to pursue your higher education at a place that is committed to helping you find your best self, while drawing on your light from within. And that light, when joined with others within our Lawrence community, is why we say we are brighter together."
Scenes from move-in day