Electric guitars and synthesizers could soon become as familiar as violins and bassoons in the Lawrence Conservatory of Music.
A new degree program is being introduced at Lawrence University that is expected to open the school's Conservatory of Music to a wider group of student musicians. Bachelor of Musical Arts (B.M.A.), with a Jazz and Contemporary Improvisation track, has been added to Lawrence's degree options, joining Bachelor of Music (B.Mus.) and Bachelor of Arts (B.A.).
It's a new avenue for a conservatory whose history dates back to the 19th century. Built on the strength of a nationally recognized jazz program that has been earning major honors since the 1970s, the new degree expands on the classical music component in the Conservatory, allowing students for the first time to audition with non-classical repertoire. The foundation is in jazz and contemporary improvisation, but the degree is built to accommodate a wide range of music making.
The B.M.A. degree, in place beginning this academic year, has a 50-50 split between music studies and a student's choice of another field in the liberal arts landscape, with expectations to connect the two.
Bachelor of Musical Arts degree
The high standards haven't changed. The audition process for acceptance into the Conservatory remains intact, and the skill-development expectations continue to be top level. But for prospective students eyeing the B.M.A. degree, the audition no longer needs to be limited to pieces from the Western classical repertoire, potentially opening the door for students who see their strengths and interests in jazz or pop or hip-hop or another music genre. And the new degree presents an alternate path of study for classical musicians, as well.
It unwraps all sorts of additional choices, said Brian Pertl, dean of the Conservatory. 
"The new degree will open the Conservatory to a broader range of musical interests," he said. "No longer does a student have to audition on a Western classical instrument and perform classical repertoire. Drummers, electric guitarists, fiddlers, keyboard players, jazz vocalists, songwriters and contemporary composers are all welcome to audition into the new program."
Lawrence Conservatory of Music
This isn't completely new territory for the Conservatory. It has long had a thriving jazz program. Lawrence won the first of its 28 Downbeat jazz education awards as far back as 1985, its latest as recently as April, picking up the award for the best undergraduate large ensemble for the second consecutive year. But current students have had to come into the jazz track via the classical music auditions and training, then seek a jazz emphasis while also studying classical repertoire. 
The current B.Mus. degree, Pertl said, works well for many aspiring musicians who seek both classical and jazz training, but it leaves out those whose aspirations do not include the classical side of performance training. The new degree will rectify that. It also will expand the opportunities to tap into music-related fields that don't necessarily involve performance.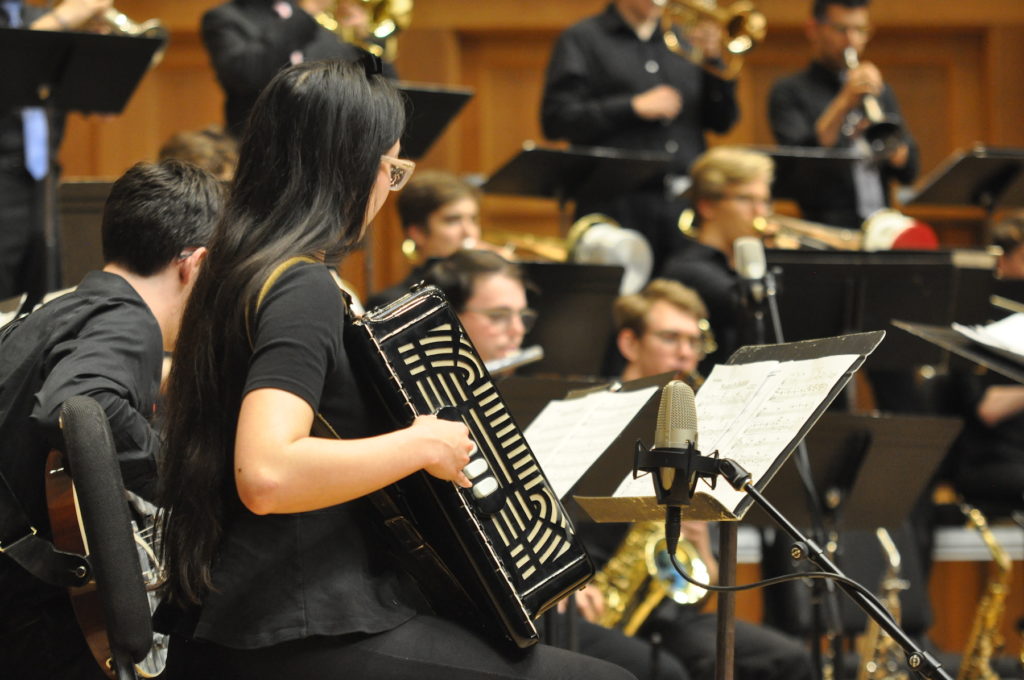 Read more: Lawrence University Jazz Ensemble wins DownBeat Award for second consecutive year
Read more: Roomful of Teeth's Estelí Gomez to join Lawrence Conservatory
The late Fred Sturm, who oversaw the jazz studies program at Lawrence for 26 years, began laying the groundwork for the new degree prior to his death in 2014.
What started as a specific focus on jazz eventually grew into the more wide-ranging B.M.A. degree, Pertl said. The degree allows the Conservatory to welcome in musicians who don't necessarily fit a certain musical footprint.
"Last year, for example, we graduated an exceptional student from Chicago named Bernard Lilly," Pertl said. "Bernard is an amazing soul singer. He'd been singing long before he came to Lawrence and sang all the way through Lawrence, but he never took any courses in the Conservatory because he didn't feel like there was anything there for him, until his last term in his senior year when he took my entrepreneurship class and studied with (voice professor) John Holiday, and worked with professors in our jazz department. He would have been a perfect candidate for a B.M.A. degree.
"To be able to give students like Bernard high-level musical training will certainly broaden what they can do. But it also expands the musical culture of the Conservatory, mixing different genres and different musical sensibilities. This will be a huge advantage to everyone at the Conservatory."
Students pursuing a B.Mus. degree in the Conservatory take about two-thirds of their classes in their major area of study and about one-third in general education or electives. Music students who pursue a double degree — a music degree and a B.A. in the college — do so on a five-year plan.
The new B.M.A., meanwhile, combines high-level music study with another field of interest in a four-year plan. As part of the degree requirements, students pursue a cognate focus that makes up 15% of their coursework. The cognate allows them to deeply explore another area of interest that ties into their music studies.
"It could be musically oriented but in the area of anthropology," Provost and Dean of Faculty Catherine Kodat said. "Or musically oriented but in political science."
Core classes, one-on-one work with faculty and a wide range of electives give B.M.A. students opportunities to carve their own musical paths, some performance based, some not.
That, said Patty Darling, director of the Lawrence University Jazz Ensemble, speaks to how music can inform so many disciplines in a variety of ways. Today, preparing young musicians to pursue their musical lives can't be limited to focusing solely on technical mastery. Each year, opportunities will arise that don't exist today, so musicians need to pair their high-level musicianship with high-level thinking, creative problem-solving, and the flexibility to capitalize on opportunities that others don't even see.
Flexibility, an ability to adapt quickly, and a willingness to collaborate are all key attributes for anyone entering the world of music in the 21st century. Blending those core musicianship skills with an education in a student's other field of interest is the next step in keeping the Conservatory forward-thinking.
"A lot of these students who come in wanting to create their own musical voice are pretty self-directed already," Darling said. "While they'll be gaining a lot of these core musicianship skills, they also want to be able to access entrepreneurial practices, music business models and opportunities for internships.
"It's really interesting how the recording scene has developed, how music publishing has changed," she said. "Even large ensembles and orchestras — all these musical opportunities have transformed dramatically in the last 10 years and students need the ability to self-promote. That's a very important skill to have … to be able to put your best self out there."
Pertl called the B.M.A. a natural progression for the Conservatory as it embraces and nurtures the modern musician.
"At Lawrence, we've already been incorporating so many of the elements of improvisation and world music into the trajectory of a classically trained musician for the same reason," he said. "It's going to be the flexibility of art, and of mind, that will help you to successfully create your musical life."