Lawrence University sophomore Tashi Litch is a mandolin player with a passion for bluegrass music and a deep curiosity about the world.
So, when the Orcas Island, Washington, native set out to select a college, he had two priorities in mind. He sought a music conservatory willing to nurture his bluegrass skills, and he sought a college that would allow him to explore academic subjects across the liberal arts. He found what he was looking for in Lawrence's Bachelor of Musical Arts (B.M.A.) degree, launched three years ago with a focus on jazz and improvisational music but open to almost any genre of music. Its 50-50 split between music courses in the Conservatory and non-music courses in the college gave him what he needed.
Litch is now one of more than 30 students who have come to Lawrence via the B.M.A. program since it launched in 2019.
"Lawrence was one of the few that has a college and a conservatory and allows students to participate in both," he said. "That was pretty important to me, to be able to study music at a high level and also be able to take liberal arts college courses. That's what drew me in."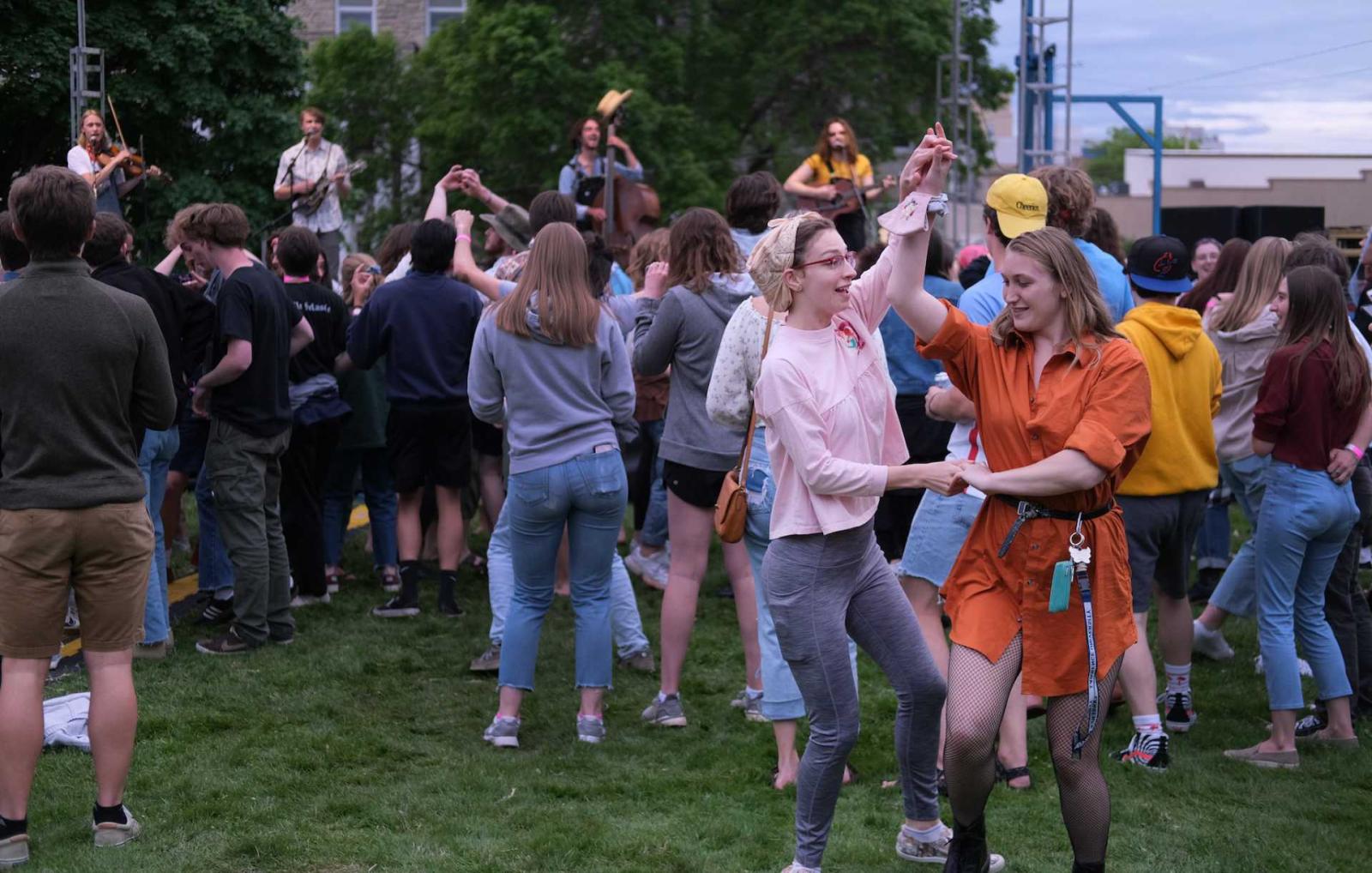 A love of bluegrass
Since arriving at Lawrence, Litch has found his interest in bluegrass nurtured, embraced alongside the classical and jazz repertoire that has long been the Conservatory's calling card.
He connected almost immediately with a fellow B.M.A. student from Washington state, Evan Snoey, a fiddle player who shares his deep love of bluegrass.
"We knew each other from out in Washington," Litch said. "He is a year ahead of me and he had felt out the scene here and knew a few players. When I got here, I said, 'We have to do something, we've got to play some bluegrass.'"
That led them to Dominic LaCalamita, a B.M.A. student from Naperville, Illinois, and Ian Harvey, a music and philosophy double major from Seattle. Together they became The Woebegones (they were earlier known as Highcliff).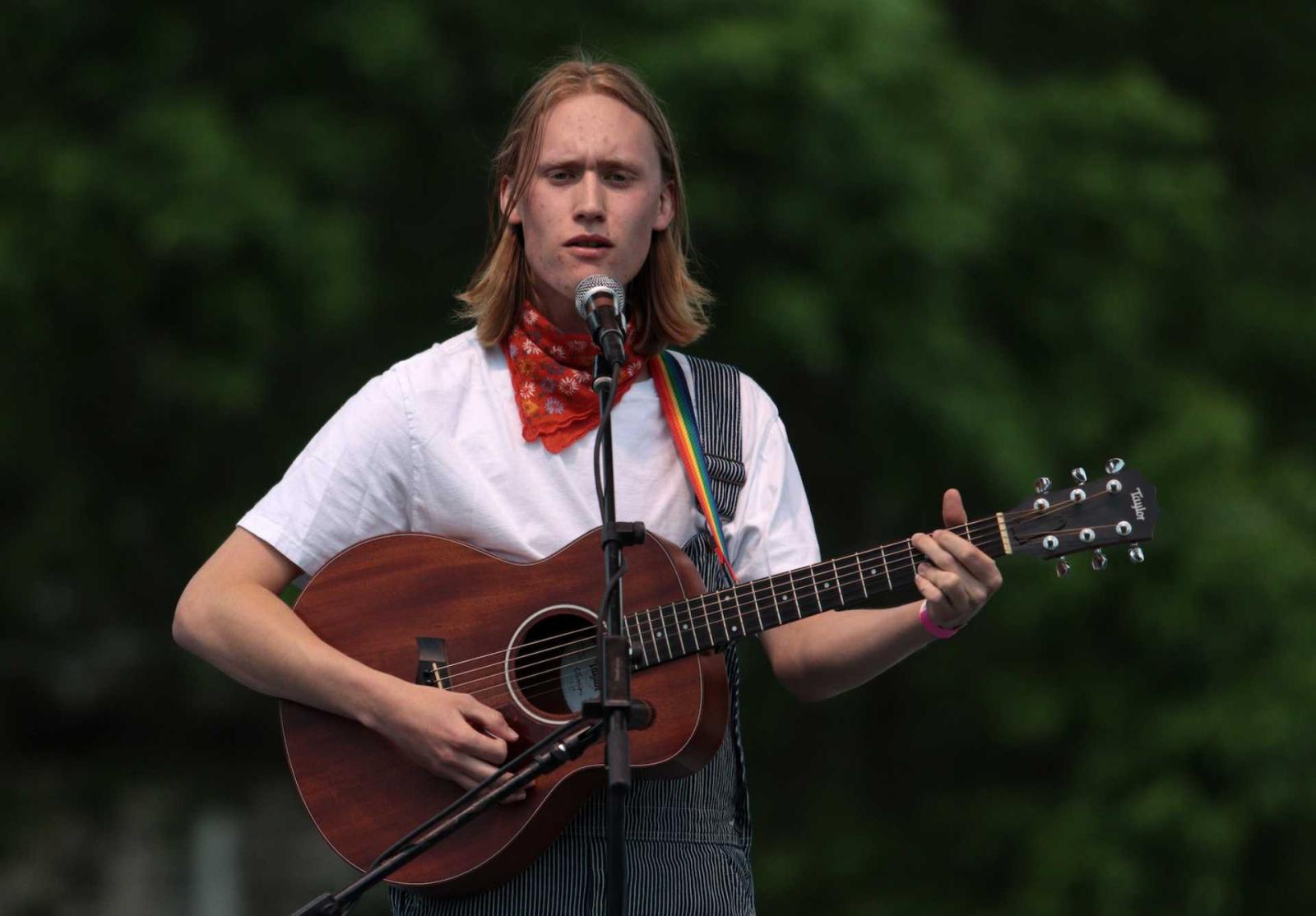 Coached by Matt Turner, a music instructor in the Conservatory, the foursome has been pushing the boundaries, turning a Billie Eilish song into a bluegrass tune, covering a song by The Strokes, and embracing the progressive bluegrass sounds of the Punch Brothers. They're also playing some bluegrass standards and have a couple of originals in their set.
They're getting a chance to show their skills on a big stage during the first weekend of October. The foursome has been invited to perform at the annual IBMA World of Bluegrass Festival in Raleigh, North Carolina. They'll be performing as the Lawrence University Bluegrass Band as part of Saturday's College Band Showcase.
Litch had connections with some of the festival organizers after having played the festival in his youth as part of a Kids on Bluegrass collective.
"I thought it might be cool to put our names in and see if we can go out there to play," Litch said. "And here we are. We're going to be doing an hour-long set on one of the big stages."
Litch said he grew up playing the fiddle and then the mandolin. He tagged along to jam sessions with his musical family and spent much of his free time trying to emulate the skills of mandolinist Chris Thile. He hit the road during recent summers to play at bluegrass festivals as a duo with his brother.
Now studying at Lawrence and playing in a quartet with other talented music students is raising his game, he said.
"I'm used to playing with a duo, so having the four-piece band was a really different dynamic for me," he said. "It's really exciting. There are so many more possibilities and directions we can go with that. I love the more high-energy type of bluegrass that you can do with four of us."
A beautiful fit with B.M.A.
That's sweet music to Turner, who has worked closely with the bluegrass foursome while also welcoming B.M.A. students focused on jazz, electronic music, punk, mariachi, global music, and songwriting. They are students looking for high-level music and theory instruction but through a lens of their own choosing.
"I think I can safely say that most of these students would not have come to Lawrence if the B.M.A had not been here," Turner said. "We're very excited about all of these students. They're really good musicians and they're great scholars, which is an important part of the B.M.A. because it's a 50-50 split between non-music and music courses."
Mariachi Ensemble finds a home in the Conservatory
Brian Pertl, dean of the Conservatory, said it's no coincidence that three of the four members of the bluegrass band are seeking B.M.A. degrees. They are following a path that was envisioned when the program was first rolled out.
"Although the specific track in the B.M.A. degree is called Jazz and Contemporary Improvisation, the program welcomes students interested in a broad range of contemporary music styles," Pertl said. "The common thread is that all of our students, no matter their primary focus, are musically curious, collaborative, and boundary-crossing. These students have brought bluegrass in as another prominent voice in our multi-faceted musical community, so they really are a perfect fit for Lawrence and the B.M.A. program."
Litch said he has felt that love since the day he brought his mandolin to campus.
"I've been able to improve my skills as a musician technically, but also my theory understanding, especially with jazz theory, which complements bluegrass and makes me a more well-rounded musician," he said.
"The whole ethos of the B.M.A. program is that anyone is welcome," Litch added. "So, for me, with bluegrass, it's been great. It's been really supported."