Handel's Alcina, an 18th-century baroque opera, will be set in a traveling carnival when it is presented March 2-5 by Lawrence University's award-winning Opera Theatre program.
There will be clowns—14 of them, cut out of wood, one standing a massive 16 feet tall and 20 feet wide—and a tunnel of love, a house of horrors, and hall of mirrors, among other attractions, as the technical crew transforms Stansbury Theater into a magical and alluring space.
The opera is being directed by Copeland Woodruff, Lawrence's director of opera studies and associate professor of music, in collaboration with music director and conductor Kristin Roach, assistant professor of music.
The opera, sung in Italian with music by Georg Frideric Handel, was originally set on a magical island created by Alcina, a seductress who lures her victims to the island before turning them into wild animals.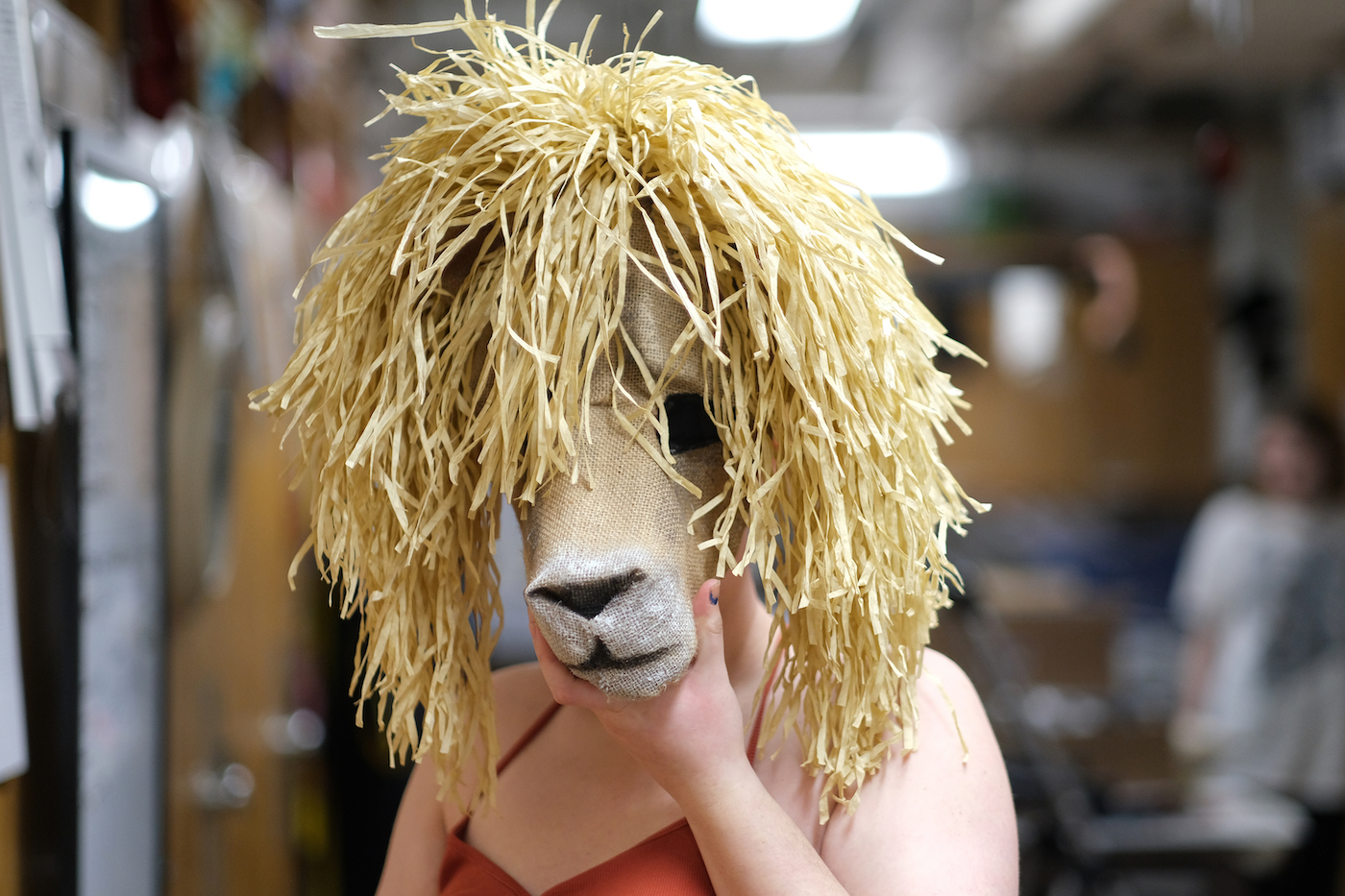 Woodruff and his students set out to reimagine that space.
"I was trying to find an environment that would excite the students and let them feel like they know the world they're in," Woodruff said. "We're not just putting them in powdered wigs and high heels and hoping they'll understand what 18th century life was like. We attempted to try to humanize it, so they can make a one-to-one connection with it."
Not wanting to sanitize or romanticize the past, Woodruff said he was looking for a setting that would serve as a "literal attraction." The traveling carnival came to mind.
"We thought it was a place that could be both enticing and seductive, but also dangerous," he said.
That set the production team on a mission. Led by student designer August Hendrix, a sophomore theater arts major from Concord, California, and with guidance from technical director Austin Rose, the crew worked for months to create a visually stunning set.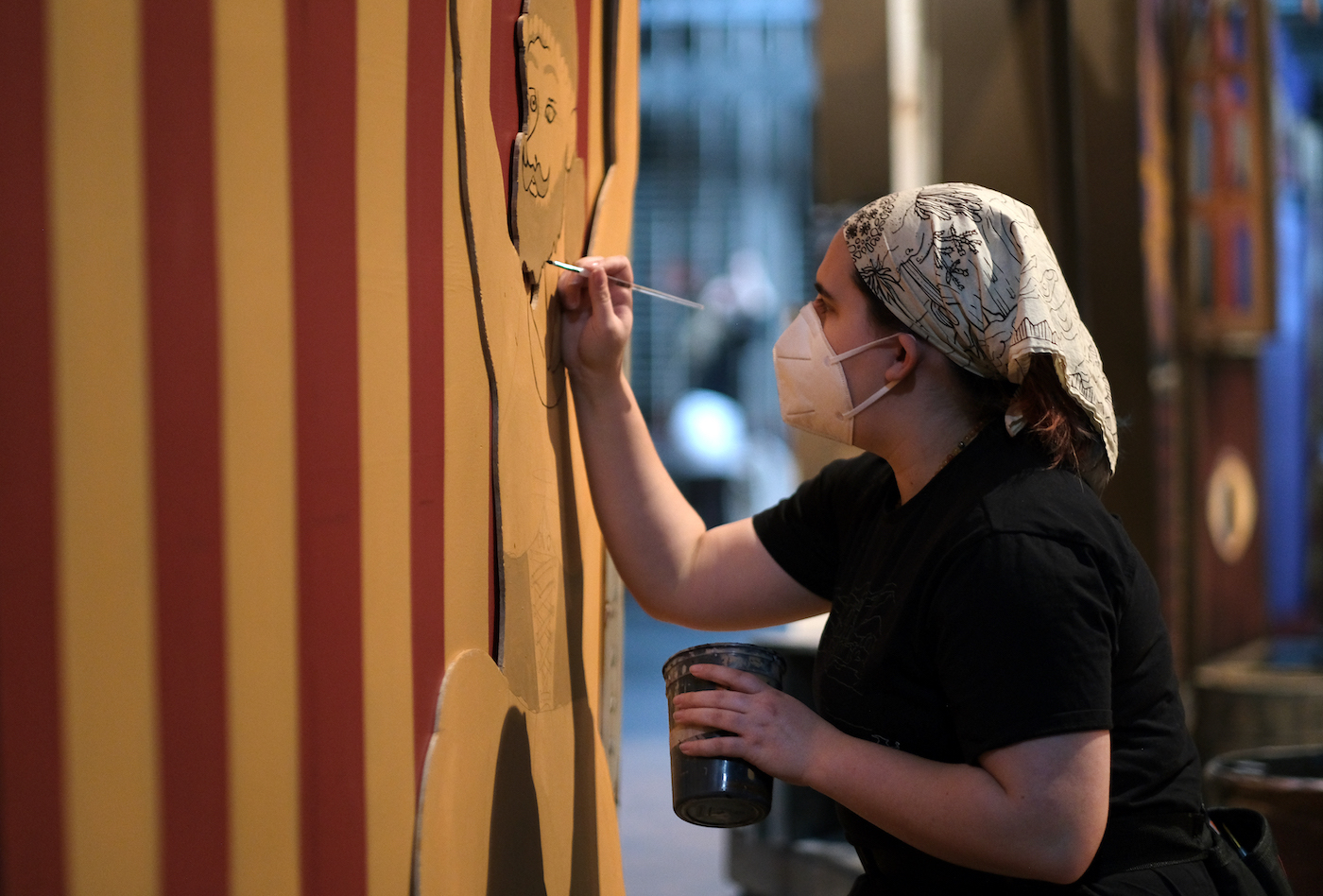 Hendrix, who embraced the lead role, said the creative process intersected with a lot of things they're drawn to.
"My favorite part of designing and building this set has been getting the opportunity to create something that is so aligned with a lot of my interests in the media I consume," they said. "I really thrived being able to create something that rides the line of just slightly unsettling. I took a lot of inspiration from podcasts such as The Magnus Archives, Welcome to Night Vale, and Critical Role (Campaign Two)."
In addition to the massive clown, whose mouth serves as both a welcoming and potentially fright-filled cave entrance, the Alcina set includes:
13 additional clowns, each slightly different than the next.

A wagon motif inspired by tarot cards.

15 colors used in the painting—often repeating the same color for different set pieces.
"This is a very large production where every element needed to be hand drawn, cut, and painted," Rose said.
Seeing it all come together has been a thrill.
"We are excited about sharing the world we have created with the audience," Rose said. "We hope the little details are picked up on. There are so many symbols and motifs that are important to the student designers and workers thrown into this set design."
In Lawrence's opera studies program, you will combine technique-building workshops with productions to hone skills as a singing actor.
As for the clowns, well, Rose is hopeful they'll be well received.
"We hope that the clowns aren't too disturbing for anyone," he said, "and that the fun we have had building this world translates through the production."
The Opera Theatre program, which has received multiple honors from the National Opera Association and has been the recipient of American Prize awards several times in recent years, performs one main-stage production each year, as well as a series of opera scenes throughout the academic year. 
The lead role of Alcina will be played by Lily Nittler on Thursday and Saturday and Caroline Huber on Friday and Sunday; her love, Ruggiero, will be played by Quinn Vincent on Thursday and Saturday and Casey Joan Kollman on Friday and Sunday. In all, 20 students fill out the cast and chorus, plus another 25 in the orchestra.
"I'm thrilled that they've been able to tackle something like Handel, which is extremely difficult," Woodruff said. "I think they're doing a beautiful job with it."
If you go: Handel's Alcina will be presented at 7:30 p.m. March 2-4 and 3 p.m. March 5 in Stansbury Theater inside the Music-Drama Center. Tickets are $15 for adults, $10 for seniors, $8 for non-LU students; Lawrence students, faculty, and staff receive two free tickets with an LU ID presented at the box office while supplies last. Lawrence's box office can be reached at boxoffice@lawrence.edu or by calling 920-832-6749.