The data classification levels that we have presented here designate the sensitivity level, authorization level and associated risk of our data. Along with these classification levels there are responsible data-sharing acknowledgements that are attached to the data.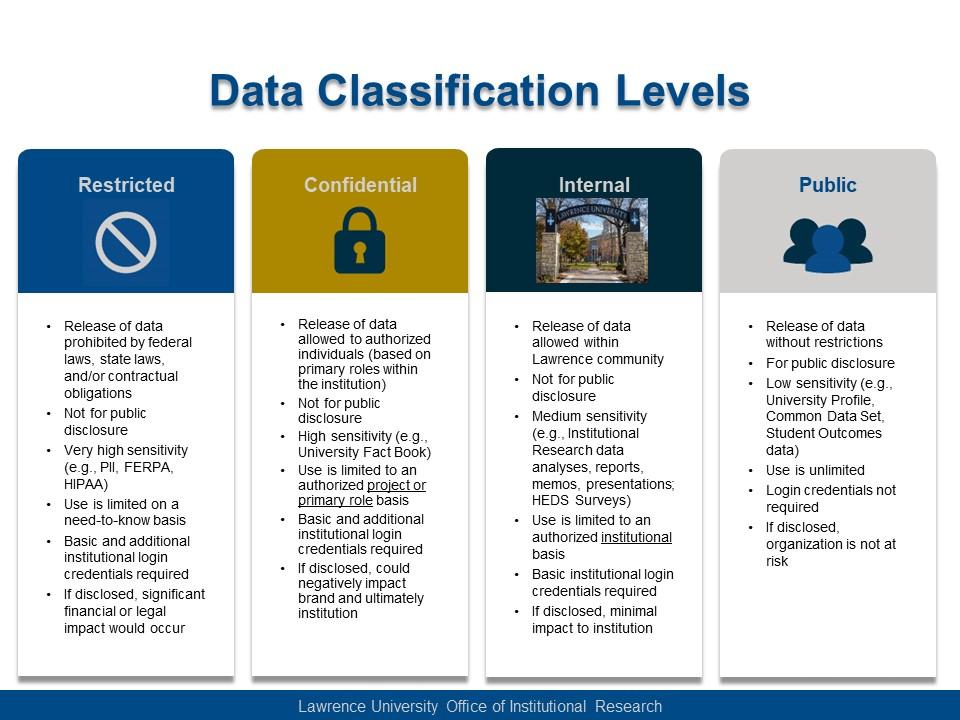 These data-sharing acknowledgements provide guidelines to the campus community to foster understanding of the application of data and promote data-sharing best practices. For example, the Common Data Set 2022-23 PDF below has its own data-sharing acknowledgement attached.
Common Data Set (CDS)
The Common Data Set (CDS) initiative is a "collaborative effort among data providers in the higher education community and publishers as represented by the College Board, Peterson's, and U.S. News & World Report. The combined goal of this collaboration is to improve the quality and accuracy of information provided to all involved in a student's transition into higher education, as well as to reduce the reporting burden on data providers." Institutions annually submit data in the standard form of the CDS and have access to each other's data for comparative purposes.
The CDS includes data on Enrollment and Persistence, Admissions, Academic Offerings and Policies, Student Life, Tuition and Fees, Financial Aid, Faculty and Class Size, and Degrees Conferred.
Integrated Postsecondary Education Data System (IPEDS)
Per the Higher Education Act of 1965, as amended, all institutions that participate in federal student aid programs are required to report data on enrollments, program completions, graduation rates, faculty and staff, finances, institutional prices, and student financial aid.  These data are collected through the Integrated Postsecondary Education Data System (IPEDS), a system of 12 interrelated surveys conducted annually by the U.S. Department of Education's National Center for Education Statistics (NCES) throughout the year.  These surveys include Institutional Characteristics, Completions, and 12-Month Enrollment (fall collection); Student Financial Aid, Graduation Rates, Graduation Rates 200, Admissions, and Outcome Measures (winter collection); and Fall Enrollment, Finance, Human Resources, Academic Libraries (spring collection). IPEDS data are used at the federal and state level for policy analysis and development and at the institutional level for benchmarking and peer analysis. Ultimately, data from these surveys are made available to students and parents through the College Navigator college search and College Affordability and Transparency Center websites, as well as to researchers and others through the IPEDS Data Center.
Lawrence University Profile
The profile is a high-level summary of Lawrence's academics, athletics, community, financial aid, finances, student life, and outcomes. View the Lawrence University Responsible Data Sharing Acknowledgment for the LU profile below. All documents are PDF unless otherwise noted.