Eric Simonson '82 had every opportunity to puff out his chest when he returned to Lawrence in June for Reunion 2022, the recipient of one of this year's Alumni Awards.
A writer, director, and actor whose resume includes an Oscar win (A Note of Triumph: The Golden Age of Norman Corwin, 2005), a Tony nomination (The Song of Jacob Zulu, 1993), an eight-month-plus run on Broadway of a play he wrote (Lombardi, 2010-11), and an ongoing spot in Chicago's famed Steppenwolf Theatre, he had plenty of reasons to talk about himself as he joined former classmates for a 40th reunion and was celebrated with the Lucia Russell Briggs Distinguished Achievement Award.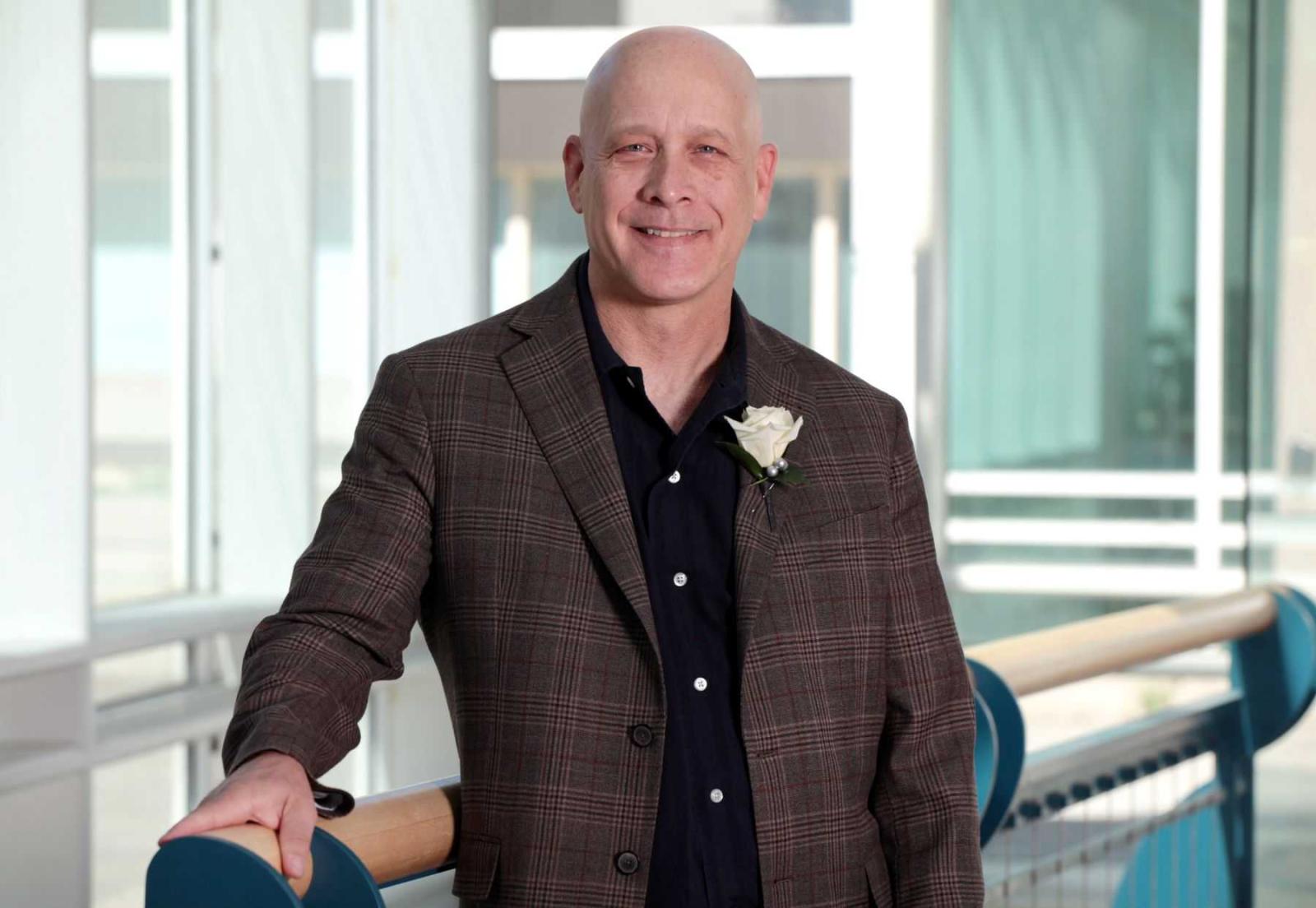 But the former theater major was much more interested in talking about what Lawrence did for him than anything he's done.
"I got to Lawrence and everyone was crazy about film societies, especially the international film society," Simonson said. "It was the gold standard of film festivals on the Lawrence campus. I just remember these films opening my eyes to all sorts of possibilities of what a film could be and how powerful they could be. And exciting. That's where it all started.
"More importantly, what Lawrence offered to me was the idea that anything was possible. I could take everything I learned at Lawrence and use it in some new and original way to guide my path in what I wanted to do."
At Lawrence, exploration is not limited to creating films or only studying film theory—you'll meld theory and practice together
That path has taken Simonson back and forth between Chicago and Los Angeles many times over the past four decades, with side trips to Lawrence's Björklunden in Door County, where he launched the annual Door Kinetic Arts Festival a half dozen years ago and has been a frequent instructor at the annual summer seminars. The arts festival, set for Sept. 19-22, brings artists from all walks of artistic life to Björklunden to work, share, guide, and celebrate.
"His knowledge of the industry has made him very popular with the seminar participants," said Mark Breseman, associate vice president of alumni and constituency engagement and director of Björklunden. "And the talented artists Eric continues to bring to Door County for the arts festival has made it a must-see adventure."
While on campus for Reunion, Simonson delivered one of the 15 Alumni College sessions available to the more than 700 participating alumni, family, and friends. In a nearly full Warch Cinema, he talked about a journey that began as an actor in Chicago theater circles before he chased his dreams as a writer and director in Hollywood. He talked about how his fascination with film heated up while he was a student at Lawrence in the late 1970s and early 1980s. long before Lawrence launched its Film Studies program.
Simonson said he took an introductory film course taught by English professor Mark Dintenfass that lit a fire in him.
"I was completely inspired and enthusiastic about film," he said. "I thought this was something I want to do, but I didn't know how to do it. I didn't know how to get there."
He recalled how he and a group of fellow students decided to launch a film contest on campus. With friend Gregg Mierow '82, he checked out the one camera available at the library, wrote a script, and began filming.
"There was no sound involved because the camera couldn't shoot sound," Simonson said with a laugh. "Everything was silent. There were four entries; our film came in fourth. I did not know what I was doing."
"More importantly, what Lawrence offered to me was the idea that anything was possible. I could take everything I learned at Lawrence and use it in some new and original way to guide my path in what I wanted to do."
But he was learning skills at Lawrence that would allow him to find his way.
"I was holding on to the idea that a liberal arts education is important to a well-rounded person," he said. "You need to be a critical thinker. These things are part of being a good writer and a good director. Being open to ideas and critical about what you want and what you don't want and what you can do and what you don't want to do in creating an original piece. That and the idea that I could take my time doing it. The whole idea that learning is a process that doesn't have a finishing point.
"You have to remain curious to succeed in this business I'm in, and Lawrence gave me that curiosity; Lawrence gave me the idea that you didn't have to be a child to remain curious and learn something. It's an ongoing education. I don't feel like what I'm doing with my life is any different than what I did when I was at Lawrence. I find something that interests me and I really dig into it."
After graduating in the summer of 1982, Simonson ventured into theater work in Chicago, first as an actor, then as a director. He started learning from the writers.
He began writing plays adapted from books. His first was Bang the Drum Slowly in 1990. It got produced and published, providing a boost in confidence. But it would be 15 more years and a move to Los Angeles before he would see his first original play produced. That came with Carter's Way, commissioned by the Kansas City Repertoire Theatre.
"That really gave me the confidence to keep going," he said. "And to say to myself, 'Maybe I have some talent doing this.'"
He had moved to L.A. in the late 1990s; in addition to writing plays, he was finding success chasing film projects, most notably documentary shorts. That led to an Oscar nomination for directing On Tiptoe: Gentle Steps to Freedom in 2000, and five years later the Oscar win for directing A Note of Triumph.
But Simonson also had his eye on television.
It was in the late 1990s and early 2000s that television series such as HBO's The Sopranos, ABC's The Practice, and Showtime's Mad Men were showcasing what this new era of television could be. Simonson was intrigued.
"That long form really interested me," he said. "The way I think of it, and the way a lot of people started thinking of it, is that film is a short story; television is a novel, if you want it to be. Each episode is a chapter. So, television, if you get the chance to do it, you get the chance to let the characters in the story breathe. And that's what I really wanted to go for. I wanted to get into the writers' room."
He's done that over the past two decades while continuing to stay active in theater.
"Everything I've done in theater, documentary films, television, it's all about telling a story and knowing the structure of a story," Simonson said.
He's currently working with producers on a project about the relationship between boxing icon Muhammad Ali and broadcasting legend Howard Cosell. He's also preparing to direct an opera in Minneapolis this fall, a show that got put on pause by the pandemic.
Juggling projects is all part of the journey. That, too, Simonson learned at Lawrence.
"The way I describe it is if you depend on making your living by fishing off shore, you plant as many fishing poles in the ground as you can with hopes that some of them will catch some fish," he said. "You never know how many projects you'll be working on at any given time, but you are always putting out ideas for projects—things you are interested in with hopes that somebody will say, 'Hey, I want to work with you on that.' You can't do it by yourself. I've been doing that as long as I can remember."
Arts festival returns to 

Björklunden
The Door Kinetic Arts Festival (DKAF) will return to Björklunden in September after a canceled 2020 and an all-virtual 2021 fest. DKAF will again feature cocktails, short films, and a mix of local and nationally known artists in dance, theater, and music. It's set for Sept. 19-22.
Now in its sixth year, DKAF provides an array of national and local artists from different arts disciplines an opportunity to develop new work in an inspiring atmosphere. Each night, audiences can watch short films and see new works in development.
Simonson partners with festival producer Alan Kopischke to organize and present the festival. Visiting artists this year include Emmy Award-winning writer Rick Cleveland, The Seldoms Dance Company, and singer and writer Morgan Middleton. Passes and tickets are available at the door and will be available in late August at www.doorkinetic.com. Festival passes are $30 and tickets for each night are $10.