Lawrence University's fencing program scored a major victory over the weekend when the men's saber squad used its talent, grit, and determination to win a Central Collegiate Fencing Conference Championship in Columbus, Ohio, beating favorite Ohio State, among other opponents.
Lawrence tallied wins over Ohio State and Wayne State and had shutout victories over Cleveland State and Detroit Mercy. 
"It is a massive piece in building the program and moving forward," Lawrence coach Eric Momberg said. "Recruits are watching this and coaches are watching this. ... We've shown with the D3 All-American results and the increasing number of people we've been sending to regionals that the program is growing. This is a really concrete thing we can put out there. ... This is what the program has been working toward. What I said to the team is they have just shown all of you that this is possible. I think it's a giant step forward."
Fencing on Ohio State's home turf at French Fieldhouse, the Vikings faced key matches against the Buckeyes and Wayne State. 
Lawrence faced off against the Buckeyes with the trio of Aaron Reese, Jordan Diacos and Clarence Murzyn.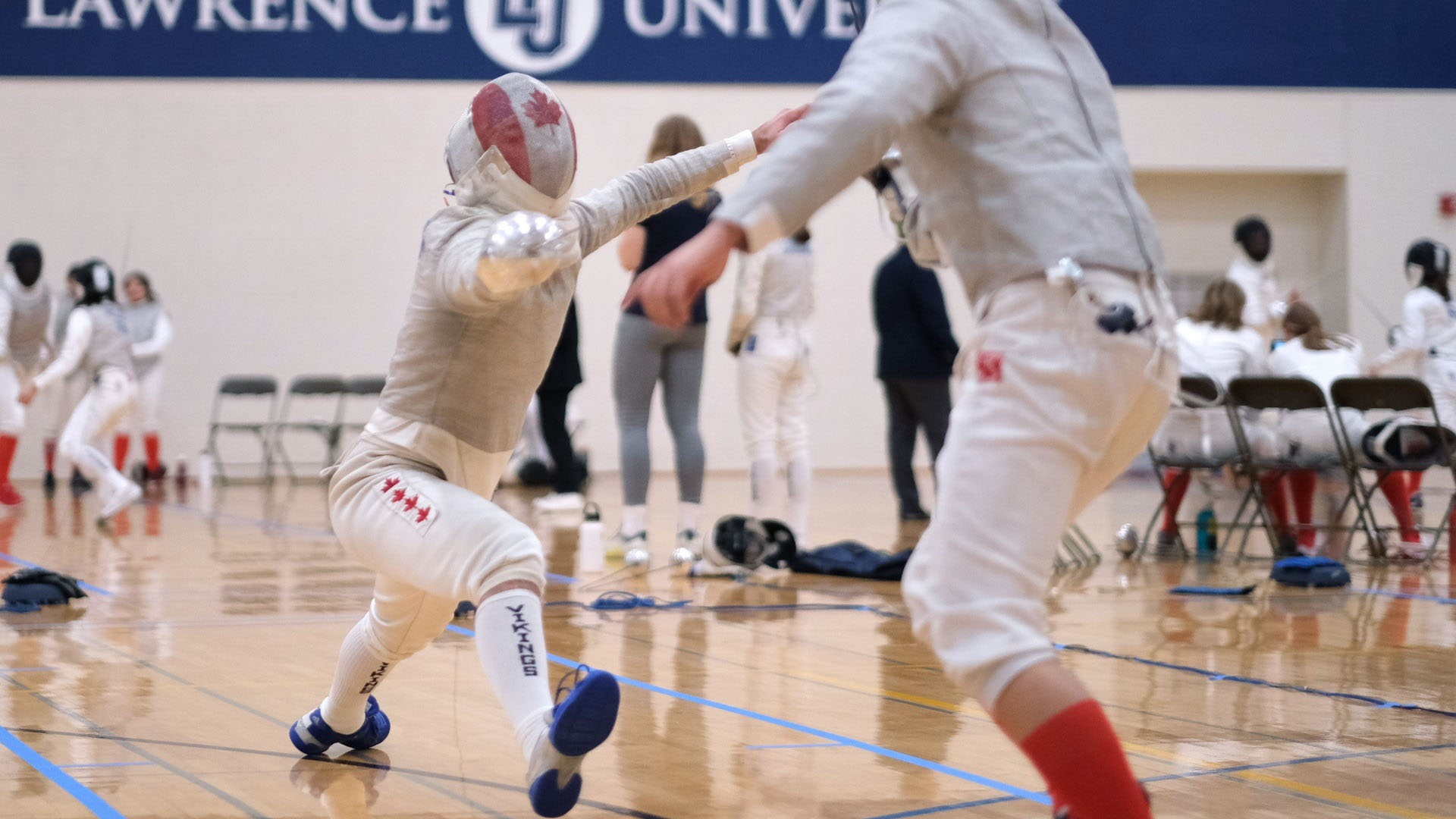 Jordan Diacos to compete in Junior Pan American Games
"The guys have been fencing really well all season and working together well as a team all season," Momberg said. "When you look at squad wins against Air Force with the same three guys, that was sort of a good test of our strength. With the same three guys, we had a 5-4 loss to Notre Dame, and they're one of the best in the nation. Were we good enough to do it? Yes, but it's always an uphill battle against Ohio State." 
In the first round of bouts, Reese grabbed a 5-4 win over Aaron Buergenthal and Diacos topped Kelly Liu 5-3 to give the Vikings a 2-1 edge. Reese then downed Avin Rai 5-4 in the second round, and Murzyn hammered Liu 5-1 for a 4-2 Lawrence lead.
"You can never let go and say, 'Oh yes, this is in the bag. Once we got the first one, the guys were really fired up," said Momberg, while thinking about a question in his head. "How do we hold this attitude and maintain it? The logical part of my brain is counting victories, but the rest of my brain is staying in it bout-by-bout, touch-by-touch.
"Our guys could feel they had surprised Ohio State a little bit, and you could see Ohio State was starting to get frustrated."
Lawrence student-athletes talk about their love of the sport: "You need to be really physically fit and also be able to calm yourself down."
Lawrence then finished the Buckeyes when Diacos topped Rai 5-2 and Reese shut out Liu 5-0 to complete the 6-3 victory. Reese, a 2021 NCAA Championships qualifier, went 3-0 against the Buckeyes. Diacos went 2-1 and Murzyn finished 1-2 against Ohio State.
"There were people in the room saying, 'You just won the conference championship,' but I said not quite yet," Momberg said.
With one opponent left, the Vikings now led the standings with a 24-3 overall record, Ohio State was in second place with a 19-8 mark. The Vikings would need to stumble in the final bouts against Wayne State, and Ohio State would likely need to shut out Cleveland State.
Neither one happened. 
To claim the title Lawrence would have to overcome Wayne State and its star, Egyptian national team member Eyad Marouf. 
"We have been able to beat the other two (Wayne State) guys consistently. The job was to not drop a bout to any of the other guys," Momberg said. "You've got to make sure you don't make mistakes in those other bouts."
The Vikings took care of business as Lawrence went 6-0 against Wayne State's Jacob Bloom and Cameron King. Marouf won all three of his matches, but it didn't make a difference. The Vikings downed Wayne State 6-3 to finish with a 30-6 mark for the day. Reese, Diacos and Ben Kelsey all went 2-1 in the victory against the Warriors.
Ohio State downed Cleveland State 8-1 to finish in second place with a 27-9 mark.
Momberg said it took a bit for the Vikings to realize they had won the title. He wasn't certain they were all aware of what the final score was.
"When we got into the huddle post-meet, I said, 'We are now conference champions in saber,' and that's where it sunk in," Momberg said. "The idea of of a D3 school taking a conference title doesn't happen very often. When they announced it and gave us the trophy, we got applause from everyone in the conference. I think that was a great moment for the guys."
Reese led the Vikings with an 8-1 record on the day, and Diacos, who is headed to the Junior Pan American Games later this week to represent Canada, was next with a 7-2 mark. Murzyn went 4-2, and Kelsey posted a 3-1 record. Tim Parker and Donovin Brown both went 1-0.
The Vikings set up their winning effort with dominating 9-0 wins in the opening two dual matches. Lawrence beat Detroit Mercy 9-0 as the Titans had just one saber fencer. The Vikings then put together a dominating 9-0 performance against Cleveland State. Reese, Murzyn and Diacos all went 3-0 against Cleveland State to stake Lawrence to an 18-0 record through the first two rounds of competition.
"Incredibly critical," Momberg said of the start to the day. "That was one of our goals this year. We didn't beat Cleveland State once last year. We were working really hard this year to get past them. That was one of our program goals and squad goals for the guys, especially saber."
Lawrence returns to action on March 11 for the NCAA Regional Championships in Evanston, Ill.