Fencing is a sport many of us know little about. Perhaps you didn't even know Lawrence had men's and women's fencing teams. It does, and they're awesome.
We caught up with Coach Eric Momberg and fencers Jordan Diacos from the men's team and Nora Anderson from the women's team to school us on all things fencing before the teams' meet this weekend at Northwestern University and the Feb. 24-26 Central Collegiate Fencing Conference Championships at Ohio State.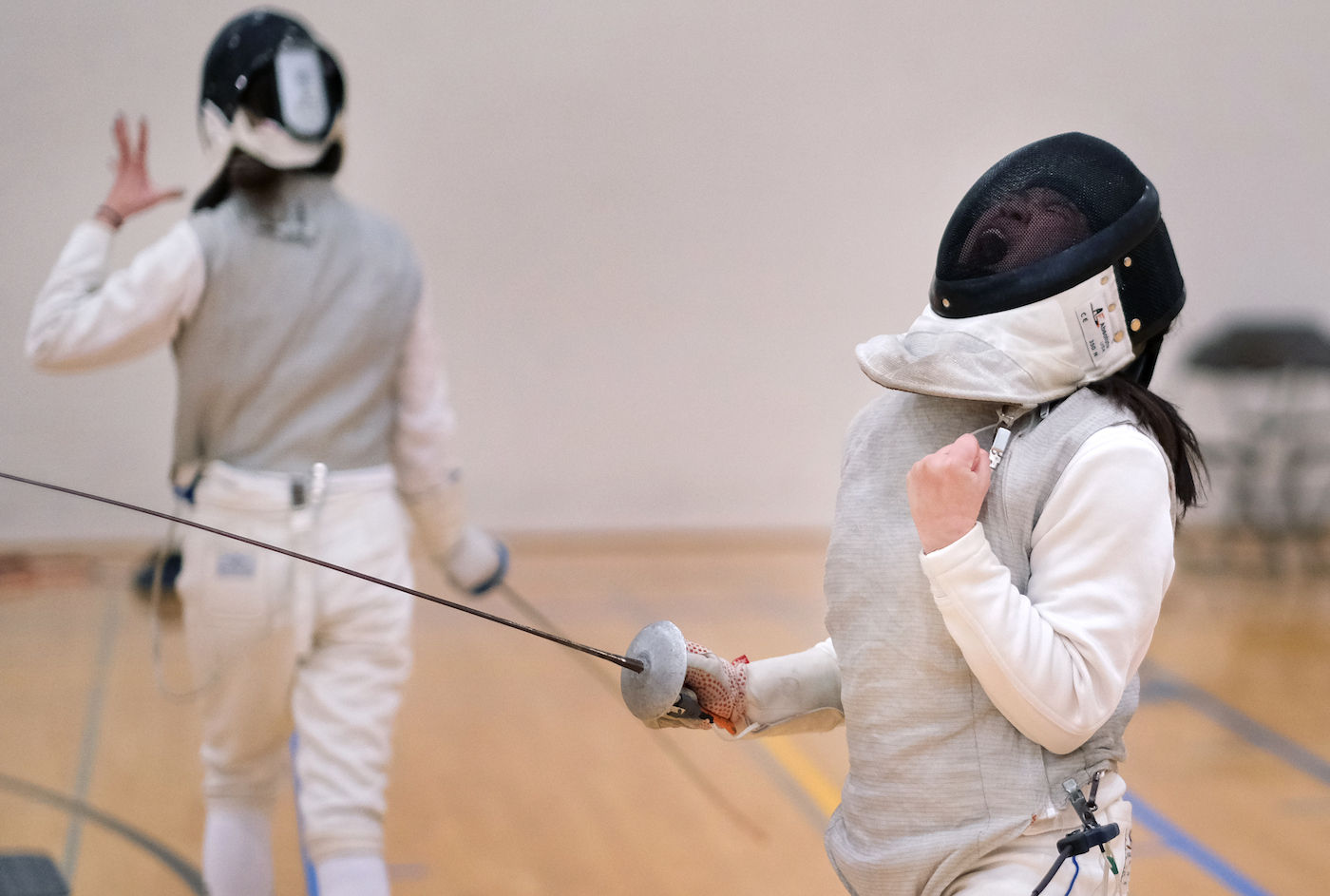 While Lawrence is a D3 program, the Vikings are often competing against D1 schools, and it isn't unusual for them to be facing national or international champions.
"You can go out there and be looking at a world champion," Diacos said. "It's still a sword fight. You can still win. They can still lose."
Here are 10 things to know about fencing at Lawrence.
1. Yes, it's a sport
Fencing is frequently considered to be a game or martial art, but it is classified as a combat sport. Fencing is a mentally intense sport, but the physical intensity of it is equally important. Fencers aren't whiny aristocrats: they must be smart, fit, loud, and highly competitive.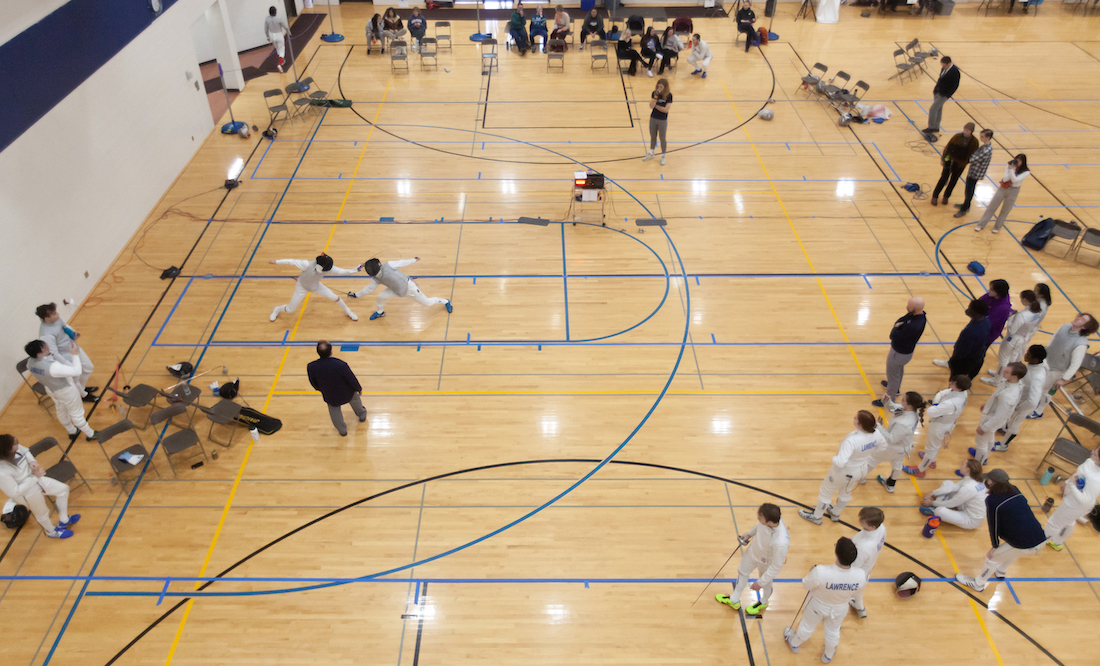 2. Three weapons, one sport
Here's a quick primer on weapons in play: Most major fencing organizations recognize three weapons as a part of the sport: foil, epee, and sabre. Although the goal with each weapon is to hit the target, the rules for each weapon change how the game is played.
The foil, probably the best known of the three weapons, is often seen in movies or other slices of pop culture. It's considered a point weapon, which means that touches are scored only for hitting with its tip. Foil fencers target the opponent's torso to score.
The epee, like the foil, is a point weapon. Out of the three, epee is the "newest" form of fencing, introduced in the 1920s to more accurately represent a duel environment. The entire body is the target; contact with the point of the sword scores points.
The sabre is a blade weapon, which means contact with the target on any part of the sword scores points. For sabre, the target is anywhere above the waist except for the top of the hand. Sabre matches have less time between touches. It takes more touches to win a bout: usually 10 or 15 as compared to 5.
3. Lawrence fencers are high achievers
The Lawrence fencing program features many successful athletes, as it has since elevating to a varsity sport in 1985. Diacos, a first-year student from Winnepeg, Manitoba, competes on Team Canada's Junior Team and the Pan-American Team. Bettina Coker, a senior from Highland Park, Illinois, became the first woman in Lawrence history to qualify for NCAA championships and last year was named NCAA's D3 women's foil fencer of the year.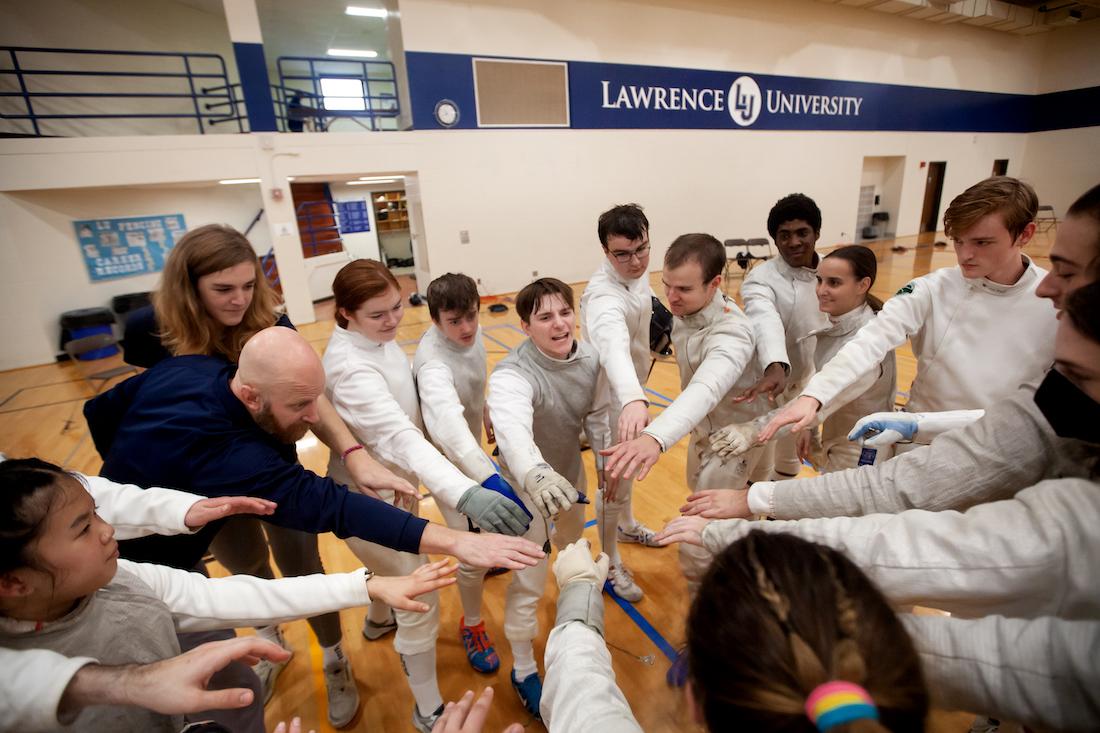 4. It's better as a team
Fencing, by nature, is an individual sport: each fencer's matches are one-on-one. At the collegiate level, however, fencing is a team sport. Momberg, who has led the Lawrence program since 2020, works one-on-one with the athletes to build skills individually, which turns into greater success for the team as a whole.
Anderson, a first-year student from St. Paul, Minnesota, finds the team environment at Lawrence to be supportive and uplifting.
"People can get kind of rude and uppity about themselves in collegiate athletics," she said. "I don't think that's really true here."
Lawrence fencers take pride in themselves and their team. Anderson, Momberg, and Diacos all concurred: they work hard individually for the success of the team.
"We fenced Vassar, and Coach told us it was the first time Lawrence has fenced them in 20 years," Diacos said. "All of us looked at each other and went, 'Come on, we have to win now.'"
5. At Lawrence, it's historic
Fencing at Lawrence goes back nearly four decades, with pioneers such as Ted Katzoff and Mary Poulson getting the program rolling. It has since evolved into a D3 NCAA program.
Fencing at Lawrence has grown, but not without challenge. The COVID-19 pandemic stopped tournaments and practices and brought the number of athletes across both men's and women's teams down to just 12. This year, Lawrence fencing is coming back—21 athletes strong. Momberg is hoping to qualify the maximum of 14 players for the NCAA Regional Championships in March.
"I always joke when I call back home that I'd like to get Coach four championship rings because I'll be here for four years," Diacos said. "Whether or not that's realistic, we'll see. Definitely one."
6. Fencing is for everyone
Fencing has a reputation in pop culture as a rich person's game, but the reality is quite the opposite. Fencing today is the fourth most diverse NCAA sport, Momberg said.
"There was a time when fencing was a sport of the aristocracy, but we're moving away from that," he said.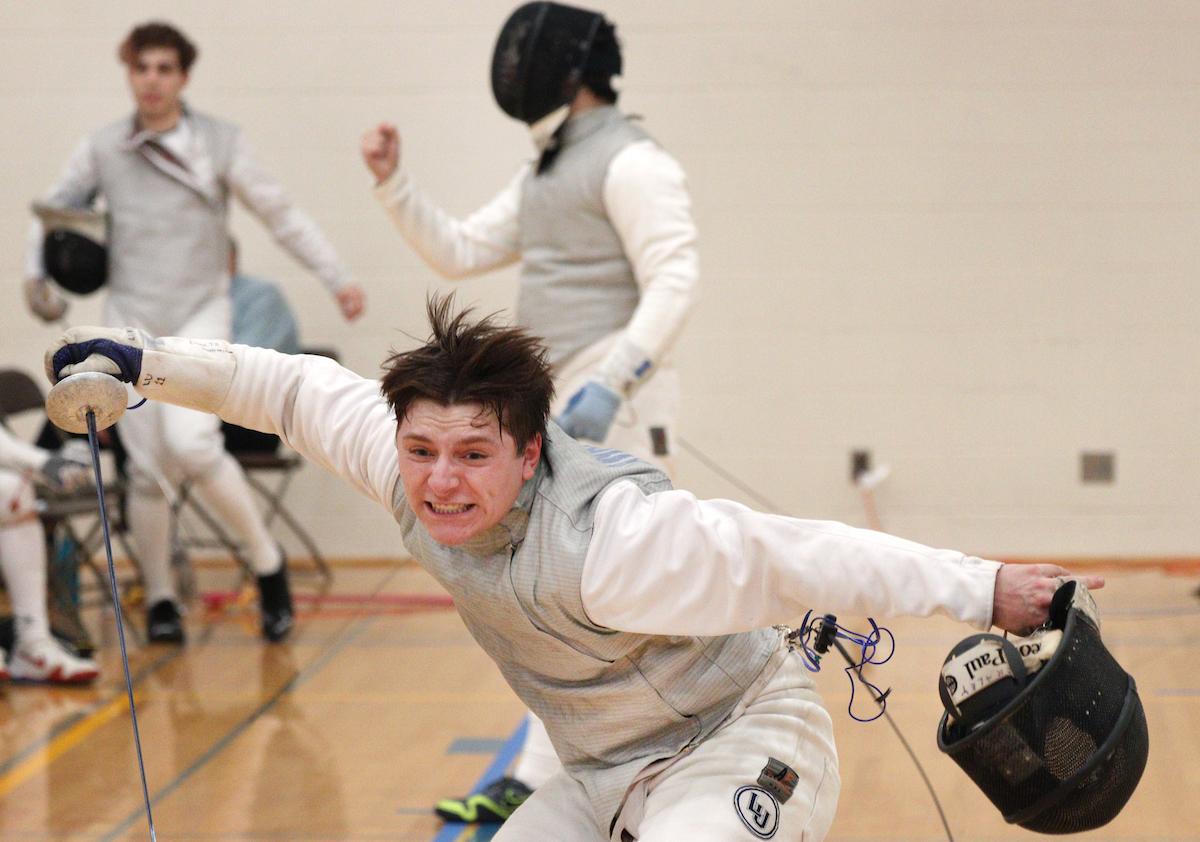 7. It's all about balance
The most successful fencers are athletes who can balance their strengths with their adaptability.
"Fencing falls more on the dynamic side, which used to frustrate me a little bit, because you can do your drills perfectly and then lose horrendously," Anderson said. "You need a technical base as well as a tactical base. You need so much balance. You need to be really physically fit and also be able to calm yourself down when you get frustrated."
8. Fencers come in all shapes and sizes
Each athlete develops a style that builds on their own physical, mental, and even emotional characteristics.
"We're assessing the opponent and trying to maneuver into their weaknesses," Momberg said. "More than that, though, we're working to know ourselves and move the opponent into our strengths."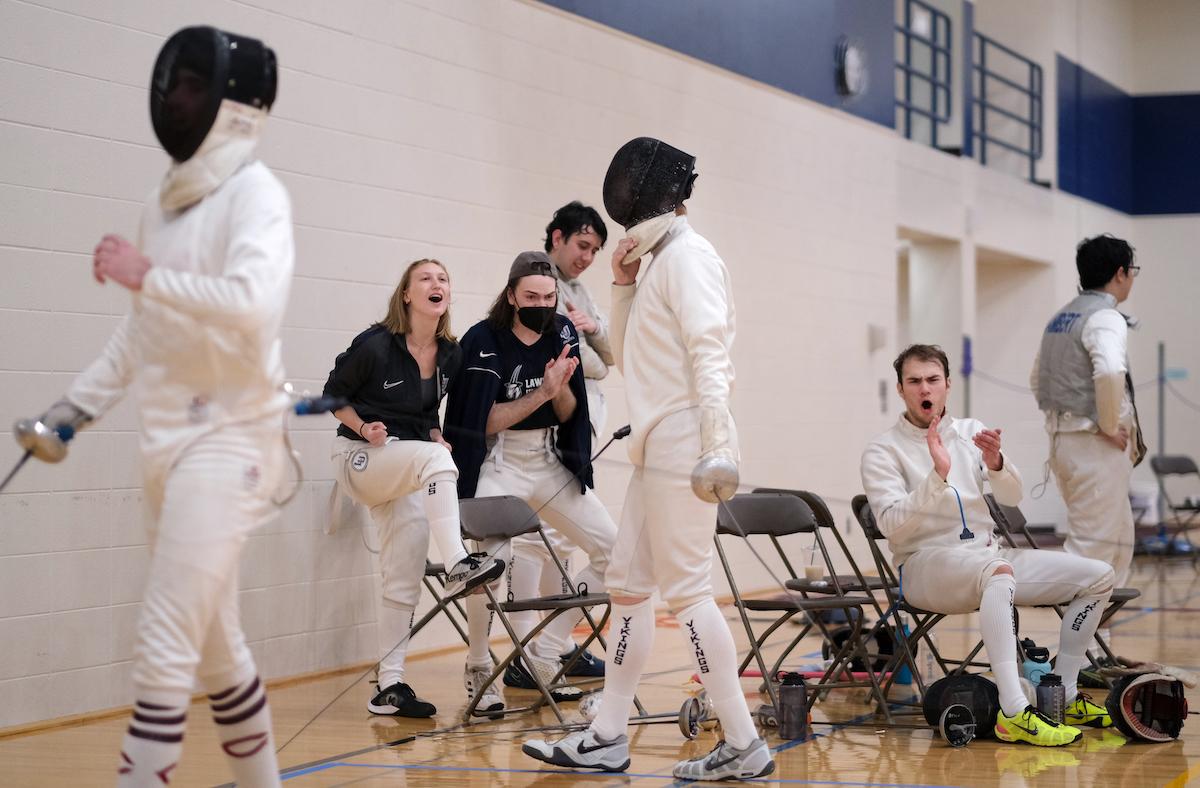 9. It's psychological warfare
All athletes must be able to brush themselves off and keep going; this is true for fencers as well. At the collegiate level, each match is a maximum of three minutes, and each weapon fights simultaneously. Fencers need to focus on the opponent in front of them. Thinking about previous losses only builds a losing streak, Momberg said.
"Losses come with getting hit—a lot," Momberg said. "When you 'miss a shot' in fencing you have that moment of frustration, followed by getting hit by someone, followed by them probably yelling with that hit."
10. A form of self-expression
Fencers often find the sport to be a fantastic way to look inside themselves.
"For many fencers, the sport is about expressing themselves authentically through their weapon," Momberg said.
Every athlete creates their own playstyle that embodies who they are physically, mentally, and emotionally.
"You have to have good technique before you start to break it," Anderson said. "It's really fun to start figuring out your style. … It's fun to take ownership of that, and be like, 'I can do whatever I want!'"