Lawrence University celebrated its 10th annual Giving Day on Oct. 12—an outpouring of love and generosity that will bolster the student experience in numerous ways.
The day of giving to support the Lawrence Fund brought in $1.62 million from 2,505 donors, providing huge support for current and future Lawrence students. The day-long event—online, in-person, and on social media—was a collaborative effort, with students joining with Lawrence faculty, staff, and alumni in a day of celebration, led by Amber Nelson, director of Alumni-Development communications and project manager for Giving Day.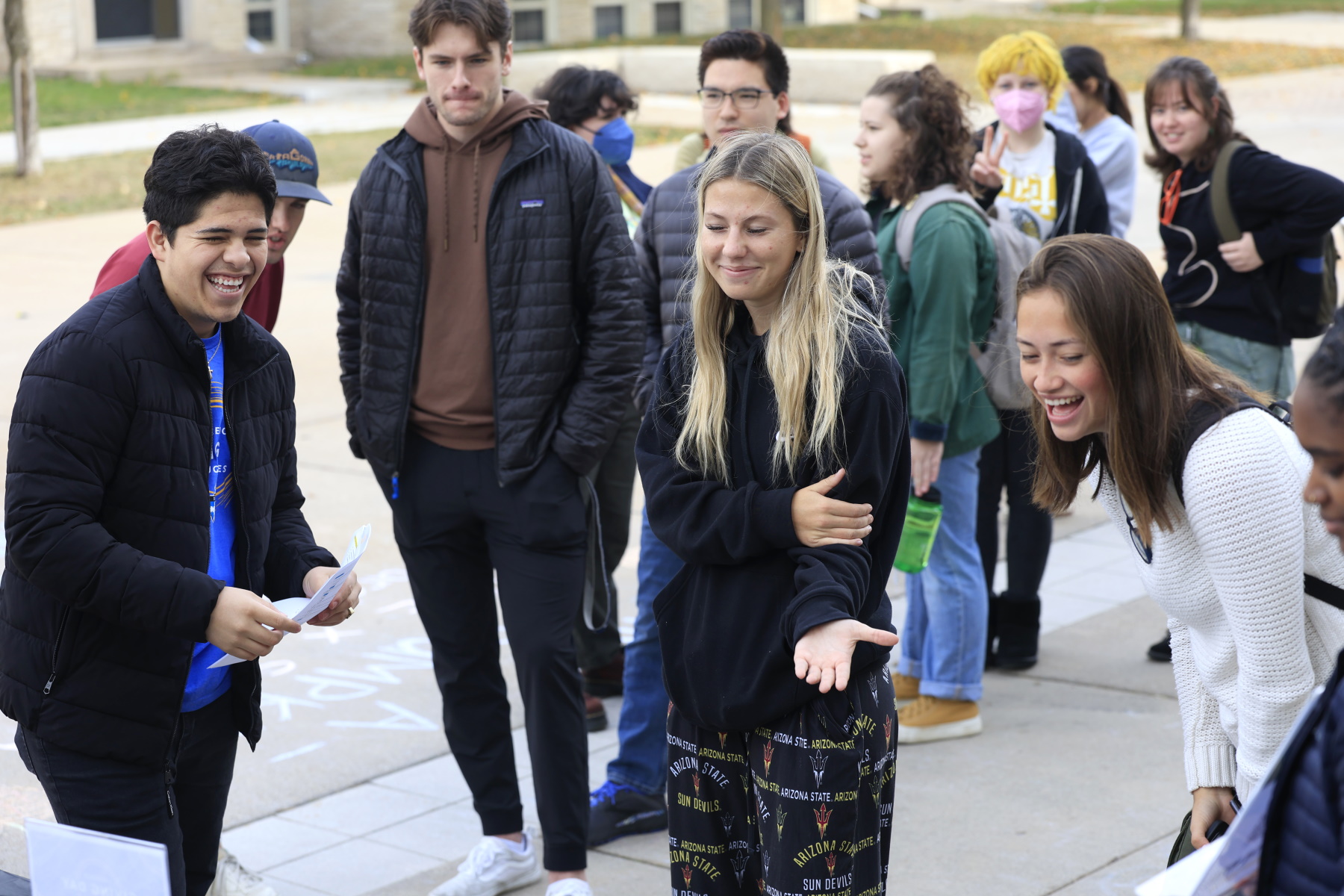 "Giving Day this year was an amazing celebration of all things Lawrence," Nelson said. "We raised an incredible amount of money from more than 2,500 donors, and we had fun engaging with more than 200 students at campus events and more than 300 LU community members on social media. Thank you so much to everyone who participated to make the 10th annual Giving Day such a success."
Giving Day is one of the university's biggest community events. It brings together all Lawrentians on a united mission to build and sustain student opportunities. The Lawrence Fund is used to support internships, athletics, arts, academic innovations, study abroad, daily campus maintenance, and much more.
Alumni who signed up as "Game Changers" matched donated funds as part of various "Game Changer Challenges" on campus and on social media throughout the day. All gifts were matched dollar-for-dollar, doubling the impact. Also, every donation from the Classes of 2007 to 2027 was matched with $500. 
The generosity of the day wasn't lost on students, who benefit directly and indirectly in academic and athletic opportunities and in a wide range of enhanced student experiences.
"Giving Day is one of the Lawrence traditions that reminds us how much of a tight-knit community we are," said Kenneth Peñaherrera Quiroz, a senior from Quito, Ecuador, majoring in neuroscience. "Fostering a generosity culture that creates opportunities for all students regardless of their background is amazing."
Peñaherrera Quiroz was helping staff some of the on-campus fun during Giving Day, including the Spin the Wheel and Philanthropy Pong games, all built around a feeling of togetherness. It's an overwhelming experience, he said, a reminder of the bonds that connect today's students with those of previous generations.
"All of the previous and current student body get together to make our Lawrence better for those who are here now and those who will be here after us," he said. "Giving Day is one of the, if not the biggest, event that captures the essence of what being a Forever Lawrentian looks like."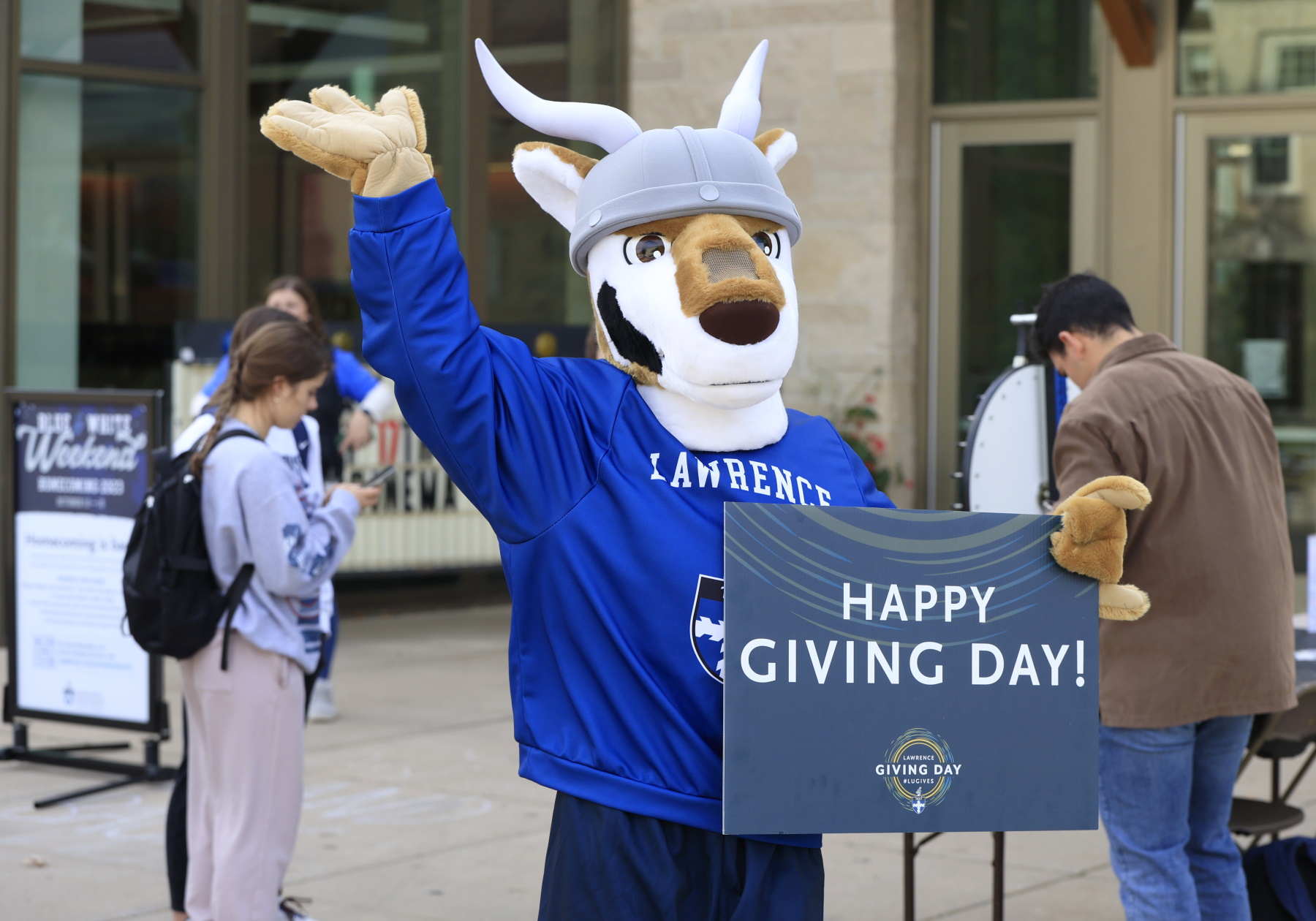 Kayla Jarppi, a sophomore from Hudson, Wisconsin, majoring in gender studies and psychology, spent parts of Giving Day working the Spin the Wheel game and giving free rides on a golf cart to build excitement on campus. Knowing the funds raised will go to such things as research opportunities, study abroad possibilities, and daily life on campus brings a sense of community.
"It gives me a chance to be directly involved in connecting my fellow students to philanthropy on campus," Jarppi said of taking part in Giving Day. "It's an exciting time of the year where we get to see all members of the campus community—faculty, staff, alumni, and students—coming together to support Lawrence."
These are the days Lawrentians should never take for granted, Jarppi said. There should always be an appreciation for the bonds that keep Lawrentians connected.
"It's meaningful to see this kind of generosity in support of students on Giving Day because it reminds me of the caring, compassionate community here at Lawrence—it's a time where faculty, staff, alumni, and students all come together to both celebrate Lawrence but also contribute to its future progress," Jarppi said. "I'm personally grateful for this community generosity as donor funds have helped fund scholarships that help me attend Lawrence and provide me the opportunity to study abroad without financial stress."
While Giving Day is over, contributions can still be made here.
This year's Giving Day also provided a jump-start to Lawrence's annual Blue & White Homecoming Weekend, with activities planned Oct. 13-15.