Over a mostly gray and snowy winter on Wisconsin's Door County peninsula, several seeds burst open that had long been germinating. The quiet that usually descends over the Nordic dragons on the roof of the Björklunden lodge was often broken with the motorized sounds of bucket trucks hanging wires, the muffled echoes of workers pulling cable through underground passages, and the celebratory calls of "oh wow!" heard when new switches were flipped on.
The campus retains a feeling of remove from the harsh hurry of the world beyond, but there is now a sense of connectedness that comes with the internet at your fingertips and a feeling of lightness that comes with the knowledge that you are standing on the edge of a sustainable future in a place that so well preserves its past.
Toward the close of 2022, a high-speed internet connection flickered to life at Björklunden. Immediately, community members took notice, as Lawrence University's north campus was likely the first spot in the area using new fiber optic connections. Fast internet may seem a given for many in urbanized areas, however it took years of investment and planning for these quick and powerful signals to reach our majestic lodge. This advancement owes to diligent efforts and support from Lawrence leadership, generous donors, the Technology Services team, Door County officials, and business partners.
While some groups come with the goal of unplugging, many students have already been exploring their expanded ability to engage online with any idea imaginable during weekend retreats. The Björklunden Seminar series is employing this technological advance as well. Seminar leaders are inviting experts to co-teach via Zoom, they are excited about easy access to online film and video sources, and Dr. David Hines' Medical Controversies: Science vs. Popular Beliefs (Oct. 8-13) will be simultaneously offered both on-site and online.
A solar unveiling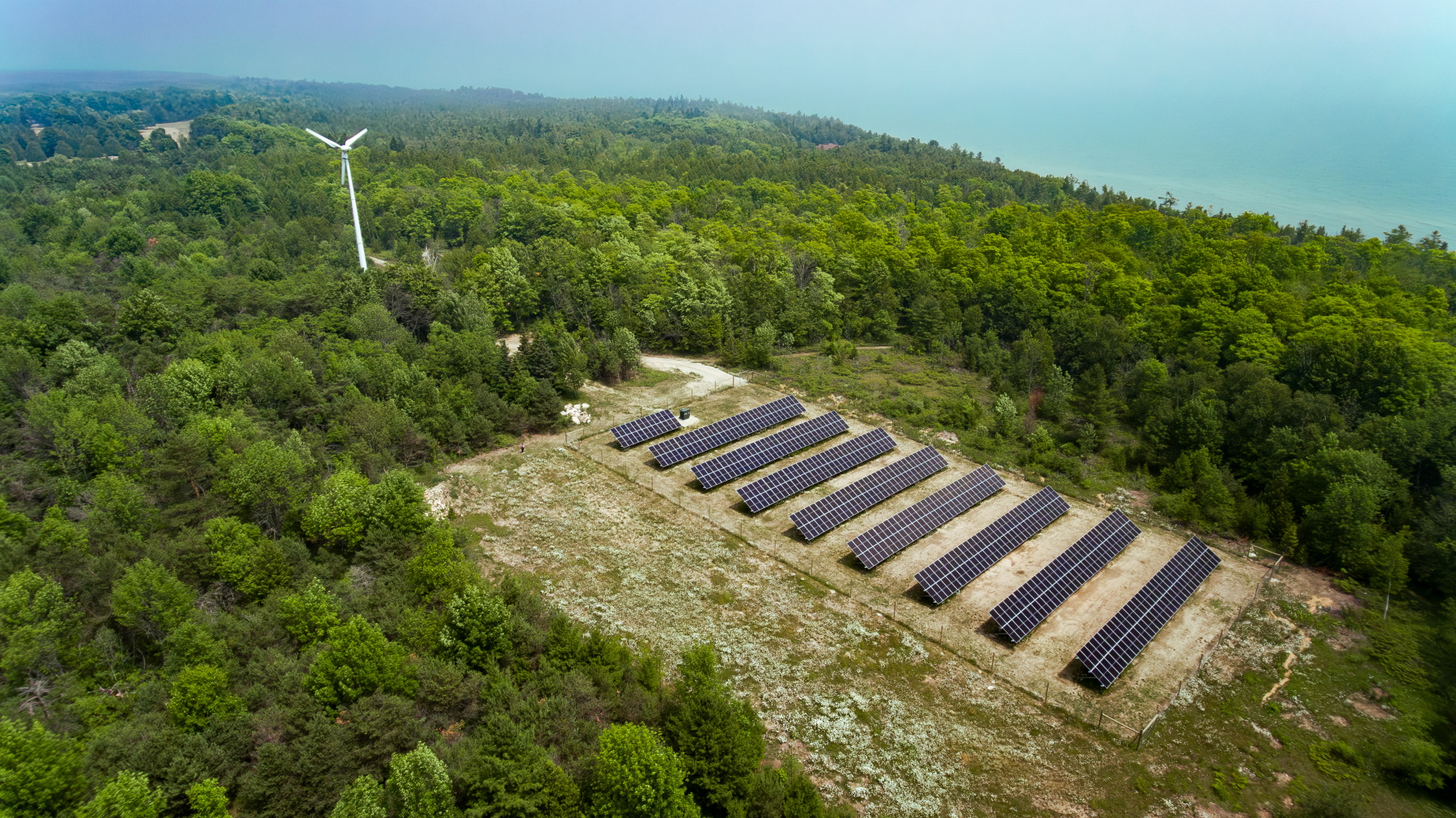 And, speaking of plugging in; a new solar array tucked in the woods began gathering power from the sun this spring. Combined with Björklunden's wind turbine, the campus now has 285kW of carbon offsetting power to energize the campus and reduce reliance on fossil fuel. On May 12, Door County and Lawrence community members applauded the solar installation and learned about the science and policy behind sustainability efforts like this one. The event, co-hosted with the Door County Climate Change Coalition, featured Lawrence professors Relena Ribbons and Israel Del Toro presenting with Commissioner Tyler Huebner from the Public Service Commission of Wisconsin.
The solar array and turbine significantly advance the goal of the Net Zero Björklunden Initiative to zero out the discharge of greenhouse gases by balancing any carbon emission with equivalent carbon savings on site. Calculating carbon costs and savings will be the subject of ongoing research and observation by faculty, students, and the public. This is just one way the initiative not only supplies clean power to buildings; it also offers a landmark laboratory for environmental science.
The Net Zero Björklunden Initiative offers a living laboratory for testing technology and learning about the environment, stewardship, renewable energy, and carbon sequestration.
As part of this work, faculty and student researchers have begun quantifying the passive carbon consuming appetites of thousands of trees living on this wooded campus. To ensure the forest can continue to serve as the lungs of this work, the Door County Land Trust and Lawrence University redefined their partnership to continue holding 315 acres into permanent protection while establishing a renewable energy zone for the wind turbine and a solar zone for the array. With the common values of conservation and clean energy solutions in mind, University and the Land Trust have together made a remarkable and lasting commitment for sustainable development.
With many thanks to Lawrence University's Sustainability Initiative, visionary donors, our Facilities Operations Team, and vendors, we're boldly moving this work forward. Installing a geothermal system will be the next step, and plans for this phase are being drawn up presently. With triumvirate active technologies (i.e. solar, wind, and geothermal constituting) combined with the passive carbon sequestration of the forest, Björklunden can eliminate its carbon footprint.
Come for a visit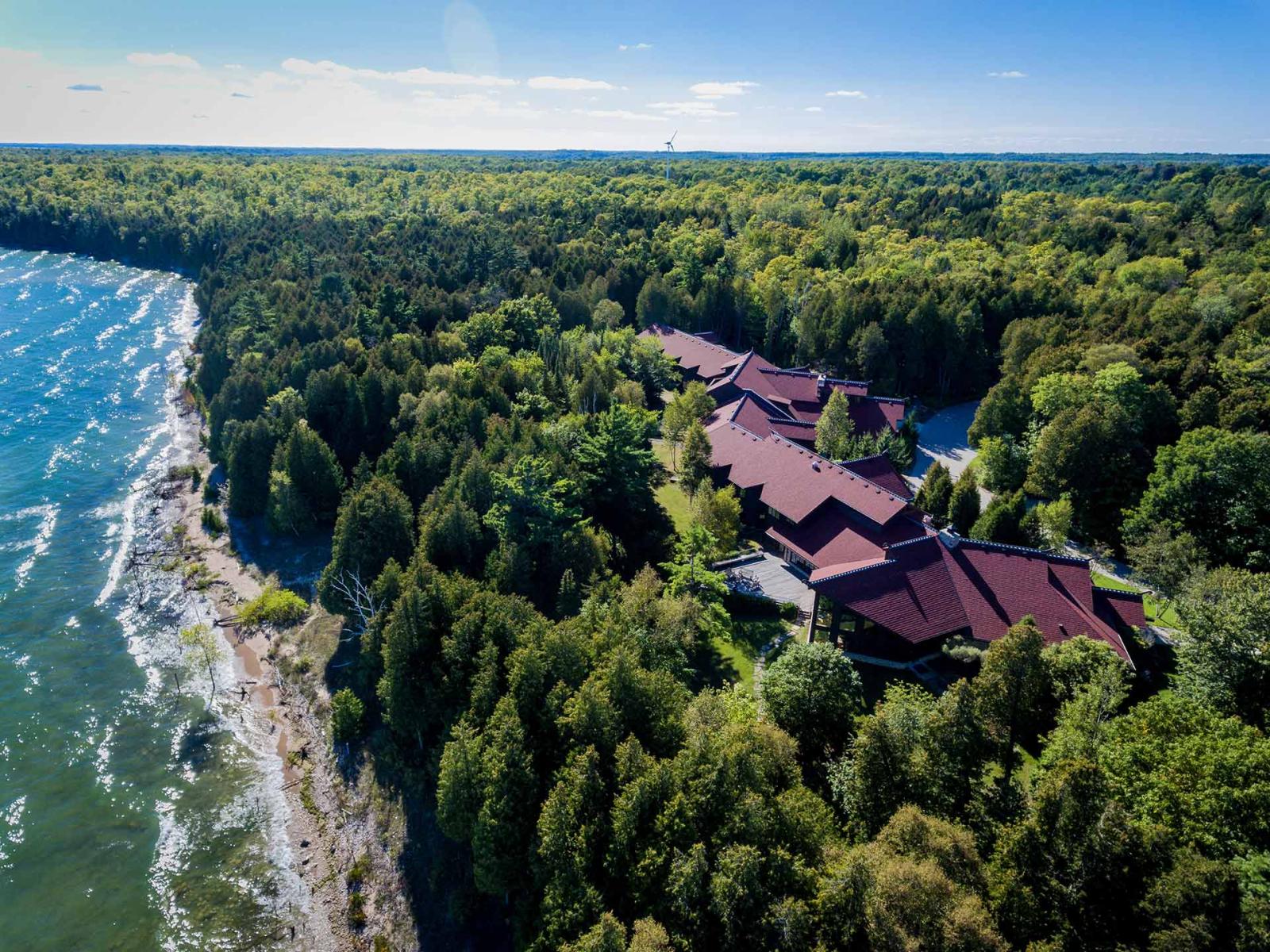 If you haven't been to Björklunden, this magnificent 441-acre Door County property, we invite you to check it out. Generously donated to Lawrence University by Winnifred and Donald Boynton in 1963, this former estate turned retreat is used by thousands of students each academic year, hosts lifelong learning seminars summer through fall, offers space for artists' and business retreats, includes miles of trails along Lake Michigan and through pristine boreal forest, and it features the landmark Boynton Chapel—an early Scandinavian Stavkirke style church featuring remarkable frescoes and carvings by Winnifred Boynton.