Matthew L. Turner
---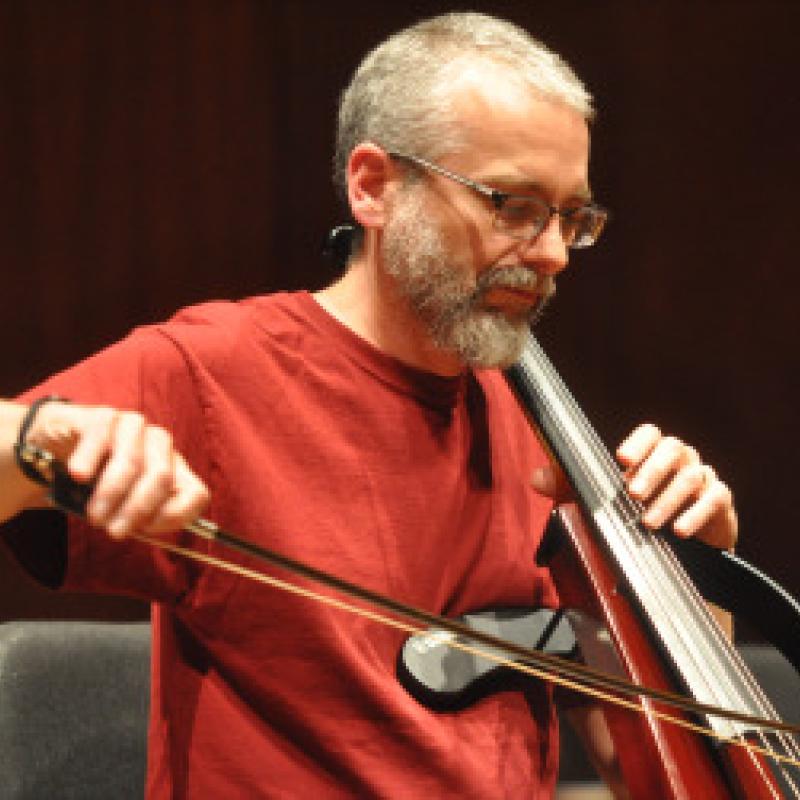 Campus Address
Music-Drama Center
Room 258
Conservatory of Music
About
Matt Turner is widely regarded as one of the world's leading improvising cellists. Equally skilled as a pianist, Turner performs in numerous styles and has shared the stage in the U.S., Canada, Europe and Asia with Cape Breton fiddle sensation Natalie MacMaster, avant-garde musicians Marilyn Crispell, Peter Kowald, Guillermo Gregorio, Scott Fields, and John Butcher, as well as country musician Wanda Vick, singer-songwriter LJ Booth, and jazz musician Bobby McFerrin to name a few. He appears on over 100 recordings on Sketch/Harmonia Mundi, Illusions, Music and Arts, Accurate, Polyvinyl, Cadence Jazz and others, recording with jazz violinist Randy Sabien, goth vocalist/pianist Jo Gabriel, singer/songwriters Mark Croft and Tret Fure, punk artist Kyle Fischer, Kitty Brazelton's chamber rockestra Dadadah, alt-country band Heller Mason, and with the Pointless Orchestra.
Turner completed his undergraduate studies at Lawrence University and his Master of Music degree in Third Stream Studies (now the Contemporary Improvisation program) at the New England Conservatory of Music, where he studied with Dave Holland, Geri Allen and Joe Maneri, and where he was the recipient of a Distinction in Perfomance Award.
As a leader, Turner's recordings appear on Illusions, Stellar, O.O. Discs, Asian Improv, Penumbra, Fever Pitch, Geode, Tautology and Meniscus Records. Turner is a Yamaha Performing Artist and currently performs and records with Bill Carrothers' Armistice 1918ensemble and with the Fantastic Merlins.
Education
B.M. Lawrence University (cello performance)
M.M. New England Conservatory of Music (Third Stream Studies, now the Contemporary Improvisation program)