Joseph R. Connor (he/him)
---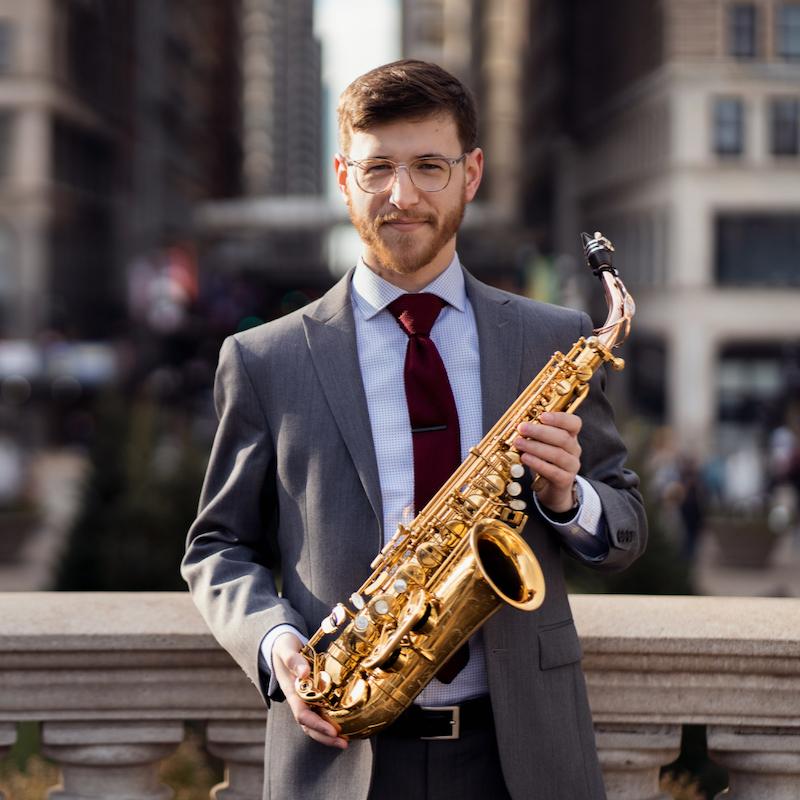 Campus Address
Shattuck Hall of Music
Room 54
Conservatory of Music
Title
Instructor of Music
About
Joseph is a Madison-based saxophonist, educator, and collaborator focused on presenting the music of living composers. Joseph has performed in solo, chamber, and ensemble settings in venues across the United States and abroad including at the Chicago Civic Opera House, Pritzker Pavilion, Shanghai Symphony Orchestra Hall, Carnegie Hall, Forbidden City Concert Hall, Tsuen Wan Town Hall, and the Museum of Contemporary Art Chicago, among others. 
Joseph has received significant recognition in competitions throughout the United States. Joseph is the recipient of the 2022 Luminarts Classical Winds Fellowship and was named first-place prizewinner in the Music Teachers National Association Chamber Music Competition, Neale Silva Young Artists' Competition, Miroslav Pansky Concerto Competition, and Oshkosh Symphony Orchestra Discovery Artist Competition, second-place prizewinner in the North American Saxophone Alliance Quartet Competition, and third-place prizewinner in the North American Saxophone Alliance Collegiate Solo Competition. Joseph has recently been invited to perform at the World Saxophone Congress, North American Saxophone Association Biennial Conference, New Music Gathering, Northwestern University New Music Conference, and the International Saxophone Symposium. Recent engagements include performances of Nicholas Cline's Watersheds with the New Earth Ensemble and Kirsten Hedegaard, recording sessions with Ensemble Dal Niente, a year-long residency with Fuse Quartet at Webster University, and community outreach concerts with ~Nois. 
As an orchestral musician, Joseph has appeared with the Chicago Lyric Opera, Grant Park, Chicago Philharmonic, Northwestern University, Dubuque, Oshkosh, La Crosse, Fox Valley, and Manitowoc Symphony Orchestras. A frequent collaborator with Joffrey Ballet and the Lyric Orchestra, Joseph joined the company for ten performances of Lera Auerbach's The Little Mermaid in April 2023. In 2018, Joseph travelled with the Northwestern University Symphony Orchestra for performances in Beijing, Shanghai, and Hong Kong.
Collaboration is at the core of Joseph's musical practice. He has worked closely with composers Elijah Daniel Smith, Joanne Metcalf, Elliott Lupp, David Werfelmann, John Mayrose, JP Merz, Jasmine Thomasian, and others to create new works exploring the complex and malleable characteristics of the saxophone. Recent premieres include Elijah Daniel Smith's Perihelion for saxophone quartet, Joseph's arrangement of Reena Esmail's Jhula-Jhule for soprano saxophone and piano, and the U.S. premiere of Helena Tulve's Nagu jõgi meere poole for alto saxophone and piano. 
As an educator, Joseph is committed to empowering students to achieve their musical goals through personalized instruction and a passion for saxophone pedagogy. Joseph serves as Instructor of Saxophone at Lawrence University where he teaches applied saxophone and chamber music. Joseph has presented masterclasses and lectures at Northwestern University, Webster University, Lawrence University, UW-Milwaukee Peck School of the Arts, UW-Eau Claire, North Park University, and the Chicago Math & Science Academy. Joseph recently served on the faculty of the 2023 Asia-Pacific Saxophone Academy at Rangsit University in Bangkok, Thailand. In the past, Joseph has served on the faculty of UW-Eau Claire and the Merit School of Music.
When not playing saxophone, Joseph enjoys learning mandolin, obsessing over coffee, and spending time with his partner and two cats.
Education
DMA, Northwestern University (ABD)
MMus, Northwestern University
BMus, Lawrence University
Years at Lawrence
2023-present