Tim Albright (he/him)
---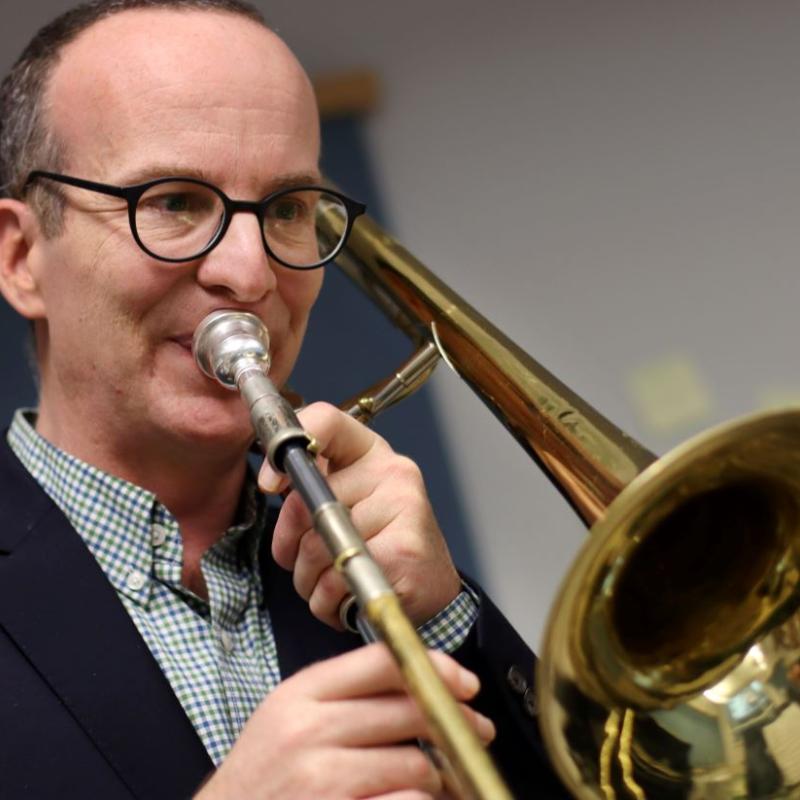 Campus Address
Shattuck Hall of Music
Room 21
Conservatory of Music
Title
Associate Professor of Music-Trombone
About
As trombone instructor in the Conservatory, I get to share my love of music through teaching private lessons and studio class, co-directing the Trombone Ensemble, coaching chamber music and small-group ensembles, and performing with the Faculty Brass Quintet and Faculty Jazz Ensemble. 
In 2019, I was thrilled to be part of the horn section that appeared on Bon Iver's i,i album, which earned three Grammy nominations, including Album of the Year and Record of the Year. That same year I was part of the Daphnis Prieto Big Band recording, Back to the Sunset that won the Grammy for Best Latin Jazz Album.   
Prior to coming to Lawrence, I worked as a professional musician in New York City while also teaching at Purchase College and in the pre-college division of The Julliard School. A member of the Atlantic Brass Quintet, I have performed with the Milwaukee Symphony Orchestra, Metropolitan Opera, Orpheus Chamber Orchestra, Maria Schneider Jazz Orchestra, WDR Big Band, Jay-Z, Barbara Streisand, Sufjan Stevens and The National.  I have been lucky enough to perform on five continents; my favorite places to visit have been Tokyo, Japan and Istanbul, Turkey. 
My message to students coming into my classroom or studio: I am here to help you become better trombonists and musicians. Ultimately, though, my wish is in some small way to help you become better humans—better versions of yourselves who begin to see your own potential and inner strength. The bonds created between studio teacher and student are strong and often last long after graduation. I cherish those connections.
Education
Bachelor of Music, Eastman School of Music
Years at Lawrence
2016-present