Ann Ellsworth (she/hers/her)
---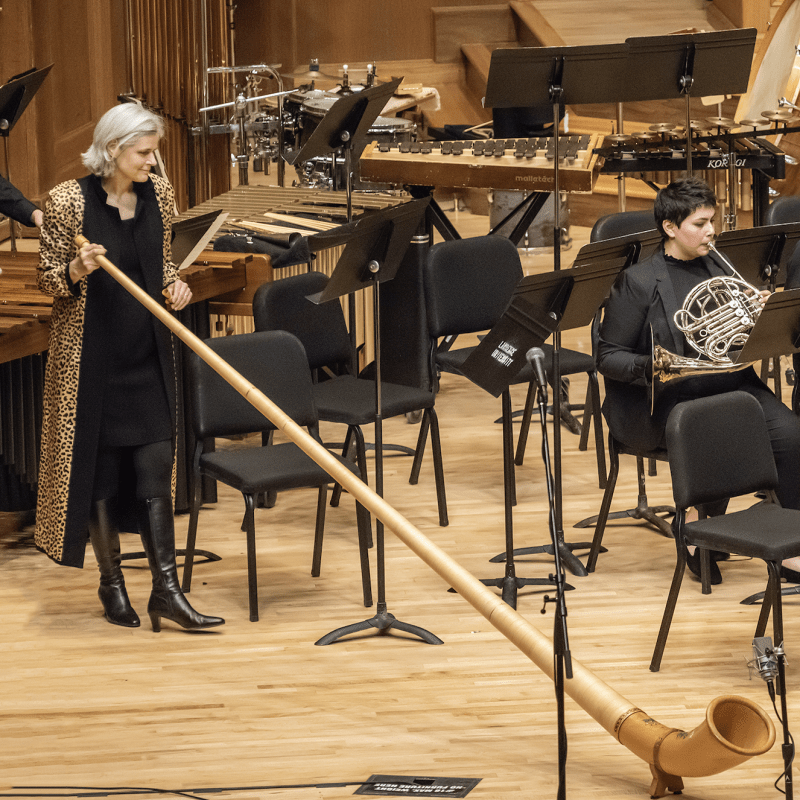 Campus Address
Music-Drama Center
Room 266
Conservatory of Music
Title
Assistant Professor of Music: Horn

About
Called, "outrageous" and "splendidly projected," by the New York Times, Ann Ellsworth is a versatile soloist, collaborative and recording artist. Her creative approach to interpretation and shameless repurposing of music from all periods and styles has earned her some notoriety in multiple countries. The Huffington Post called her premiere of a piece for Alphorn and samplestra, performed in a boxing ring in Gleason's Gym in Brooklyn, "meticulously planned and executed…as fresh and exalted as Alpine air." 
Her four solo recordings, "EUPHORIA," "Rain Coming" and "Late Night Thoughts" and "Leningrad" are adventurous but cohesive mix tapes of new works, previously unrecorded works, and arrangements of works for horn in mixed ensembles. Her sound world has been called, "dream-like," "other planetary," and "musically dangerous" by her colleagues. 
Ann has toured internationally as a member of Kristjan Jarve's Absolute Ensemble, the Manhattan Brass, the Danish Esbjerg Ensemble, and numerous other musical and artistic configurations. As an artist-in-residence for the Lang College of the New School, she led many groundbreaking interdisciplinary events involving improvisation, dance, videography, and landscape architecture. An advocate of new music, Ann was a founding member of the New Music and Culture Symposium and loves working with composers and premiering new works. She has performed with such popular artists as Aretha Franklin, Ray Charles and Diana Ross and can be heard on numerous television theme songs, commercials and movie soundtracks.
A published author, her memoir about adopting five foster kids is distributed by Simon and Schuster. Using art for social change, Ellsworth likes to take on difficult subjects through music, words, balladry and dance. She has written a "Singspiel" about the effects of Hydraulic Fracturing on the environment and another addressing racism and colonization of the American west through the story of the Donner Party.
Ann Ellsworth attended the Eastman and Juilliard Schools, with further study in Oslo and St. Petersburg, Russia. She is a former member of the Phoenix Symphony and forever passionate about teaching, has held faculty positions at numerous schools in the New York City area including Stony Brook, The CUNY Graduate Center and New York University. Originally from the Bay Area, Ann Ellsworth is an Assistant Professor of Music at Lawrence University in Appleton, Wisconsin.
Education
Eastman School of Music, BM 1987
University of Rochester, BA 1987
Julliard School of Music, Graduate Studies 1988-89
Rimsky-Korsakov Conservatory, Russia 1989
University of Maryland, MM 1991

Years at Lawrence
2018-present