Winter 2023 Exhibitions
January 13 – March 10
Louise Bourgeois: What Is the Shape of This Problem?
Leech Gallery
"What is the shape of this problem?" is the question presented by this series of nine letterpress diptychs produced by artist Louise Bourgeois (b. 1911, Paris; d. 2010, New York). Among the most influential artists of the 20th century, Bourgeois explores her personal history, her creative process, and her mental health through these text/image pairings, offering evidence that abstract emotions like suffering and mirth can be given voice and form through artistic practice – because, as she reminds us in the final diptych, "Art is a guaranty of sanity." These works were donated to Lawrence University by Dr. Robert Dickens '63
Suzanne Duchamp: The Last Decade
Hoffmaster Gallery South
Suzanne Duchamp (1889–1963), like three of her brothers, was an active and exciting avant-garde artist. During an artistic career spanning five decades, she expressed her concerns about modern society, the effects of war, and her role as a modern woman and artist. These themes were expressed in various styles: by appropriating technology and contemporary objects in her assemblages, in her revealing self-portraits, and through her use of color symbolism. Duchamp assembled a complex, heterogeneous body of work and made a unique contribution to modern art. Christa Story, Curator at Beloit College's Wright Museum of Art, organized this exhibition featuring recently conserved artworks by the "other Duchamp" in their collection.
Fortnight: Celebrating Black History and Women's History Months
Hoffmaster Gallery North
This exhibition will span the final week of Black History Month (February) and the first week of Women's History Month (March) and serve as a focal point and site for poetry readings, music and dance performances, meditation sessions, and gallery talks connected to the artworks and the history months. The show will feature artworks by Black women artists in the Wriston Art Galleries collection and on loan from Art Bridges Foundation.
Lawrence University Studio Art Faculty Show
Kohler Gallery
An exhibition featuring recent works by the LU Studio Art faculty:
Tony Conrad, Visiting Assistant Professor of Art

Rob Neilson, Frederick R. Layton Professor of Art & Professor of Art

Benjamin Rinehart, Professor of Art

John Shimon, Associate Professor of Art

Brittany Sievers, Visiting Assistant Professor of Art
---
Spring 2023 Exhibitions
March 31 – May 12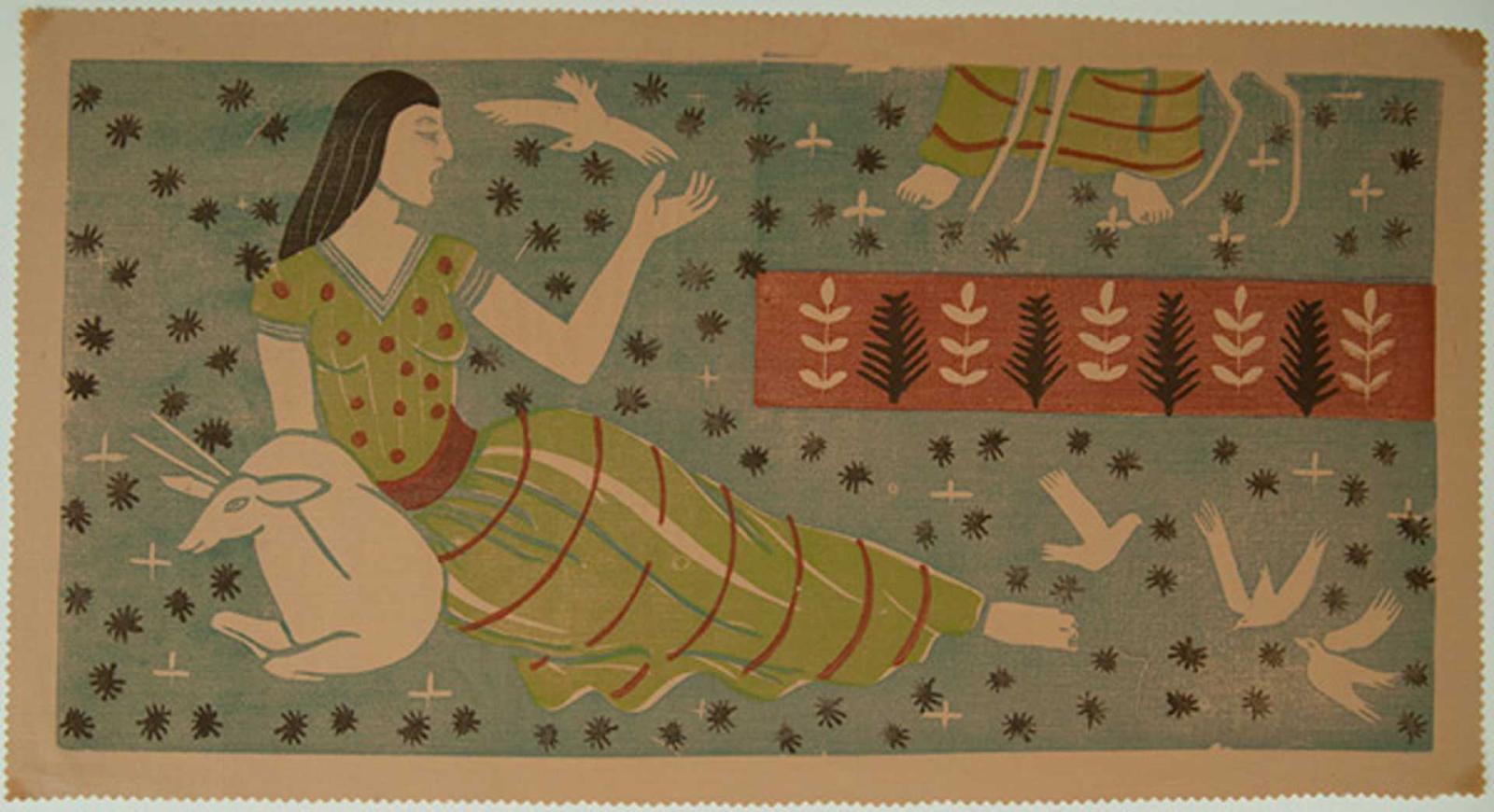 Centering the Periphery
Leech Gallery
This exhibition, curated by Jin Han '23, will feature East Asian objects in LU collection that she researched in collaboration with Prof. Brigid Vance. The primary inquiry of Jin's research and the show is how ivory stamps, jade carvings, Ukiyo-e prints, among other objects, ended up in peripheral locations such as Appleton as opposed to metropolitan centers like London or Chicago.
WPA Handicraft Project
Hoffmaster Gallery
Sarah Matthews '23 curated this exhibition based on her art history capstone on a portfolio of block printed textiles produced by the Milwaukee WPA Handicraft Project, an initiative of the Works Progress Administration in the late 1930s. Her project focuses on gendered labor practices and the distinctions between art and craft in the domestic sphere.
David Najib Kasir
Kohler Gallery
The subjects in David Najib Kasir's figurative paintings are overlaid with traditional, colorful Arab designs called Zellige. The scenes are drawn from his personal narrative, including his parents' journey to the U.S. and the current crises in their homelands (Syria and Iraq). As an U.S.-born artist, David aims to inform viewers about the recent wars and violence in Syria as well, to build a greater understanding of the millions of voiceless Arabs now living in chaos and disarray.
---
2023 Senior Art Show
May 26 – June 25
Leech, Hoffmaster, and Kohler Galleries 
The annual exhibition of artwork by Lawrence University's senior studio art majors.
---
Fall 2022 Exhibitions
September 23 - November 18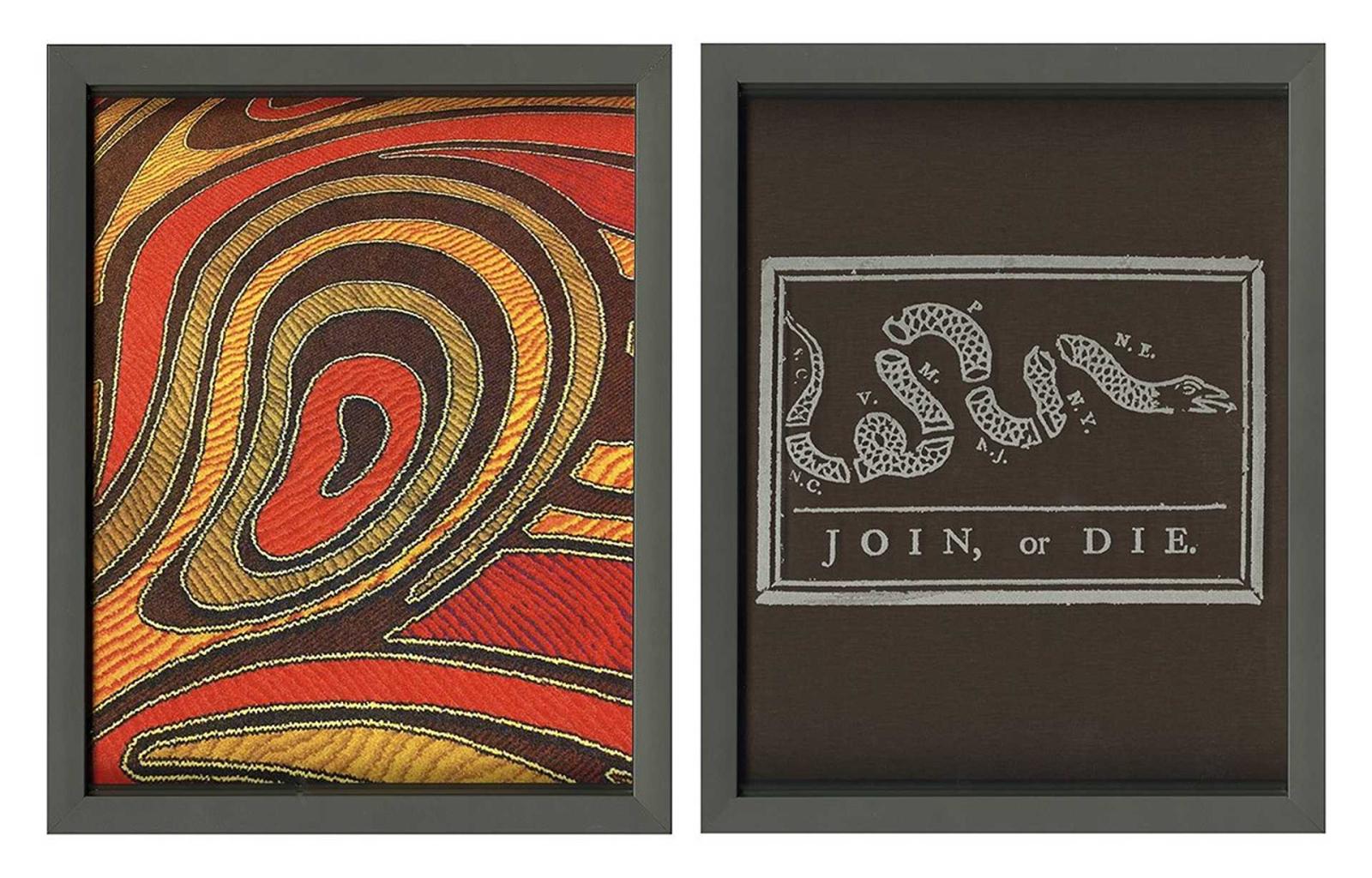 175th Anniversary Exhibition
Leech Gallery
A collaboration between the Wriston Art Galleries and the University Archives to celebrate the 175th Anniversary of Lawrence University's founding, this exhibition focuses on the built environment of the campus. It features artworks, photographs, documents, and material culture featuring Main Hall, Ormsby Hall, Underwood Observatory, Peabody Conservatory of Music, and the Memorial Chapel, as well as historical maps of campus.
Tom Jones (Ho-Chunk), Remnants
Hoffmaster Gallery
In his Remnants series, Ho-Chunk photographer and UW-Madison art faculty member Tom Jones re-appropriates imagery from historical documents such as newspapers, etchings, and ledger drawings, engraving them on glass and laying them over photographs of patterned carpets and textiles taken at Indian casinos throughout the United States.
This exhibition offers visitors a deeper exploration of the ways American Indians have been visually represented in historical popular culture and also raises crucial questions about these depictions of identity. The dialogue between the engraved images and the vibrantly colored carpets in the photographs encourages reflection about events in U.S. history and the future for Indian communities with casino revenues.
Where is Black Art _____
Kohler Gallery
This exhibition features select works by Black artists in the Lawrence University art collection, complemented by four artworks on loan from the Art Bridges Foundation. The loan expands the scope of the exhibition in terms of form and media, art historical chronology, and representation of women artists. Where is Black Art _____ poses important questions about Black visual arts; the where in the title starts the conversation, asking viewers to consider the two institutional art collections from which the works are drawn.
Other areas of inquiry include: the place of works by Black artists on a university campus; how Black art can be taught, researched, displayed, and talked about; the messages and ideas that artworks by Black artists visually convey, and how they do so; and new ways of thinking, writing, and learning about Black art in museum exhibitions and elsewhere. exhibitions and elsewhere.
---