Fall 2021 Exhibitions
September 24 - November 19
Valaria Tatera: Erasure, Visibility and Resilience
Leech and Hoffmaster Galleries
Valaria Tatera is a Wisconsin based installation artist, activist and lecturer whose work investigates the intersection of ethnicity, gender, commerce, and the environment. An enrolled member of the Bad River Band of Lake Superior Chippewa, Valaria explores self identity and contemporary Indigenous issues such as the impact of colonization on Indigenous Erasure, Visibility and Resilience.
Gina Adams: Broken Treaty Quilts and Languages of Healing
Kohler Gallery
Gina Adams's work focuses on the loss and subsequent reclamation of identity and history through story telling. Each human life can explore many journeys, both physical and spiritual into rich history of the past and present. The journey of continuing to learn one's familiar language is one such journey. The path of artistic creativity through research and the discourse of colonial actions that occurred historically is another. The path of wanting to heal the country of its scars is evident in Adams's Broken Treaty Quilts, in which she meticulously stitches the text of broken treaties between the United States and Native American tribes onto antique quilts.
Through a contemplative daily artistic practice, Adams creates a unique visual language in her Lace Bead Heritage series and in works in encaustic. For each work in these series, Adams, a research-based artist, looks at the attributes of the language and draws upon specific cultural materials found when working in museum archives. Each archival research is personal but the result is meant for a greater audience, so that they individuals viewing the artwork can ponder what was lost and what can be gained if we all take a part in this cultural healing together.
---
Winter 2022 Exhibitions
January 15 – March 11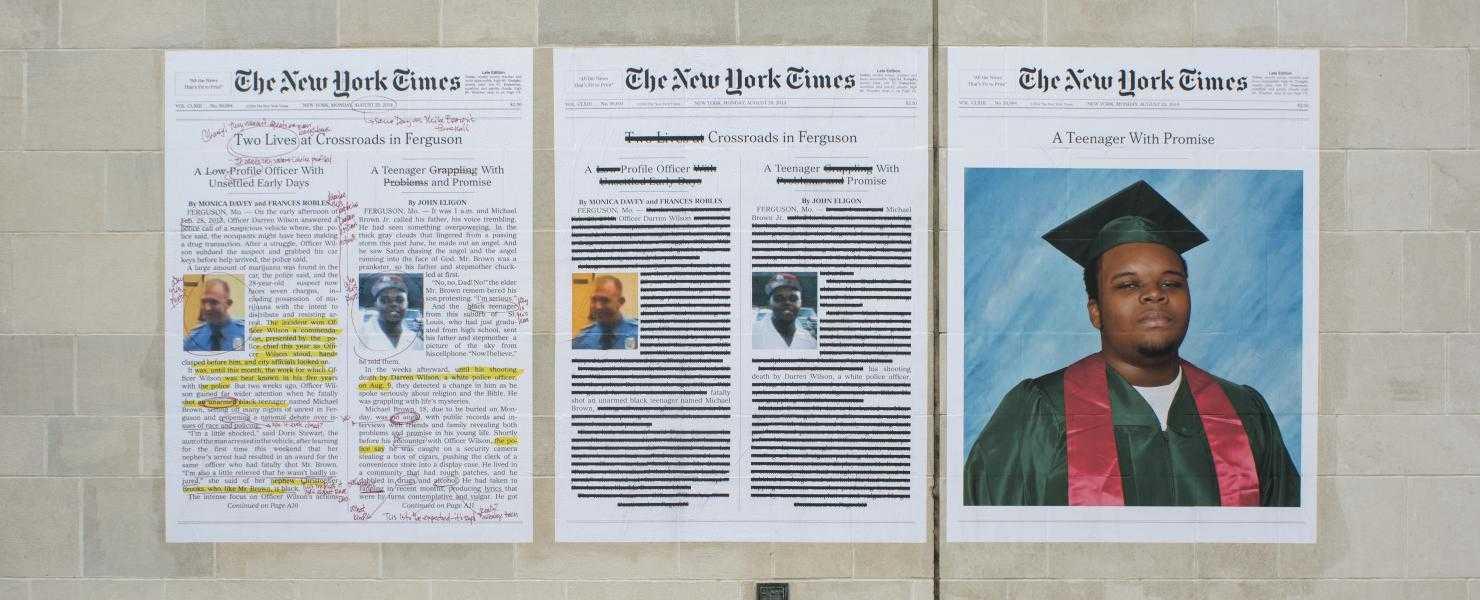 Manufacturing American Women
Leech Gallery
LU students Charlie Wetzel and Emma Goodman curate an exhibition on the ways early 20th-century print publications created a performative consumer culture in the United States. Understanding consumerism as a deeply gendered pastime, this exhibition includes women's magazines from the Jackson Collection and examples of the gendered consumer objects featured in their advertisements.
Alexandra Bell: Counternarratives
Hoffmaster Gallery
Multidisciplinary artist Alexandra Bell will give a Convocation in winter 2022. In conjunction with her campus visit, select works from her Counternarratives series on disrupting media bias will be on view. In this series, Bell edits New York Times articles, altering headlines, changing images, and redacting text to reveal oppressive patterns in news reportage and society at large.
Crossing the Vertical Border: On the Central American Migrant Trail

 
Kohler Gallery
LU Professor of Spanish Thelma Jiménez-Anglada organized this powerful exhibition which pairs documentary photographs taken by Edu Ponces and Toni Arnau with text from Óscar Martínez's book The Beast: Riding the Rails and Dodging Narcos on the Migrant Trail.
---
Spring 2022 Exhibitions
April 4 – May 15
I picture you, Puerto Rico: a Trigueñitas love letter to PE-ERRE
Leech Gallery
"In summer 2021, I completed two research projects; the first focused on Puerto Rican art in museum and exhibition spaces and the second on the Puerto Rican feminine body as a space of discourse. Environmental disasters and the COVID-19 pandemic made it difficult for me to visit museums that showcase renown artworks in Puerto Rico, but I was thankful for the opportunity to redirect my focus on nonconventional exhibition spaces. The exterior walls of homes, businesses, and abandoned buildings are transformed into revolutionary art spaces that display murals and mosaics made by local artists. These artworks capture expressions of nationality, history, identity; political and social justice movements; and the effects of U.S. imperialism it continues to transform 21st-century Puerto Rico." - Meralis  Alvarez-Morales '22, Global Studies (Arts & Exchange)
The Bourne Collection of Inuit and Northwest Coast Art
Hoffmaster Gallery
The Kathleen Ramer '57 & Robert K. Bourne Collection of Inuit and Northwest Coast Art was donated to further understanding and education about the art and culture of the Indigenous peoples of the northern regions and northwest coastal areas of Canada. The selection of works on view in the gallery are all by contemporary Inuit artists, including Pauta Saila, Markoosie Papigatok, Pitseolak Niviaqsi, Mayureak Ashoona, and others, but the larger collection also includes pieces by Tlingit and Haida artists. 
Nirmal Raja and

Lois Bielefeld:

On Belonging
Kohler Gallery
In response to increasing racial polarity in the United States, artists Nirmal Raja and Lois Bielefeld launched two collaborative projects exploring identity, place, and belonging. One project examines the role of garment and our visual understanding of race; the other questions the veracity of recorded history and our attempts to contend with it; together, they form the interactive, multimedia exhibition On Belonging.
---
2022 Senior Art Show
May 27 – June 26
Leech, Hoffmaster, and Kohler Galleries 
The annual exhibition of artwork by Lawrence University's senior studio art majors: Antonio Mancilla Jr., Audrey Rasmussen, Chapin Grumhaus, Clare Conteh-Morgan, Celeste Reyes, Elyssa Pfluger, Grace Stahl, Jamie Dong, Karin Hannemann, Leena Meyers, Levi Homman, May Li, Sophia Galassini, Tanner Morris, Tessa Larson, Yui Maehara
---