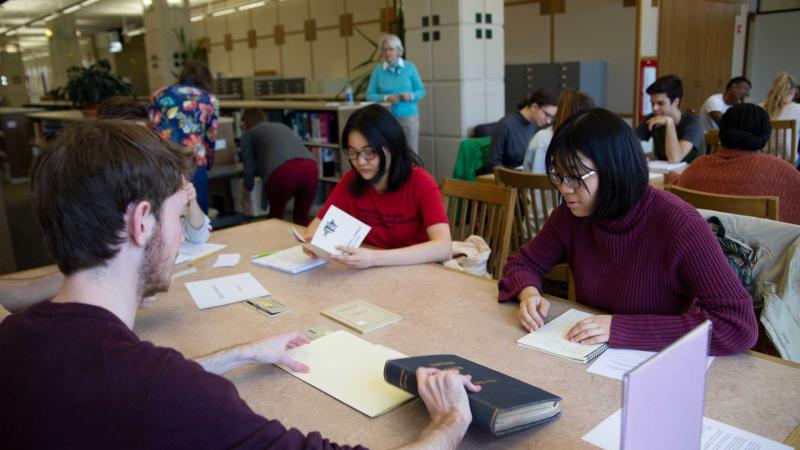 Reference Instruction Sessions
---
Faculty are encouraged to contact our reference librarians to arrange an instruction session for your courses. Please contact us at least a week in advance to so we may work with you to plan your session. 
Along with instruction sessions, reference librarians often create course-specific research guides to complement their instruction. These guides contain curated, targeted resources specific courses and specific assignments.
Information Literacy at Lawrence University
When we talk about information competency, information fluency, or information literacy, we are essentially talking about the ability to find, understand, and use information thoughtfully, effectively, and responsibly. The Association of College and Research Libraries (ACRL) more broadly defines information literacy as "the set of integrated abilities encompassing the reflective discovery of information, the understanding of how information is produced and valued, and the use of information in creating new knowledge and participating ethically in communities of learning." Information literacy is a crucial aspect of a liberal education.
The ACRL Framework for Information Literacy for Higher Education informs our understanding of information literacy, but we also draw on our experiences with classes and with our reference and research interactions with students in forming our approach to information literacy at Lawrence. Our framework focuses on four important ideas related to scholarship, research and information:
scholarship is a conversation
research is a form of inquiry
searching is part of strategic exploration of ideas
intellectual authority is constructed and contextual
For each of these four ideas, we list dispositions and practices we would like to help our students develop. Dispositions can be thought of as mindsets or attitudes, while practices include behaviors or habits. Explore these ideals in more detail on our Information Literacy at Lawrence University guide.
Assignment Design & Plagiarism Prevention
The librarians are available to help develop your students' research skills.  See our Assignment Design guide for alternatives to term papers, plagiarism prevention and response resources, and more resources that can be useful as you go about creating assignments and activities for your classes.