When Jocey Kleiber started as Lawrence University's first women's hockey coach in August 2019, she wrote a number on the whiteboard outside her office at Alexander Gymnasium. That figure was more than 400, and it signified the number of days until the Vikings dropped the puck on the first game in program history, set for late October 2020.
"It feels like five years ago now," Kleiber said with a laugh.
That number was finally down to double digits, less than two months away from the opener, when the Northern Collegiate Hockey Association (NCHA) announced in August 2020 the season was going to be suspended until at least January 2021 due to the COVID-19 pandemic. Instead of taking it as a soul-crushing setback, Kleiber took it in stride.
"The pandemic had been raging at that point so it wasn't like it came out of the blue," Kleiber said. "I kind of chuckled a little bit, and it was like, of course, I try to start a new program and a pandemic hits."
Now the day Kleiber and her team have waited for, planned for, longed for, is finally upon us. Lawrence opens its inaugural season on Feb. 13 against the College of St. Scholastica at the Appleton Family Ice Center. The puck drops at 7 p.m. No fans will be allowed for Lawrence home games, but the contests will be webcast here. Lawrence then travels to St. Scholastica for a 4 p.m. Feb. 14 game in Duluth, Minn.
"It was kind of like our hearts dropped," said first-year forward Delaney Kingsland of the decision to suspend the season. "We had worked through the year to get to this place. When we got the news that we were going to have a season, we were super excited."
Women's hockey is Lawrence's first new varsity athletics program since men's hockey was elevated from club status in 1986. Lawrence, which started its athletic program with a track and field day in 1889, now has 22 intercollegiate athletic teams. The addition of the Vikings brings the number of NCAA Division III women's hockey teams to 67.
Kleiber was only half-joking when she said it felt like five years ago that she was hired. It would be a colossal understatement to say much has transpired in the past 12 months. A once-in-a-century pandemic has dominated our lives. Kleiber was undeterred as she went about the business of building her team from scratch.
"As soon as I was hired and able to start recruiting, the first thing I did was to try and get as many feelers out as I could," Kleiber said.
"I focused solely on recruiting. I was trying to go to as many tournaments as I could to get people to see me more and more. I had a mom say to me, 'I've seen you everywhere on the road.'"
Kleiber kept plugging away as she saw hundreds of players in games across the country. She polished her pitch about why these young women should choose Lawrence and be part of something brand new. It didn't always go smoothly.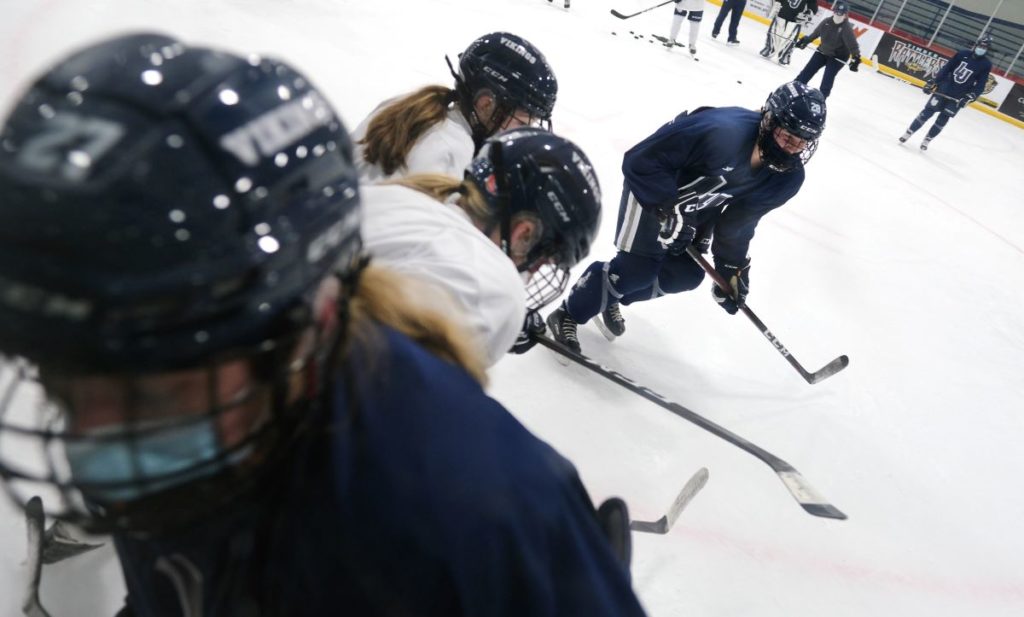 "Being a college coach, you get used to hearing the word no a lot, and you just kind of roll with it and go to the next kid," Kleiber said.
And every once in a while, you hear, "Yes!"
Prescott native and goaltender Sydney Seeley didn't know a lot about Lawrence, but Kleiber convinced her to see the campus.
"I was coming to Green Bay for a tournament for the weekend, and I thought I would tour (Lawrence) and check it out," Seeley said. "I fell in love with the campus, and I love coach Jocey. There was something about (Lawrence), and I knew this was the place I wanted to be."
"Sydney committed right then and there, and a few people committed shortly after that," Kleiber said.
The momentum continued to build over the following months, and it was late winter 2020 when Kleiber started to feel good about the size of her first recruiting class.
"I think when the calendar flipped to March or April, I was feeling like we were right there. We needed a couple more players to fill out the team," Kleiber said. "I had a good handful of feelers out to kids that had been accepted, and they just needed to make a decision."
At the same time, Wisconsin went into a lockdown as the pandemic hit the population hard for the first time. Lawrence sent students home to study remotely during Spring Term.
Despite the lockdown, Kleiber managed to finish her recruiting class of 14 student-athletes. As we eased toward mid-summer, the number of infections and deaths continued to rise, but the coaches and athletes on the Lawrence campus held out hope they would be able to return to campus and be allowed to compete.
Kleiber continued her preparations for the season and kept her fingers crossed. The first bad news came on July 27 when the Midwest Conference announced it would not play the fall sports season. The NCHA followed on Aug. 6 with word that the men's and women's hockey seasons wouldn't begin until January 2021 at the earliest.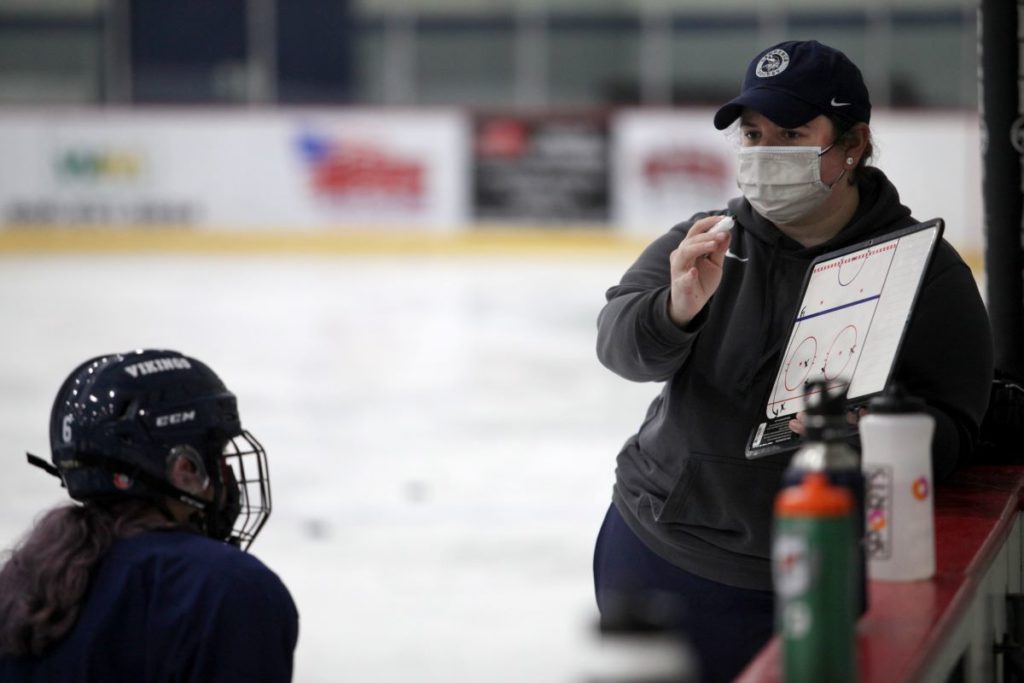 "Man, we're so close," Kleiber recalled. "We have our jerseys; we have our equipment; the locker room is taking shape, and the world stops."
That holding pattern continued until January. The Midwest Conference canceled its winter sports competitions, but the NCHA announced it would play an eight-game regular season followed by the playoffs. That announcement set off high-fiving and fist-pumping among the Vikings.
"We were all really excited that we got to have a season," Seeley said. "Being the inaugural team, we wanted to play. Had we had to wait until next year, it would have been different. One thing that hits home for us is that we are the first people to wear these jerseys, the first people to set records, and it's super exciting because we get to set expectations for the program."
The Vikings have been careful since they arrived on campus in the fall. They conducted practice and weight training in small pods before just recently beginning full team practices. Masks are worn at all times. Team meetings and video work are all done via Zoom, and even on-ice conversations are socially distant whenever possible.
Kleiber said she reminds her players daily to "honor the pledge" to ensure the health and safety of the Lawrence community and to make decisions to keep everyone safe. The players are tested for COVID multiple times per week, including the day of a home game and within 24 hours of a road game.
All of those precautions have allowed the team to reach this point of launching a new program.
"Every time you step out on the ice for a new team it's kind of exhilarating," Kingsland said. "You get to do what you love and play with your best friends. Being able to step on the ice for our first game will be memorable. We are setting some history here."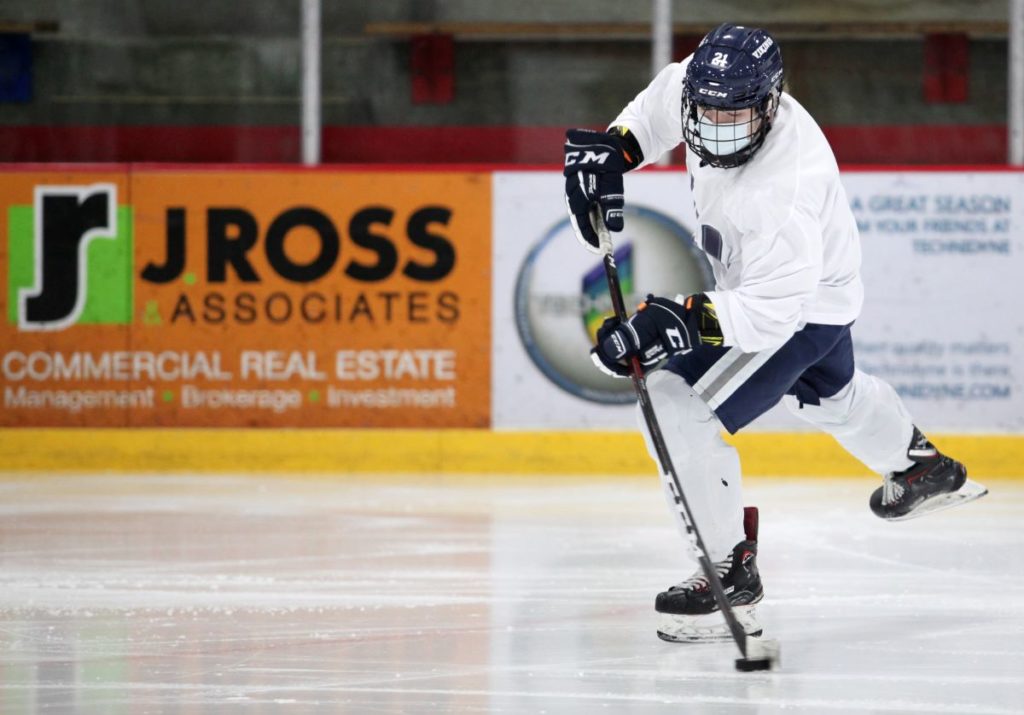 A pretty lofty goal of 10 victories had been Kleiber's goal for the team before the season was shut down last summer. 
"I say it to the players, I'm not someone who's happy to be here. I want us to be good from the get-go," Kleiber said. "I want more than that, and I know the athletes that are here want more than that. Having a goal that seems out of reach is better in relative terms than something that is pretty easy to accomplish."
With the Vikings now playing an abbreviated eight-game regular season, Kleiber has adjusted the goals.
"One of the goals for us will be to make the playoffs," Kleiber said. "Why not us? We will have to just play it one series, one weekend at a time. However it works out, it's going to be an inaugural season unlike any other."