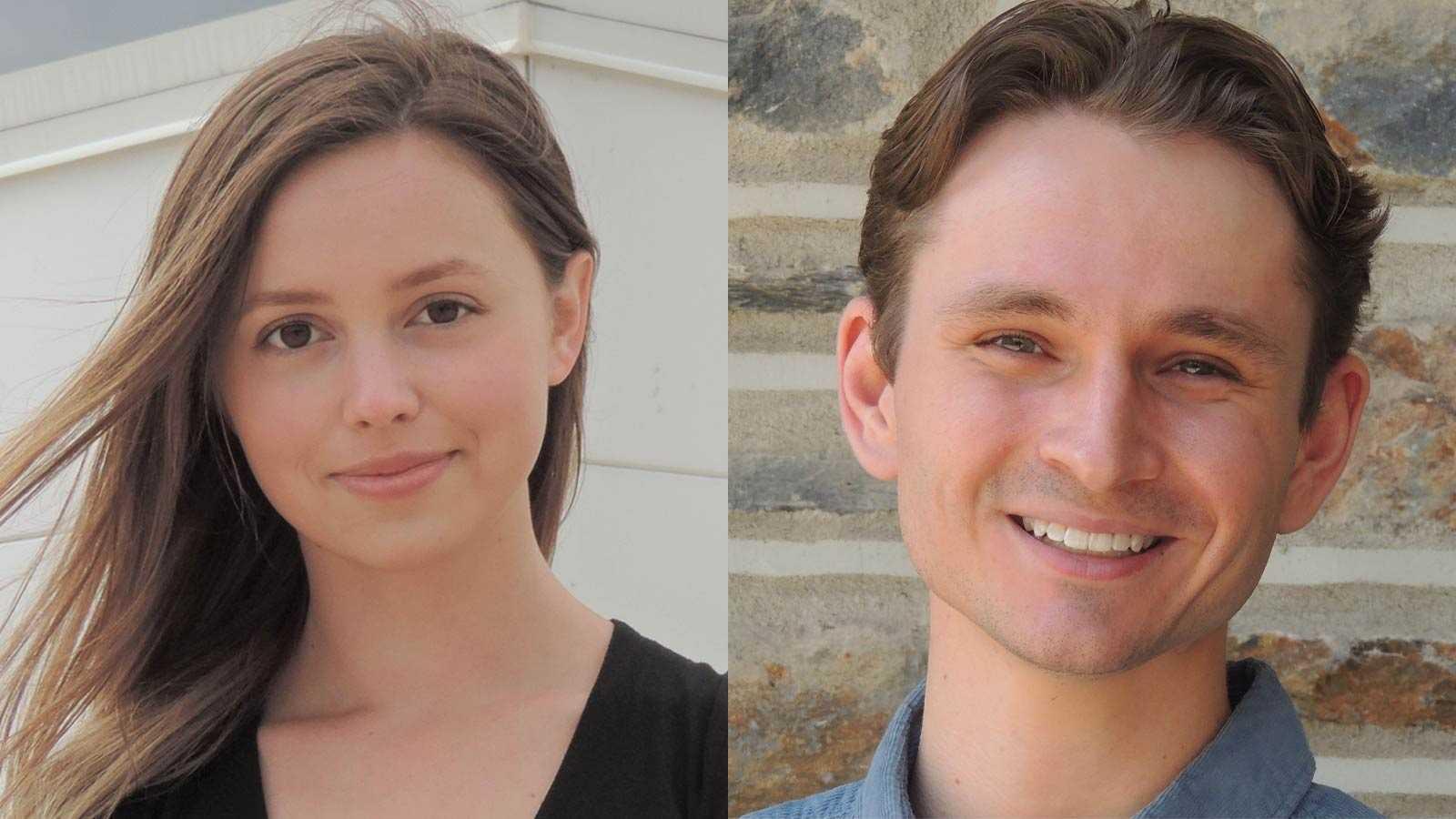 Two Lawrence University alumni doing graduate school work in the sciences have been awarded highly competitive National Science Foundation Graduate Research Fellowships.
Katie Kitzinger '20, a graduate student at the University of North Carolina, is studying organic chemistry and pursuing research that focuses on reactions that rapidly build molecular complexity.
Gus Lowry '18, a graduate student at Duke University, is studying biochemistry with a focus on membrane biology.
The 2022 awards are part of the NSF's Graduate Research Fellowships Program (GRFP), which recognizes and supports outstanding graduate students in NSF-supported STEM disciplines who are pursuing research-based master's and doctoral degrees. The five-year fellowship includes three years of financial support.
In addition to the awards given to Kitzinger and Lowry, three other recent Lawrence graduates earned honorable mention—Evan Cline '20 (Dartmouth), Nabor Vazquez '19 (Yale), and Nicolette Puskar '19 (University of California, Berkeley).
Kitzinger, in her second year at North Carolina, said her focus on organic chemistry stems from her time at Lawrence.
"It was the chemistry faculty at Lawrence, especially Stefan Debbert, Deanna Donohoue, and Allison Fleshman, who initially inspired me to pursue a graduate degree in chemistry," she said. "So, it was a ton of fun sharing the exciting NSF news with them."
Lowry, meanwhile, said he was thrilled to receive the NSF award, knowing how high the bar is set.
"Honestly, it's surreal to receive the fellowship," he said. "This was my second time applying, which made it easier to orchestrate, but it's competitive enough where all you can do is put yourself out there and hope for a good result. I feel both fortunate and honored for the recognition."
Faculty help guide students through undergrad research and prepare them for career opportunities or graduate school and doctorate programs
Like Kitzinger, Lowry said it was his work with faculty at Lawrence that put him on this path. He credits Fleshman, physics professor Doug Martin, and physics professor emeritus John Brandenberger with encouraging him to explore different types of research.
"Moving across disciplines helped me put together a scientific vocabulary that has served me well thus far," Lowry said. "Along those lines, my research integrates biochemistry, biophysics, and engineering to create new tools for studying cell membranes. These technologies will help us answer fundamental questions about how cells fuse during development or viral infection."
The NSF fellowships are a point of pride for Lawrence science faculty across the disciplines, Fleshman said. Having two recent graduates earn 2022 fellowships and three others get honorable mention status speaks to the breadth of STEM studies and research happening at Lawrence.
"Katie Kitzinger approached her research with curiosity," Fleshman said. "I enjoyed watching her tackle problems and was inspired every time she would bring me new insights into the data we were analyzing. I was so excited to hear, but not surprised, that she was awarded an NSF GRFP since she is already a rock star scientist."
Lowry, meanwhile, embraced every opportunity that came his way, Fleshman said.
"I had the pleasure of working with Gus his first year at Lawrence, measuring viscosities of ionic liquid systems to be used in battery materials, and I knew then that he was bound for great things," she said. "Gus's work now is in a completely different field from where he started, but that just shows how versatile of a scientist he is."