As another exciting year at Lawrence draws closer, so do a myriad of opportunities for Lawrence students to travel the world, expand their horizons, and join with others for the sharing of knowledge. Study abroad interest has come roaring back following the travel upsets caused by the COVID-19 pandemic.
Where will your study abroad travels take you?
Lezlie Weber, director of Off-Campus Programs at Lawrence, said Lawrence has signature programs in London and Senegal and opportunities to craft study abroad adventures around the world.
"Austria is growing due to increased interest in our music students studying abroad," Weber said. "Spain, China, and Senegal are likely tied to students' interest in language programs."
This was the case for Mattie Rynkiewicz '23, a Bachelor of Musical Arts degree student with a cognate in French who wanted a more unorthodox French experience. Living with a host family in the Senegalese capital, Dakar, in Spring Term, they studied French, Wolof, and Senegalese music at an NGO. Students had opportunities to learn more and grapple with the history of the slave trade and colonialism with visits to Gorée Island and Saint-Louis. Weekends also provided opportunities to explore many dimensions of Senegal, like visits to the Bandia National Reserve to see wildlife, and getting in touch with Senegal's creative side at the Sabo Badé artists' colony.
"One of my favorite places that we visited was the Monument of the African Renaissance in the Ouakam neighborhood of Dakar," Rynkiewicz said. "…Dakar is an absolutely bustling and vibrant city."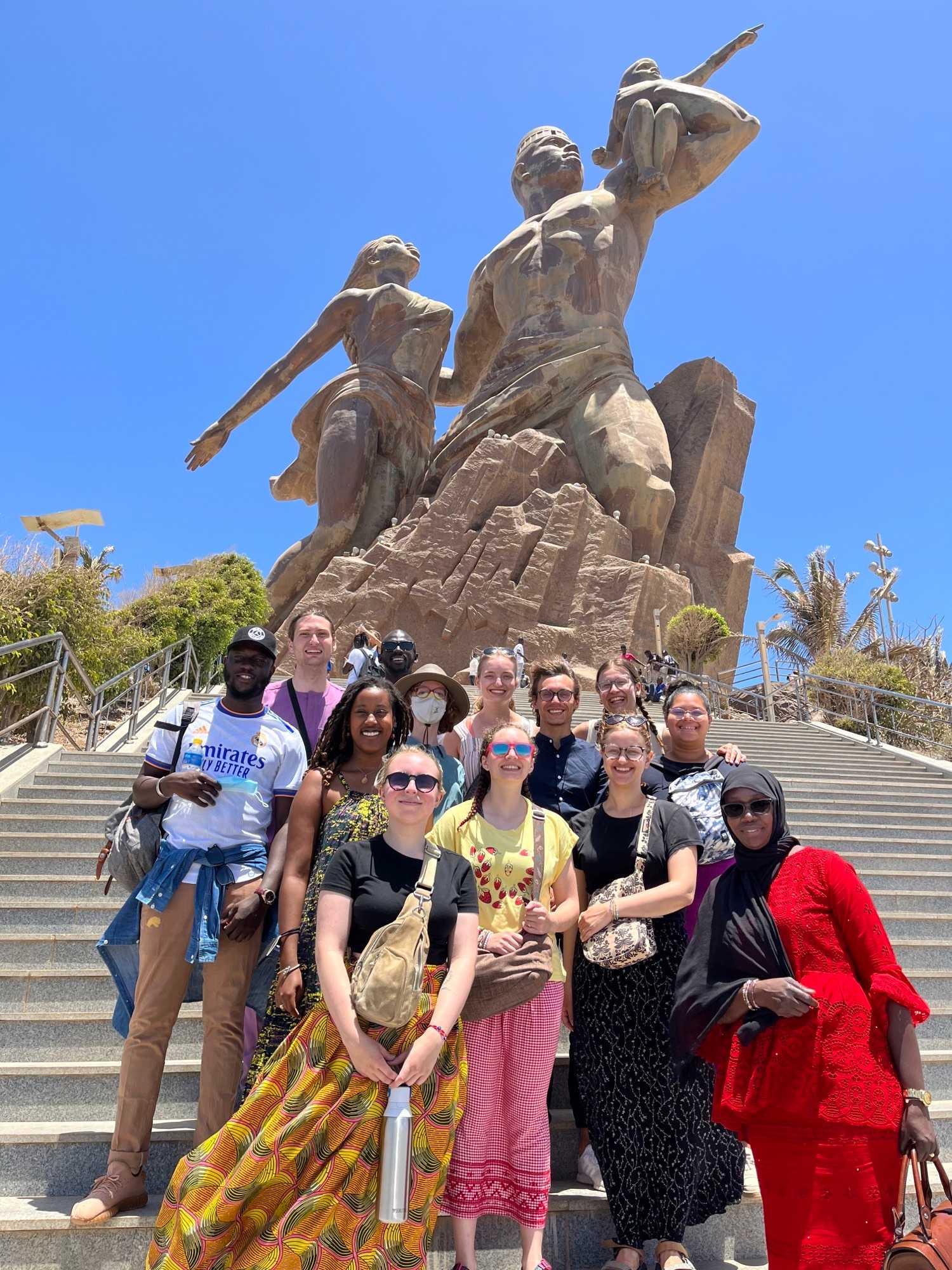 English is not popularly spoken in Senegal, meaning students have to rely on their French and Wolof skills. This challenge appealed to Rynkiewicz.
International relations and government double major Iyanu Osunmo, meanwhile, traveled to Rome to take international relations classes and learn about the history and dynamics of the entire Mediterranean region. She enjoyed Italian hallmarks like carbonara, gelato, operas, the Spanish Steps, and the Colosseum, but she also enjoyed the unexpected sights such as a Michael Jackson impersonator.
"I really enjoyed how dynamic Rome was as a city," Osunmo said. "I also enjoyed the food, architecture, and museums."
She also said Rome offers great opportunities to learn about international relations and politics.
With more than 50 programs in 30 countries to choose from, students can craft an adventure all their own.
With more than 50 programs in 30 countries to choose from, here are what other top Lawrentian destinations have to offer.
United Kingdom: Lawrence's famous London Centre is a low-stress opportunity where any student can explore their passions in the cosmopolitan metropolis. With no prerequisites, the London Centre is a great starting point for international travelers. Also available is focused study of a single topic amongst British peers at one of six colleges in Oxford. Whether in London or Oxford, the UK is a great balance of familiar and fresh for Lawrentians.
Spain: Lawrentians traveling to Spain can choose to study either at the University of Salamanca or Granada. With numerous opportunities to test their Spanish skills in these two historic and beautiful cities, Lawrentians can take university courses exploring Hispanic and Iberian history and culture. Fun fact: The University of Salamanca was founded in 1218 by King Alfonso Ⅸ of León, and is one of the oldest universities still in operation in the world.
Jordan: Those interested in Arabic and the Middle East have the opportunity to study both in the Jordanian capital, Amman. Whether Arabic beginners or experts, any interested student can take a variety of courses with both English and Arabic instruction, as well as partake in local community experiences. The area has been inhabited since at least 7,000 ʙ.ᴄ.ᴇ., making Amman a historical marvel for interested students.
Germany: Lawrence's options for students interested in traveling to Germany include studying language and area studies at the Humboldt Universität in Berlin, another language and area studies program at the Albert-Ludwigs Universität in Freiburg, and the IES European Union program, where students study the EU over 22 days of travel and hold a week-long EU simulation. In this fascinating and culturally rich country only reunified 33 years ago, this program could be your next big step in finding ways to unify others.
Argentina: Students can travel to the Argentine capital of Buenos Aires and study a diverse array of subjects. Those with high Spanish proficiency and an interest in Latin American studies can even take integrated courses at the University of Belgrano. Buenos Aires' sizable theater and art scenes, gorgeous architecture, and unique cultural identity make the city a fantastic choice for a visit.
The Netherlands: Lawrence has four Dutch destinations to offer, three of which are in the famous and historic Amsterdam. Learn about internationalism at Amsterdam's Universiteit van Amsterdam, hone your creative skills at the Amsterdam School of Music, practice psychology at the Vrije Universiteit Amsterdam, and explore technology development at the University of Twente in the quaint city of Enschede. Fun Fact: You've probably heard of New Zealand, but where's the old Zealand it was named after? It's the Dutch province of Zeeland.
Austria: The alpine nation hosts two programs for Lawrentians. IES Vienna - European Society and Culture is a humanities and social sciences-oriented program where a single required German language course opens up a sprawling selection of courses and fields. The Austrian music opportunities Weber mentioned are part of the IES Vienna - Music program. Here, students take some German language and social sciences, but a music curriculum open to all and a Music Performance Workshop via audition are the main focus. From Mozart in the 1780s to Falco in the 1980s, Vienna's musicians are legendary, and you have the opportunity to walk their stomping grounds.
France: Two programs take Lawrentians to France. IES Nantes takes students to the city of Nantes where they immerse themselves in French culture with a local family, internships, and integrated courses at l'Université de Nantes. IES Paris goes to the storied capital itself, and has both music and non-music options at multiple universities. IES Paris also has home stays and other immersive experiences. Home stays, of course, don't mean you can't venture outside and visit Paris' famous sites like the Eiffel Tower, Arc de Triomphe, Louvre Museum, and Sacré-Cœur Basilica, among countless others.
These aren't the only destinations, of course. The Study Abroad & Off-Campus Programs page at lawrence.edu features information on more than 50 off-campus study possibilities.
Others of interest include Buddhist Studies in Bodh Gaya, India, SUNY Madagascar Semester and Budapest Semesters in Mathematics & Mathematics Education.
Buddhist Studies in Bodh Gaya, India, takes students to Bodh Gaya, the site where the Buddha is said to have achieved enlightenment. While in India, students learn about Buddhism and its teachings from as many angles as possible.
The SUNY Madagascar Semester gives students the option to study anthropology, tropical biology, primatology, or ecology at the Centre ValBio research station in Madagascar's Ranomafana National Park. Students also learn about Madagascar's culture and pursue an independent study.
Budapest Semesters in Mathematics & Mathematics Education is a program taking students to the picturesque Hungarian capital to study mathematics with acclaimed professors.
"Hungary has a long tradition of excellence in mathematics education," said the program description. The nation has produced accomplished mathematicians such as the internationally renowned Paul Erdős, who was born and educated in Budapest.
Weber said Off-Campus Programs' two newest opportunities are Bishkek: Central Asian Studies and Ecology and Anthropology in Tanzania.
Bishkek is the capital of the beautiful mountainous nation of Kyrgyzstan in the region of Central Asia, where Turkic, Persian, and Russian/Soviet history come together. Bishkek: Central Asian Studies teaches students the geopolitical history and cultures of Central Asia (most of which became independent from the Soviet Union in 1991), with the rare opportunity to learn Kyrgyz, Kazakh, and other Central Asian languages along with Russian and Arabic. The program even includes a two-week trip to Kyrgyzstan's neighbors, Kazakhstan and Uzbekistan. If you're looking for a fascinating journey off the beaten path, look no further than Central Asia, where ancient Silk-Road mosques and caravan shelters share streets with modernist Soviet tower blocks and monuments.
Also off the beaten path is Ecology and Anthropology in Tanzania, where students travel to the East African nation and live with a host family as they learn about social and natural sciences, often involving field work. The program also includes Swahili language courses and trips to national parks like the famed Mount Kilimanjaro. With the chance to speak to local experts and interact with Tanzanian communities, this program is perfect for ecology students looking to expand their horizons. Fun fact: Tanzania was named Tanganyika until it united with the island country of Zanzibar in 1964, resulting in the name Tanzania.
With these study abroad opportunities (and many more) in mind, we hope you'll find your own unforgettable experience.
"Studying abroad is not all fun and games," Rynkiewicz said. "You will struggle, but that struggle is extremely important. You will end up a better person on the other side."
Reflecting on Rome, Osunmo, who now has Germany in her sights, said, "It always helps to spend time researching the culture and customs of the country that you study in. Also, be sure to research the restaurants, attractions, and activities that locals prefer."
In other words, when in Rome, do as the Romans do.