The senior violin recital for Rehanna Rexroat '20, set for Saturday in Harper Hall, will be more than just the summit of her academic career at Lawrence — one that boasts majors in violin performance, instrumental music education, and choral/general music education. It also will bring attendees into a space of remembrance and celebration of culture.
With funding from a grant to assist Lawrence students in their Senior Experience, Rexroat was able to commission Aakash Mittal, a renowned Indian American saxophonist and composer, to compose a piece for her recital in honor of her Pakistani grandmother.
The piece, aptly titled Origins, is a duet for violin and harp for Rexroat and Leila Ramagopal Pertl, an instructor in music education in the Conservatory of Music.
For months, the two had been searching for a piece that properly payed homage to Rexroat's culture by blending Indian and Western classical music. With no luck, they called on the assistance of Brian Pertl, dean of the Conservatory. He reached out to Mittal, who he counts as a friend, to see if he had a piece he'd recommend. He did not. So, Mittal wrote one.
 "It's really about honoring ancestors in a general, global sense," Rexroat said of Origins.
The rest of the pieces in Rexroat's recital deal similarly with these themes of culture and memory. Their composers, some of whom are ethnomusicologists, celebrate their own cultures or the cultures of other groups in the music. She dedicated one in honor of her grandmother on her mother's side; another to her childhood best friend who recently died.
"I really liked that theme," Rexroat said of the music selections. "But I took it a step further because I wanted my culture to be part of that."
Rexroat was in contact with Mittal throughout the process of composing Origins. He was inspired by stories she sent him that her grandmother had told her. He adopted themes from those stories into the piece.
Learn about Lawrence's Chandler Senior Experience here.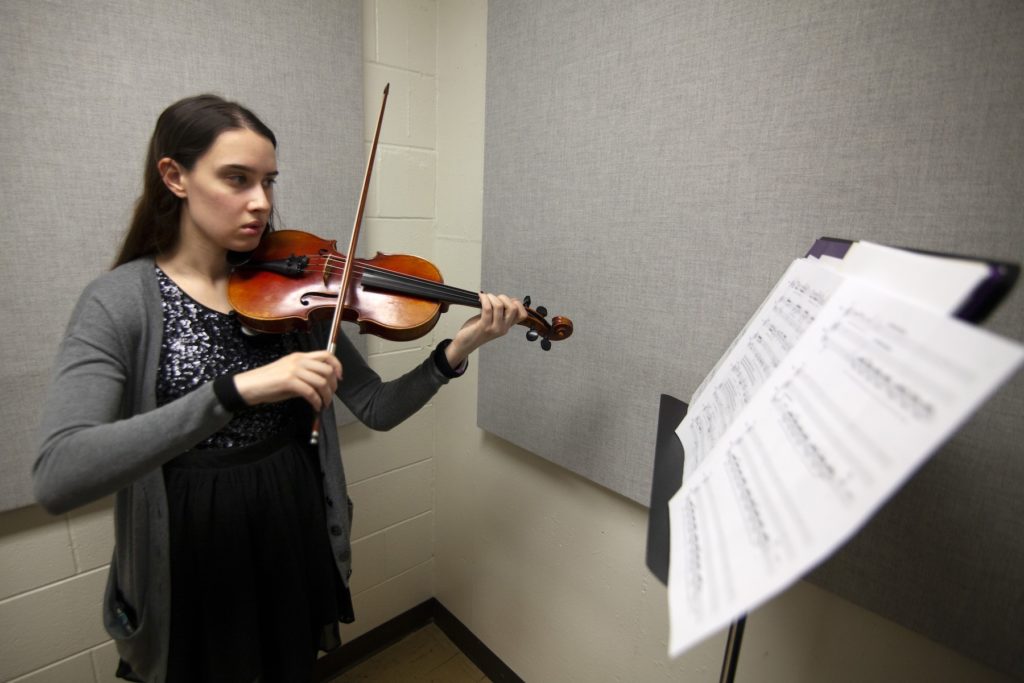 Rexroat's grandmother was a devout Muslim, so the piece is set to scales used in devotional Sufi music, but one of the movements takes its name from a psalm to commemorate Rexroat's own Christian beliefs.
Though the recital is very personal to her, Rexroat hopes the music — Origins in particular — also will encourage listeners to get in touch with their own cultural stories.
"The way Leila and I will be presenting it, we're going to invite others to think about their ancestors," she said.
Rexroat, a native of Mount Vernon, Iowa, who started playing the violin at age 4, noted that Saturday's recital is almost exactly 18 years since she first picked up the instrument. But this educational apex, she said, is only the starting point of a longer musical journey.
"I think violin is always going to be a passion of mine," she said. "It's been in my life for as long as I can remember. Wherever I go I will try to find someone I can continue to study with."
Rexroat's recital will be at 5 p.m. Saturday, Feb. 8, in Harper Hall. It is open to the public.