Lawrence University student Katie Mahorney earned a huge honor at the recent Geological Society of America national conference for research she began in the summer.
Mahorney, a senior from Portland, Oregon, who is pursuing a double major in geosciences and environmental studies, was awarded the Outstanding Poster Presentation Award-First Place in the 2021 Undergraduate Student Research Competition.
The research, under the direction of her advisor, Professor of Geosciences Andrew Knudsen, was in evaluating the biochemical effects of carbon sequestration through enhanced rock weathering of crushed basalt on urban and forested soils in Appleton and Baileys Harbor, Wisconsin. The research is part of a larger project that is being led by professors at Yale University and Georgia Institute of Technology—one of the professors at Yale being Lawrence graduate Noah Planavsky '06, who helped facilitate Lawrence's involvement.
"Right now, with climate change, scientists are looking for valid ways to remove carbon from the atmosphere because that's something that's desperately needed," Mahorney said.
Her research work involved crushing basalt and mixing it within measured plots of soil in SLUG (Sustainable Lawrence University Gardens) on the Lawrence campus and at Lawrence's Björklunden property in Door County. The goal was to accelerate the natural weathering process of capturing carbon dioxide from the atmosphere and storing it within rocks, a process that usually takes billions of years, said Mahorney.
In the summer, the project was supervised by Knudsen and Relena Ribbons, associate professor of geoscience. Mahorney was initially joined by two other students, senior Gillian Buckardt and junior Ella Lemley, but she continued the research independently in the fall.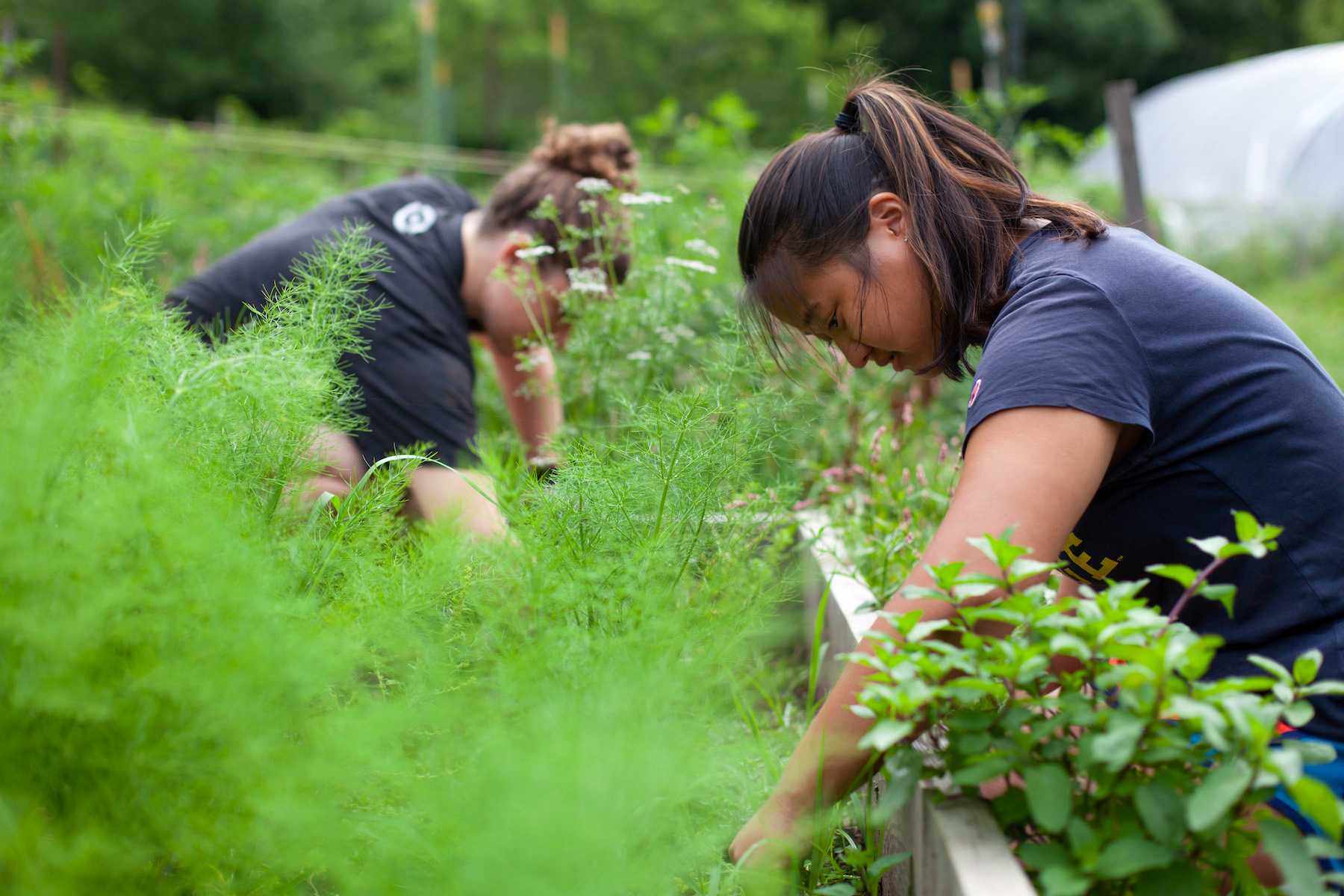 "This is a really exciting project," Knudsen said. "Rocks breaking down into soil uses a tremendous amount of CO2 from the atmosphere. This process has perhaps been the most important control on our planet's climate through geologic history. We are testing whether we can speed up this geologically paced process to human timescales by adding crushed rock—basalt—to the soils of SLUG."
 Mahorney has been interested in enhanced rock weathering and soil sequestration since learning about it in geochemistry classes. When a related project was offered to students for summer research, she jumped at the opportunity and applied for the project through Lawrence's research fellowship.
Learn more about student research by clicking here.
However, Mahorney said she had some nerves when it came to presenting her poster at the conference during Fall Term.
"It was my first conference and it was a little scary," she said. "There were a lot of people, but honestly, I was more interested in all the stuff that was going on."
Mahorney did not know she was competing for an award.
"I did not realize it was a competition, nobody told me this. I was just talking to someone at my poster and then I turned around and there were three judges standing in front of me with clipboards," Mahorney said.
She has enjoyed having a lot of autonomy over her research but also feels grateful that she can ask for guidance from Knudsen when she needs it.
"I really like Andrew (Knudsen); I've had him for past classes and so I already knew him in general, but then actually being able to work with him in a low-stress environment was super fun. He was a very chill professor."
Knudsen said Mahorney succeeded at the conference because she put in the work.
"Katie did an amazing job preparing for the poster presentation," he said. "She spent all summer fully engaged with this project, and her deep understanding of how the SLUG garden is pulling CO2 out of the atmosphere is awesome."
Mahorney is continuing the project as her senior capstone and will declare it as an Honors Project in Spring Term. When she graduates, she plans to pursue her passion for research in graduate school.
KATIE MAHORNEY
Class Year: 2022
Major: geosciences and environmental studies
Hometown: Portland, Oregon
Activities: Geoscience research, SLUG