Björklunden, Lawrence University's pristine northern campus in Door County, is once again beckoning visitors for summer seminars that feed a desire for lifelong learning.
Registration is open for 37 Bjorklunden summer seminars, presented by Lawrence faculty, alumni, and other experts. It's a chance to learn while enjoying the peace and beauty of the 425-foot campus along the Lake Michigan shoreline, just south of Baileys Harbor.
Topics range from wildlife photography and the study of the stars to exploration of America's racist past and the anatomy of a murder trial. The seminars begin in mid-June and carry through much of October.
"The seminar program embodies one of the most unique aspects of a liberal arts education — a commitment to lifelong learning," said Alex Baldschun, an assistant director at Bjorklunden.
Visitors to the seminars, he said, come from all walks of life.
Some commute to the seminars. Others are Björklunden residents for the week, housed in the estate's 37,000-square-foot lodge. Participants are able to explore the grounds and engage with the beautiful scenery in Door County.
Most seminars, which include meals prepared by Björklunden's resident chef, begin Sunday evening and end Friday afternoon. Classes meet weekday mornings and some evenings, with remaining time available to enjoy Björklunden's mile-long shoreline and wooded walking trails or to explore area cultural and recreational opportunities.
Megan Pickett, associate professor of physics, is among the Lawrence faculty leading seminars this year. She's presenting an astronomy-focused seminar, The Stars: Mansions Built by Nature's Hand, July 26-31. It's something she's wanted to do for years, calling the surroundings "singularly contemplative, especially for astronomy."
To be able to do it in a relaxed atmosphere with a cross-section of deeply curious people, all the better.
"There's something very freeing about being in a learning environment where there are no grades, just the love of learning," Pickett said.
Complete seminar information, including registration, dates, course descriptions, and information on instructors, can be found at https://www7.lawrence.edu/bjorklunden or by calling 920-839-2216. Questions can also be directed via email to mark.d.breseman@lawrence.edu.
The 2020 summer seminar lineup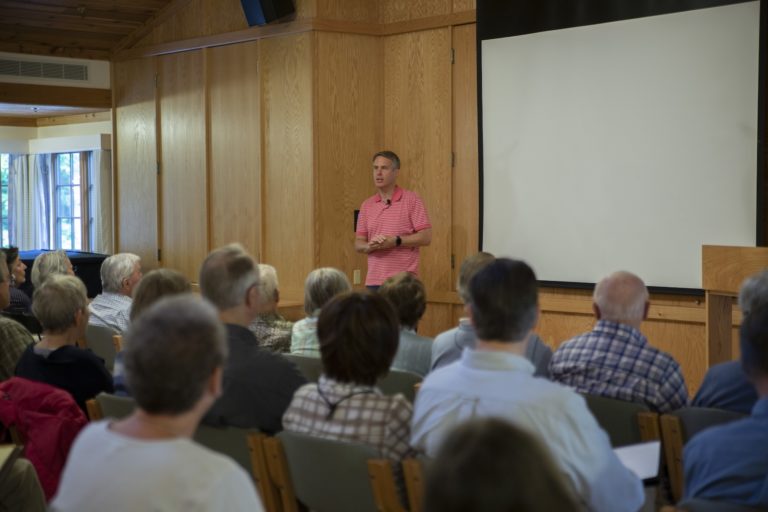 June 14-19
Listen to the Birds / Don Quintenz
Wildlife Photography: Turning Passion into Productivity / John Van Den Brandt
June 21-26
Two Irishmen, Two Novels, Two Portraits / Robert Spoo '79
July 5-11
Tritone Jazz Fantasy Camp / Bob DeRosa
July 12-17
Give My Regards to Broadway – The American Musical / Dale Duesing '67
The Great Patriotic War: World War II Through Soviet Eyes / Victoria Kononova
July 17-19
Family Weekend/Grandparent-Grandchild Weekend / David Stokes
July 19-24
African America in Slavery and Freedom: How our Racial Past Informs our Present / Susan Pappas '69
African America in Slavery and Freedom: How our Racial Past Informs our Present / Joe Patterson '69
African America in Slavery and Freedom: How our Racial Past Informs our Present / Jerald Podair
Poignant, Prosaic, and Possibly Pointless: The Stories of Anton Chekhov / Peter Thomas
Richard M. Nixon: The Triumph and Tragedy of an American Politician / Tim Crain
July 26-31
Stitches in Time: The Genius of Medieval Embroideries and Tapestries / Jane Tibbetts Schulenburg '65
The Stars: Mansions Built by Nature's Hand / Megan Pickett
Water Cycle: A Journey Around the Science and Policy of Earth's Most Precious Resource / Peter Levi '01 and Titus Seilheimer '00
Aug. 2-7
The 2020 Verdict / Terry Moran '82
The American Civil War in Historical Perspective / James Cornelius '81
Aug. 9-14
Is Belief in God Rational? / Terry Goode
The Fall of Rome: From Caesar to King and From Jupiter to Jesus in 500 Years / Nikolas Hoel '99
Aug. 16-22
Creative Photography / Philip Krejcarek
Family Ties – The Case of King David / Bill Urbrock
Watercolor: The Expressive Medium / Helen Klebesadel
Aug. 30-Sept. 4
Flirting with Disaster: Turning Personal Obsession into Memoir / David McGlynn
The Original Book Club: Literary Legacies of Medieval Women / Catherine Keene and Danielle Joyner
What Happens Next?: The Importance of the Strong Storyline in Classic Hollywood Films / Jack Rhodes
Sept. 13-18
Which Way to the White House? Presidential Campaign Parades from 1896 to 2020 / Charlie Schudson and Steve Bruemmer
Wildflowers, Birds, and Mushrooms / Don Quintenz
Wildflowers, Birds, and Mushrooms / Charlotte Lukes
Writing Poetry in Forms / Marilyn L. Taylor
Sept. 27-Oct. 2
A Brief History of Creatures that Rule the Earth (Hint: They're not humans) / David Hines '76
Anatomy of a Murder Trial / Steve Licata '75
Hollywood Votes: Images from the World of Politics in Films of the Classic Era / Jack Rhodes
Oct. 4-9
SPQR: The Senate and the Roman People / Daniel Taylor '63
The 2020 Elections: What Next for American Foreign Policy? / Christopher Murray '75
Watercolor: A Fresh Start / Helen Klebesadel
Oct. 11-16
The Weimar Republic: Grandeur and Disaster / Jon Greenwald
Oct. 18-23
World Religions in the Contemporary World / Brian Smith