About the series: On Main Hall Green With … is an opportunity to connect with faculty on things in and out of the classroom. We're featuring a different Lawrence faculty member each time — same questions, different answers.
---
Monica Rico, a member of the history faculty at Lawrence since 2001, specializes in the history of early and 19th-century America.
In 2021, she was named the Robert S. French Professor of American Studies and is currently chairing the History Department.
Rico's research has focused on gender and cultural history. She's been honored multiple times both on campus and in the Fox Cities community for her scholarship, teaching, and outreach.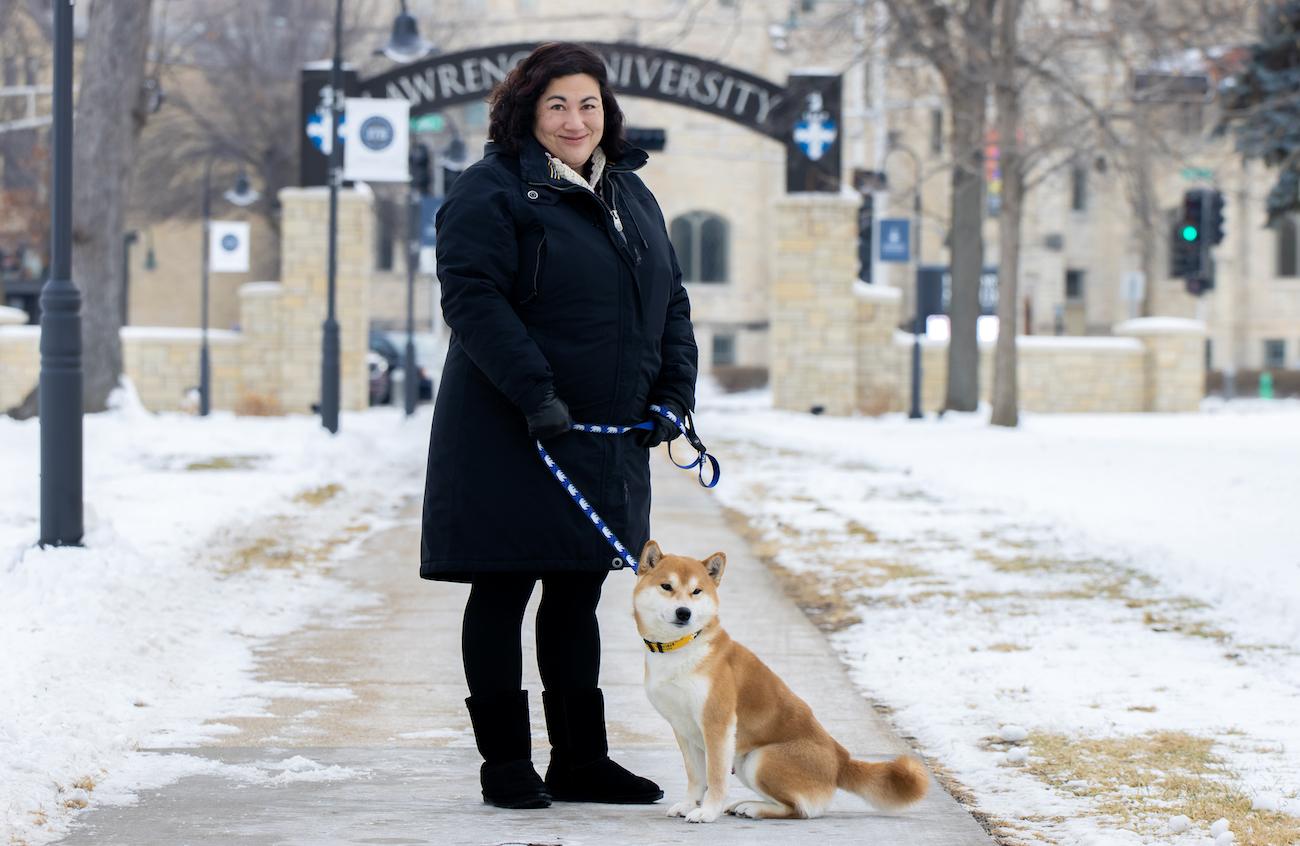 She is the author of Nature's Noblemen: Transatlantic Masculinities and the Nineteenth-Century American West (Yale, 2013) and contributed "'Don't Forget This': Annie Oakley and the 'New Girl' in Anglo-American Culture" to Buffalo Bill's Wild West and the Frontiers of Transnational Mass Culture, edited by Frank Christensen (University of Oklahoma, 2017). 
Rico studied history and political science at the University of California, Berkeley, earning both a masters and Ph.D. in history.
We caught up with her to talk about her passions in and out of the classroom.
In the classroom
Inside info: What's one thing you want every student coming into your classes to know about you?
I love to learn, so I'm committed to improving my teaching and my understanding of my field literally every day. When I learn even one small thing that I can do better to meet students' needs, one new interpretation of a text I have read before, one new facet of history, anything, then my day is made. I can't do it without my students: their engagement is necessary to my learning and growth as a teacher. At the same time, I try not to center myself in my teaching. It can be all too easy to fall in love with the sound of one's own voice as a professor. I try my best to guard against that.
Immerse yourself in different times and places to develop important perspectives on the world past and present. 
Getting energized: What work have you done or will you be doing at Lawrence that gets you the most excited?
Collaborating with colleagues in the Environmental Studies (ENST) program has been a joy. Intellectually, environmental history is an enduring interest for me, and bringing the perspective of the humanities to ENST allows me to connect with colleagues and students in ways I never would have done otherwise. Sometimes people are surprised when they learn that there's even such a thing as environmental history, but we all live in a specific place and time, we all share this earth with each other and countless other beings, and historical understanding can help us think more deeply about those truths.
Going places: Is there an example of somewhere your career has taken you (either a physical space or something more intellectual, emotional or spiritual) that took you by surprise?
Getting involved in community-based learning at Lawrence has been an unexpected pleasure. I have come to know so many talented people on and off campus who live out their ideals through service, broadly defined. It's inspiring. In my own field, teaching public history, which encompasses things like museum exhibits and historic preservation, has allowed me to work with students exploring how history can be a way of building community.
In some ways, everything has surprised me, and nothing has surprised me. I wanted to become an academic because I knew I would keep discovering new interests, and that's exactly what has happened. I would not have been able to predict what those new interests would be—for instance, I never thought I would go to Sierra Leone, which I did with my colleague Claudena Skran and her students as part of a study and research trip—but I knew that things would never get stale.
Out of the classroom
This or that: If you weren't teaching for a living, what would you be doing?  
Probably working in historic preservation. Architecture and urban planning fascinate me, and I love old buildings. It would be fun to give old places new lives. Or I'd be a lawyer, which is what I thought I was going to be until I wrote my senior honors thesis in college and realized I was a historian.
Right at home: Whether for work, relaxation or reflection, what's your favorite spot on campus?
I have quite a few, but I am particularly excited this winter to see the upgrades to the ice skating rink in front of Ormsby. I love skating; I grew up in California, and if you had told me that someday I would be able to go ice skating a few steps from my office, I would not have believed you.
One book, one recording, one film: Name one of each that speaks to your soul? Or you would recommend to a friend? Or both?
How can I choose? I'll keep it to things I have read/heard/watched in the past year. 
Book: I read Samuel Richardson's Clarissa, a leviathan 18th-century novel, on the urging of my colleague Celia Barnes. The Penguin edition has 1,534 pages. Even if you don't count the introduction and annotations, that's a lot of novel. The length is part of the experience. You end up hanging out with the book, which has profound things to say about gender and the power dynamics of relationships. As a historian, I loved thinking about it in the context of 18th-century Britain, but I'd argue that Clarissa is still relevant today.
Recording: A friend gave me soprano Joyce DiDonato's latest recording. DiDonato is a great artist and I love how she shares her emotional and creative journey with us.
Film: I love murder mysteries, written and cinematic, so I enjoyed watching Glass Onion over the holidays. I liked Knives Out, too. I hope we get another installment of the adventures of Benoit Blanc.