Nebal A. Maysaud '17 will receive the Nathan M. Pusey Young Alumni Distinguished Achievement Award at Lawrence University's Reunion 2023.
It is the latest honor for Nebal, an award-winning queer Lebanese Druze composer who was the recipient of the first Kluge Young Composer's Competition and the James Ming Prize in Composition while at Lawrence.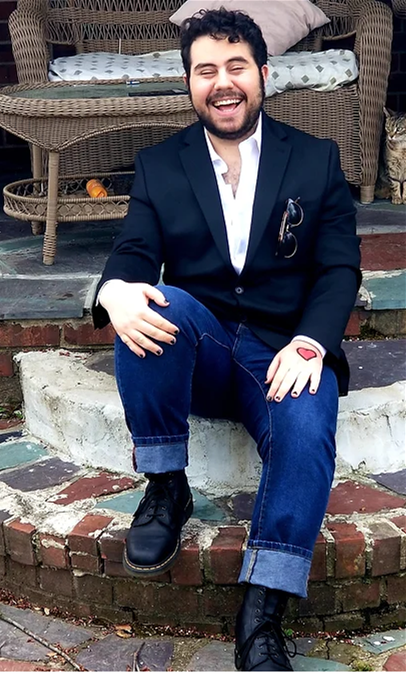 Their music has been performed by the Lawrence University Wind Ensemble, Juventas New Music Ensemble, Versoi, Fifth House, and Trio Immersio, among others.
Nebal's musical journey started long before coming to Lawrence. They knew they wanted to be a composer from a young age.
"I always saw composition as an outlet for me to express some deeper emotional thoughts, and sometimes not-so-deep thoughts but thoughts I thought I couldn't share," Nebal said. "And music was the perfect outlet to allow me to express my wants, needs, and desires."
Nebal found Lawrence to be a perfect fit.
"I applied to a number of different schools and universities," they said. "The tough part was I was a first-generation college student. My dad attended college at George Mason, but he never graduated. So, there were a lot of firsts in the family there."
Nebal found a welcoming community at Lawrence that shared their passion for music. They said the goal was to make music, specifically music that had power—emotionally and in its message.
This passion and exploration come through in Nebal's Decolonized Arabesques, which highlights the struggles of immigrants wanting to return to a homeland, and Sonata No. 3: Bedtime Stories for the Inner Child, a three-movement piano sonata exploring themes and feelings of nostalgia, wonder, growth, and healing. Nebal's ability to show the complex dimensions of human emotion and reflection is beautifully recognized in these pieces.
Nebal said they have learned many lessons in recognizing and navigating the power dynamics of the world. Difficult as that can be, those lessons also remind them of the need to share your voice and talents.
"Build and be a part of the world you want to help shape; learn what is in your control and what is not," Nebal said.
Nebal is being recognized for their strong passion, talents, and accomplishments. It is for the large-scale work they have beautifully executed, blending religion, identity, and history, that they will be receiving the Nathan M. Pusey Young Alumni Distinguished Achievement Award.