It's easy to think of composers as faraway figures, but sometimes they're just "Down the Hall" from us, as is the case with Lucy Croasdale, a Lawrence senior from Madison. A saxophone performance major with a jazz emphasis, Croasdale has shown outstanding promise and prowess in jazz composition.
Croasdale was one of the commissioned composers for the recent Fred Sturm Jazz Celebration Weekend, a Lawrence tradition dating back to 1981. The festival invited high school and middle school jazz ensembles to learn from faculty and visiting clinicians in a non-competitive program. Visitors and members of the Lawrence community alike were welcomed to attend performances featuring visiting artists Samara Joy and Liam Teague, as well as Conservatory students and faculty.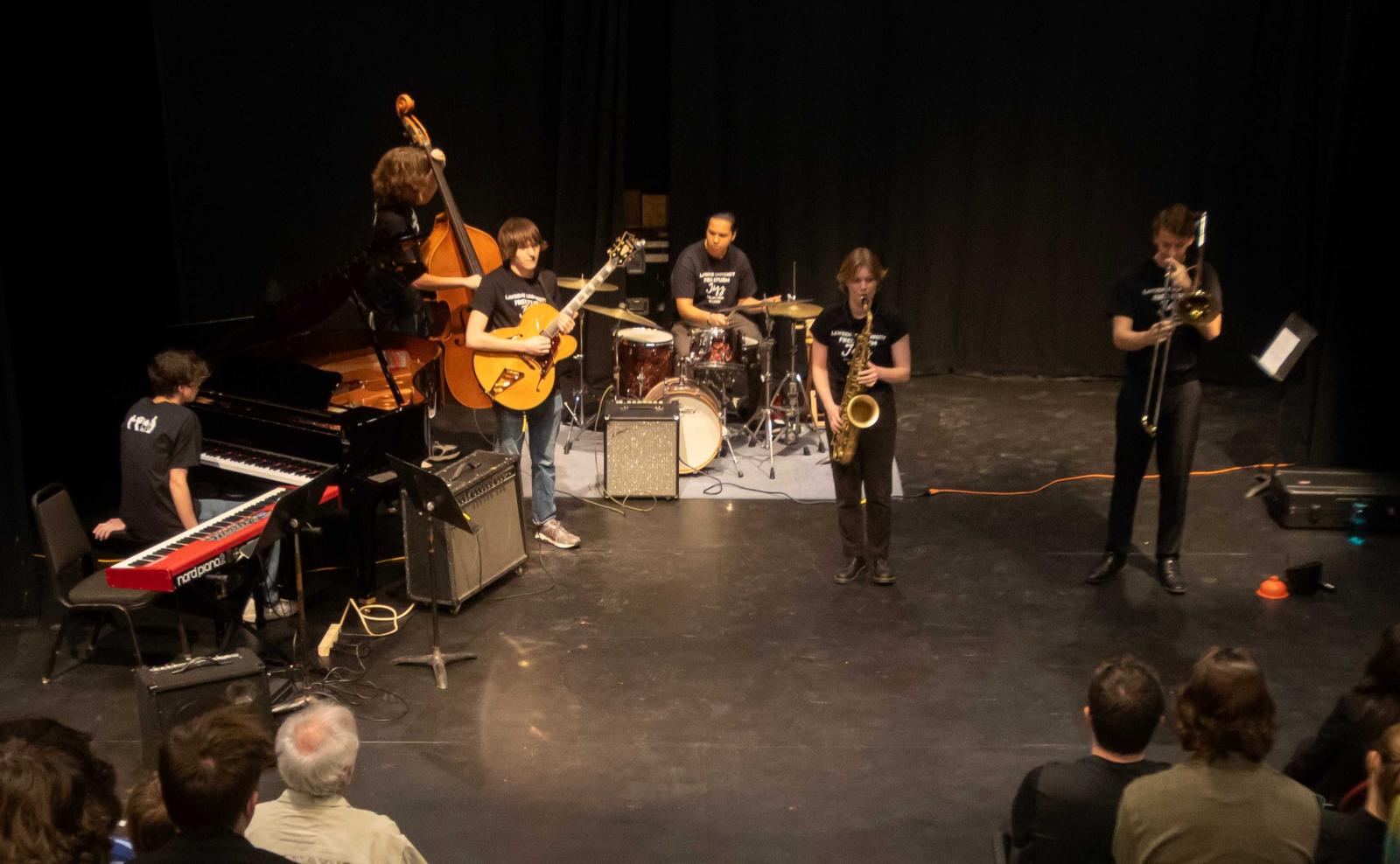 Croasdale's piece, Down the Hall (From Us), is part of another Jazz Weekend tradition of featuring student composers. Her piece was released to participating schools as a testament to Sturm's belief that jazz should be collaborative and accessible.
Sturm was instrumental—literally and figuratively—in the creation of Lawrence's Jazz Studies Department. During his sophomore year at Lawrence, he created the Conservatory's first jazz ensemble. Later, he returned to serve 26 years on the Conservatory faculty, during which he established Jazz Weekend, which was renamed to honor him posthumously in 2015. Today, Lawrence's jazz program has grown to include the Lawrence University Jazz Ensemble (LUJE), the LU Jazz Band, and several small group ensembles. Croasdale performed as a member of LUJE, LU Jazz Band, and a jazz combo.
Down the Hall (From Us) is Croasdale's most involved piece to date. Though she has experience composing for jazz combo, this big band composition was a much more extensive project. But after seeing Croasdale's work in her composition class, Patty Darling, Croasdale's professor and LUJE director, approached her about the project. With Darling's guidance, Croasdale worked through the summer to create the pop-inspired piece that was played by some of the bands during Jazz Weekend.
"The chart she created, Down the Hall (from Us), is beautifully designed for middle and high school bands," Darling said. "It is challenging to write jazz music for younger ensembles that teach fundamental concepts and motivate students to practice, and Lucy did an awesome job with this Jazz Weekend chart. The piece is catchy, easy, and fun to play, with limited material presented in interesting ways."
Croasdale spent much of her time brainstorming different ideas. Whether on saxophone, piano, or her voice alone, she would search for melodies that fit through experimentation—similar to her improvisation process.
"Improvising is just composing on the spot," Croasdale said. "When I play something, and I like it, I'll just keep trying to work with that, and if I don't, I'll move on."
Be part of one of the nation's best undergraduate jazz programs. Hone and challenge skills with an array of solo, chamber, and ensemble experiences. 
Croasdale's composition aims to be fun for its players. The piece features saxophone melodies in their lower registers, something she loves playing herself. Though she had heard LUJE's performance of the piece, she hadn't seen a learning group play it until Jazz Weekend.
"It's nice to hear it to have in mind what seemed easy for them, what was more difficult, because you definitely get a little out of touch being at a Conservatory," Croasdale said. "I hope they like it."
Croasdale got the opportunity to listen to two bands perform the piece, and even got the chance to play with one of them on bari sax. She said she was both happy and relieved to see the students enjoying the piece.    
Though Croasdale now considers music to be about having fun, she didn't start to enjoy jazz until she became comfortable with the style.
"Because my mom is a jazz musician—she plays bass—I was dragged along to a lot of events," she said. "I was like, 'this is really boring and don't like it.'"
But that all changed in high school when a band director convinced her to join jazz band. She soon fell in love with it.
Croasdale loves the fun and exciting saxophone parts in jazz music. It has brought her unique experiences and thrilling travel opportunities. Croasdale began her higher education by studying jazz at Lawrence, and she intends to continue her jazz studies in graduate school.
Croasdale has enjoyed the jazz opportunities at Lawrence, especially the LUJE concert with Liam Teague during Jazz Celebration Weekend.
"It's always fun to have a guest artist with the band because we've been playing these same pieces over and over for a few weeks," she said. "It's all of a sudden very different when the music gets 'filled in.' It's always interesting to hear someone's perspective on the music we're playing."
Lucy Croasdale
Class Year: 2023
Major: Saxophone performance with a jazz emphasis
Hometown: Madison, Wisconsin
Activities: Music