Two leading innovators in undergraduate education spent the Oct. 15-16 weekend working with Lawrence faculty and staff on reimagining strategies to assist first-year students in their transition to Lawrence.
John Gardner, founder of the John N. Gardner Institute for Excellence in Undergraduate Education, and Betsy Barefoot, a senior scholar with the Institute, led about 35 faculty and staff through the two-day Gardner Institute Workshop: In Search of an Excellent First Year, held in the Warch Campus Center with the goal of improving the experiences of first-year students and thus retention and graduation rates at Lawrence.
Gardner and Barefoot are part of a team at Gardner Institute that developed the Foundational Dimensions strategies, providing both a philosophy and the tools for a college or university to improve the first-year experience and set the base for an improved undergraduate experience. They are considered the founders of the movement to create intentional first-year experience programs, with their scholarly work dating back to the 1970s. Such programs are now commonplace across higher education. 
"What is your foundation for first-year students?" Gardner asked at the outset of the workshop. "First-Year Studies is a big part of that, but it goes way beyond that. … We're here to talk about excellence in the first year."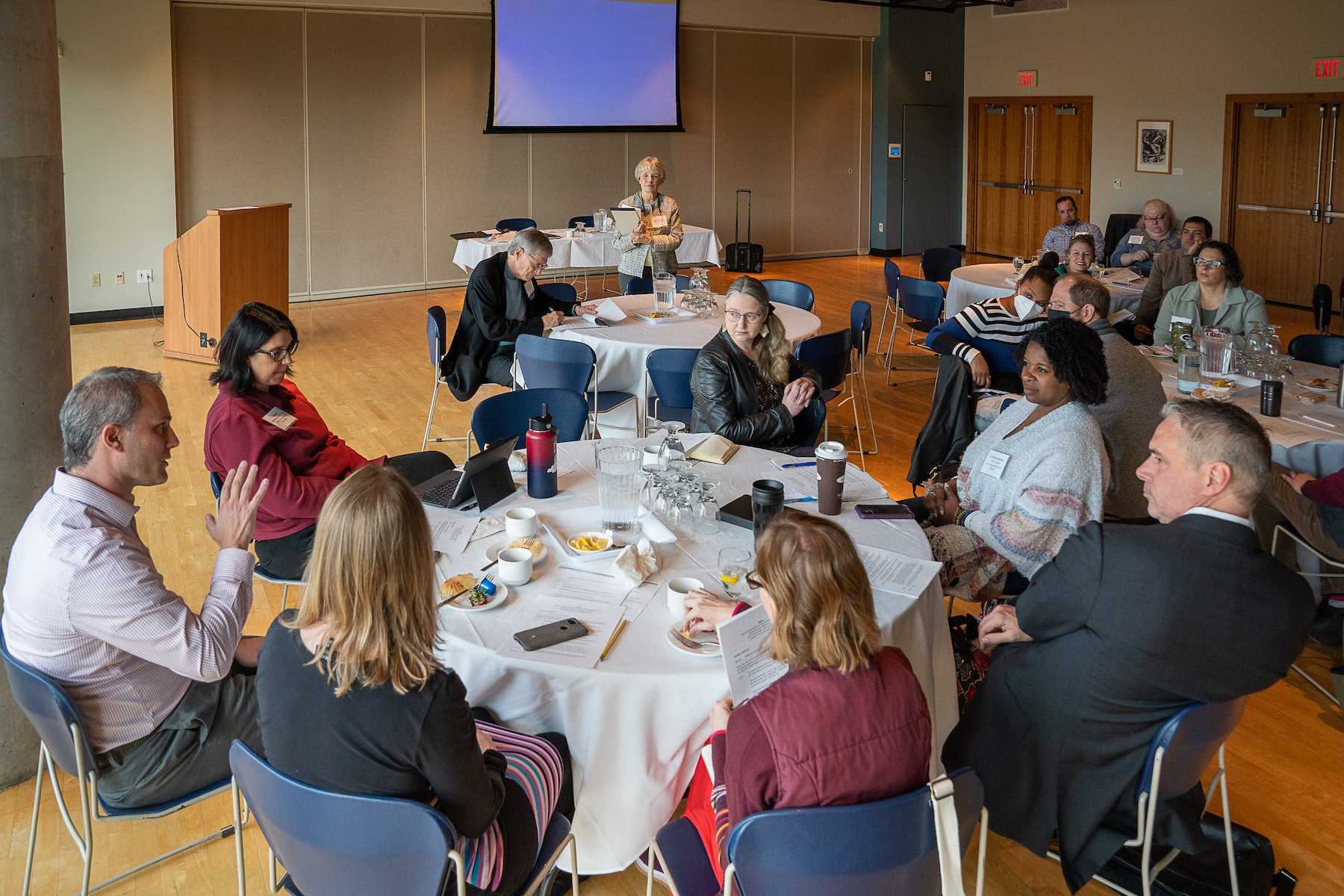 Peter Blitstein, provost and dean of faculty, said working with Gardner and Barefoot is a huge opportunity as faculty and staff collaborate to create more robust first-year experience programming that integrates both curricular and co-curricular needs.
"This will prove to be groundbreaking for us," Blitstein said. "We want to be able to visualize what we need to do and who needs to do it for establishing a first-year experience program for our students who would be entering Lawrence in the coming years. This is one of the most important issues we're facing. It really does connect to retention of students."
Gardner founded the Institute in 1999 as the Policy Center on the First Year of College. In 2007, it underwent a name change to the John N. Gardner Institute for Excellence in Undergraduate Education and an expansion of its mission to focus more broadly on excellence in undergraduate education. Since its inception, the nonprofit Institute has received nearly $20 million in support from philanthropic partners and even more from colleges and universities that participate in the Institute's work.
Gardner has been working and innovating in the first-year space since the early 1970s, when he began exploring opportunities for colleges and universities to be more pro-active in nurturing the first-year experience, first at the University of South Carolina and then nationally. He has forged a lengthy track record as an advocate and scholar, and he and the Institute continue to be sought out by schools across the country. Barefoot has been an important member of that team, an innovator in the area of first-year courses.
"It's a really big deal for us to have them here," Blitstein said. "It's hard to exaggerate how significant they are in terms of thinkers and innovators in this area of the college first year."
Lawrence faculty representing the Governance Committee, the Curriculum Committee, and the First-Year Studies Task Force, as well as instructors of introductory courses, were invited to take part in the workshop, along with staff from areas of Student Life, Center of Academic Success, and Wellness Services, among others. Having those people in the same room to talk through strategies and possibilities was hugely valuable, Blitstein said.
It ties in to ongoing conversations the task force is having about possible changes to the First-Year Studies course. And it comes just as Lawrence is about to welcome its first dean of first-year students, a newly created position.
Being intentional about the first-year experience is key because it sets the foundation for the rest of the undergraduate experience, Gardner said. That's been the case since he began his research efforts five decades ago.
"We set out to create a course that would teach students to love being university students," he said.
It has grown and evolved from there, incorporating everything from helping new students navigate life in a residence hall to providing more effective academic advising. No one piece is more important than the other.
"One of predictors for persistence and success in college is out-of-class interaction with faculty," Gardner said of the importance of academic advising. "You want to get them in your space, let them see how you've decorated your office, let them see you're a human being, see the pictures in your office, impress them with your brag wall, whatever. It's very important to do that."
At the same time, Gardner said, first-year students spend upwards of 75% of their time interacting in residential life on campus. How they're connecting with other students can go a long way in determining how their college years play out, and university staff can play an important role in helping facilitate and nurture those connections. Don't leave them on their own to figure it out.
"In 50 years of research, we've found the greatest influence on students during their college years is other students," Gardner said.
Barefoot applauded Lawrence's deep history with its First-Year Studies course, but urged faculty and staff to become more intentional in establishing a more comprehensive first-year experience program. The reasons to do so are critically important—it's the time when students learn the culture of the institution, form attitudes about college; develop influential relationships, and learn needed study habits.
In many cases, faculty and staff are having those conversations separately. Coming together in the same room to talk through the possibilities is a big step, Barefoot said.
"We want you to think of first-year experience as the total experience of first-year students," she said. "That includes your First-Year Studies course, but it's not limited to that."
Blitstein said the weekend workshop was a great success and is looking forward to continuing the conversation with faculty, staff, and Lawrence leadership "as we plan a robust, coherent, and integrated experience for our first-year students."