Lawrence University's Sabin House officially became the Esch Hurvis Center for Spiritual and Religious Life on Tuesday as campus leaders, students, faculty, and staff gathered to celebrate a welcoming space that has come to represent togetherness and connection for everyone on campus.
Named for the Esch Hurvis family, the center has become a home for people of all faiths and religious traditions, and those who have none, who are interested in learning, connecting, and exploring religious and spiritual practice and identity.
"We decided that the new Center for Spiritual and Religious Life would be a welcoming place for curious, intentional, respectful engagement with persons of similar, different or no religious tradition, and for quiet, personal reflection and spiritual practice," the Rev. Linda Morgan-Clement, the Julie Esch Hurvis Dean of Spiritual and Religious Life and chaplain to the University, told the dozens of onlookers who gathered in the Center's newly landscaped Goldgarden for a rededication ceremony.
The possibilities of this gathering space, first funded with a gift from Tom Hurvis '60 and family in memory of his late wife, Julie Esch Hurvis '61, shortly after her passing in July 2015, began to come to fruition with the hiring of Morgan-Clement in 2016. The creation of the Office of Spiritual and Religious Life included the establishment of the Center.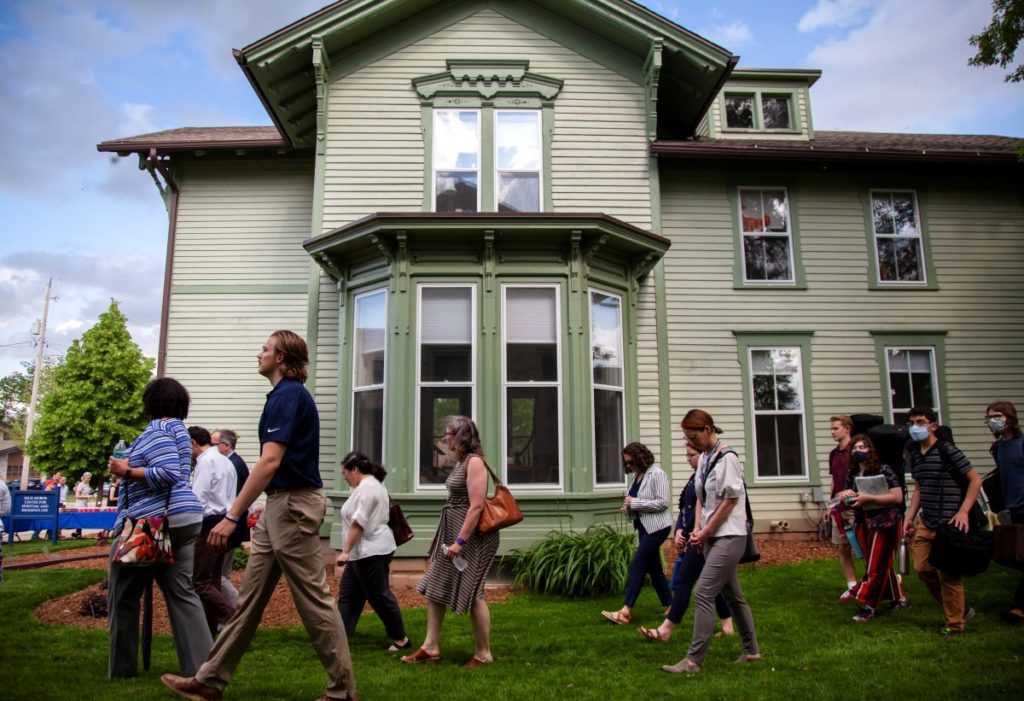 It has continued with the growing of the Center's staff and its outreach over the past five years, supported by additional gifts from Hurvis. The renaming and rededication follow an additional investment from Hurvis in an endowed maintenance fund for the building.
A plaque in the front hall of the Center reads: "The Esch Hurvis Center for Spiritual and Religious Life embodies the welcoming spirit of the Esch Hurvis family. Authentic care and listening that encourage open sharing and trust were embodied in Julie Esch Hurvis' life. Her art, which is found throughout the building, and her passion for young people was grounded in her Bahai' faith." 
One by one, visitors representing various departments, student groups, and collaborations across campus offered blessings for the Center and the people who care for it during Tuesday's ceremony. They hung prayer flags on a line in the Goldgarden and invited others to do the same.
President Mark Burstein, speaking from the Center's porch, said the Center has filled an important void at Lawrence, giving people who want to explore and embrace religion and spirituality a place to connect, and to do so in a way that is inviting for all. He said it was during his exploration of Lawrence while interviewing for the president's job nine years ago that he first sensed a disconnect for those who lean into their faith.
"One of the aspects of Lawrence I sensed was how many members of our community whose faith or spirituality was important to them didn't feel like the university was home," he said. "That spoke to me. That's something we really aspire to be, a place where everyone feels like they can count Lawrence as home."
It was shortly after Julie died that Hurvis mentioned to Burstein that he'd like to present a gift to Lawrence in her memory. That eventually led to endowing the dean position that would be filled by Morgan-Clement.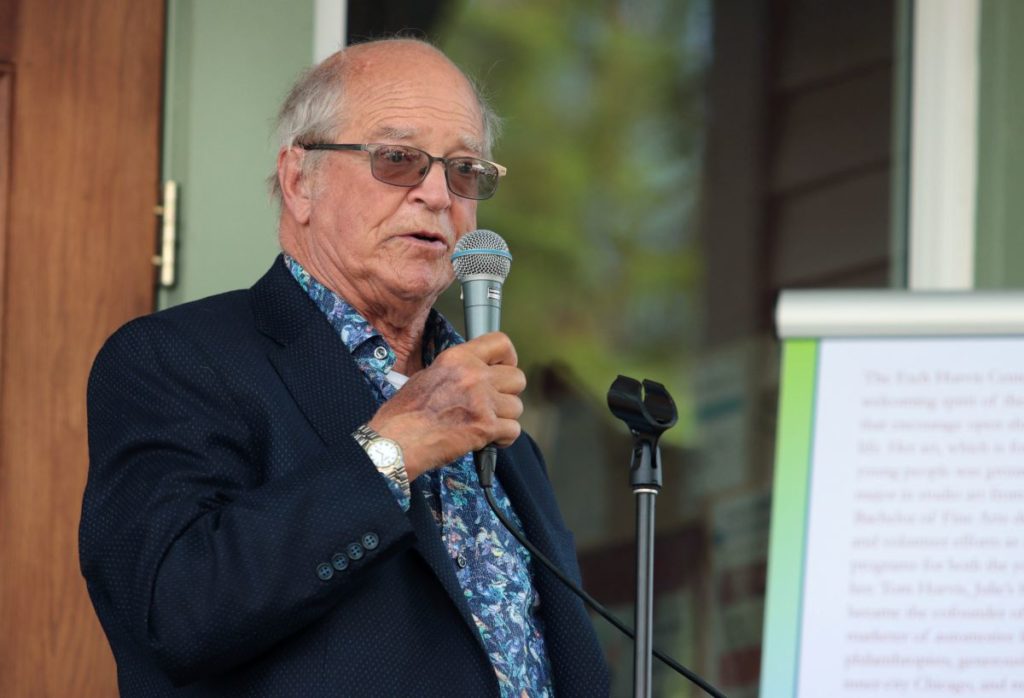 Hurvis and his wife, Ann, were on hand Tuesday to take in the Center's rededication and to applaud Morgan-Clement and her staff for bringing the dream to life.
"We wanted to dedicate the religious and spiritual center to Julie Esch Hurvis, who was just wonderful with people in making them feel good because they trusted her," Tom Hurvis said. "Linda is so much like Julie it's incredible, and it makes me want to cry every day. I think we are heavenly blessed. Julie isn't here, but Linda has come to take this position that is so important. We're developing an environment where more and more people are coming every day into the Center because they know that in the Center they will find trust; they can talk; they have a comfort level."
Morgan-Clement said Hurvis told her early on in her time at Lawrence that the key to making the Center thrive was building and maintaining a feeling of trust.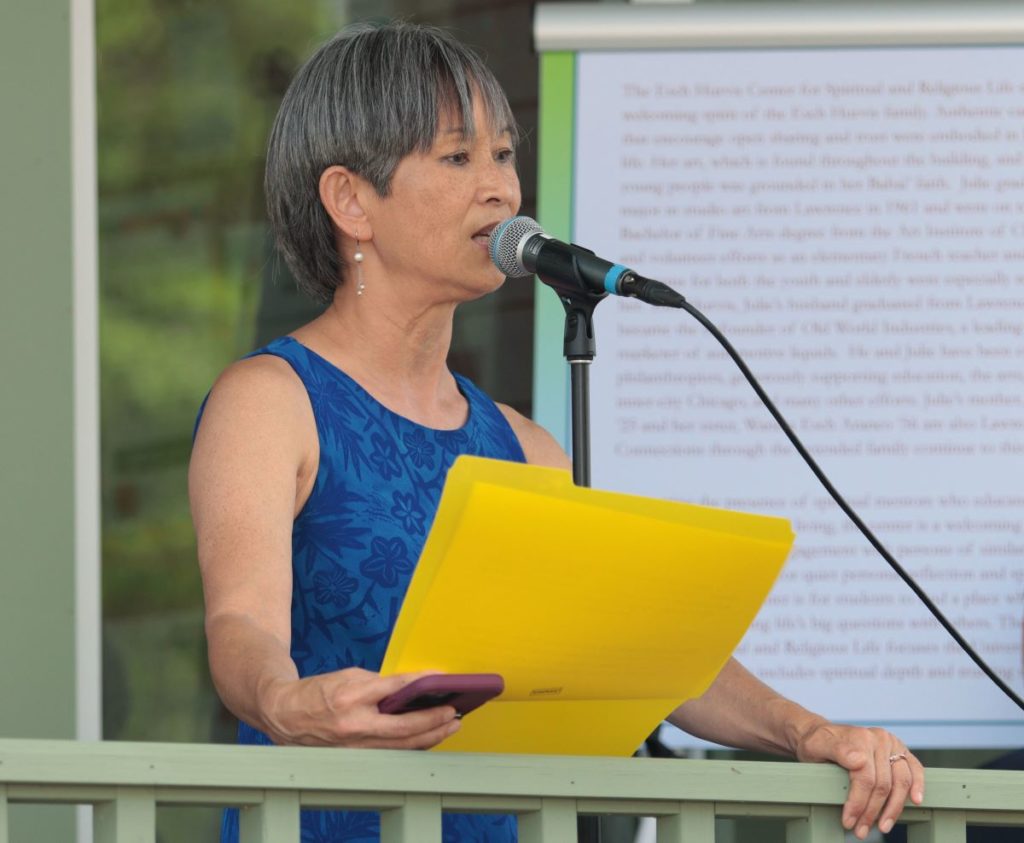 "Trust and trustworthiness, connection with the land, with the people, with ourselves, with the sacred," she said. "We're here because Lawrence values everyone."
Burstein said he has little doubt that Julie Esch Hurvis would be thrilled with what the Center has become and with those from all backgrounds and beliefs who shared their blessings at Tuesday's ceremony.
"I feel that Julie is with us here," Burstein said. "Julie was someone who cared deeply about interpersonal connection and about community. … This is about how we can come together across our differences and make community, make connection. I think Julie would be so proud of that."
Burstein also took time during the rededication to thank Rick Moser '83 and Lisa Miller Moser '84, whose generosity funded the Goldgarden, a beautiful space on the east side of the Center that is now utilized for group meditation and other outdoor gatherings.