Casey Korn knows where he wants to go, where he wants to take his Lawrence University men's basketball team.
March.
That's the dream. That's always the dream for college hoopsters. But Korn, about to begin his first season as the Vikings' head coach, knows it's the details and work habits tended to in summer, fall, and winter that will determine what success might come in spring.
"The goal is to try to be at the top of the Midwest Conference every year, which will give you the opportunity to play basketball in March," Korn said. "From experience I can tell you, March basketball is a lot of fun. But you can't skip steps. You have to work hard in February. You have to work hard in October. You have to work hard in July."
Schedule and other information on Lawrence men's basketball here.
That will be the message as Korn leads Lawrence onto the court for the first time at 5 p.m. Nov. 6, a game in Alexander Gym against Marian University. It comes just two months after Korn was hired to lead the program following Zach Filzen's departure to take a coaching job in his home state of Minnesota.
It's been both a dream and a whirlwind for Korn, who was already living close to the Lawrence campus when he accepted the job offer from Director of Athletics Kim Tatro in early September. A native of the St. Louis area, he and his wife, Ashley, had moved to Appleton three years ago when Korn took a job as an assistant basketball coach at the University of Wisconsin-Oshkosh. It reconnected him with his former college teammate, Matt Lewis, who was in the process of building a powerhouse program in Oshkosh.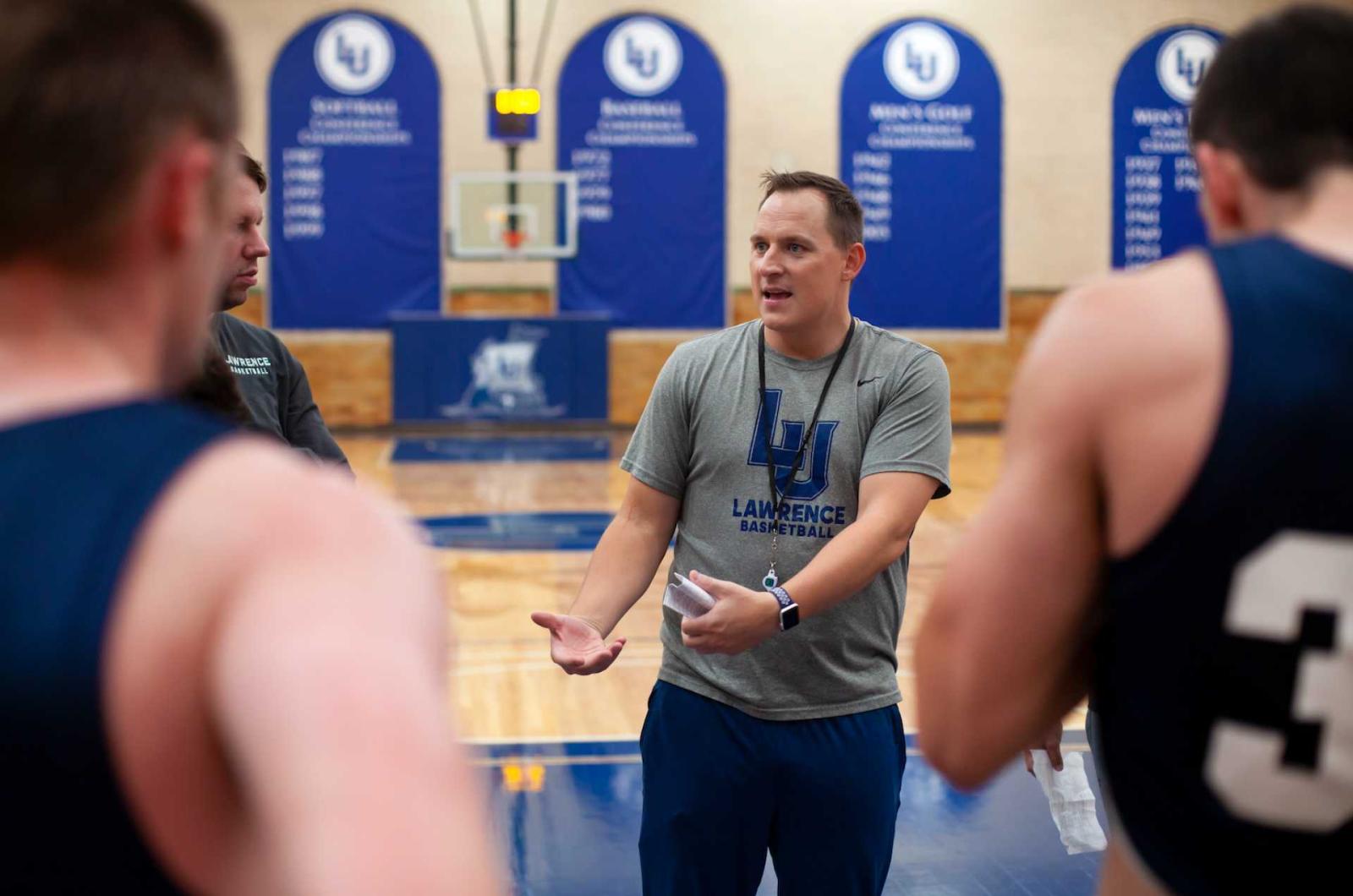 It was in Korn's first year at UWO that the Titans won the NCAA Division III national championship. They would qualify for the tournament again the following year. Korn was taking notes every step of the way.
"Just the standards, the high expectations," Korn said of what he learned through the UWO experience. "They have high standards and don't apologize for them."
It was on the recruiting side in particular that Korn said he got an education. He had been a high school coach prior to coming to UWO, so recruiting was new to him.
"I learned a lot about the relationship piece of it," Korn said. "Helping 17- and 18-year-old high school students feel comfortable, and helping them to make a decision. Sometimes you are not the right choice or the right fit, but if you do right by people and you're honest with people, it'll work out. You are going to find the people who are right for your program and want to be here."
Flashback to when March Madness gripped the Lawrence campus
Korn played both basketball and baseball as an undergraduate at Cornell College. He graduated from Cornell in 2009 and recently finished his master's degree in athletic administration from Concordia University, Nebraska. He coached high school basketball at various schools in Missouri over the course of nine years before joining the UWO staff in 2018.
Now in his first head coaching position at the collegiate level, Korn leads a Lawrence team that features All-Midwest Conference standout Brad Sendell and two other returning starters, Brandon Danowski and Julian DeGuzman. But because the COVID-19 pandemic shut down the season last year, Korn is looking at nine newcomers among first-year and sophomore players.
His message to those players has been simple: Work hard, take care of your studies, and help build a program that you and your peers can take pride in.
"Overall, we just want them to set a standard for who they want to become and who we should be here at Lawrence," Korn said. "Mistakes are going to be made along the way. But we're going to continue to grow and continue to learn from them as we go. That's what our philosophy is going to be. We want to excel on the court and in the classroom, and we're going to put a product on the floor that people will be proud to come and watch."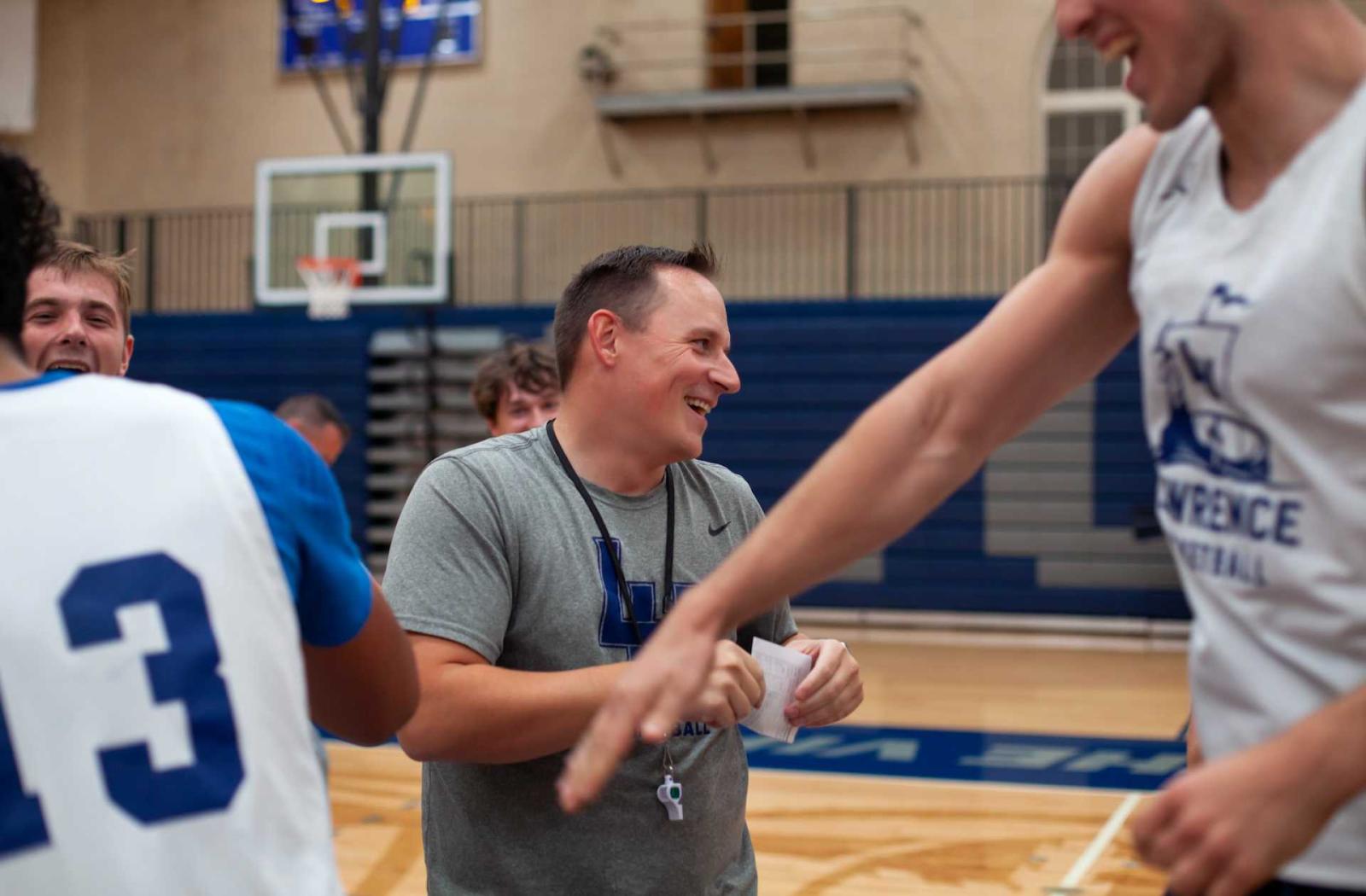 The ongoing pandemic has kept things from fully opening up. Lawrence's winter sports policy will limit attendance for indoor events—each student-athlete will have a two-person pass list; other than that, only Lawrence students, faculty, and staff can attend.
That means another of Korn's priorities is temporarily on pause. He wants to increase the frequency of youth basketball camps held in Alexander Gymnasium and make Lawrence basketball a more visible presence in Appleton. He wants his players to volunteer in local schools. He wants them to be seen.
"Once you start building some of those relationships—with the schools, the teachers, the students—all of a sudden maybe they'll come and support what you're trying to do," Korn said. "Again, it's that big relationship piece, and that's a big part of what we're trying to get done."
The next step for Korn and the program comes with the Nov. 6 season opener against Marian. The plan is to get better each day, each week, each month, and in the process build something that can be sustained, he said.
"Winning is fun, I will say that," Korn said, reflecting on the March basketball he's experienced. "We will have high expectations. This is a good league, the Midwest Conference. It's not a one-bid league where you have to win your conference tournament to get into the national tournament, but that's the easiest route to go. That's where we want to be. We want to be a program that grows to be a staple in this conference and plays in national tournaments. … But you can't skip steps."