About this series: Lighting the Way With … is a periodic series in which we shine a light on Lawrence University alumni. Today we catch up with Zach Ben-Amots '16, a TV journalist in Chicago who produced a documentary on a 1940s lynching in rural Georgia, now featured on Hulu.
---
Zach Ben-Amots '16 found his passion for documentary-style storytelling while digging through the archives as a student at Lawrence. Old newspaper and magazine clippings and other materials from days gone by had his head spinning with ideas.
"I just love digging," he said.
That Lawrence experience led Ben-Amots to the journalism graduate school program at Northeastern University in Boston, where documentaries became his focus and where he connected with Northeastern's School of Law on an investigation into the late 1940s lynching of a Black farmer in rural Georgia.
Ben-Amots was recruited to produce a short-form documentary on the case. Two students from the law school's Civil Rights and Restorative Justice Clinic had uncovered evidence that Henry "Peg" Gilbert had been beaten and lynched by law enforcement after being jailed on bogus claims that he aided a Black man being sought in the killing of a white farmer.
The ensuing documentary detailed the atrocities of his jailing and death and featured interviews with surviving family members who previously had no idea what had really happened to Gilbert.
It was a student film project that became part of the law school's restorative justice library, and Ben-Amots left it there when he graduated. But he didn't forget about it when he jumped into his first post-college journalism job, a reporter with ABC 7 in Chicago. When George Floyd was murdered by a Minneapolis police officer last May and Black Lives Matter protests erupted across the country, he approached his editors with an idea to update the documentary in the context of what was happening in the moment.
"I told my producer I have this great story on the shelf and if we bring in some protest footage and if we show people the obvious connection between historical killings of Black men and present-day killings of Black men by police, then I think we have a great and timely documentary," Ben-Amots said. "And then to my surprise, it got picked up by Hulu."
The 18-minute documentary, The Lynching of Henry "Peg" Gilbert, a production of ABC 7 Chicago and the Northeastern University School of Journalism, would initially air on ABC stations in Chicago and Boston. But beginning in April, it got a much wider audience when the streaming service Hulu added it to its lineup. It's expected to be available to subscribers for a year.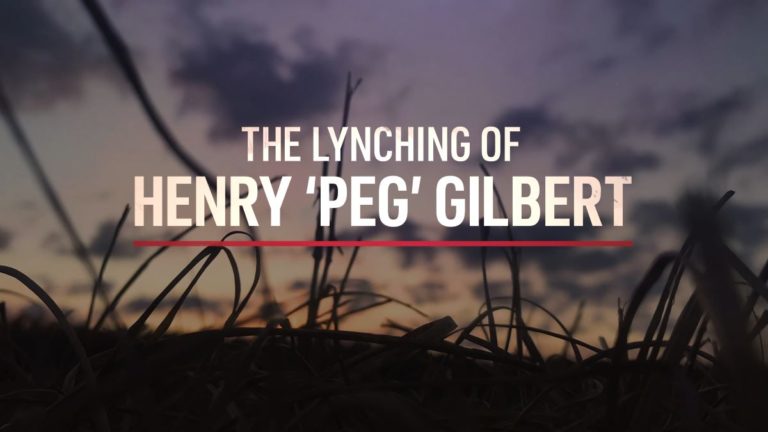 The Lynching of Henry "Peg" Gilbert can be found on Hulu. It's also available here on ABC 7 Chicago.
The Gilbert story is powerful and emotional. It tells of Gilbert's success as a farmer, which included significant land ownership, a rarity for Black families in Georgia at the time. The story speaks to the hatred and discrimination he and his family faced in the community. Gilbert would eventually be jailed on phony charges, and when he was later found dead in his jail cell, public records indicated he attacked a sheriff and was killed in self-defense.
The law students at Northeastern, exploring the case seven decades later, would document that Gilbert did not attack a sheriff and was in fact tortured and lynched while in custody. His family was forced to sell the 111 acres of land for a small percentage of its value and move out of state.
Gilbert's wife, Mae, would have an emotional breakdown following her husband's death, and their four young daughters would be separated, each going to live with a different family member.
One daughter remains alive today.
"The one living daughter of Henry and Mae Gilbert never ever talked about this," Ben-Amots said. "She never spoke about (her father's death). Apparently, she watched the documentary and really liked it … and began talking about it. I hope a lot of people see it on Hulu, but to me, the biggest thing is just that this family now knows what happened. These daughters grew up being told all kinds of things about their father. Now the truth is out there, that their father did nothing wrong and was killed simply for being Black."
The law school investigation led to a public apology to the Gilbert family from the sheriff of Harris County, Georgia, in early 2019.
"It's a story that relates really strongly to the moment we're in right now," Ben-Amots said.
An eye for storytelling
Ben-Amots came to Lawrence in 2012 knowing he wanted to be a video journalist. Lawrence's Film Studies program was being built during his years on campus and he crafted a self-designed major that included elements of what is now the film studies major. He wrote for and served as editor of The Lawrentian, and he minored in religious studies with an emphasis in Buddhism, which further fueled his interest in research, history, and storytelling.
"That was probably the place where I really fell in love with research," he said of religious studies. "Reading historical documents on Buddhism and trying to analyze them, trying to pick out little details that I can understand in dense texts."
When he discovered the joys of the university's archives, that intersection between history and storytelling took his interest to another level. He dug into files in the archives with news clippings and other documents that provided insights into the experiences of Black students at Lawrence through the years. That led him on a journey that involved interviewing nine Black alumni as part of the making of Forgotten History, his 2014 documentary film that explores the historical challenges faced by Black students on campus and in the surrounding Appleton community.
"I definitely found a real passion in archiving, for digging through history," Ben-Amots said. "To me, that's the real appeal of the work. By the time I went to J school, I was eager to dig through data."
When Ben-Amots graduated from Northeastern two years ago—he had volunteered with AmeriCorps in Boston for a year following his Lawrence graduation—he landed the job at the ABC station in Chicago, where he works as a one-person crew focused on documentary-style reporting.
"Journalism is a fascinating thing to be in," he said. "It's been a crazy year to be in it, for sure. I pick a lot of my own stories; I film my own stories; I'm the reporter, and I edit them. So, I have a lot of creative control. … I love being behind the camera."