About this series: Lighting the Way With … is a periodic series in which we shine a light on Lawrence University alumni. Today we catch up with Yaw Asare '96, who is putting his business savvy into a tasty new side gig.
---
Yaw Asare '96 has added some new flavor to the Downtown Appleton Farmers Market.
His Sharay's Ghana Style Peanut Brittle has become a fixture at the market since July, an early step in a business proposition that has Asare thinking big.
The 47-year-old Asare, an economics major while at Lawrence University two and a half decades ago, works as a loan documentation specialist for Investors Community Bank in Appleton. But his nights and weekends are now dominated by what he calls his new side hustle, a long-simmering dream to bring the tastes of Ghana to the United States.
"Ever since I got to the U.S., I've wanted to do my own thing, start my own business," he said. "It took me a little while to figure out what I wanted to do."
Asare settled on the peanut brittle he grew up with in Ghana, crafted from a recipe book he got from his mother. He's introduced the brittle at the farmers market and a handful of retail outlets around the Fox Cities and hopes to grow it into a national brand as he expands to various other taste treats inspired by his homeland.
"You have to start small," he said. "We're starting here in the Fox Cities and then we'll go ahead and start branching out, first throughout Wisconsin and then the Midwest and beyond."
He has two active business partners – Walt Nocito and Orson Fournillier – in Appleton and a third silent partner in California and has contracted with Sweet Ps Pantry, an artisan confectionery in Oconomowoc, to make and package the brittle.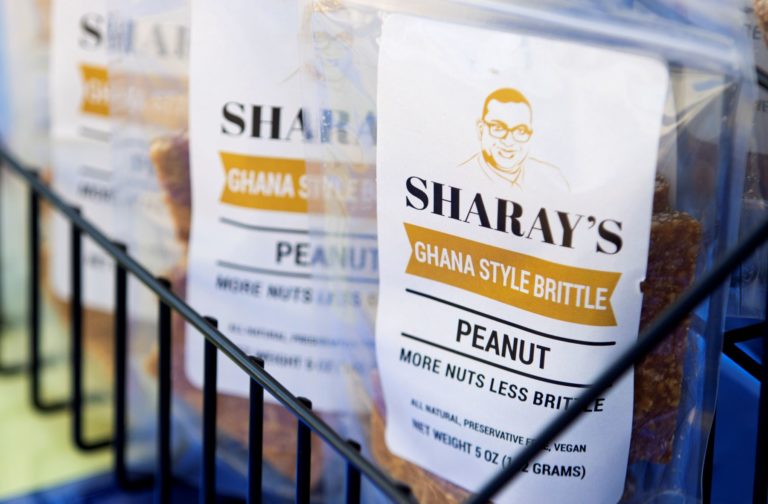 An inspiration from childhood
Asare, who was born in Germany, lived in Ghana from age 7 until he came to the United States to study at Lawrence in the early 1990s. After first exploring the peanut brittle concept in 2016, it was a trip back to Ghana in 2018 that gave him the impetus to dive into his new venture. He ran into two former schoolmates who were operating their own peanut brittle business in Ghana, and he said they inspired him to push forward.
"What we're talking about now is a company that takes Ghanaian products and packages them for the Western market," Asare said. "This brittle thing is going to come first. There will be others we'll come out with as time goes on and as we can get them developed."
Asare worked with Sharon Pavich of Sweet Ps Pantry to perfect the recipe. The first batch came out in late 2019 with sales to friends, family, and co-workers and a deal with their first retail outlet, The Free Market, located on Wisconsin Avenue in Appleton. That led to the push into other local retail outlets and the farmers market this summer and the launch of a Sharay's website.
"We started pushing into the Fox Cities in July of this year," Asare said. "It's brand new. That's when we hit the farmers market and started getting into other retail outlets. We're in about 10 retail outlets right now. There's a game plan for broadening that beyond the Fox Cities. We want to be the premium provider of brittle products."
Making that happen in the midst of a global pandemic has created its own obstacles. Not all retailers have been able to stay open. And the farmers market experience hasn't been as robust as a typical summer season. But like many other small businesses, Asare said he's learning to adapt.
"It's been difficult," he said. "At the farmers market, we can't do taste tests or any of that sort of thing because of the regulations. We have to rely on our sales pitch and get people to buy it without first trying it."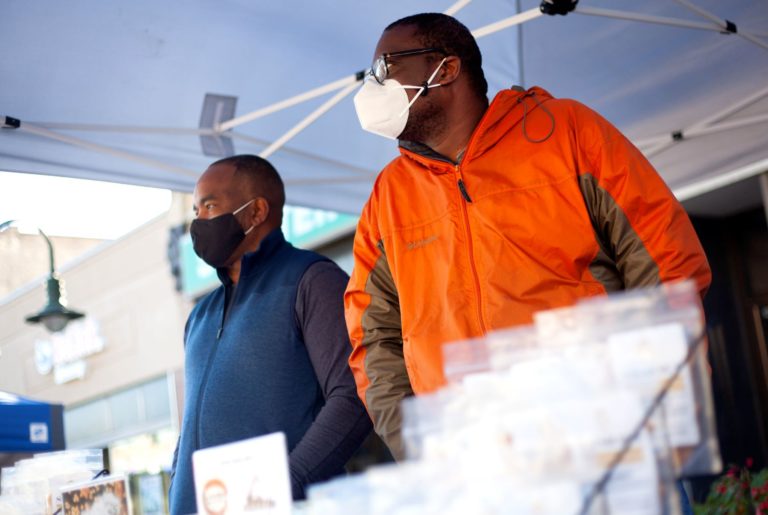 Finding a path
The Sharay's recipe comes from a late 1970s Ghanaian cookbook. The name comes from Asare's childhood nickname.
"We chop the peanuts so you get a more robust flavor from it," Asare said. "We also use cane sugar instead of corn syrup. And then a little bit of water and salt. Some of the other extra ingredients you'd find in regular brittle like butter and corn syrup and some of the preservatives, you won't find those in ours. When people bite into it, they find we use more peanuts than you would in a normal brittle. They find it doesn't stick to their teeth as much, and that's been pretty much everyone's reaction. It doesn't stick to your teeth is a little bit of a tag line for us.
"So far, we've gotten excellent response. The product is definitely different enough from regular brittle. Once people bite into it, they have a very positive reaction. … It's pretty much on point with what I knew in Ghana."
See more Lawrence alumni profiles here.
After graduating from Lawrence in 1996, Asare opted to stay in Appleton, and has worked in various banking, sales, and marketing roles through the years. He married Leslie, whom he met while at Lawrence. They have three children, two of whom are now in college, leaving more time for his new side project.
Asare said the lessons he learned at Lawrence and in his roles in the Appleton business community are all in play as he launches his new venture.
"This is a side job right now," he said. "But if it grows into a full-time thing, that would be great. And if it's nothing but a side business, well, that's fine, too."