Three Lawrence University professors were honored with 2021 faculty awards during the June 13 Commencement ceremony. The annual awards are considered to be among Lawrence's highest faculty honors.
The Award for Excellence in Scholarship went to Gustavo Fares, professor of Spanish; the Award for Excellent Teaching by an Early Career Faculty Member went to Rebecca Perry, assistant professor of music theory; and the Award for Excellence in Teaching went to Massimiliano Verità, instructor of Arabic, Italian, and Religious Studies.
Award for Excellence in Scholarship: Gustavo Fares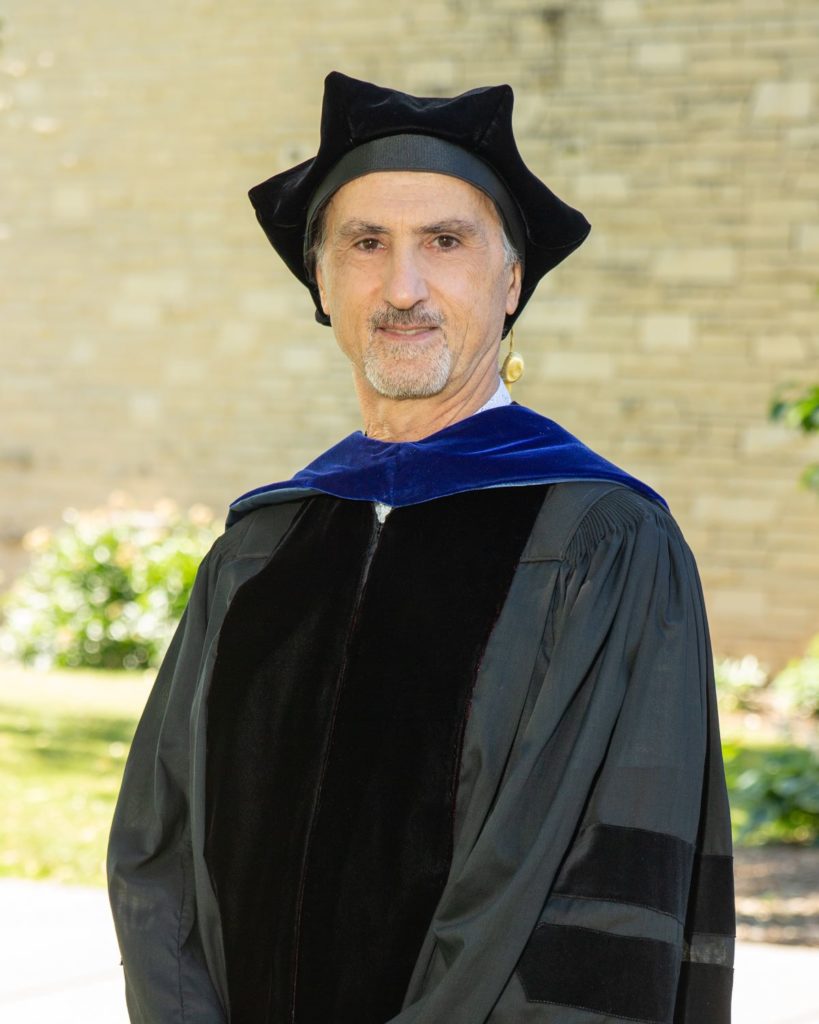 Fares has been part of the Spanish faculty at Lawrence for more than two decades.
"You came to Lawrence University in 2000 with rich and varied training in a variety of fields, with degrees in law, painting, and printmaking, in addition to your Ph.D. in Latin American literature," President Mark Burstein said in a citation he read at Commencement. "In fact, your first faculty appointment, in Buenos Aires, was as a professor of painting and drawing. This ability to grasp the multiple, complex interconnections among the arts and a society—and, in particular, your interest in the self-representation of minoritized American communities—has produced a rich body of distinctive scholarship that I am pleased to recognize today."
Fares' research has focused on such topics as Latin American cultural studies, legal studies, visual arts, and border studies. In 2004, he was a Fulbright Visiting Professor at the Universidad Nacional de Cuyo, in Mendoza, Argentina. He also has been an active partner with the College Board for more than two decades, assisting high school Advance Placement students studying Spanish. He was among three Lawrence faculty members who contributed instructional videos to the College Board's AP Daily project during the pandemic.
His latest book, Domingo F. Sarmiento's Argirópolis. A Critical Translation (New York: Palgrave), was released earlier this year. Kodat applauded Fares for collaborating with Lawrence students in writing the book, which provides a critical translation of Sarmiento's 1850 essay.
"I am happy to note that you were assisted in this work of translation by four of our Spanish majors, who explored the text with you in a series of independent studies and whose assistance you acknowledge in the book," Burstein said.
Award for Excellent Teaching by an Early Career Faculty Member: Rebecca Perry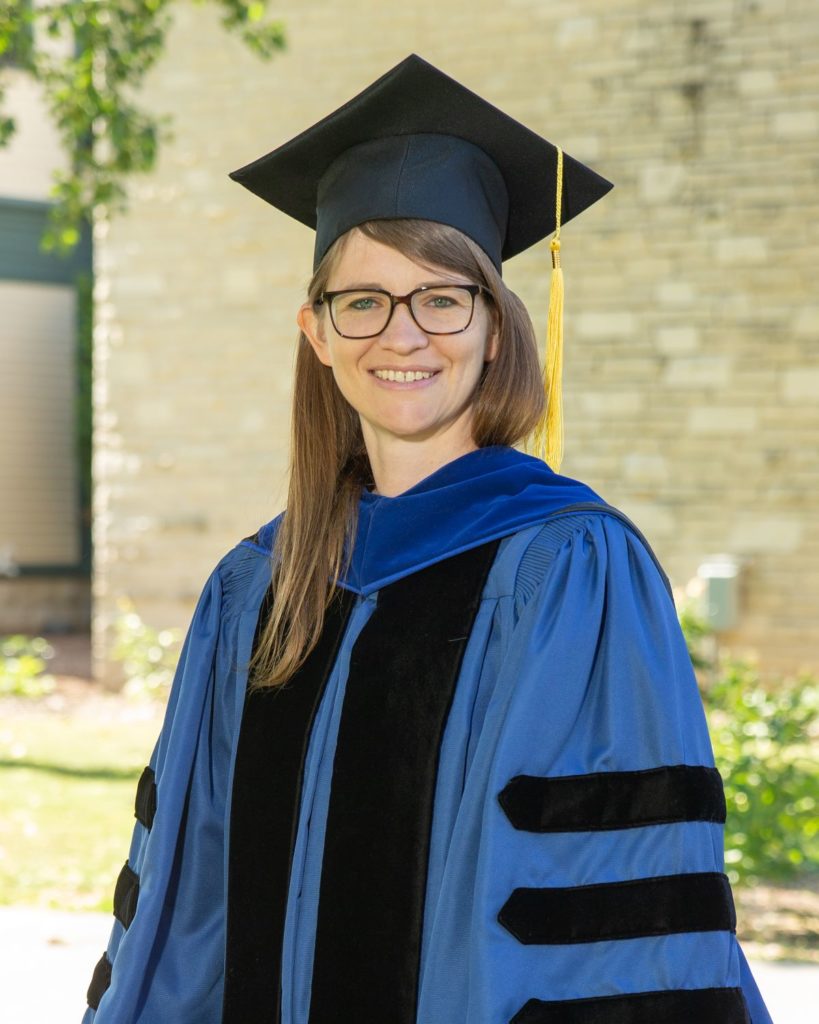 A member of the Conservatory of Music faculty since 2017, Perry has quickly established herself as an integral part of the learning community for Lawrence students studying music.
"For many young musicians, music theory is a bit like spinach: there's no question that it's good for you, but while some immediately take a liking to it, others need time, and a bit of culinary creativity, to appreciate its virtues," Burstein said in the citation for Perry. "Becky, since coming to Lawrence in 2017, you have excelled in helping students to develop a taste for the often challenging, but always nourishing, work of theoretical musical analysis."
Perry came to Lawrence after receiving her doctor of philosophy, master of arts, and master of philosophy degrees in music history from Yale University. Her research has focused on early 20th century adaptations of sonata form, as well as film music, Russian formalism, and the intersections between literary theory and music analysis.
Burstein said Perry's impact in the Conservatory can be felt in how students have reacted to her teaching.
"Students express profound gratitude for your patience and willingness to meet them where they are and travel with them on the road to understanding," Burstein said in the citation.
He also noted that Perry's students have praised her for caring about them as individuals and respecting them in the classroom.
Award for Excellence in Teaching: Massimiliano Verità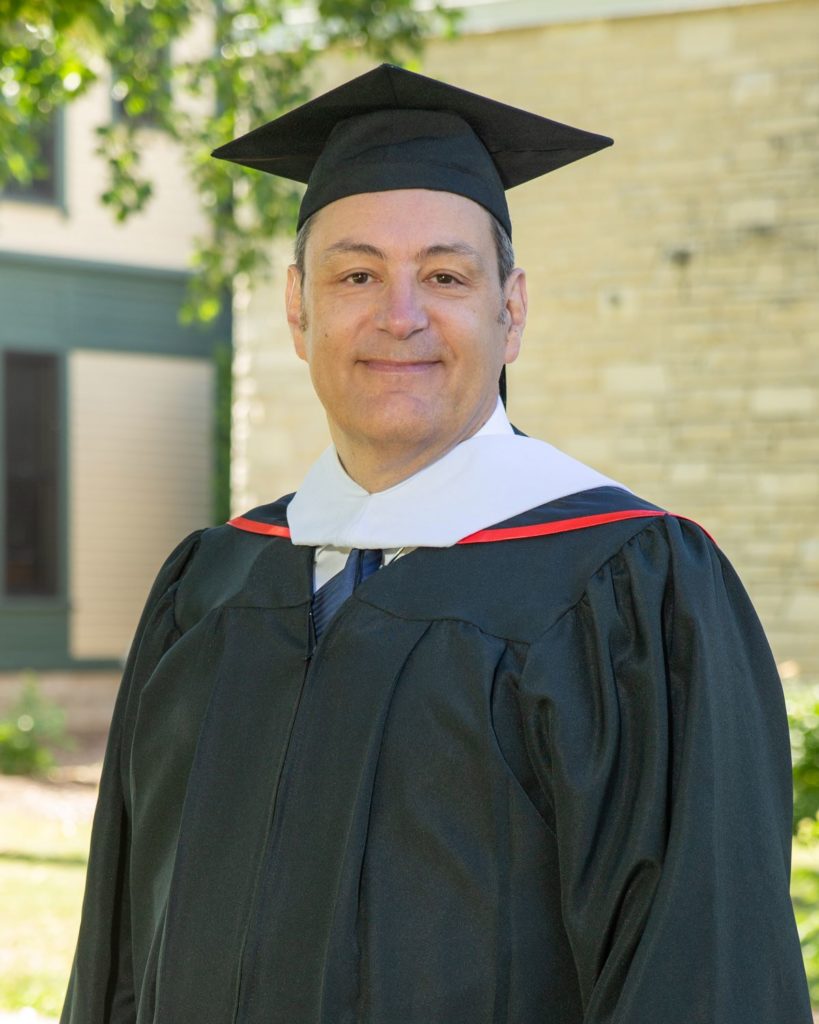 Verità has been part of the Lawrence faculty since 2005. He began as an instructor for Freshman Studies (now called First-Year Studies) and began teaching tutorials in Modern Standard Arabic a year later. Before coming to Lawrence, he had written on the novels of Naguib Mahfouz for his master's thesis while studying at the University of Bologna.
"Student interest grew rapidly, so much so that, by 2008, you were offering instruction in Arabic as a six-unit, three-course sequence, which you have offered every year since," Burstein said in the citation to Verità.
He would go on to earn a second master's at the University of Wisconsin-Madison in African languages and literatures with a specialization in contemporary Arabic literature and Arabic and African cinema.
"For more than a dozen years, you have single-handedly managed our curriculum in Arabic language instruction, supplementing regular coursework with tutorials, directed studies, and independent studies in second-, third-, and fourth-year Arabic, Media Arabic, and Arabic Linguistics—all in response to student interest," Burstein said. "As if this weren't enough, you added Italian to your teaching portfolio in 2015, earning heartfelt gratitude and appreciation from scores of students along the way."
Burstein said students have praised Verità for his "patience, kindness, enthusiasm—and sense of fun."
"But your pedagogical gifts extend beyond the ability to make learning a new language fun," Burstein continued. "Students appreciate your friendly availability in office hours, your eagerness to help them learn, and your compassion. As one of your students puts it, you are 'one of the most accommodating and humble instructors I've met.'"