From mapping bluff erosion along the shores of Lake Michigan to translating theatrical works from French to English, Lawrence University students are diving deep into a wide range of research this summer.
The Lawrence University Summer Research Fellows Program has come roaring back following a year in which summer research was either limited or strictly remote because of the coronavirus pandemic. More than 100 students—most of them on campus but some still remote—are taking part in summer research, funded through Lawrence and its supporting partners and encompassing 17 academic departments across the college and the conservatory, all in collaboration with Lawrence faculty.
Elliott Marsh '22, an environmental sciences and geosciences double major who is working with a team of students alongside geosciences professor Jeff Clark on the Lake Michigan bluff erosion project, said he loves the hands-on approach to summer research.
"In my case, I am learning a lot about drones, remote sensing, and GIS, which are very good skills to have in the job market these days," he said. "Also, research is all about problem-solving, and being immersed in trying to answer a handful of questions in 10 weeks is a very different experience."
Student participation in the summer research program has grown by 50% over the last six years, jumping from 70 students in 2015 to 105 this year. The number of academic departments taking part has grown from 11 to 17.
Through numerous grants, donations, and other funding, more than $350,000 was available for this year's summer research. Faculty members applied for funding to support their research; students then applied to join faculty projects that interested them.
"Despite the pandemic, summer research at Lawrence continues to grow and flourish—we have more students participating in summer research with more faculty across more programs than ever before," said Peter Blitstein, associate dean of the faculty.
The natural sciences continue to lead the way, but there is now more consistent participation year in and year out from the arts, humanities, and social sciences. That, combined with greater flexibility in how available stipends are used, has helped increase participation each of the past six years, with the exception of last summer.  
Relena Ribbons, an assistant professor of geosciences who is leading students in climate-based research in SLUG (Sustainable Lawrence University Garden), called the skill-development that comes with hands-on research a valuable piece of life-after-Lawrence preparations. Seeing it return this summer with such enthusiasm has been a welcome sight.
"Summer research fellowships here at Lawrence provide students with the opportunity to fully engage with the entire research process, which is both a valuable stepping stone for connecting more deeply with academic research and a meaningful and enjoyable way to spend the summer months," Ribbons said.
The work provides students with important insights into graduate school and allows them to explore career possibilities on a deeper level. In the process, it adds skills and experiences to their resumes.
"These experiences are especially valuable in helping students figure out if they might want a career in research, and if so, the work they do over the summer is an important part of their application for graduate school," said Lori Hilt, associate professor of psychology. "The skills they gain—in data collection and analysis, communication, etc.—will help them in their lives after Lawrence, whether or not they decide to go to graduate school."
BY THE NUMBERS: A CLOSER LOOK
To give you a look at the breadth of the research being done this summer by Lawrence students in collaboration with faculty across the college and conservatory, we've pulled together a "by the numbers" guide.
105: Number of students participating in summer research
Blitstein said the growth in the program stems from the diversity and creativity of the research projects and the influx of available funds over the past several years to support the students during the summer.
"I am delighted to see the range of projects our faculty and students are collaborating on this summer," he said. "From the ceramics studio, to the biology laboratory, to the university archives, Lawrentians are engaged in hands-on learning, developing their skills, and supporting faculty in achieving their scholarly and creative goals."
53: Total number of research projects under way
The program was renamed the Lawrence University Research Fellows Program in 2017, and with it came a greater emphasis in participation beyond the natural sciences, Blitstein said. That is playing out in a big way this summer.
"Overall, it has become more visible as a university-wide program in recent years," he said.
46: Number of Lawrence faculty overseeing summer research projects
Hilt has been part of the research program every summer since joining the Lawrence faculty in 2011. She's working with students this year on multiple projects that touch on mindfulness, rumination, and suicide prevention among school-age children and adolescents.
"I find it to be a rewarding opportunity to mentor students and have them contribute to my scholarship in a meaningful way," Hilt said. "Many of my summer research students have been co-authors on published papers and have gone on to graduate school and careers in psychology."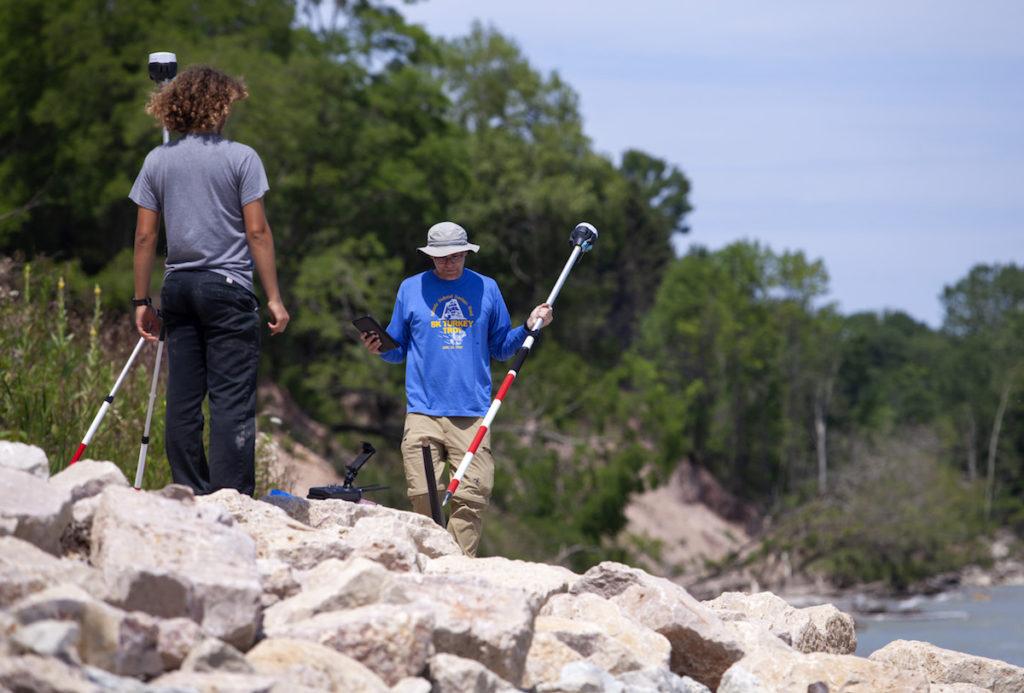 17: Number of academic departments working with students on summer research
The departments involved touch almost every corner of Lawrence. In addition to the natural sciences, participation comes from Anthropology, the Archives, Art & Art History, the Conservatory, Economics, English, Film Studies, French & Francophone Studies, Government, History, Mathematics, Psychology, and Russian, plus outside partnerships with the Associated Colleges of the Midwest.
Midushi Ghimire '24 is a biochemistry major spending her summer working with Mark Jenike, associate professor of anthropology, on research into the human biology of diabetes. The research is expected to contribute to a new course to be offered in 2022-23.
"The best part is that in order to understand the concepts, I have to sometimes revisit and refresh what I learned during my academic year," Ghimire said of the work. "I feel that I have a stronger grasp on the topics I learned and am applying them to new areas. I am expanding my knowledge horizon and relating biology through a larger scope."
50: Number of students taking part in science research (biology, chemistry, geosciences, and physics)
The Lake Michigan shoreline research that Clark is leading is part of an innovative NASA project that gives students the opportunity to conduct earth-observing experiments using remote sensing techniques. It ties in nicely with Lawrence's newly launched environmental science major.
"We are using drones to map bluff erosion on the bluffs along Lake Michigan near Two Creeks," Marsh said. "To do this, we are using not only a visual sensor but also a thermal sensor. That area is known for its distinct layers, and the sand layer is the weakest layer where the bluff is most likely to fail. So, with the thermal sensor, we are able to identify how saturated the sand layer is because the different moisture levels in the sand will yield different temperatures than 100 percent dry sand would."
The students will analyze the collected data and by the end of summer prepare a paper on their findings.
13: Number of students taking part in Conservatory of Music summer research
Projects range from research into Brazilian drumming (with percussion professor Dane Richeson) to preparing arrangements for horn and mixed ensemble for publication (with horn professor Ann Ellsworth).
Claire Chamberlin '23, a global studies major, is working with Eilene Hoft-March, the Milwaukee-Downer College and College Endowment Association Professor of Liberal Studies and professor of French, in the translating of short theatrical works from French to English. Kathy Privatt, the James G. and Ethel M. Barber Professor of Theatre and Drama and associate professor of theater arts, and her theater students will then take some of those short plays to performance during Winter Term.
"I'm translating short contemporary retellings of four plays by Molière—who was essentially the French Shakespeare—from French into English," Chamberlin said. "It's valuable because it's making art accessible to a new audience. All four plays are funny and incisive, and adapting them into English allows more people to enjoy them. For me, it's a fantastic opportunity because I get to build my literary translation skills while learning more about Francophone cultures and the French language, especially its idiomatic use."
7: Number of students involved with research that explores foreign languages and/or cultures
Parker Elkins '22, a Russian Studies major, is one of three students working with Peter Thomas, associate professor of Russian Studies, to build assignments for Lawrence's first-year Russian curriculum, including both written and video exercises.
"While I'm still unsure whether I intend to pursue higher education after Lawrence and teach Russian, this work is certainly helping me get a better understanding of some of what that job would entail," Elkins said.
Researching the Russian text and breaking it down for possible use in future courses has not only proved beneficial in providing insight into possible career paths, it's also helped give direction to a separate project, his senior capstone.
"I can say that for mine—a scholarly retranslation of Venedikt Erofeev's novel, Moscow to the End of the Line—working on these (texts) has been immensely helpful," Elkins said. "Erofeev's prose shares very, very few similarities to these texts, but at the same time there's been large parts of the process that I've been able to take from working on these first-year Russian assignments and apply to retranslating this novel." 
23: Number of students taking part in psychology research, much of it focused on youth and adolescent mindfulness
John Berg '22, an English and psychology double major, is working with Hilt in a study of mental health screening and suicide prevention among school-age children and adolescents in the Fox Valley. They're partnering with community groups as they examine local screening data from the prior school year and look to develop new or improved screening instruments that can better identify students in need of help.
"I personally love doing this work," Berg said. "I think that it is relevant and has the ability to help students who are at risk of self-harm and/or suicide."