Miri Villerius, always musically curious, has found herself increasingly drawn to klezmer music, a Jewish music tradition with roots in Eastern Europe.
It was in late 2020, the midst of the coronavirus pandemic shutdown, when the Lawrence University music and religious studies double major, then a sophomore, became mesmerized by this music that had all but escaped her notice while growing up in Minneapolis. She started listening to the Klezmatics and other klezmer bands featuring a genre of music most often heard at Jewish weddings and dance parties.
"It became my main quarantine obsession and hobby," Villerius said. "It really stuck with me."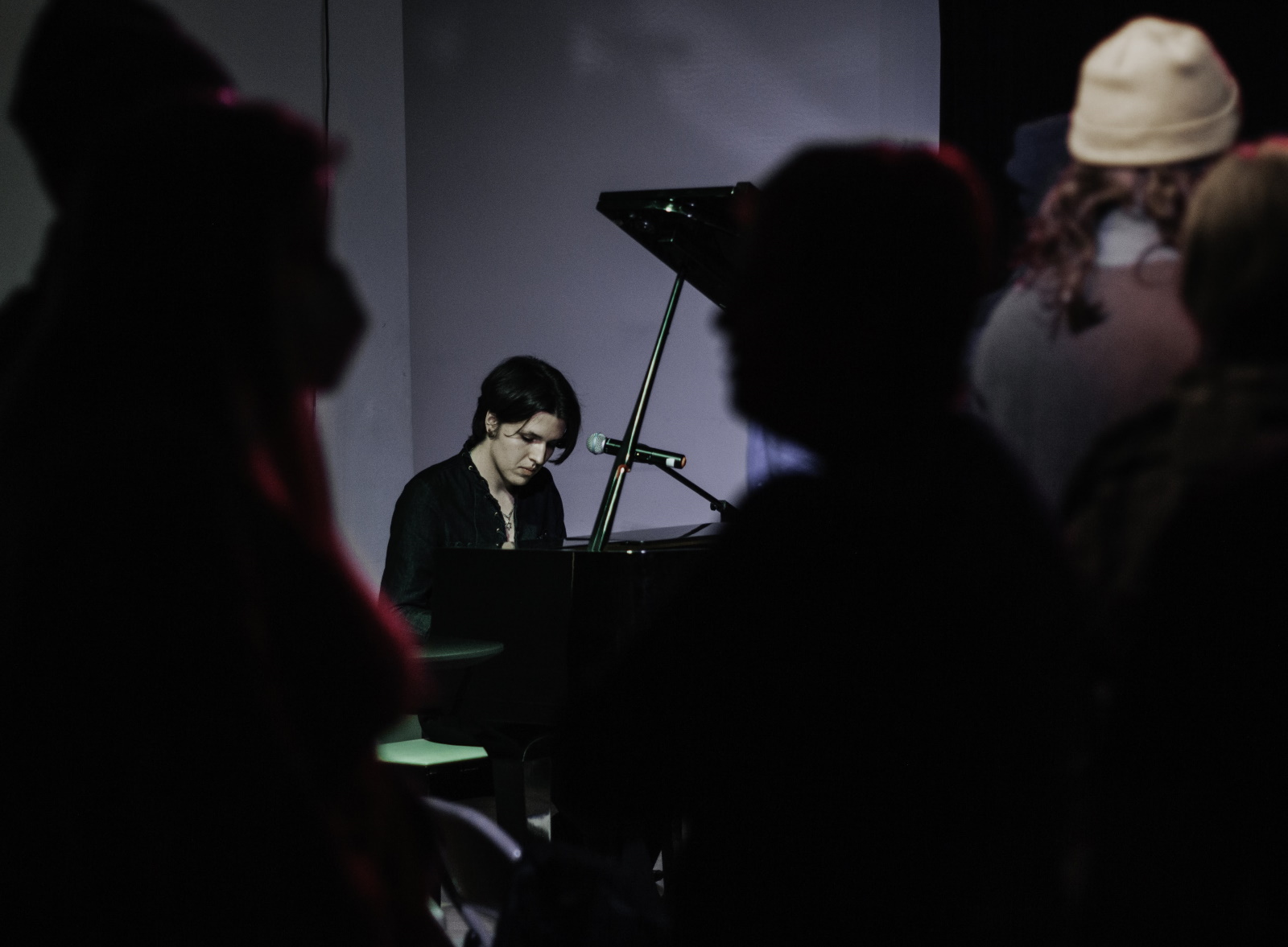 Back on campus in 2021, she carried that interest into the classroom, connecting with Georgia Chau, a fellow sophomore and clarinetist who happened to be preparing klezmer music for an upcoming recital. Their meeting set the wheels in motion that eventually led to the forming of The Klezmommies, a klezmer band with upwards of 10 Lawrence students rotating in and out of the lineup.
"I emailed my friend, Mikayla, who plays trombone," Villerius said. "And Mikayla got another friend, Willow, who sings and studies linguistics; she's really into Jewish linguistics. It grew from there. We all convened during spring break in 2021 for our first little jam, which was very, very creaky, and scary."
Creaky or not, it sparked a fire that continues to burn two years later. The jam sessions in the Conservatory became a weekly thing, the band played a Hanukkah party, then a recital with friend and bandmate Eviatar Shlosberg, then two Music for All events, then a festive set at last spring's LUaroo, then a road trip to play a bar mitzvah in Boulder, Colorado. An invite came this winter for the band to take their music back on the road for a performance at the Klezmer on Ice festival in the Twin Cities.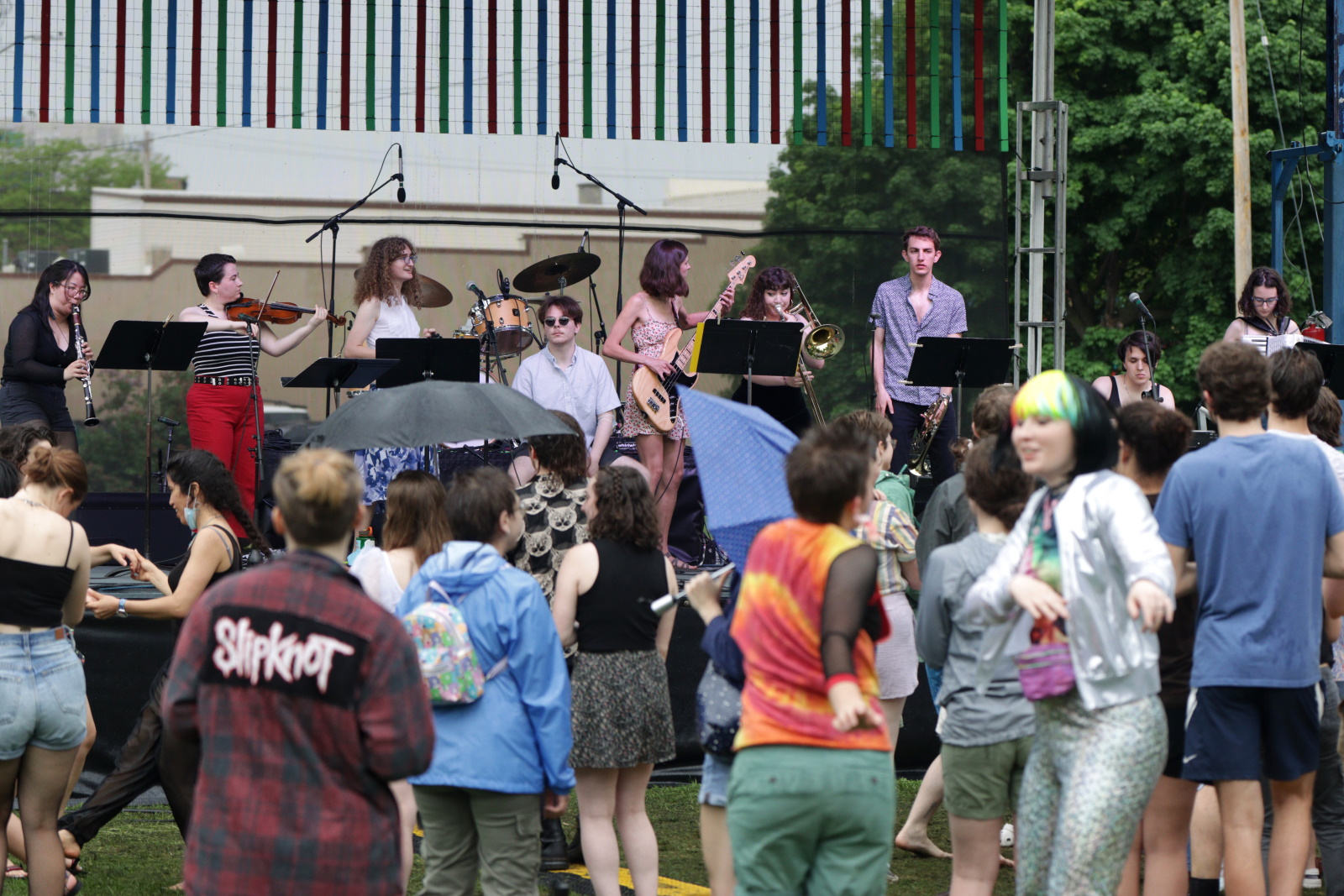 More recently, The Klezmommies, with several members eyeing graduation in June, have been in the studio, recording what will be an album of mostly organic reinterpretations of classic klezmer tunes. They're hoping to release Running Out of Time this summer.
What was once a very casual dabbling in the music has slowly grown more serious for Villerius, Chau, and friends.
"I was initially drawn to klezmer music in high school because it vastly contrasted the classical music I had been studying up until then, and I loved how free it sounded," said Chau, a neuroscience and music performance double major from Sausalito, California. "I taught myself the techniques to play it but was never very serious or good at playing it until my third year at Lawrence."
That merging of musical interests is a very Lawrence thing. Whether it's klezmer or bluegrass or jazz or hip-hop or any number of other genres, musical side projects often evolve very organically for students in and out of the Conservatory. The available recording and performance spaces on campus help facilitate those musical explorations. LUaroo, the annual campus music festival held Memorial Day weekend, often becomes a showcase for student bands, just as it did a year ago for The Klezmommies.
Integrate intellectual and musical virtuosity in a supportive, creative community that will empower you to find your musical path. 
In addition to Villerius, Chau, and Shlosberg, students who have been part of The Klezmommies include Alex DeBello, Sela Dombrower, Mikayla Frank-Martin, Celia Goldstein, Zemirah Willow Higgins, Ryan Saladin, and Marya Wydra.
"One of the things I really appreciate the most Is that not all of us are Conservatory students or performance majors or music majors," said Villerius, who plays the accordion and piano. "We're on different tracks with our studies and have different musical backgrounds and goals. We're learning to play together just as much as to play the actual music."
Villerius has dived deep into klezmer music over the past two years. She's studying its origins, its histories, how and where it's embraced. Klezmer is a Hebrew word that combines "kley" (vessel) and "zemer" (melody), and its history dates to Jewish musicians of the Middle Ages. It was once focused solely on instrumental music—basses, clarinets, violins—but has expanded to encompass a wide range of musical styles, from Yiddish folk songs to dance music with a "klezzy" vibe.
"There's so much more to learn," Villerius said.
While klezmer music hails from Jewish traditions—mostly Ashkenazi Jews of Central and Eastern Europe—not all members of The Klezmommies are Jewish.
"For some of us our affinity for the music has to do with our Jewish identities," Villerius said. "But when we're playing with the group, it's way more about having fun, but everyone is always respectful. Some of us speak Hebrew and others don't. Some of us were bar or bat mitzvahed and others weren't. But we're all happy to have fun and play the music."
The invite to perform in February at the klezmer festival in Minneapolis—Villerius's hometown—allowed six of the band members to make key contacts with other klezmer musicians. They played three sets at a cabaret night, sharing the spotlight with a handful of other performers, among them a John Lennon impressionist singing Yiddish folk songs. They played several original arrangements, including Villerius's klezmer reimagining of You Are My Sunshine. They also attended workshops and met with musicians from the band Midwood.
Now the students in The Klezmommies are focused on finishing Spring Term strong—Villerius and Chau are among this year's graduates. They're on the bill for a return to LUaroo during Memorial Day Weekend. And at 8:30 p.m. May 30 in the Pusey Room in Warch Campus Center, Villerius will lead the Klezmommies in "Klezmemes!," an "informance" (lecture and performance) that is part of her senior capstone, a culmination of her two years of klezmer exploration.
"We will attempt to answer the question, 'What is klezmer?' Villerius said.
Check out a sampling of music from The Klezmommies, performing in December at a bar mitzvah in Boulder, Colorado.