Though the pandemic has made many people dread communicating through a mask, sophomore Spencer Brown is relishing it.
Brown is one of a several Lawrence students donning the suit of Lawrence's new mascot, Blu. A government major from Dallas, Brown has taken their enthusiasm for theater and used it to give life to the newly named antelope.
Members of the Lawrence community first met Blu during Blue & White Homecoming weekend, with Brown donning the suit at the student talent show and other events.
"I was ready for people to maybe not say a word or just kind of stare blankly, but I got a roar of applause," Brown said of the reaction to a heel kick while on stage at the talent show. "And if that is not the greatest feeling—that people are supportive of the work that you're doing, even though they don't know who you are."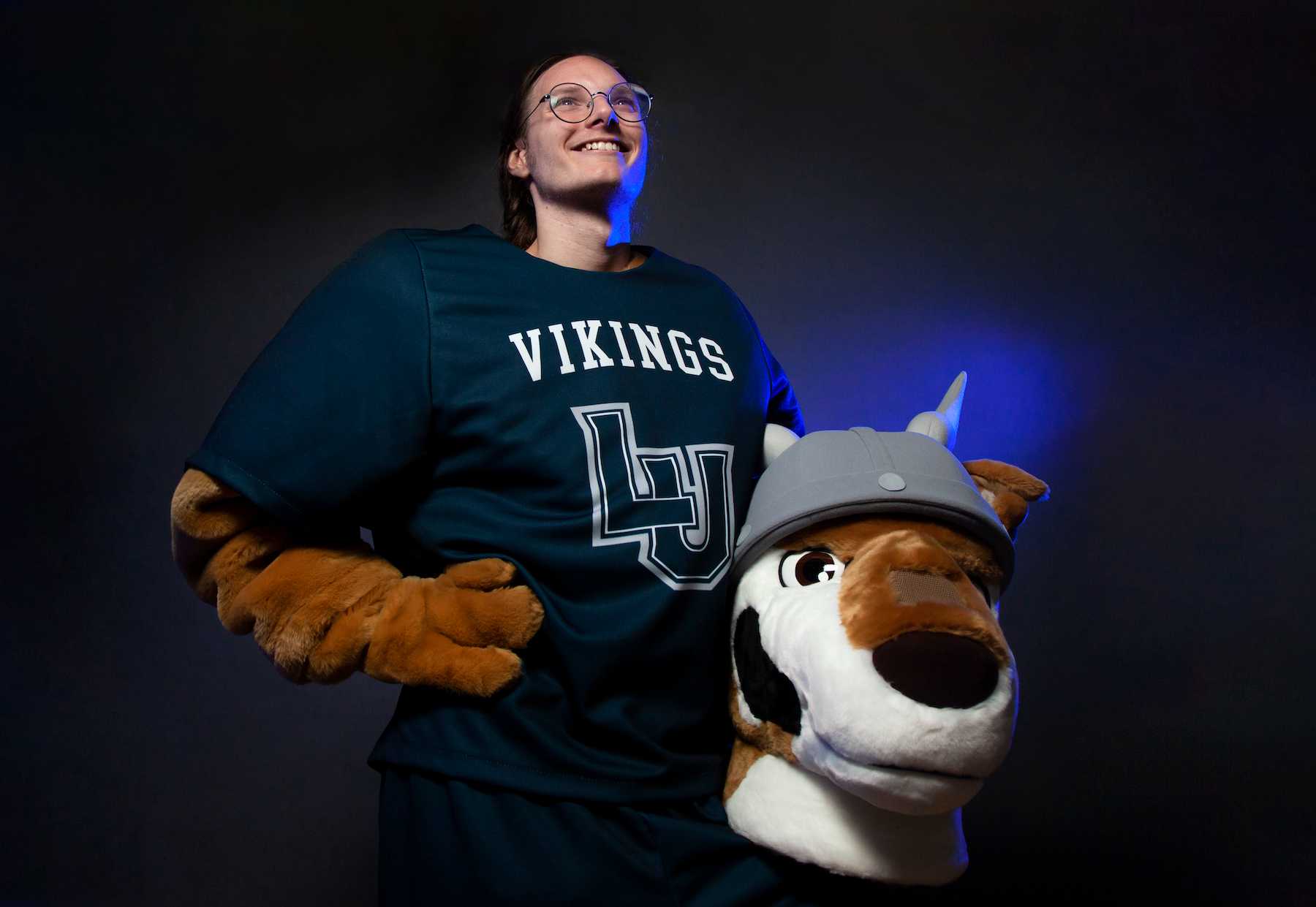 SEAL (Student Engagement, Activities, and Leadership) is the office organizing the mascot appearances. Student employees work as both the person in the suit as well as the mascot's handler. Brown loves working with SEAL, inside and outside of the costume; they love the cozy and collaborative community and its members. The positive atmosphere has helped create a character already beloved by Lawrentians.
The mascot was introduced as Lawrence's newest Viking following a year of planning from a committee consisting of students, faculty, staff, and alumni. While Lawrence's nickname remains the Vikings, the antelope mascot dressed in Vikings gear taps into Lawrence's 175-year history. The antelope is featured on the Amos Lawrence family crest that remains visible across campus.
Blu, bringing energy and excitement to events in and out of athletics, is meant to be a mascot for all Lawrentians. We caught up with Brown to share what that experience is like for students in the suit.
A lover of all things creative, Brown didn't hesitate to jump in when SEAL put out the word that it was looking for students willing to wear the suit. Brown was heavily involved in theater in their pre-Lawrence years. For them, theater was both a supportive community and a way to break out of their shell.
They were going to be acting as a mascot at their previous institution, but the pandemic put that on hold. Brown is even more excited to be performing as Blu; acting as Lawrence's mascot has allowed them to continue performing and building a community.
"I like acting," Brown said. "I like moving my body. I like getting out in the world. And I think that it's so much more fun whenever I put on a mask. Whenever I put on that head … I'm a lot less anxious to get out there."
With the weight of the mascot head on their shoulders, anxieties are lifted, Brown said. This is a significant trade-off, however: The antelope's head itself weighs about 5 pounds. Although the head is equipped with a small fan, the rest of the furry suit gets very warm. Brown has learned the hard way not to wear sweatpants while performing. Mascots and their handlers communicate discreetly to get the mascot actor regular breaks and water to keep Blu cheerful and peppy.
Wearing glasses has presented an additional challenge for Brown. Fortunately, the curving jaw of the antelope works perfectly to push their glasses back up quickly. Glasses don't exactly help their vision in the suit, though. Peering through a small mesh opening in the snout, the actor's vision is limited.
"It's a very good experience to live the world through someone else's eyes," Brown said. "Sometimes, it's through a snout."
Despite the challenges, Brown loves the anonymity of the mask and keeping people guessing at who is in the suit.
Brown appreciates the support shown by the Lawrence community and has been energized by the love everyone has shown for Blu. Alumni were excited to meet and take pictures with Blu during Homecoming weekend. Brown is especially thankful for the hug a pair of students gave the mascot during the Homecoming games and activities held on the quad.
"It warmed my heart," Brown said "At that point, I was considering just going inside and getting some water, taking a minute. But as soon as I got that hug, I was ready to continue."
Brown can't wait to make more memories as Blu gets out and about. Lawrentians can expect to see the antelope a couple times a week, including at some student organization events.
"I'm putting this on for the students and putting it on to make them smile, to make them laugh," Brown said. "And I just want to thank the entire student body for being just so supportive of us. We're putting on a show for you, and man, oh, man, you guys have been a great audience."
Spencer Brown
Class Year: 2025
Major: Government
Hometown: Dallas
Activities: Theater, mascot fun