Students Moreau Halliburton and Kate Stenson provide a tour of SOL Studios in the Music-Drama Center.
SOL Studios was just like any other club.
Sure, they had their own recording space and equipment in the Music-Drama Center, but it was just that: a small, student-run basement studio. It had grown in membership since its founding in 2008, expanding from composition majors to include a variety of Lawrence musicians and bands, but the studio existed ad hoc, used occasionally for musical experimentation and expression. The members loved the studio, but if you weren't involved, you probably didn't even know it existed.
But then the pandemic happened—and membership exploded.
The SOL (Students of Lawrence) Studios mailing list expanded to include 70 people, their open mic nights sold out regularly, and more student musicians signed up to perform than there were slots available. The studio is open every day until the Music-Drama building closes at 1 a.m. It's almost always being used.
"During the pandemic, all of a sudden, production and recording and videos became a more important way for musicians to get their stuff out there," said Brian Pertl, dean of the Conservatory and advisor of SOL Studios. "And SOL was the place you could do that."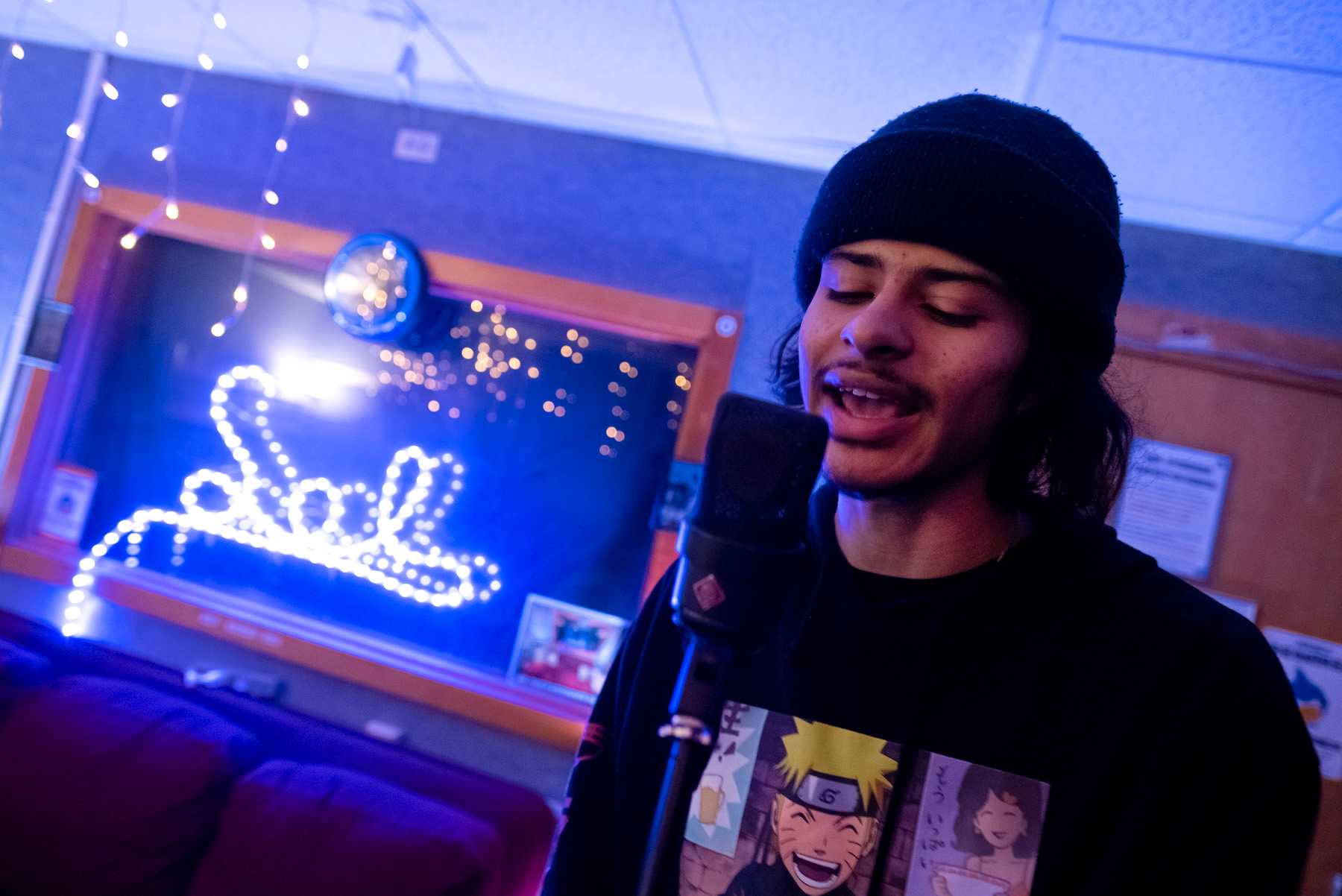 The SOL Studios of today stays true to the original mission of the club. It's still a student-run studio dedicated to providing a space for all Lawrence musicians, regardless of whether they're in the Conservatory or the college, to create and record music and to collaborate with fellow musicians.
But as participation increased, SOL responded to meet the moment. Starting last year, under the leadership of Daniel Green '21, SOL started to organize. They made recording schedules, held regular board meetings to address long-term goals, and started paying more attention to the space itself.
This year, co-presidents Moreau Halliburton, a senior, and Kate Stenson, a sophomore, have only continued the revitalization—and Pertl is impressed. He sees SOL now operating with the efficiency and professionalism of a successful business.
Halliburton and Stenson started with the studio renovations. They spent the summer redesigning the space, trying to create the optimal recording environment. As part of this, they fundraised for new furniture and decorations, sought out equipment donations, and did some hard-core cleaning. Tapestries were hung on the walls, wooden planks were installed for hanging items, a vocal booth was DIY-ed in the corner, and the studio was furnished with a new couch and fridge (for water! … absolutely no food in the recording studio). A new drum set and bass were donated by Conservatory faculty Dane Richeson and Mark Urness, respectively.
Basically, it's a whole new space.
"I'll look at pictures from before we renovated, and I'm like, 'That was the studio? That used to be the studio?'" Stenson said.
Now, the focus is on maintaining the space, which has led to an increasing emphasis on training. New members go through mandatory training and masterclasses with one of the SOL engineers, during which they learn how to use the equipment, how to organize the room, and what SOL is all about. After that initial training, students can schedule a time to use the studio or set up a one-on-one with the engineers for more specific guidance.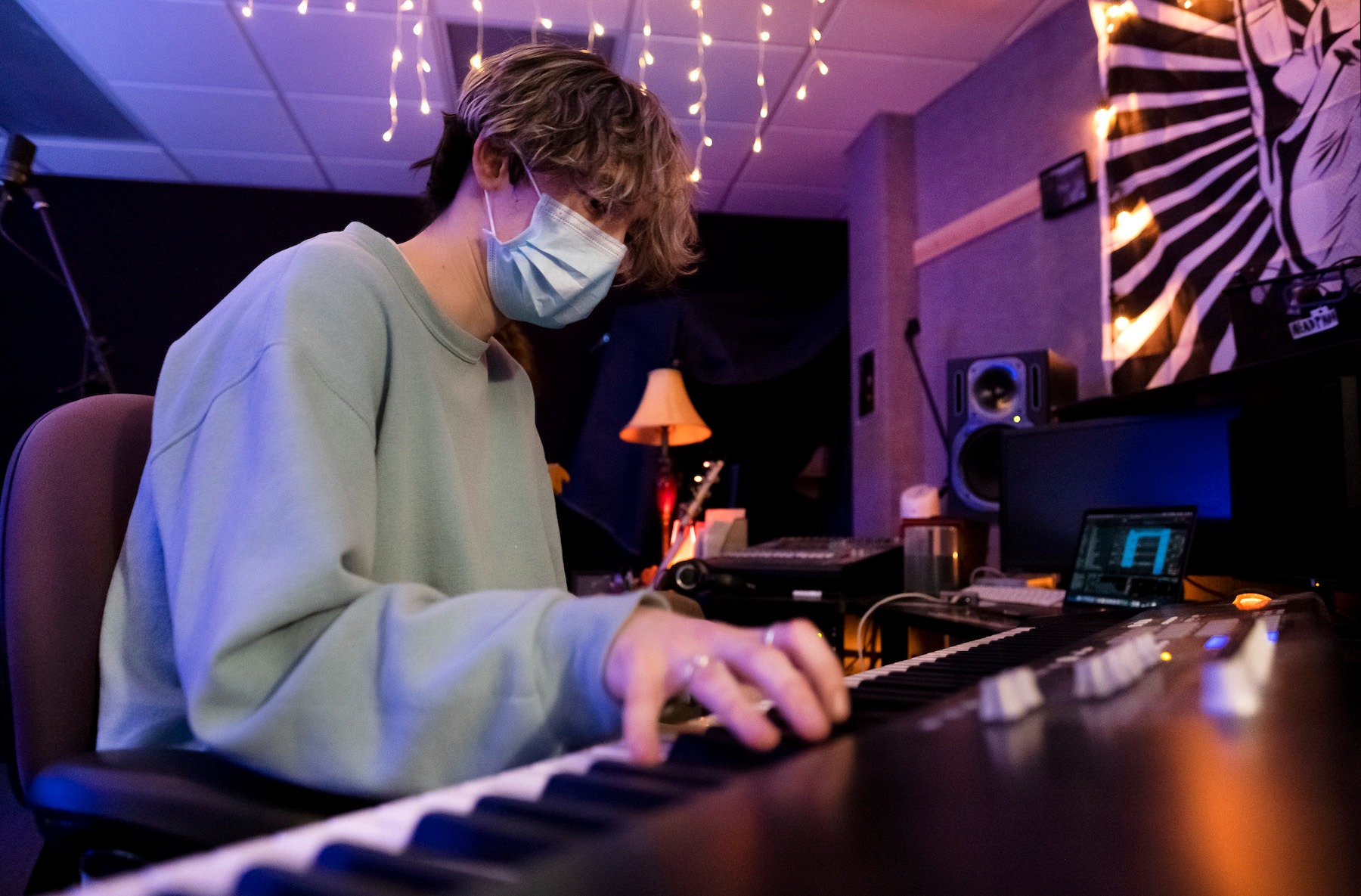 "You can actually learn how to record your own music; it's not just a place where people are masters at their recording techniques," Halliburton said. "I barely know how to record my own music, and I feel comfortable going in there and just fiddling around and trying stuff out."
And thanks to SOL's current marketing plan, beginners make up an increasing number of studio users. In order to make sure SOL is a well-known presence on campus, Stenson and Halliburton double as the head of SOL's event coordinating and social media teams, respectively. They promote their open mic nights to the campus community, are active on social media, collaborate with other organizations, and set up a booth at LUaroo, Lawrence's annual Spring Term music festival. Now, you'd be hard-pressed to find a student who hasn't heard of SOL Studios.
Lawrence Conservatory of Music offers multiple options for music degrees, and music opportunities are available for students across campus
Beautiful timing
Under Halliburton and Stenson's leadership, Pertl said the projects coming out of the studio are getting better and better—and at the perfect time.
SOL's rise coincides with a few key Conservatory initiatives to provide opportunities outside of traditional classical music.
Soon, SOL won't be the only recording studio at Lawrence. The Conservatory is opening a new studio space in the basement of the Music-Drama Center, near the practice rooms. Although this space will be maintained by the Conservatory, SOL Studios' members will be able to utilize the equipment, which includes three workstations for production, as opposed to the one station in SOL. As SOL membership increases, this should mitigate the time constraints of sharing one studio with 70 members. The new studio is set to open as soon as the desktop computers arrive, but they have been delayed by supply chain issues.
Of course, this just so happens to fall at the same time as the revamp of the B.A. in Music degree. Under the new major requirements, the major can be largely self-designed, creating an opportunity for non-classical musicians to pursue the major. Students can choose how they want to study music, with opportunities in production, recording, entrepreneurship, classical music, and even music identity studies, which is Halliburton's self-designed major.
And if you don't have any idea how to record music, that's OK. The Conservatory is introducing a new three-term music production sequence, focusing on recording, production, and mixing and mastering—priorities that SOL Studios members brought to the forefront.
While SOL Studios' mission aligns nicely with the Conservatory's new initiatives, Halliburton and Stenson emphasized the importance of maintaining SOL as a space by students, for students, regardless of the type of music they love -- a space used solely for creativity, collaboration, and the joy of music.
"I don't read music, I don't play classical music, so I really appreciated having SOL as a place to come and learn from other people, collaborate with like-minded people who really just enjoy music," Halliburton said. "It's just a different feeling for it to be a student-run org where it's truly just for fun, just for your enjoyment and collaboration. It's not for a grade or for a recital, it's for the connection."