Lawrence University graduates arrived at Sunday's Commencement ceremony tested but triumphant after a four-year journey that saw a life-altering pandemic and ongoing social upheaval layered on top of the usual academic hurdles that come in pursuit of a college degree.
With family and friends looking on under sunny skies, graduates walked the Commencement stage on Main Hall Green—back in its traditional location after two years of being uprooted by pandemic protocols—in a ceremony that celebrated resilience and strength befitting cinematic superheroes.
The Class of 2022—more than 330 graduates from the College of Liberal Arts and Sciences and the Conservatory of Music—were greeted appropriately enough by Commencement speaker Anthony Mackie, the actor who plays Sam Wilson, the new Captain America in the Marvel Cinematic Universe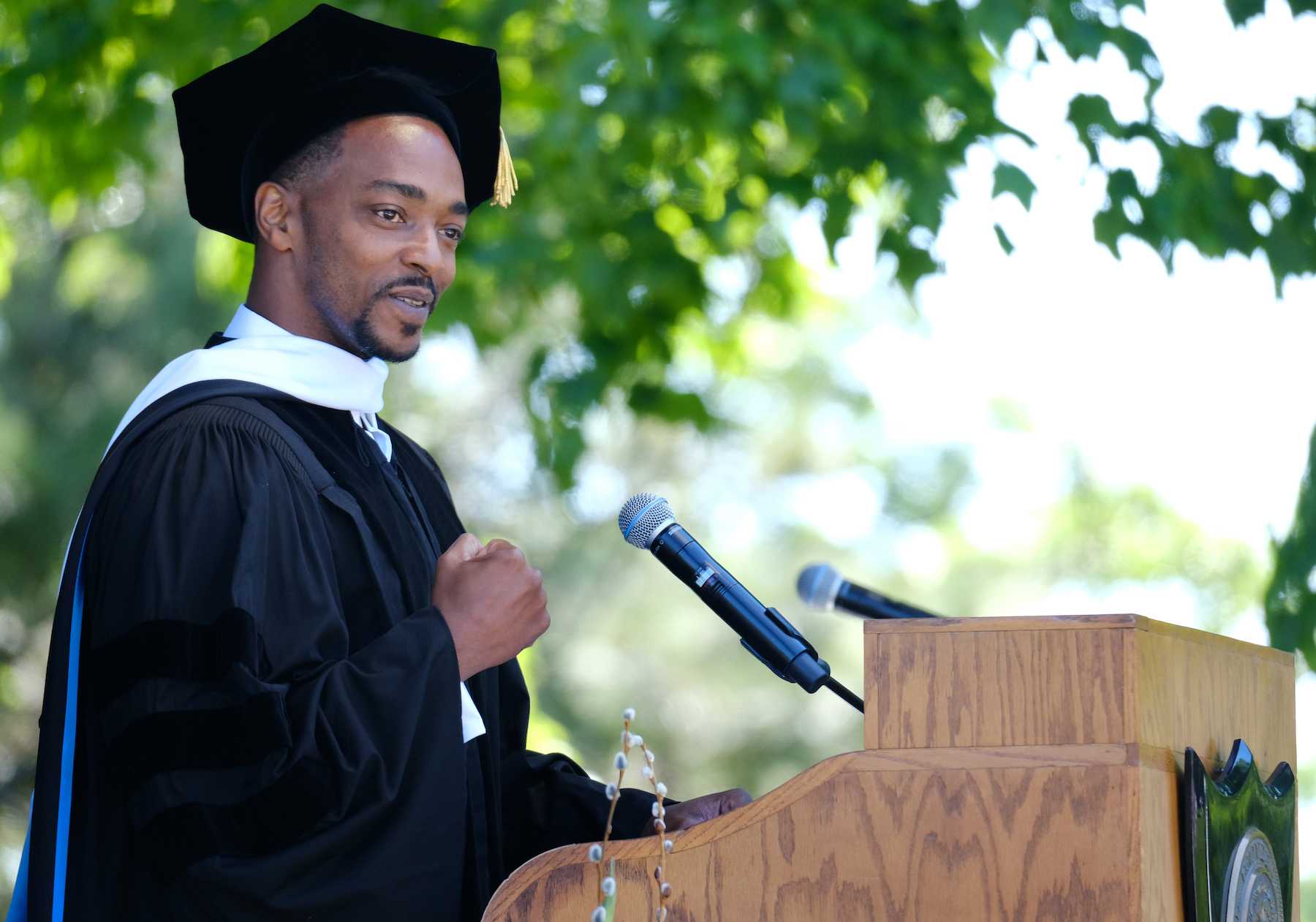 "You leave here today with all the tools you need to change the world, to make your craziest dreams come true," he told the graduates.
Mackie, a 2001 graduate of The Juilliard School, spoke of how discovering Shakespeare while in high school turned him into a "theater nerd," and how a love of learning kept him moving forward, eventually leading to starring roles in acclaimed television and movie projects, including Marvel. He implored the graduates to embrace that desire to keep learning, no matter their field of study or their career paths. And to always endure.
"College isn't to show people what you know but to show people you are willing to learn," Mackie said. "Be a sponge, an open book. Look at failure as a stepping-stone. Failure shows that you're trying. … It's easy to think that where I am now was a given; that I always thought I'd be Captain America. There were many failures along the way, but I kept fighting. … It took 22 years of unrecognized work to stand on this stage before you today."
President Laurie A. Carter, in her first Commencement since beginning her Lawrence tenure last July, told the graduates they have taught her much in the past year about Lawrence and about the strength and resolve of this generation. She applauded them for being "passionate and ambitious" both in and out of the classroom and for embracing all members of the community.
"I have learned to never underestimate your resilience and your strength," she said.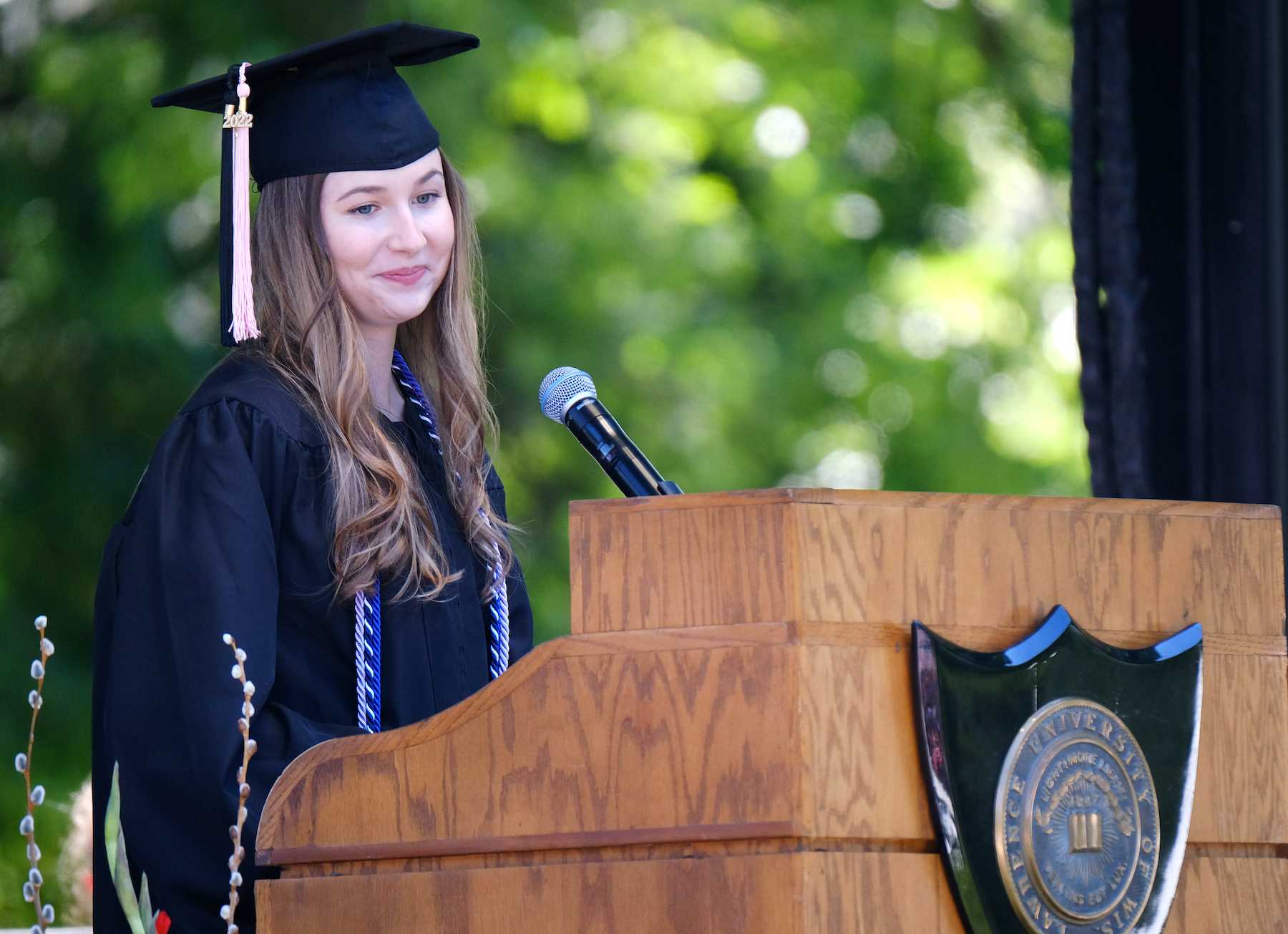 Jessica Toncler, a dual degree student in international relations and music performance (violin) from Columbia Station, Ohio, served as senior class speaker. She is heading to law school at Case Western Reserve University in Cleveland in the fall. She told her fellow graduates they should be proud of what they've accomplished under trying circumstances. She cited the turmoil and stresses stemming from the COVID-19 pandemic, wars in the Middle East and Ukraine, ongoing racial injustices, and an assortment of state and federal legislative efforts aimed at rolling back LGBTQ rights.
"I know you do not need me to tell you that the world we are entering is not an easy one," Toncler said. "The challenges and obstacles we will face will not be equal; the fights we have to fight and barriers we will have to overcome will not be fair. But when I look out at all of you, I am inspired. … I see strength, resilience, and power. I see possibility."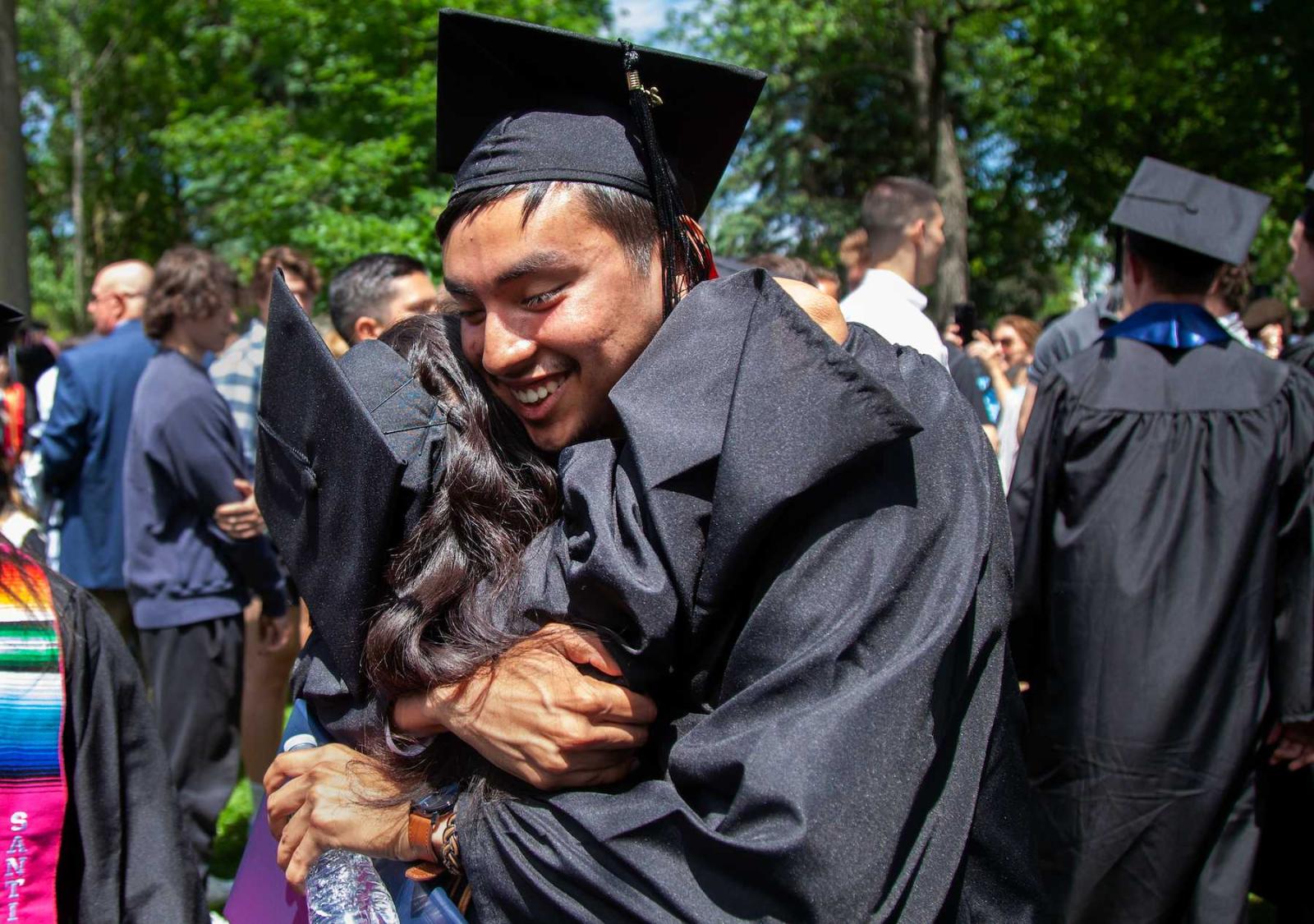 Lawrence faculty, led by Carter, Board of Trustees Chair Cory Nettles '92, and Faculty Marshal Julie McQuinn, wore traditional regalia as they made their way across College Avenue and onto Main Hall Green as part of the pomp and circumstance of Commencement. The graduates did the same, with the Lawrence University Graduation Band providing accompaniment. With temperatures in the high 60s and the sun shining bright, the setting was gorgeous, a beautiful backdrop as graduates posed for photos with family, friends, and faculty members before and after the ceremony.
Of the 332 graduates, 271 received (or will receive) a bachelor of arts (B.A.) degree, 41 a bachelor of music (B.Mus.) degree, 18 a B.A. and B.Mus. dual degree, and two a bachelor of musical arts (B.M.A.) degree.
The ceremony included the announcement of annual faculty awards: Brigetta Miller '89, an associate professor of music, received the Award for Excellence in Teaching; Peter Peregrine, professor of anthropology, the Award for Excellence in Scholarship; and both Nancy Lin, assistant professor of art history, and Jesús Gregorio Smith, assistant professor of ethnic studies, the Award for Excellent Teaching by an Early Career Faculty Member.
Five retiring faculty—Paul Cohen (history), Jeffrey Collett (physics), Peter Gilbert (Mudd Library), Eilene Hoft-March (French and Francophone Studies), and Brent Peterson (German)—were honored. They were presented citations by Carter.
There was much buzz, of course, surrounding Mackie, Lawrence's most high-profile Commencement speaker since U.S. Rep. John Lewis did the honors in 2015.
In addition to his Marvel heroics, Mackie is set to star in and executive produce the Peacock series, Twisted Metal, based on the popular Sony PlayStation game; and his film credits include 8 Mile, Million Dollar Baby, The Hurt Locker, Brother to Brother, and Notorious. He also has an impressive history of philanthropy and community engagement in his hometown of New Orleans.
Carter presented him with an honorary degree.
"While you may be most well-known for your contributions to the Marvel Universe, your talent, generosity, and ability to reflect the human condition and touch lives across the globe is what truly makes you an inspiration for so many of us," she said.
Carter was part of the leadership team at Juilliard when Mackie was a student, and he thanked her for her guidance, for telling him when he was struggling that he was enough. It's a message he brought to the Lawrence graduates.
"Nothing about what you did was easy," Mackie told the graduates. "You went without sleep; you wrote the papers, and you earned this day. I'm here to tell you whatever your next step is, you are enough."
Members of the Class of 2022 were less than halfway through their college journey when the global pandemic hit. That they have persevered—even excelled—through the turmoil and frequent fluctuations speaks to their ability to adapt and thrive. Breathe that in as you rejoice today, Carter told the graduates, welcoming them into an alumni base that is now more than 20,000 strong.
"You embody Lawrence's mission of creating life-long learners who are committed to making meaningful contributions to society, contributions that started here on campus and will grow to encompass the world each of you will inhabit," she said. "You inspire me, and you give me hope for the future."
Toncler noted that this is an emotional day for her and her fellow graduates, heightened by the challenges of the past two-plus years. But now it's time to embrace future possibilities, to see how this generation of Lawrentians can be seen and heard.
"Individually, you have the ability to make a difference," she said, "but as a community, we have the ability to create long-lasting change. It has been one of my biggest honors to share this community and campus with you all. Cheers to a lifetime of changing the world together."
Go write your next chapter, Mackie said. And as Captain America might say, don't quit when life knocks you down.
"The race is not given to the swiftest or to the strongest but the one who endures to the end," Mackie said. "I beg of you all, endure, endure, endure."