If you've ever taken a summer walk in picturesque Whitefish Dunes State Park in Door County, perhaps you've admired the incredible Pitcher's thistle, an endangered flowering plant found on the sand dunes of the Great Lakes shores. 
If you've taken a closer look, maybe you've spotted the invasive weevils that threaten the rare plant's survival.
Lawrence University Assistant Professor of Biology Alyssa Hakes has been studying this plant-insect relationship since she heard about it in 2013. For a few weeks each summer, Hakes and a group of students conduct field work at Whitefish Dunes State Park, located 10 miles south of Björklunden, Lawrence's Door County satellite campus. Their goal for each trip is to measure weevil distribution and behavior and assess its damage on the plants.
This year, Hakes wanted to create decoy Pitcher's thistles to use as weevil traps to test their attraction to the visual cues of the plant. To put her plan in motion, she received the help of biology major Harsimran (Hari) Kalsi '21, who created impressive 3D-printed decoys of the Pitcher's thistle as an independent study project.
Hakes had received a recommendation to work with Kalsi from David Hall, assistant professor of chemistry, and Angela Vanden Elzen, the reference and learning technologies librarian and assistant professor who oversees the Makerspace wing of the Seeley G. Mudd Library. 
In his freshman year, Kalsi received 3D printing training from Vanden Elzen. He has since done 3D printing projects for Hall, designing and printing virus structures.
"Hari had the experience I needed in a collaborator," says Hakes. "I had never worked with a 3D printer before, so I needed Hari and Angela's help and expertise for everything."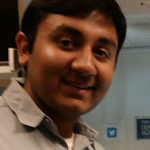 Kalsi was enthusiastic about taking his 3D printing experience to a new level.
"I was excited because I could use my skills to make a difference and potentially save a living organism on the verge of extinction," he says. "I'm a huge proponent of translational science research and this is a great example of recognizing a problem in the world and designing an intervention to study and fix it."
Field work in Door County
The weevils (Larinus carlinae) were introduced to the U.S. in the 1970s to control area populations of weedy thistles. However, it turns out that no thistle, even an endangered one, can avoid the weevils' destruction.
The Pitcher's thistle dies after flowering, so it only has one chance to reproduce. But the weevil comes along during egg-laying season and pierces the flower with its snout and lays her eggs within. The eggs hatch and the larvae eat the seeds, destroying the plant's only chance to reproduce. That's trouble for the Pitcher's thistle species and for the ecosystem.
"It is one of the only flowering plants on the sand dunes, making it an important nectar resource to bees and butterflies," Hakes notes.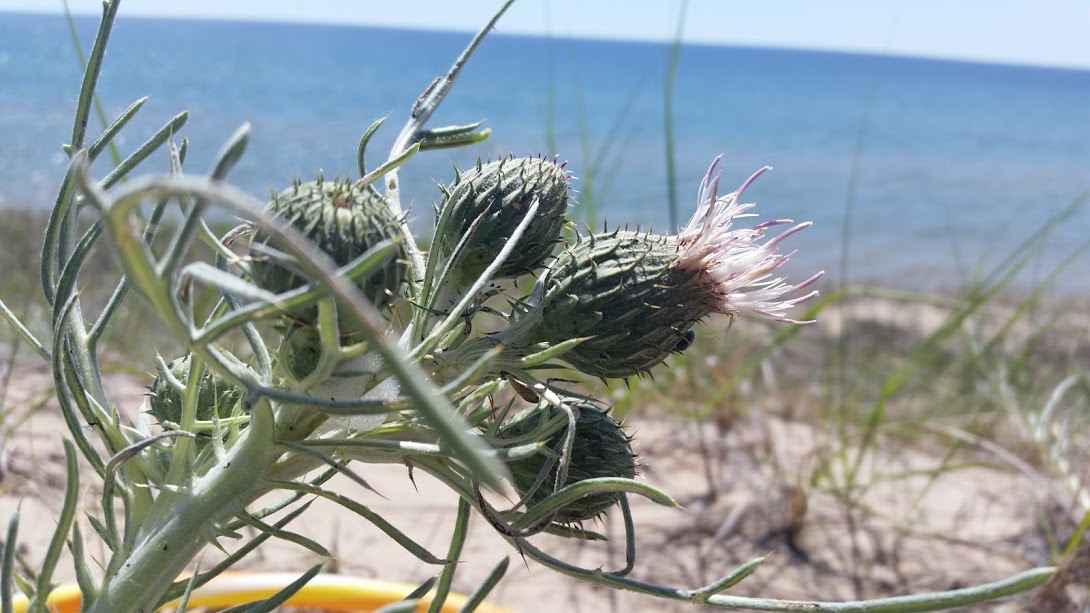 The weevils must be tracked and studied in their interactions with the Pitcher's thistle in order to solve this problem. How do they choose a plant to lay their eggs in? How do they move about the dune landscape?
To find out, Hakes and her team use the mark-recapture method. This involves catching weevils and marking their backs with multicolored dots (Hakes calls these "weevil makeovers") in order to track and identify them when they reappear in the wild. Here's where Kalsi's decoy plants come into play.
The faux Pitcher's thistles are designed to trap weevils for study. They are coated in a sticky spray to snag the insect as they land to lay their eggs in the bud. The ability to manipulate the placement of the decoys makes them helpful in understanding how the weevils choose their host plant.
"This summer we tested whether weevils were attracted to our 3D-printed traps," Hakes says. "Some traps were near real plants, and others were not. Our preliminary data on the mark-recapture study suggest that the traps are potentially more effective near real plants."
She's already setting goals for future field work based on this summer's success with the decoys.
"We caught a few this summer. Ultimately, it would be great to use them to trap evil weevils en masse. The prototype will need to be improved if it is to be an effective tool in the future."
Since the appearance of the decoys can be manipulated, she also hopes to use them to assess the weevil's preferences for bud size, bud number, color and scent in the future. The possibilities are endless. Luckily, Kalsi says, "the decoys are easy to print, economically feasible and easy to transport and deploy in the field."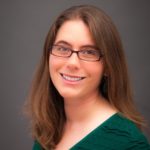 In the end, the collaboration between professor and student, and ecology and tech, indicates a bright future in research.
"I love how projects like this help students and faculty collaborate across the campus and think creatively about solving problems," says Hakes. "It's been such a fun way to combine art and science."
And the benefits go both ways. Kalsi's 3D printing work has rewarded him as a student.
"I think the research I conducted with Alyssa supplements my educational path at some level," he says. "Being a biology major who tends to focus on the molecular side of things, it was nice to work on an ecology-oriented project."