Stefan Debbert will tell you he got a little emotional when he addressed the introductory chemistry class on the first day of Fall Term.
Part of that might have been tied to the emotions of standing in front of a classroom full of students for the first time since the pandemic had rerouted lives a year and half earlier. But mostly, he said, it was about the room he was standing in.
For three years, Debbert, an associate professor of chemistry, and his science colleagues have worked with architects to reimagine how a science lecture hall could and should work. More specifically, how Room 121 in Youngchild Hall could be transformed from an outdated, tiered lecture hall with 150-plus forward-facing seats into an interactive classroom divided into a dozen tables, each seating four to six students and each equipped with technology to keep every student engaged and involved, be it a lecture or a lab. Work on the classroom project was completed just as Fall Term arrived in September.
"I kind of had to collect myself a little bit," Debbert said of that first day. "It was a great moment."
Debbert played a lead role in bringing the transformation of the classroom—now called the Science Learning Commons—to fruition. Lawrence donors funded the renovation, part of the successful Be the Light! campaign that came to a close at the end of 2020. Preparations for how to best utilize the remodeled space was supported by a $1 million grant to Lawrence University from the Howard Hughes Medical Institute (HHMI) through the Science Education Program to implement its Inclusive Excellence Initiative. It's aimed at encouraging colleges and universities to explore new ways to bring underrepresented students into the sciences.
An important piece of Lawrence's strategy has been in reimagining this lecture hall, which is now home to intro courses and a smattering of upper-level courses across the sciences. By creating a more interactive and inclusive environment, the science faculty are hoping to spur the imagination and showcase the collaborative beauty of the sciences, all catered to students who are just beginning their college journeys.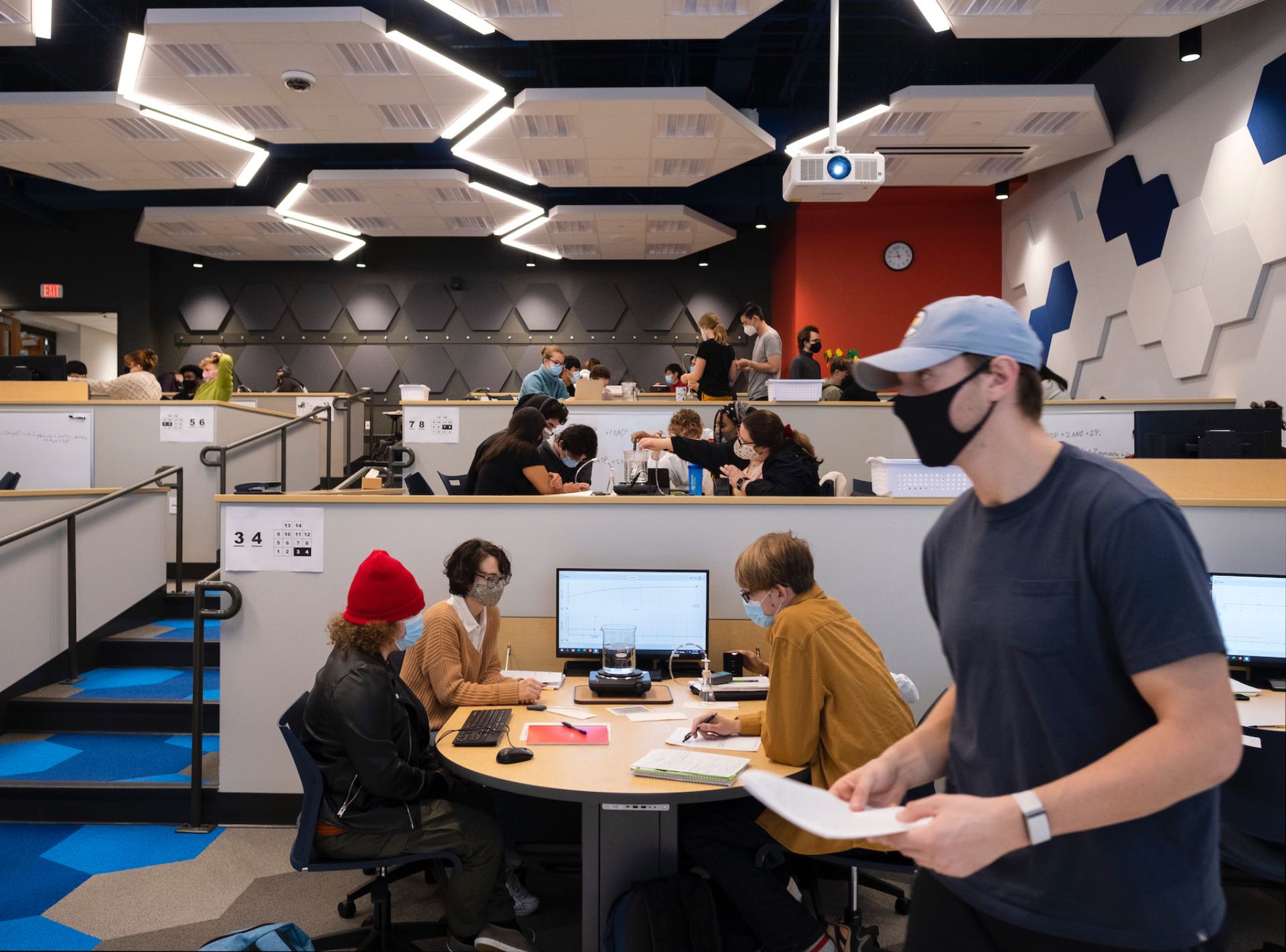 First-year students often come in wide-eyed, not sure what to expect, Debbert said. If that intro class in physics or chemistry or biology doesn't light a fire, they may never come back. For students from historically underrepresented backgrounds, research has shown that that's often been the case.
"Having a situation like this where we can emphasize the social aspect of science is so important," Debbert said. "Part of being a scientist is talking to other people and working together, putting stuff on the board, being wrong. It's amazing how much of that attitude and emotional work we do in these science courses, but that's a big part of the job."
STEM-to-Ph.D. rankings, pedagogy changes build excitement in the sciences
Any student hoping to sleepwalk through an intro science class in the back of a sterile lecture hall may be a bit surprised. But the science faculty are betting that in the end it'll be a welcome surprise.
 "We're pushing some of our students out of their comfort zones intentionally," Debbert said.
The room is now equipped with two massive projector screens, allowing the professor to use them for different purposes simultaneously. Each of the student tables have their own screens, connected to the big screens up front. Microphones at each table allow for easy interaction across the room. Document cameras give faculty new options for sharing materials. David Berk, director of instructional technology, has led the implementation of the equipment and guided faculty through a learning curve in how to utilize it.
"It's like flying an airplane up there," Beth De Stasio, the Raymond H. Herzog Professor of Science and professor of biology, said with a laugh. "There are a lot of buttons to push. The technology is amazing."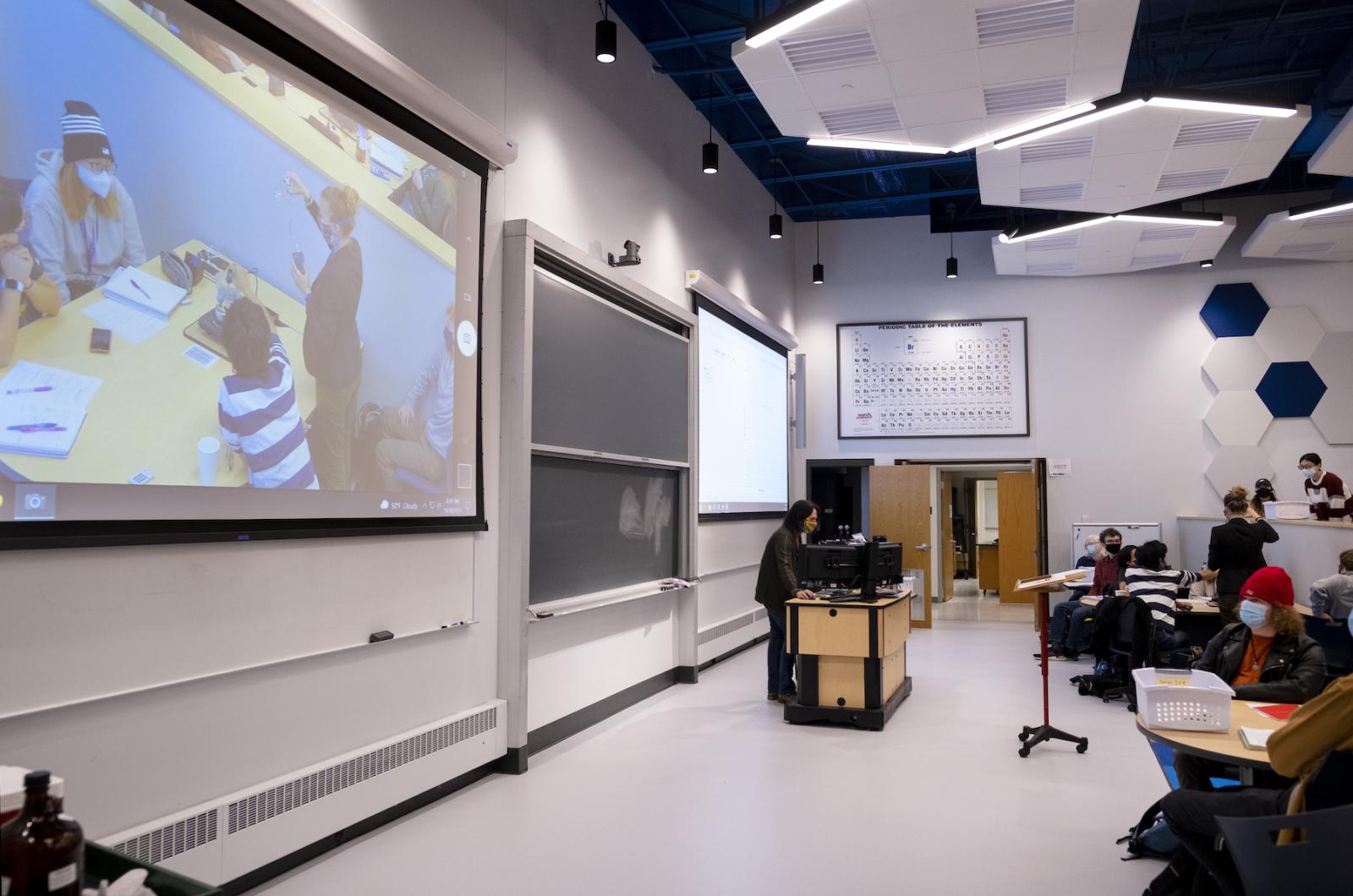 Intro science classes are among the largest classes at Lawrence. This Fall Term, Introduction to Chemistry has 50 students. Introduction to Physics is closer to 70. The reconfigured Science Learning Commons can seat about 75 students if needed.
Faculty have long infused interactive elements into those intro classes. But doing so in a lecture hall not equipped for that interaction was often awkward or inefficient, De Stasio said.
Now the interaction is happening organically. It can be seen at the individual tables. No one is working solo. Discussions and debates are robust, and the ability for the professor to connect with each group is seamless.
"There's this sharing that's happening," De Stasio said. "But what's really important about that is you're getting each individual student, as much as possible, to think during class and not be a passive receiver of knowledge, but rather be a creator of understanding. That's when learning is deeper, when it's something you've wrestled with yourself and not just been told. That is what scientists do."
De Stasio said lessons learned during the four terms of distance learning are finding their way into how the Science Learning Commons is being used. The individual table with the built-in technology is the in-person version of Zoom's breakout room, she said.
"In terms of inclusion, I think it's a huge step forward," De Stasio said. "We can have students in groups, we easily monitor who is talking, who's not; is anyone being left out? It becomes obvious right away."
Tracking student progress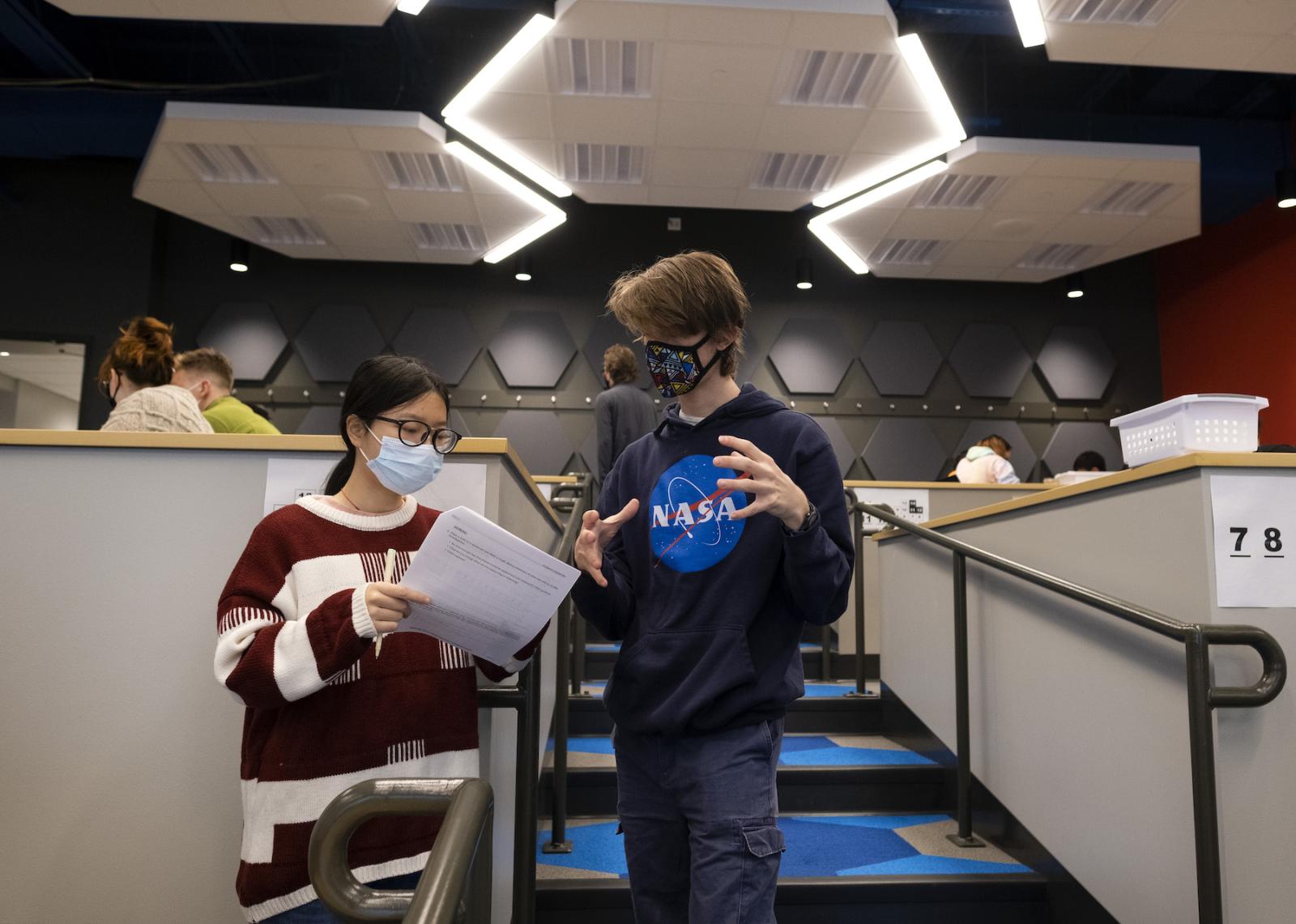 How the students learn in this new environment will be tracked and studied. The HHMI grant includes follow-up, analyzing grade gaps and performance of underrepresented minority students and first-generation college students, studying whether students feel welcomed or engaged in those classes, whether they then aspire to take higher level STEM courses.
In other words, this is just the start, Debbert said.
"We're not posting the mission accomplished banner and saying we're done," he said. "We're tracking everything we can think of."
Alex Rothstein, a senior biology and music performance double major, took two courses this term in the Science Learning Commons—one was an upper-level biochemistry course, the other an Introduction to Physics course that had more than 70 students.  
"Physics was the largest class on campus this term, but the classroom didn't make it feel like that," he said.
The classroom setup is going to pay dividends for years to come because it changes the dynamics of those early science courses, which in the past could often be intimidating, Rothstein said.
"Being able to work in small pods enhanced my experience this term, as it started to feel like a small group versus a class of roughly 70," he said. "Overall, I feel like this classroom enhances students' abilities to work together creatively without intimidation, which I feel is important for happiness and success in the sciences."
The classroom, designed with a hexagon motif that makes Debbert smile, is in use almost constantly. When classes aren't in session, students are encouraged to use it for group study sessions or tutoring.
"We call it a Science Learning Commons because we want this to be a gathering place," Debbert said. "We ask these students to work together during class and hopefully that carries over and they'll work together outside of class."