Nicholas (Nick) Felan '19 thinks often of Tyce.
They met in the hospital, where Tyce was recovering from a car accident that he had been in while trying to steal pizza. When Nick came to see him as part of a volunteer program, Tyce told Nick how he was thinking about dropping out of school, even referencing suicidal thoughts. In the two weeks Tyce had been in the hospital, he had no other visitors.
Tyce was 12 years old.
"I think when I was 12, my only worry was what Pokemon cards I was getting for Christmas—nothing like that," Nick said. "Seeing that different perspective, it really just opens your eyes as to how badly people need strong mentors and influential people in their life."
Nick's passion for helping children in need started as a Lawrence student, volunteering with classmate Elizabeth (Lizzy) Garcia Creighton '19 at the Boys & Girls Club of the Fox Valley. After graduation, the two biology and biochemistry double-majors headed south to Dallas, where they have spent the last eight months volunteering while studying for the Medical College Admission Test (MCAT)—only to have it canceled three times due to the COVID-19 outbreak.
With their futures abruptly put on pause and the world in the midst of a pandemic, Nick and Lizzy took the opportunity to start giving back in a more substantial way. On March 31, four days after they were originally scheduled to take the MCAT, Nick and Lizzy, along with Nick's younger sister, Madeleine Felan, launched All in for Children, a nonprofit organization aiming to better the lives of young people and their families.
Getting started
When brainstorming potential projects for All in for Children, the first one seemed obvious: making masks. There was a huge need within the community, plus it seemed like the perfect opportunity to get more people involved with the organization.
After reaching out to their local children's hospital to get an approved design for the masks, the founders got to work ordering supplies and learning how to sew. But they knew that if they wanted to make a substantial impact, they needed more people. With Madeleine taking the lead on spreading the word, All in for Children turned to social media platforms like Instagram, Facebook, and Nextdoor to find their reinforcements—and their followers made sure they got plenty of shares. Altogether, more than 20 people contributed to their mask-making efforts, a connection that Lizzy hopes will be long-lasting.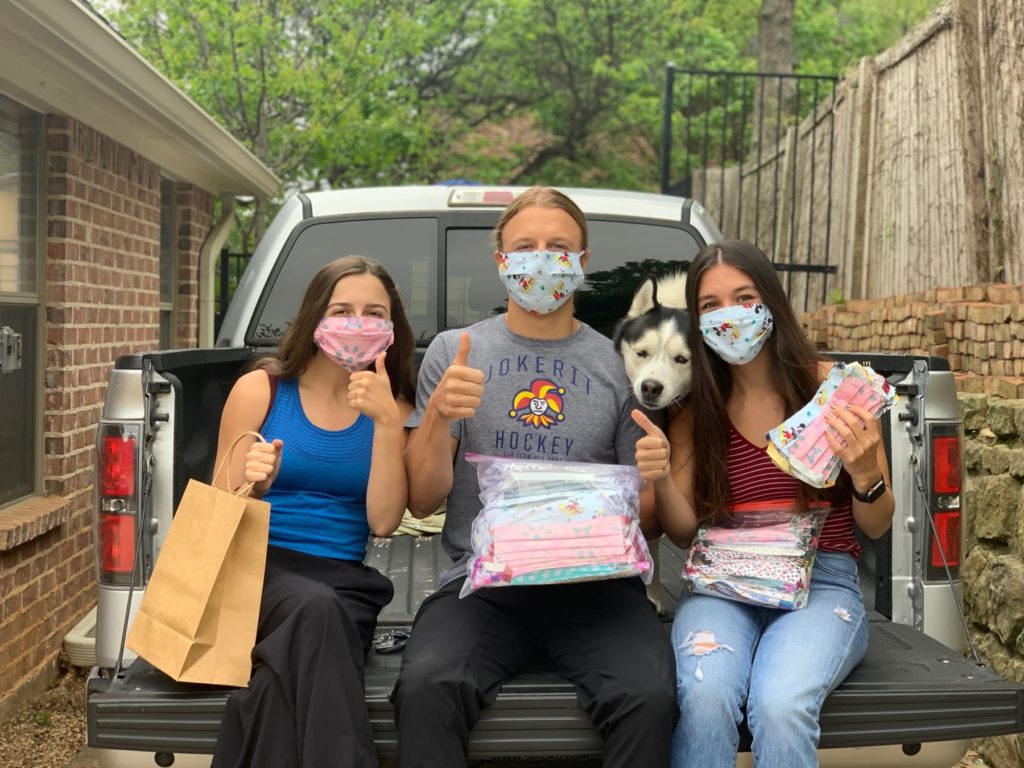 "Once we move on from mask-making, people can still be involved," Lizzy said. "All those people who made masks for us will see our posts and be like, 'Hey, I made masks for them that one time, maybe I'll donate $10, maybe I'll go to that canoe race or 5K or whatever it is that we're doing.' We thought it'd be like a great way to kick-start everything."
Through the combined efforts of the founders delivering packages of supplies (containing pre-cut cloth, elastic, clips, and pipe cleaners) and the volunteers sewing up the finished products, All in for Children has donated about 1,200 masks in total, split between the Children's Medical Center in Dallas and their local Boys & Girls Club.
Moving forward
If All in for Children gets requests for more masks, those will be accommodated. But for now, they're shifting their focus back to what their name suggests: bettering the lives of children.
Based on their volunteer experiences, Nick and Lizzy both feel that if they can work with someone while they're still young, it's possible to create a lasting impact on their future. To that end, All in for Children is looking for ways to provide mentoring and services where they can do the most good.
"One of the things we've talked about is fostering a growth mindset in kids," Lizzy said. "Children are so malleable. We really want to make these kids believe that no matter where they come from, what their background is, what their home life is like, it's not like life handed you lemons and now you're bound to not achieve certain goals. We want to open those doors up, make them believe that they can pretty much do whatever."
On the immediate horizon, this is likely to mean fundraising for other charitable organizations that provide important services to young people. With some ideas—like selling T-shirts and setting up 5Ks—already being discussed, All in for Children hopes to provide financial assistance for local nonprofits like the Boys & Girls Club and the Agape Clinic, which provides inexpensive health care services for families in need.
Despite these developing plans, Lizzy, Nick, and Madeleine recognize that the current situation could shift rapidly. Still, they hope All in for Children will be able to adapt alongside it. With Madeleine graduating high school in a year and Nick and Lizzy still unsure where they will attend medical school, the future of All in for Children could take a variety of forms.
But no matter where they end up, All in for Children will remain focused on its key mission: doing the most good for the most impressionable among us. Kids usually live in environments where many factors are out of their control—but consistent mentorship can provide stability.
"That's the area where we all think we can make the biggest impact," Nick said.