Hannah Jeané Jones '22 first met Denyce Graves when the iconic opera singer taught a masterclass at Lawrence University last year.
Now a first-year classical voice master's student at Manhattan School of Music in New York City, Jones finds herself a cohort member in Graves' Shared Voices program, an effort to bring together students at historically Black colleges and universities (HBCUs), several major conservatories, and the Metropolitan Opera.
Launched as part of The Denyce Graves Foundation, the program has drawn national attention, including recently being featured on ABC's Good Morning America. Jones, who graduated from Lawrence in June with a Bachelor of Music degree, was among the young artists featured with Graves in the GMA story.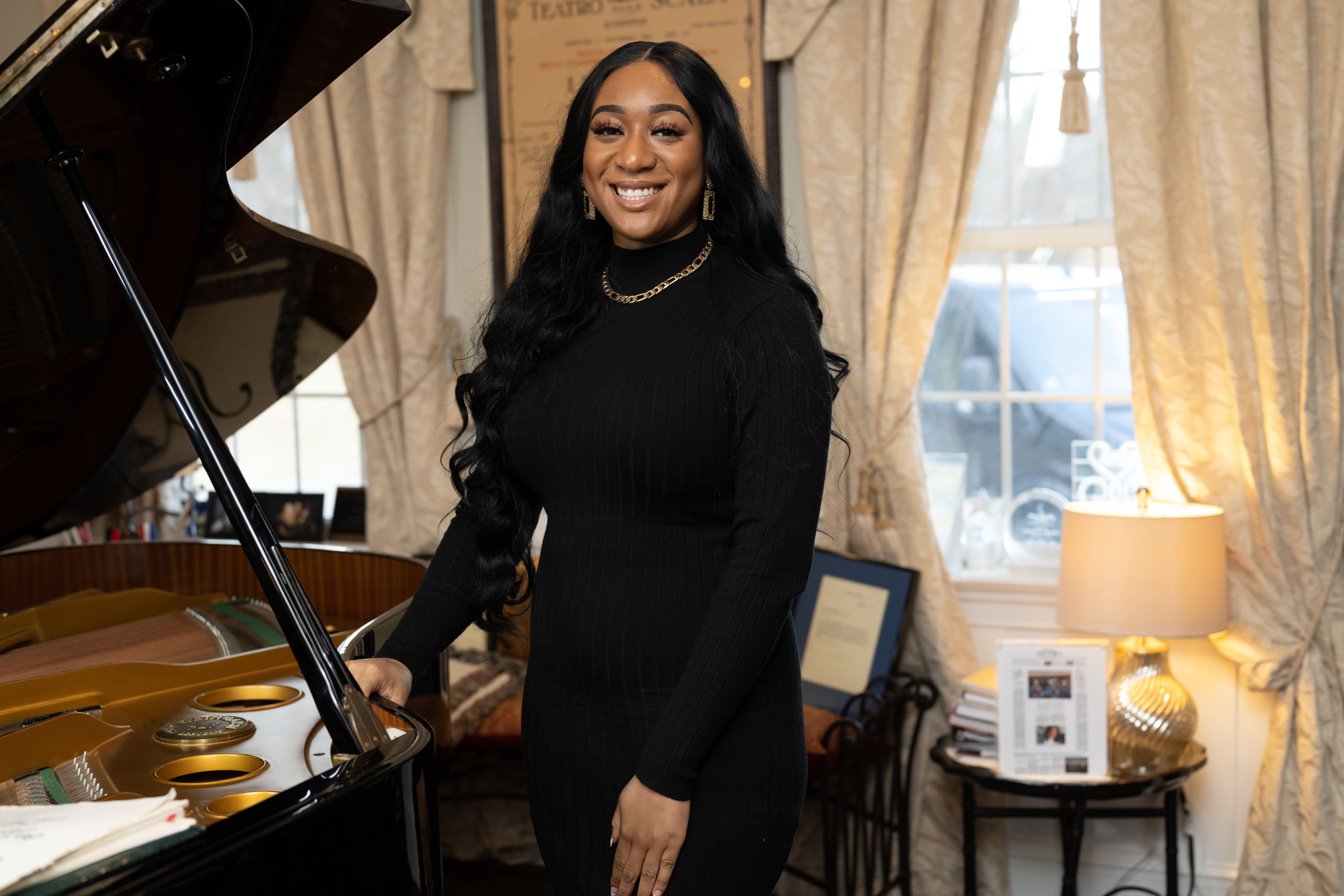 We caught up with Jones to talk about her path following graduation and her experiences as part of Shared Voices.
Q: What have you been working on since graduating from Lawrence?
Jones: I recently performed in Manhattan School of Music's production of L'Enfant et Les Sortilèges as Maman and La Libellule. This summer, I will have the pleasure of joining the Opera Theater of St. Louis as a Gerdine Young Artist, so I am currently preparing loads of music. During my time at OTSL, I will be covering the role of Monisha in Scott Joplin's Treemonisha (reimagined by Damien Sneed), performing in the choruses of Tosca and Susanna, and portraying scenes from Eugene Onegin and Peter Grimes in the Center Stage Concert.
We combine a world-class conservatory of music with a world-class college of liberal arts as we empower you to find your musical path.
Q: What has the Shared Voices experience been like?
Jones: One of my favorite parts about being in Shared Voices has been learning about the Black women in the classical world who came before me. One of the requirements for Shared Voices cohort members is to perform a 15-minute lecture recital showcasing the works of Black composers. I chose to do a piece by Margaret Bonds. I had heard about her, but I had never sung her pieces. Well, I can say that my research process sparked a new love for her work. Her story and music resonate with me unlike the music of any other composer I currently sing.
We have so much fun in Shared Voices. Sometimes, programs can be a bit "stuffy." That is not the case here. There is a level of camaraderie amongst the cohort members that is refreshing. When we first met each other at the launch at Howard University, we clicked. I firmly believe this beautiful atmosphere has everything to do with the sincere and supportive spirit in which the administration of Shared Voices operates.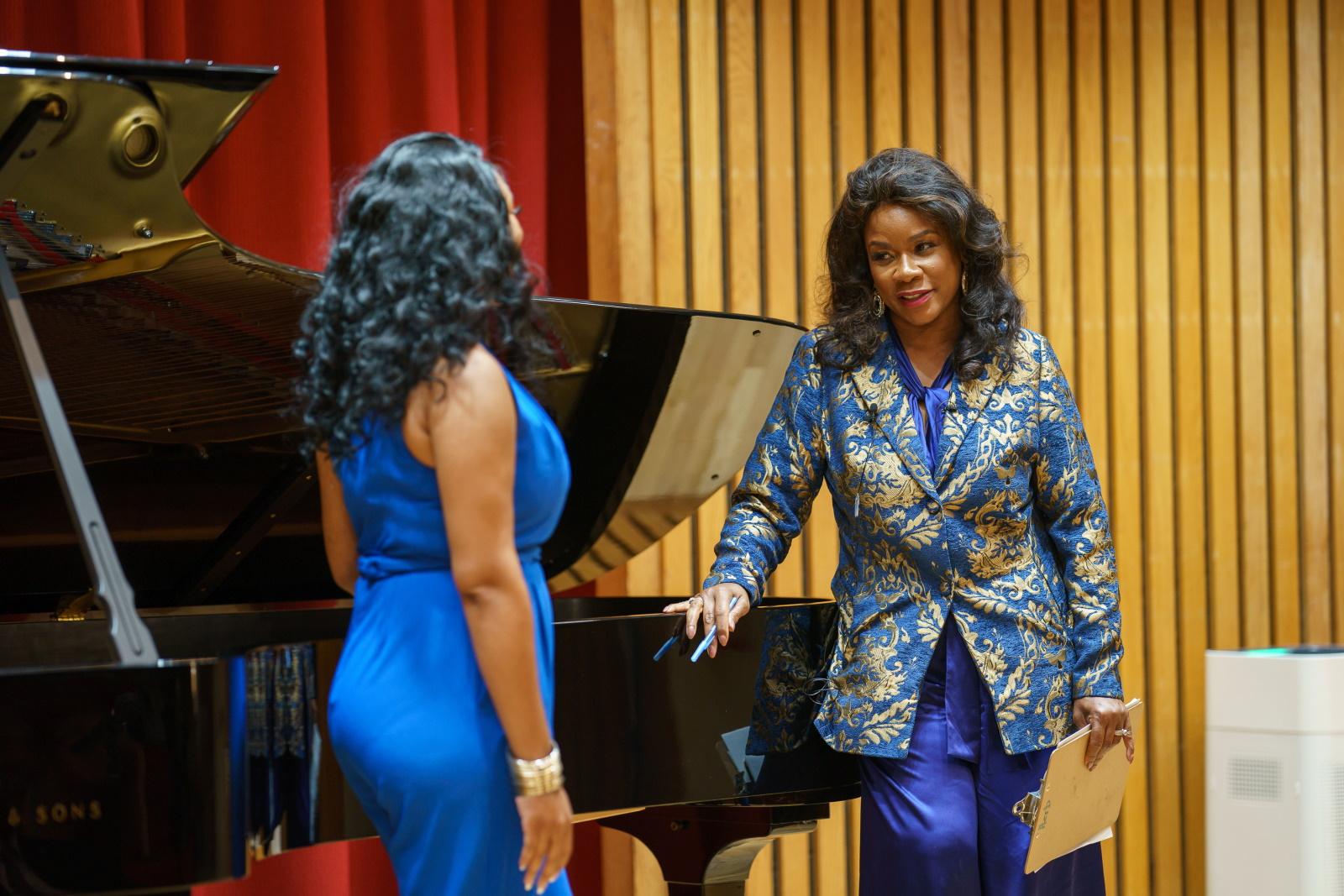 Q: What has it been like to work with Denyce Graves?
Jones: I worked with Denyce Graves in a masterclass at Lawrence in March 2022. Never would I have thought that six months later, I would join her program, and five months after that be featured on national television with her. I'm still in awe of how everything has turned out. I have looked up to this woman since I was 11 years old. I vividly remember standing up in Professor John Holiday's office during my freshman year at Lawrence and saying, "Prof, what if Denyce Graves came to Lawrence?! Y'all would have to pack me out because I'd lose it." All I can say is that I had nothing to do with this series of events. All of this is the evidence of God's hand in my life.
Q: Why do you find the work of Shared Voices to be so fulfilling?
Jones: The connection Denyce Graves is building between HBCUs and music conservatories is vital for the purposes of spreading knowledge and resources. When conservatories are brought up in conversation, they tend to be spoken of as more superior than the music programs at HBCUs—if HBCUs are mentioned at all. Shared Voices derails that problematic mindset by shining a light on the wonderful programs and artists that come out of HBCUs. This bridge between HBCUs and conservatories creates the opportunity to gain immeasurable and priceless knowledge of classical music—more specifically the indelible imprint of Black artists in classical music—through each institution whether it be the extensive libraries at Howard University or ethnomusicologists at Juilliard. All in all, Denyce Graves is breaking the ground with this program, and I believe she has created something that will last for generations to come.