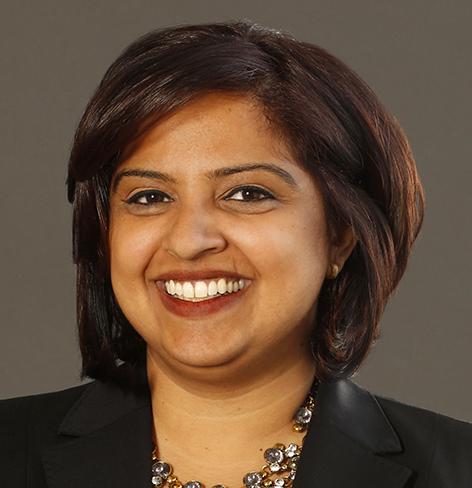 About this series: Lighting the Way With … is a periodic series in which we shine a light on Lawrence University alumni. Today we catch up with Poonam Kumar '04, a corporate partner in the global law firm of DLA Piper.
---
Poonam Kumar '04 came to Lawrence University at the outset of the millennium intent on being a lawyer.
An international student from Jabalpur, Madhya Pradesh, in India, she came from a family of doctors and engineers. But it was corporate law that grabbed her attention early and never let go.
"I enjoyed analytical thinking and critical reasoning and that drew me to the law," Kumar said.
It also drew her to Lawrence. She knew she wanted the path to law school to go through a liberal arts college, and she found what she was looking for at Lawrence. She double-majored in economics and political science and minored in philosophy, all the while feeding an appetite for analytics and reasoning that would serve her well in law school and beyond.
She pointed to professors such as Minoo Adenwalla in Government, Bertrand Goldgar in English, Tom Ryckman in Philosophy, and Karen Carr in Religious Studies in challenging her to think critically and communicate clearly on subjects that spanned the disciplines.
"At Lawrence, I learned about being a critical thinker and a critical reader, being analytical, and being able to write clearly and effectively," she said. "All the things they focus on as freshmen and then over the course of our time at Lawrence. Those skills really helped me to make good impressions at the various internships I had before I got to law school, and then during law school. And then when I started working."
That path from Lawrence led Kumar to the University of Texas School of Law and eventually to DLA Piper, one of the largest global law firms in the world. The firm has offices in 40 countries, including in the Americas, Europe, the Middle East, Africa, and Asia Pacific. Kumar, working out of the firm's Minneapolis office, was named a partner in 2018, less than a decade and a half after graduating from Lawrence.
Her work at DLA Piper focuses mostly on advising large global companies on a variety of corporate transactions.
"Because of the global nature of my work and clients, I work primarily with people outside the U.S.," she said.
Kumar again points to her experiences in and out of the classroom at Lawrence for preparing her to work in a global, intense, and fast-moving environment. The lessons learned as an undergrad, she said, set a base for everything that would follow, allowing her to pivot effectively no matter the subject or location.
"For the fundamental skills of reading critically, being able to express yourself in an effective way, peer communication; all that at Lawrence was very helpful," she said. "And still is helpful. I see other people who struggle with those basic skills and I found that it had helped me to have gone to a good liberal arts school."
Kumar said her time at Lawrence also helped in the decision of her family moving to the Twin Cities. She learned to value the charms of the Midwest while at Lawrence. She spent considerable time in New York after her parents moved there, but she was drawn to the upper Midwest as a place where she and her husband wanted to live, work, and raise their child – a daughter who is now 8.
"I think people downplay how unique Lawrence is, even by its location," Kumar said. "We really bring a different mindset and a different perspective when we go out to the coasts; or to other cities. I think the Lawrence training was spectacular. … I think Lawrence really does do a good job at training us and giving us a good perspective on things."
In addition to her legal work, Kumar also has been active in advocating for diversity and inclusion at her firm and within the larger legal community in the Twin Cities. She serves on the board of directors for Minnesota Women Lawyers, an organization geared toward supporting women lawyers across Minnesota, and chairs an affinity group for diverse partners and counsel at her firm.  
"I have always believed, and happily experienced, that having a diverse set of viewpoints, experiences, and backgrounds always makes for a richer discussion and a richer problem-solving effort," Kumar said. "So, I've always tried to help create that mix of people."