When more than 200 Lawrence University students take the stage of Memorial Chapel on June 3 for the much-anticipated oratorio, the Brahms' Ein deutsches Requiem, it will be part celebration, part catharsis.
Twenty-seven months after the COVID-19 pandemic upended the world, 27 months since teary-eyed students came to the Chapel for a hastily arranged performance of the planned major work of Spring Term 2020—Mendelssohn's Elijah—27 months since the announcement that students were being sent home and all sense of normalcy was gone, the return of a full oratorio to the Chapel stage will be an emotional moment.
The staging of an oratorio featuring a symphonic chorus and full symphony orchestra—one of the largest and most awe-inspiring undertakings on the Conservatory of Music's calendar—is needed even if the pandemic is not yet fully behind us, said Stephen Sieck, associate professor of music and co-director of choral studies in the Lawrence Conservatory.
"Brahms' Requiem setting holds a special place in the repertoire as a type of ecumenical ritual of catharsis," he said.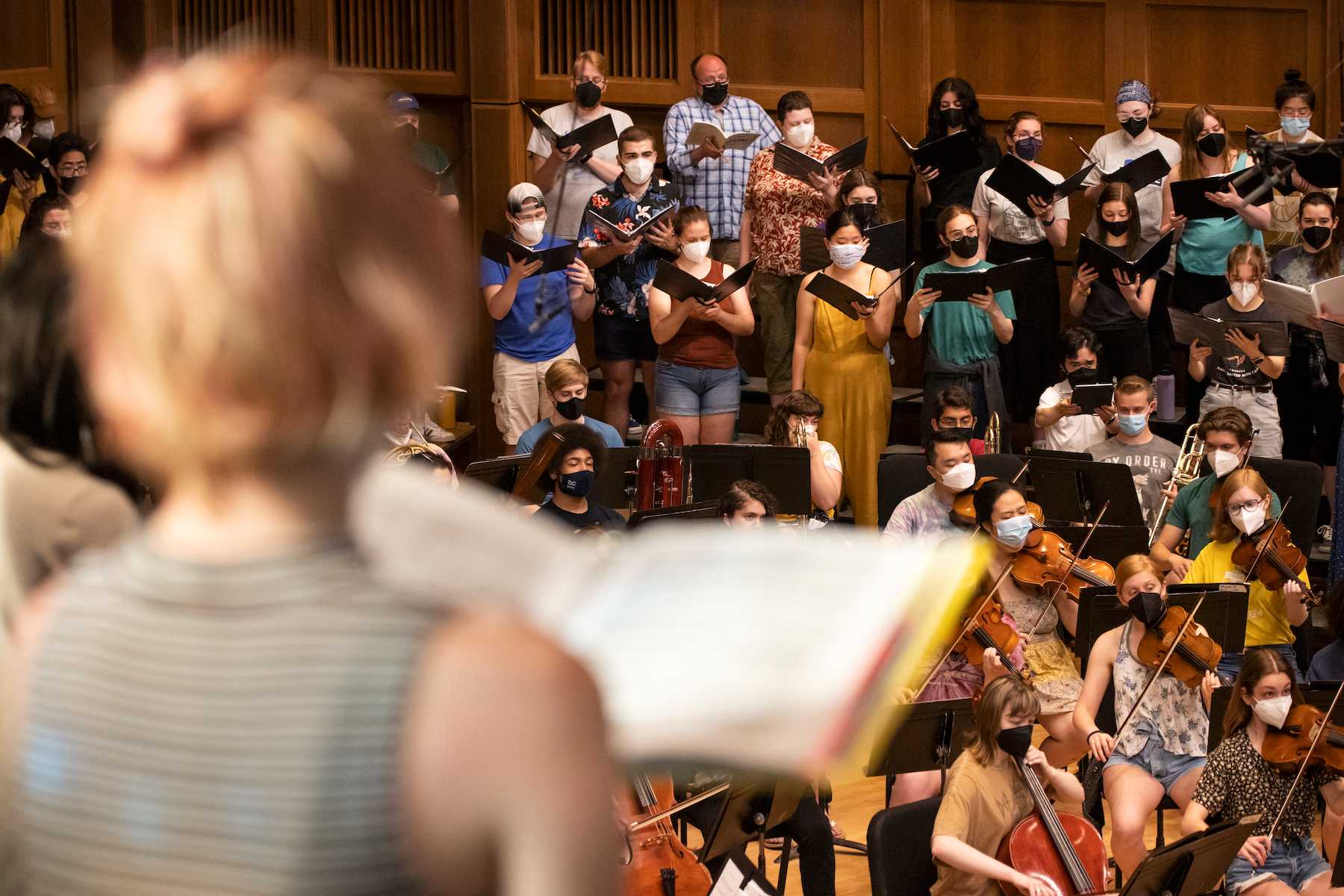 While most requiems are, as the name suggests, Catholic Mass liturgies for the dead, Brahms' work is a "beautifully woven set of scripture passages that comfort the grieving," Sieck said. "When we selected this work, we understood that the Lawrence community—its students, faculty, staff, administration, and community neighbors—had lost a lot in the last two years."
Daniel Boyd, a junior vocal performance student from Houston, Texas, was a first-year student when he gathered for that impromptu performance of Elijah just as campus was shutting down in March 2020. He remembers the emotions of that day—a video of the performance went viral on social media and the Milwaukee Journal Sentinel wrote about how it represented music's ability to heal and comfort and how Lawrence's seniors "took in a lengthy, tear-filled standing ovation."
Watch a live stream of the June 3 performance here
Boyd said he has felt that mix of grief and triumph every time he has stepped on the stage for rehearsals of this year's oratorio. He is among the featured soloists.
"For me, the biggest memory that I have before the pandemic had us all go back home was standing on a riser in the Chapel next to my best friend and just wailing away on Mendelssohn's Elijah, which is what we were going to perform as the masterwork my freshman year," he said.
Knowing what everyone has gone through since that emotional day is going to make the Brahms' Requiem that much sweeter, he said. That it features music designed to bring comfort will add to the emotions of the night.
"There is just something about having all the choirs and the orchestra band together to perform historic music that just absolutely makes me feel so ecstatic," Boyd said. "It's electrifying. What I absolutely love about this Brahms' Requiem is that it is unconventional. It doesn't have text from the Roman Catholic Requiem Mass but rather from the German Lutheran Bible. To me, it is a requiem that can be used to honor lost lives, help with grief coping, or even something as simple as cheering yourself up on a bad day."
Lawrence students can perform with a broad array of large and small ensembles across genres and styles. 
Sieck calls oratorios and similar large music performances "powerful and awe-inspiring experiences." The challenge remains in how to put an oratorio together safely, he said, given the continued prevalence of COVID variants. They were pulled from the Conservatory calendar in both 2020 and 2021.
"Two hundred singers and instrumentalists on stage was simply not safe, given the incredibly transmissive nature of COVID-19," Sieck said of the past two-plus years. "And, even with our exceptionally high vaccination rate on campus, the outbreak this April during our mask-optional phase reminded us that new variants are even more contagious. So, we have stayed vigilantly masked in choir throughout the year, which makes it a little harder to take deep breaths and to understand singers' diction, but it has been essential to keeping the rehearsal space safe. Now that our positive test-rate is back below 1%, we feel optimistic that we can provide an extraordinary musical experience while keeping students safe." 
During the rehearsal process, students have spent time discussing the emotions and challenges of the pandemic, Sieck said. They've met in small groups to talk through grief and hope in the context of this performance.
"We lost normalcy," Sieck said. "We lost the experiences that go with being in college—let me say that Zoom is not the same thing as a college classroom. We lost relationships. And, for many people, we lost dear ones. How do we hold space for this grief and loss? … It is our hope that our performance gives voice to the grief, and, also, comfort and hope to the community."
Senior Zoë Boston, a biochemistry major from Havertown, Pennsylvania, who has spent much of her time at Lawrence making music in the Conservatory, will serve as concert master.
"It's meaningful to me that I am ending my time at Lawrence with another masterwork," she said. "It's an honor to play with not only excellent musicians but my closest friends. The Requiem reflects the highs and lows I've felt in the past two years."
The Brahms Ein deutsches Requiem is set for 8 p.m. June 3 in Memorial Chapel. Admission is free and it is open to the public. Masks are required.