More than 700 alumni, family, and friends made their way back to campus over the weekend as Lawrence held its first in-person Reunion in three years.
It was joyous. It was emotional. And it was much-needed after the COVID-19 pandemic disrupted Reunion plans in both 2020 and 2021. Because the pandemic put a pause on the 50-year celebrations of the Classes of 1970 and 1971, the weekend featured a triple header gathering of the Classes of 1970, 1971, and 1972.
Attendees from all the participating classes—ranging from the 10-year anniversary of the Class of 2012 through the 50-year celebrants—expressed a similar sentiment: It felt good to be back on campus reconnecting with fellow Lawrentians.
"Our lives have all taken us different directions but we just kind of picked it back up," Tom Quill '82 said as he gathered with classmates for their 40th reunion. "I think that's part of the Lawrence experience. I have not seen many of these people in 40 years and we're just picking up conversations like we saw them last week."
Paris Brown Wicker '07 said she was blown away by the enthusiasm and camaraderie of the weekend as she gathered with her 15th year cluster.
"There's something special about what we do here that makes people want to come back," she said.
Here are some news and notes from around Reunion weekend.
A Convocation celebration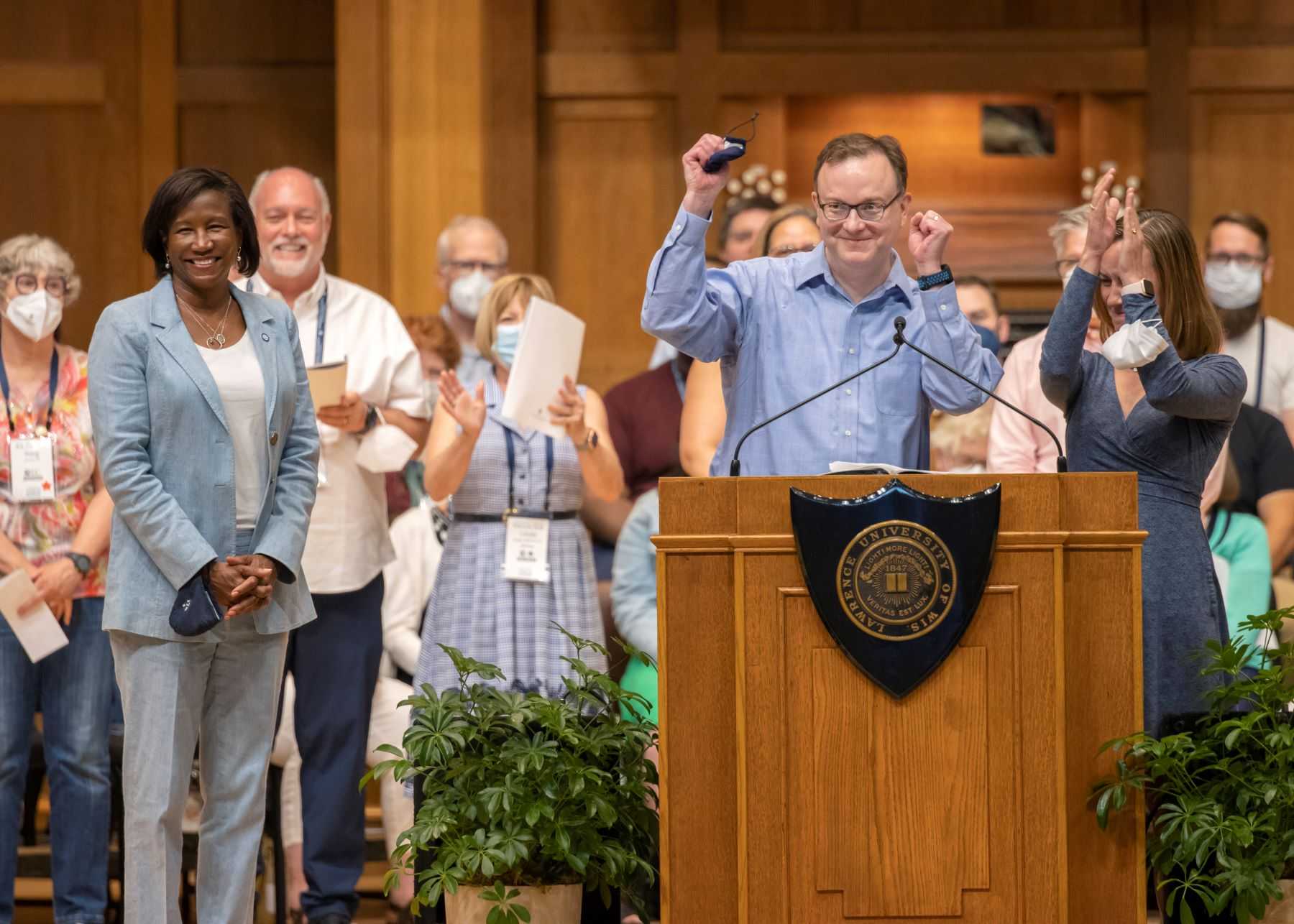 A Convocation Reunion in Memorial Chapel on Saturday morning brought the classes together to celebrate connections and honor this year's Alumni Award winners. It featured a performance from the Alumni Choir, the presentation of class gifts, and a greeting from President Laurie A. Carter.
"It is truly an honor to welcome you home," she said.
Matt Murphy '06, president of the Lawrence University Alumni Association (LUAA), applauded the turnout at Reunion, which included alumni from 38 states and five other countries—Australia, China, Ecuador, the Netherlands, and Spain.
"The past few days have been a reminder that Lawrence is a diverse, intellectual, and supportive community, and we are here at Reunion 2022 to celebrate that community," he said.
Murphy encouraged alumni to use Reunion as a springboard to more engagement with Lawrence. That can happen through involvement with regional alumni clubs, by returning to campus to interact with students and faculty, by hosting student interns, via philanthropy, or by volunteering.
"As Lawrence alumni, we are part of a global community that is now over 21,000 strong," Murphy said. "We are all a part of the Lawrence story, and we all have a Lawrence story to tell. I'm here to encourage you to go out into the world and tell that story. When people ask you where you went to college, don't just tell it; celebrate it."
Class gifts pay it forward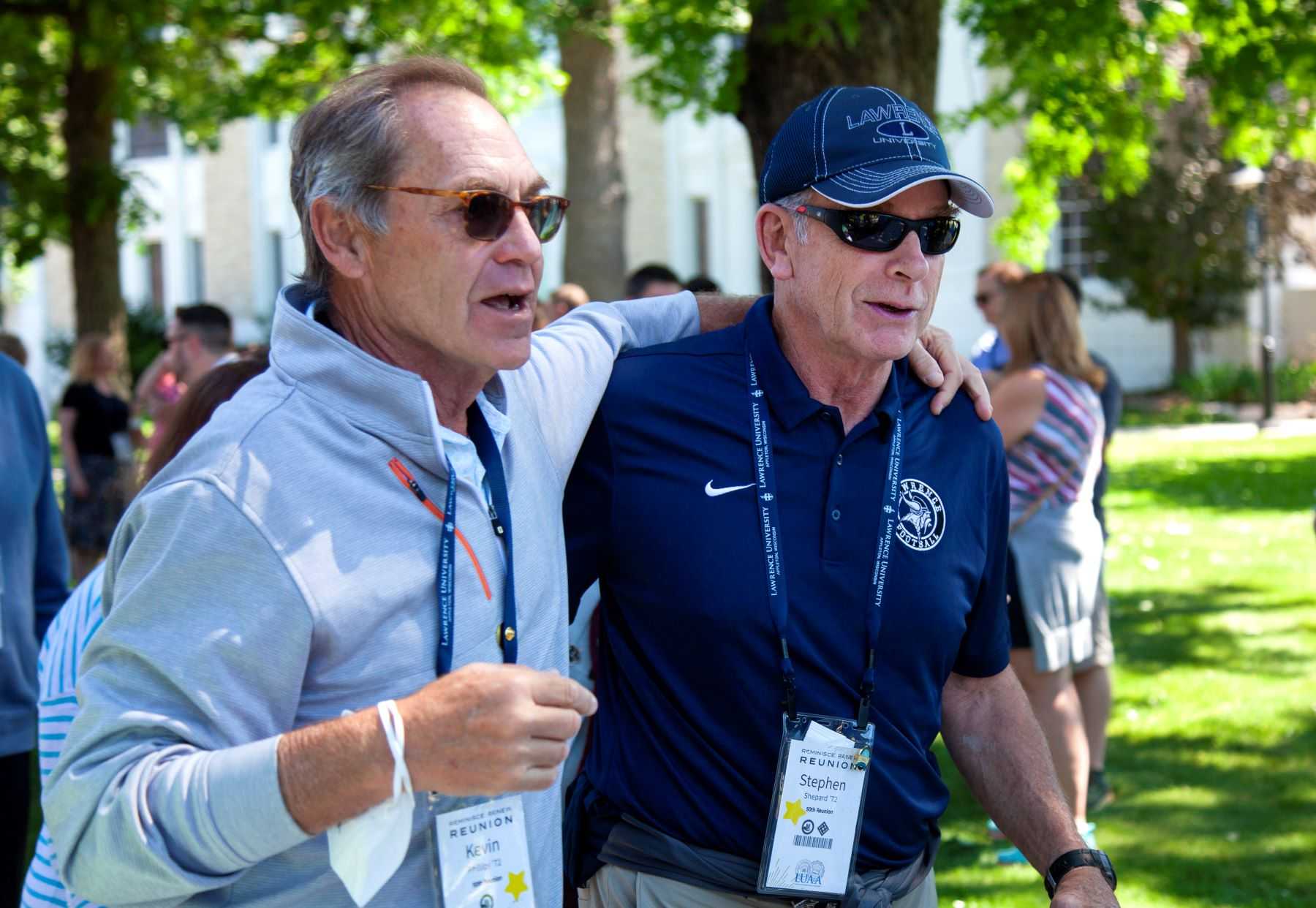 Class gifts provided to Lawrence through Reunion were applauded at Convocation. Led by the three classes celebrating their 50-year anniversaries, current and future pledges totaled $38 million.
Those gifts help pay it forward to future generations of Lawrentians.
"Lawrence thrives because of your leadership and support," Carter said as she thanked the classes for their generosity.
Award recipients express gratitude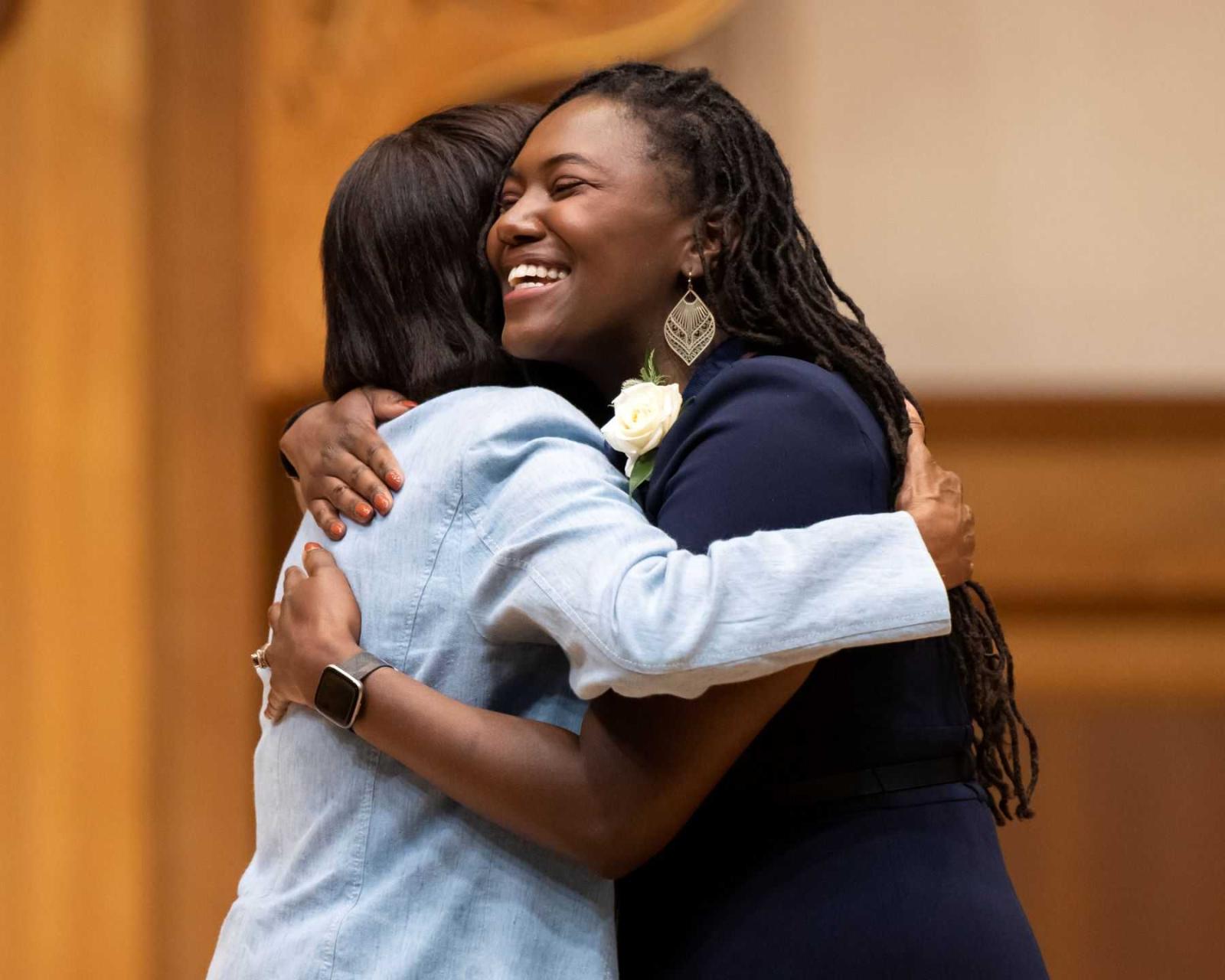 Six alumni—five graduates of Lawrence and one graduate of Milwaukee-Downer College—were honored over the weekend with the 2022 Alumni Awards. Here's what they had to say:
Get to know the 2022 Alumni Award recipients
Scott Alexander '71, recipient of The George B. Walter '36 Service to Society Award: "Lawrence University provided me with the critical thinking skills, among other discernment skills, which have enabled me to contribute what I could to our complex human situation all these years. I am forever grateful to this institution, which taught me reasoned and compassionate engagement with my world."
Paris Brown Wicker '07, recipient of The Marshall B. Hulbert '26 Young Alumni Outstanding Service Award: "I feel deeply honored. I spent a decade of my professional career here. I really feel like I'm only giving back a tenth of what was given to me. I'm able to give back because I had people who believed in me and supported me and mentored me."
Jeffrey A. Fox '72, recipient of The Gertrude Breithaupt Jupp M-D'18 Outstanding Service Award: "My experience at Lawrence has shaped my life after LU in so many ways. Being able to give back as a volunteer has been my way of connecting, engaging, and paying it forward. I am humbled and honored to be recognized for those efforts."
Alice "Boggie" Schroeder Wandt M-D'54, recipient of The Gertrude Breithaupt Jupp M-D'18 Outstanding Service Award: "I am honored. I've been involved so long I've forgotten some of the things I did. But staying connected was always a fun thing to do." Schroeder Wandt took a bow at Saturday's Convocation for being the most senior alum at Reunion. She just turned 90 and is marking her 68th year since graduating from Milwaukee-Downer. "The applause was overwhelming," she said. "It really just floored me. I wasn't expecting that at all."
Kyle Simon '12, recipient of The Nathan M. Pusey Young Alumni Distinguished Achievement Award: "The individualized academic experience I had at LU along with my active involvement in social clubs developed the entrepreneurial skills I have leveraged throughout my career. It is wonderful to be back on campus and connected with the lifelong friends I made at Lawrence."
Eric Simonson '82, recipient of The Lucia Russell Briggs Distinguished Achievement Award: "Receiving this award means a great deal to me. Lawrence has been a part of my life and my family's life for a long time and I suspect it will for years to come, whether it be through alumni events or my very favorite connection to Bjorklunden. Lawrence University has left an enormous imprint on my life and I only hope I can give back in equal terms."
Bringing the "Avenue" to campus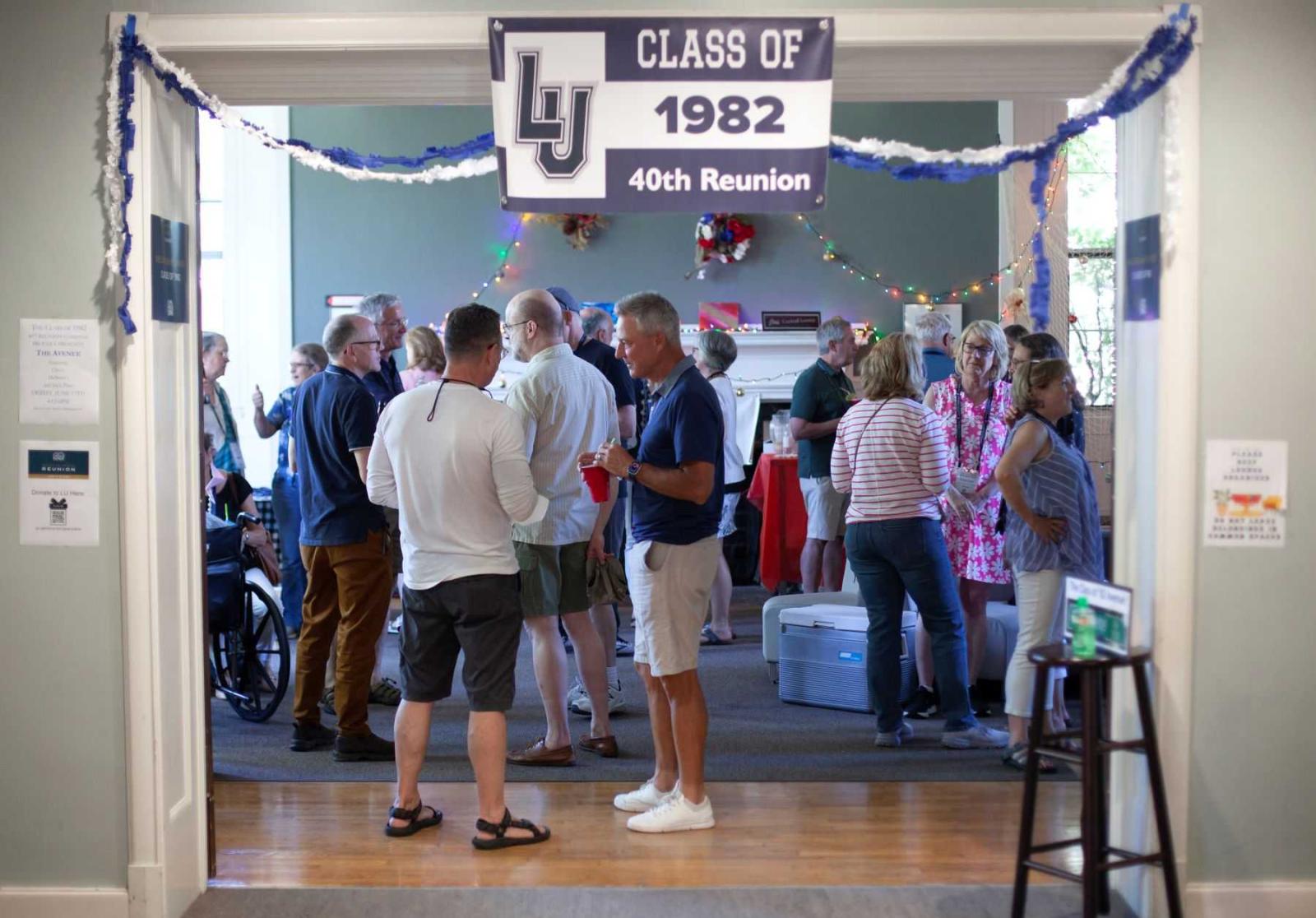 The Class of 1982 got creative for their social time on Friday evening. Rather than visiting some of their favorite College Avenue night spots from their college days, they brought the hangouts to campus. Sort of.
Cleo's, Jim's Place, and DeBruins (now Dr. Jekyll's) were College Avenue favorites back in the day, said Dr. Linda Berger Hellmich '82, one of the co-chairs of the 40th Anniversary Planning Committee. But not everyone wanted to socialize in the bars. So, the committee decorated the lobby of Sage Hall in the spirit of Cleo's (think holiday lights), served Cleo's signature drink (the Dirty Snowball), and added snacks that were the go-to at Jim's Place and DeBruins.
"That was the impetus behind having this space for Reunion," Berger Hellmich said. "The three bars most frequented when we were students—we were going to bring them here."
A time to Celebrate!
The weekend included a tribute to Celebrate!, the former music and arts celebration that was a spring tradition on campus from 1975 to 2003. Organized by the Class of 1997, Celebrate! Redux featured Pat McCurdy performing in the Wriston Amphitheater on Saturday afternoon.
Brian Bartel '97 was part of the committee that helped organize the event. He said the music festival was always one of the signature events on the Lawrence calendar, a chance to invite the Fox Cities community to campus for live music, arts and crafts, and food.
"It was kind of like Octoberfest in the spring for the community, and it was all done and run by Lawrence," he said. "And we raised money for Lawrence organizations."
McCurdy, who has been playing Appleton venues since the 1960s, performed at Celebrate! multiple times over the years. The committee made it a priority to bring him back for this event.
"Celebrate! was just very popular within the community," said Dr. Sarah Johnson Campbell '97, who joined classmates in the amphitheater to enjoy McCurdy's music and celebrate memories of Celebrate!. "We wanted to bring it back."
President Carter's first Reunion
Reunion weekend marked another first for Carter, who began her tenure as Lawrence president last July. She told the gathered alumni that she was heartened to see them return to campus with such enthusiasm.
"Looking out at the hundreds of Lawrence and Milwaukee-Downer alumni here with us today, I can see how brightly you all shine," Carter said. "I also see first-hand the strength of our community, bolstered by generations of alumni—including three classes celebrating their 50th Reunions—coming together to reminisce on their shared experiences and renew their connections to each other and to this university we call home."
From the expertise shared during Alumni College sessions on Friday, to the stories and laughter shared throughout the weekend, to the generous class gifts announced during Convocation, the weekend provided a jolt of energy and a reminder of the passion for this institution.
"Lawrentians and Downerites, your love of and dedication to your alma mater are truly an inspiration," Carter said. "And I hope that Lawrence University today—its excellent academic program, renowned Conservatory of Music, talented students, dedicated faculty, and passionate staff—is an inspiration for you as well. Remember, the Light! More Light! of Lawrence will always be here to guide you and call you home. Thank you for heeding its call."