Faculty and students who were part of the Lawrence University New Music Ensemble (LUNME) during the darkest days of the COVID-19 pandemic have won a national arts award for a recording crafted while they were all working, studying, and living remotely.
The New Music Ensemble, led by Michael Clayville, visiting assistant professor of music in entrepreneurial studies and social engagement, is the recipient of The American Prize in Virtual Performance in the 2022 College/University Division. The LUNME was honored for a music video of Coming Together by Frederic Rzewski, recorded mostly on cell phones while scattered across the country during Spring Term 2020.
The American Prize annually hands out awards of excellence in the performing arts among nonprofit arts organizations and schools across the country.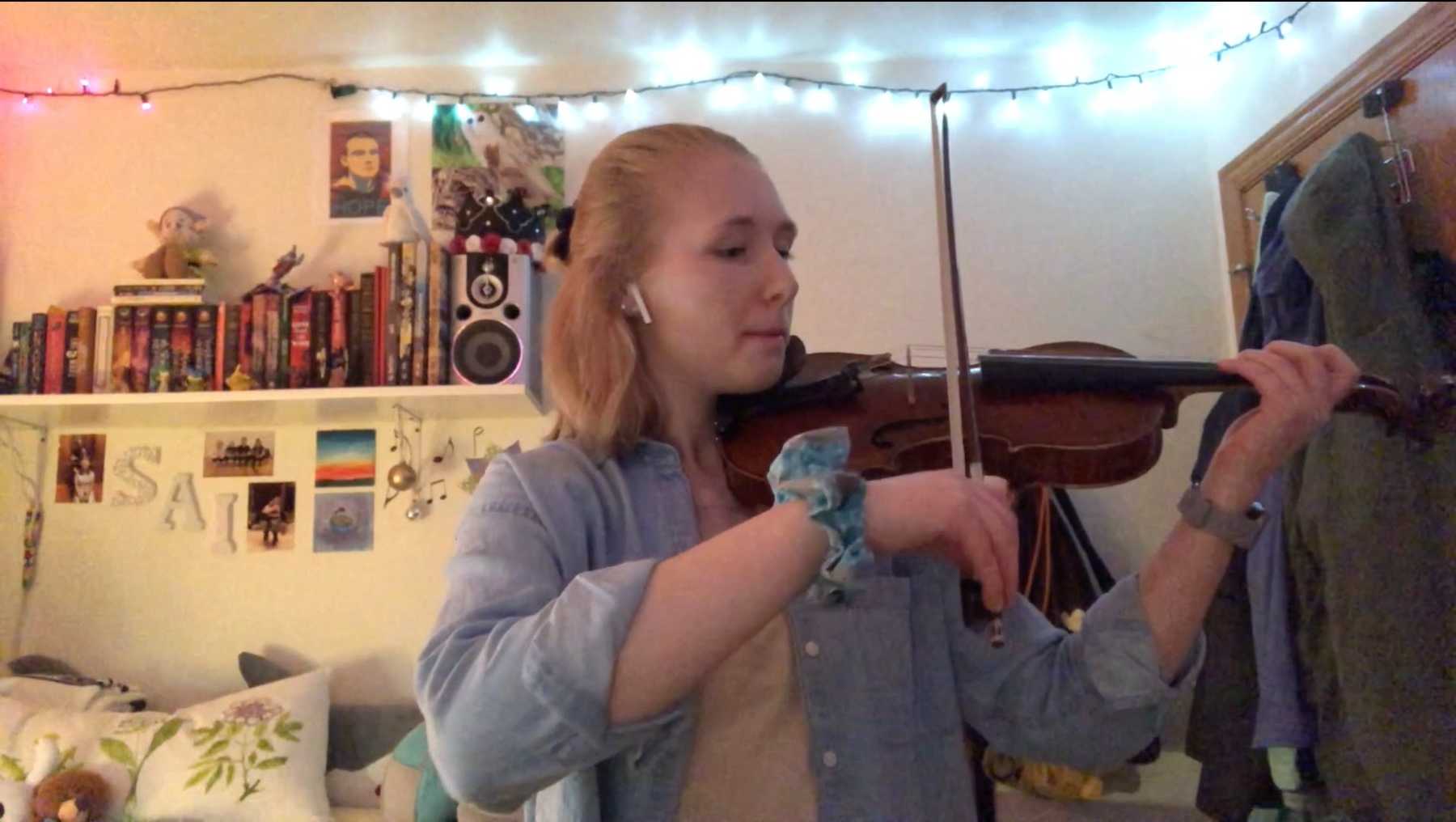 It was in March 2020 that COVID-19 was declared a global pandemic, sending students home as Lawrence and other schools quickly shifted to remote classrooms. In the Conservatory, faculty began experimenting with ways to keep the music alive and the learning robust. Out of that came the video project that is now being honored.
The New Music Ensemble chose Coming Together because of the ways it addresses, musically, themes of isolation that "we had heightened awareness of during the pandemic," Clayville said.
The piece is built around an ever-present bass line and text that is gradually revealed, then repeated. The musicians, Clayville said, are given instructions that ranged from a large degree of freedom, such as "construct 2-3 note melodies," to no freedom whatsoever. By the end of the piece, the musicians are instructed to play the bass line.
"It was quite challenging to pull off," Clayville said. "There were musical hurdles like, how do you interact and improvise with other musicians when you're recording at different times? We tackled this by recording in rounds—one or two people would record; I'd put together a rough mix of their recordings and send it to the next group who would then be able to respond to what they heard. Logistical challenges like finding a quiet space in which to record with no sibling or road noise. And technical issues—cell phones don't create the best audio fidelity."
Besides Clayville, the performers included faculty members Estelí Gomez (voice), Mark Urness (bass), Erin Lesser (flute), and Michael Mizrahi (piano). The students, many of whom have since graduated, included Becky Swanson '19, saxophone; Nick Muellner '20, saxophone; Nolan Ehlers '20, percussion; Eve Werger '19, piano/melodica; Gabriel Hartmark '21, viola; Julia Johnson '19, cello; Zoe Markle '20, bass; and current seniors Nate Scott, bassoon; and Mindara Krueger-Olsen, violin.
"The audio recording was created by the students and faculty recording the piece, section by section, with cell phones from their homes," Clayville said. "They played along to a recording made by Mark and Estelí. I took those recordings and edited and mixed them into the audio you hear in the video."
The video was created by Dave Razor, a local artist.
The text comes from Sam Melville, who wrote it while incarcerated at Attica. Rzewski, the composer of Coming Together, knew that Melville died a short time after its writing and understood the ironies of the text, Clayville said.
"It was incredibly gratifying to see this project come to fruition," Clayville said. "Despite the numerous challenges that the pandemic and quarantining imposed, it was heartening to have these musicians dedicate their time and energy to this performance. It felt like we were still a Lawrence community even though we were recording from across the country."
Brian Pertl, dean of the Conservatory, said winning The American Prize for this project is a testament to the innovation and student-focused efforts that played out at Lawrence during the early days of the pandemic.
"When you listen to the phenomenal quality of the recording and the stellar musicianship displayed across the entire ensemble, it is difficult to believe that the 'ensemble' was distributed across the country and around the globe recording their parts individually in bedrooms and living rooms during the first months of the pandemic," he said. "This illustrates the immense power of music to transcend time and space, and the commitment of the faculty, staff, and students to think beyond limitations to collaboratively transcend the most daunting challenges."