On a crisp, clear October afternoon, with fall foliage painting a backdrop of blended oranges, yellows, and purples, music can be heard drifting across the Lawrence University campus.
Patty Darling is leading the Jazz Ensemble's horn players through an outdoor rehearsal on the lawn east of the Music-Drama Center. Nearby, on the steps outside Shattuck Hall, percussion student David Pickar '23 is quietly strumming an upright bass, working through the particulars of a methods class. A block to the north, Loren Dempster and two of his chamber music students are going through chord progressions and other lessons under the open skies in City Park.
Inside the Music-Drama Center, meanwhile, in a space reconfigured for social distancing and with musicians masked up, you can hear Andrew Mast as he guides the Wind Ensemble through its repertoire, with in-person students and those on Zoom connected in real time.
Elsewhere in the center or in the adjoining Shattuck Hall or on the stage of Memorial Chapel, on any given day this fall, you might find jazz, choir, band, and orchestra ensembles in full rehearsal mode, cameras and large video screens providing a communal music experience for both in-person students and those participating remotely. You might find opera instruction in full flight. You might find a voice student in a studio space, connected virtually with professors John Holiday or Estelí Gomez for a one-on-one lesson. You might find a music education class in conversation virtually with a Brazilian samba drummer in California or a mariachi player in Chicago as they collaborate on lessons to be shared with Appleton Area School District students.
Alumnae, students collaborate on masks for musicians. Read more here.
Yes, the COVID-19 pandemic has presented many challenges during this unusual and often awkward time, but the music in the Lawrence Conservatory of Music, thanks to a full-on commitment to technology, innovation, and flexibility, is very much alive. Conservatory faculty have found creative ways to safely educate and motivate student musicians, on campus or scattered around the world.
"While creating music distantly is not the same as playing together in person, Lawrence has worked very hard to find ways for us to create music with one another," said viola player Courtney Wilmington '21, a neuroscience and music education double major who is studying remotely from her home in Vancouver, Washington.
It's been an evolving process. Tapping into lessons learned when students were sent home for distance learning during Spring Term, the Conservatory set out over the summer to re-imagine its music offerings during a Fall Term that has roughly 25% of Lawrence students studying from afar. Particular focus was put on the ensembles, a huge part of the Conservatory's music experience and one that is difficult to replicate when not everyone is in the same room.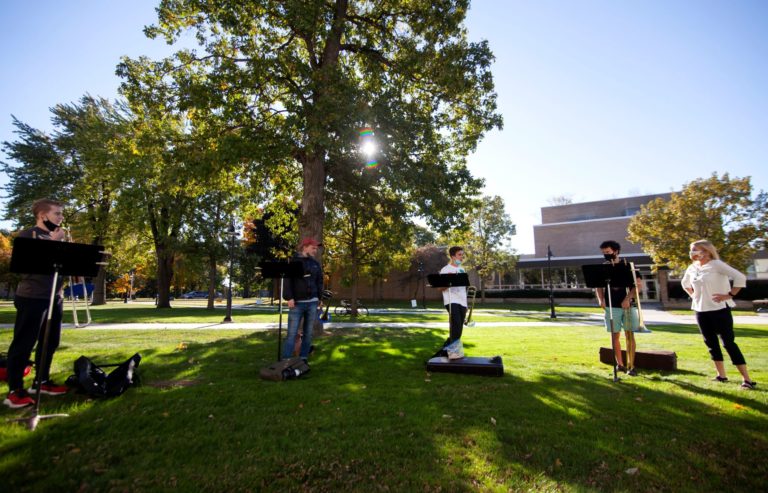 "There was a real worry coming into this about what would happen with ensembles," said Brian Pertl, dean of the Conservatory. "If the student stays home, what sort of ensemble experience will they have? We said, 'Why can't we use our technology to bring our distance students into our actual rehearsals so they can participate and feel like they are a part of this experience instead of sitting alone in their room recording a cello track? And how can we create an actual community of music-making no matter where the students are?'"
More than anything, that sense of community was at the forefront of Fall Term planning, faculty members said. It's key not only to maintaining the Conservatory's high-level music education but also to supporting the well-being of students—music majors or otherwise—who live with a deep desire to make music together.
"While the way we are creating music is different and sometimes awkward right now, it still gives us the chance to share this experience, work toward common goals, and be together," Darling said.
Charting a new course
Ensemble directors—among them, Matthew Arau, Mark Dupere, and Mast with orchestras and bands, Stephen Sieck and Phillip Swan with choirs, and Jose Encarnación and Darling with jazz—spent much of their summer focused on how they could make the ensemble experience both robust and safe, exploring everything from air filtration systems to proper masking to creative use of shared spaces.
Audio recording engineer Brent Hauer, video recording assistant Alvina Tan, and ITS staff helped set up ensemble spaces that feature one camera focused on the director and one that encompasses the full room. Virtual students can see and hear the in-person musicians and the director's guidance while the in-person students and director can interact with students who are virtual on video screens.
The virtual students can play along, although they need to have their audio muted because Zoom technology can't quite sync the sounds in real time. But the instruction and the unity of playing together remains. Eventually, the students who are virtual will record their parts to be added into final recording projects via the handiwork of Hauer and Tan.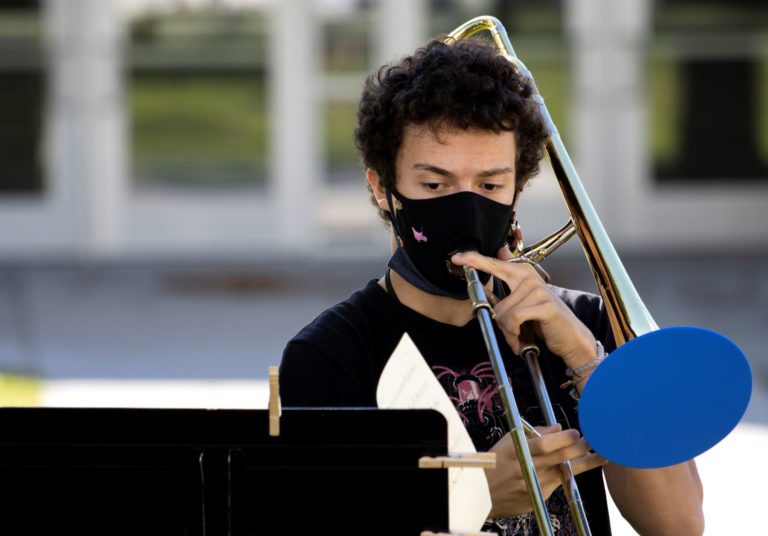 "We were looking to come up with a really creative way to keep students engaged," Arau said. "One thing that became really important was to find a way to have the unity and spirit of togetherness that happens in an ensemble, even though we're apart. I kind of had this theme in my mind—'Lawrence, Together!' My biggest concern was there would be two independent streams. There would be the online students and the in-person students and they would feel so separate from each other, and possibly doing totally different things. So, it was important to find a way that the students who are online still feel connected to Lawrence and particularly to the ensembles."
Mission accomplished, and not just in the ensemble rehearsals, Wilmington said.
"I think the most successful way we have that connection is through the breakout room feature on Zoom," she said. "When there are only two or three other students in a breakout room, you are able to unmute and perform for each other, to get real-time feedback. This has been really helpful in my woodwinds technique class, where we can go into breakout rooms and play scales together or get feedback on our playing from peers."
Seeking engagement
Every area of the Conservatory has made online engagement a focal point during the pandemic. Some of that involves the work with ensembles. But there's also peer-to-peer collaborations, student-faculty interactions, and virtual recording projects. Other initiatives encompass community outreach, whether with Appleton secondary school students or with area nonprofits.
"The pandemic has been unusually hard on choirs—big gatherings of people who all share the same air," Sieck said. "But we're doing some innovative things."
He pointed to mixing modalities so that eight or nine singers are live while the rest join online, then using software to combine individual recordings into a full choir. He has students exchanging performance videos with music students across the Appleton Area School District. Cantala, a women's choir, is working virtually on a 19th Amendment project with other women's choirs, and another choir, the Hybrid Ensemble, is creating an American songbook album for hospice patients and retirement homes in the Fox Valley.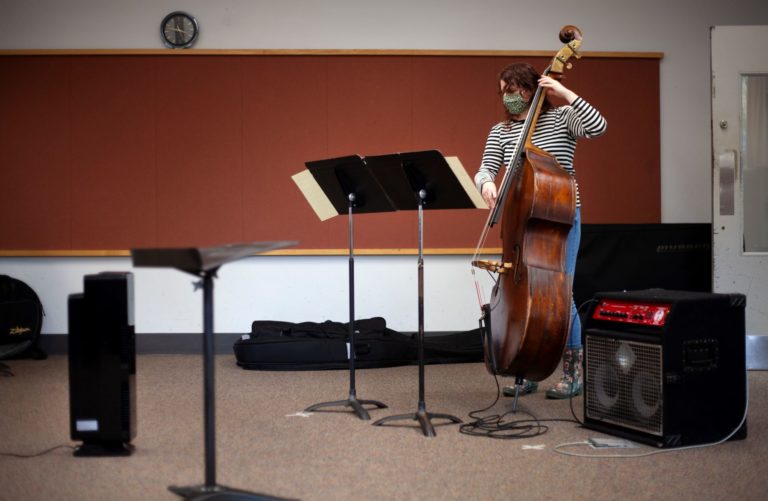 "This is not the way we would have imagined a celebrated conservatory choral program working a year ago, but our students are making it work," Sieck said. "Lawrence students need to sing. They need a place to let their voice soar or dissolve into an impossibly quiet chord. They need the connection, vulnerability, challenge, and electricity of music-making. And not just the approximately 100 students who study voice as part of their major in the Conservatory, but also biologists, computer scientists, and historians. Choir becomes a home away from home for so many Lawrentians. 
"No, we can't sing Beethoven's 9th Symphony with 200 singers and 100 instrumentalists sharing the stage right now, but we can always sing."
Cantala's focus on the 100th anniversary of the 19th Amendment mixes music collaborations with contextual lessons, Swan said. 
"We're having lively discussions about what it means to have the right to vote, the importance of equity, and the opportunity and responsibility of voting," he said. "We're watching the Ken Burns documentary, The Vote, providing us with a better contextual understanding of voting rights and privileges for women. Our repertoire focuses on the theme, 'We Rise by Lifting Others.' Texts include writings by Susan B. Anthony, words of empowerment by a Chicago-based female ensemble, poetry by Georgia Douglas, and an encouraging closer, Still I Rise, by African-American composer and conductor Rosephanye Powell."
Cantala is partnering with Appleton East High School Chamber Singers and Belmont University Women's Choir on the project.
The Jazz Band, meanwhile, is working remotely on a set of recordings, and the Jazz Ensemble is meeting with groups of four to five students at a time—the horns group rehearsing outside whenever possible—with plans for joint recordings by the end of the term.
"Playing music together, however we do it, is helping us stay connected during these incredibly difficult times," Darling said. "That is of utmost importance."
Outreach close to home
Music for All, an ongoing Conservatory initiative that brings live music into the community, is continuing virtually during the pandemic. It's part of wider efforts to keep music outreach, a key piece of the mission of the Conservatory, active during the pandemic, even if it has to be via technology. That's something that Wilmington said she and other students are excited about.
"We will be able to submit video recordings for performances all around the Appleton community, such as at Riverview Gardens and Harbor House," she said. "We will attend the events live through Zoom to introduce our recordings. … It allows for the feeling of community and sharing to be maintained despite the distance."
Swan, meanwhile, said his Hybrid Ensemble, which explores a variety of styles and genres, is doing outreach with area retirement communities as it works to create a special collection of music.
"We will be rehearsing repertoire during the next two terms, based on our research outcomes," he said. "Our plan is to interview residents, develop relationships, and compile a recording at the end of Winter Term that reflects a diverse selection of repertoire, suggested by these elderly partners. We're hoping this final recording will provide entertainment, joy, and encouragement to our elderly population."
Virtual concerts also are in play this term. And energies that otherwise would have gone into the Conservatory's annual spring Presto! music tour are now being directed toward music outreach closer to home, Pertl said.
Through it all—the virtual concerts, the ensemble collaborations, the creative use of music spaces, the community projects—the thread of innovation and adaptation blends with the need for engagement and growth. Different, yes. But the music and the mission live on despite the difficulties of the pandemic.
"I'm excited that we're actually looking at technology and its possibilities and not just focusing on what we can't do," Pertl said. "Instead, we're saying, 'What can we do?' I think that's a very Lawrencey thing. We're trying to teach our students to be creative and innovative and be problem-solvers. It's OK, we know this pandemic is here. What are we going to do to not only make the best of it but maybe do something no one else has ever done before?"