Joanne Metcalf, a professor of music composition in the Lawrence Conservatory, saw her latest work get major attention in Germany in late 2021.
Two of Metcalf's compositions are on Singer Pur's 2021 release, Among Whirlwinds, an album that landed on the Best Albums of the Year list at BR-Klassik, a Munich-based public radio station.

Featuring the works of women composers from all over the world, the release earned BR-Klassik's Album of the Week honors shortly after its late October release, and it was broadcast on BBC Radio 3's Record Review. The album is named for one of Metcalf's compositions, Among Dark Whirlwinds, and features a second Metcalf piece, Gold and Thorns, Fire and Ice.
It's the latest in a nearly three-decade collaboration between Metcalf, a member of the Lawrence Conservatory faculty since 2001, and Singer Pur, a leading German vocal ensemble consisting of a soprano, three tenors, and two basses. They first commissioned a composition from Metcalf in 1994.
"Since then, I have composed five more pieces of music for the group, and they have performed my compositions hundreds of times across the globe," she said.
Among Whirlwinds is her fourth album release with Singer Pur.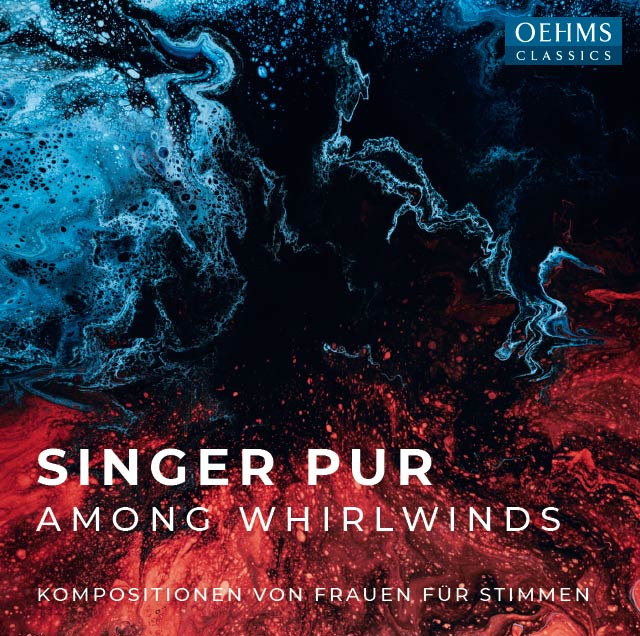 Metcalf said she's keeping good company on the album with the other talented composers. She comments in the album's liner notes that she hopes such projects raise the profile of women composers around the world.
"The day will come when the music of female composers finds equitable representation in programming," she said. "And on that day, dedicated concerts of women's music will no longer be necessary; there will simply be concerts. We'll no longer refer to women composers as such; there will simply be composers. In the meantime, it is recordings such as this that fulfill the crucial need for equity and representation."
The two Metcalf compositions on the album got their world premieres in 2019, when she was the composer-in-residence at a summer festival hosted by Singer Pur.
Find information on the Lawrence Conservatory of Music here.
The group has won an ECHO Klassik three times—it's the German equivalent of a Grammy and considered the most prestigious classical music award in Europe. They paid a visit to Lawrence in 2015, delivering a concert and working with Conservatory students. The relationship, Metcalf said, continues to be among the most fulfilling of her professional career.
"Looking back from the vantage point of 28 years, I could not have foreseen the extraordinary musical adventure Singer Pur and I have taken together, filled with new music, beautiful performances, and friendship," she said. "Singer Pur's performances of my music have been among the most inspired, beautiful performances of my life, and the compositions I have written for them are perfect expressions of what I hope to create as a composer."
Metcalf said she first came to know the music of Singer Pur in 1994. They crossed paths when she was a guest composer at the renowned Hilliard Ensemble's summer music school.
"Their voices radiated warmth, beauty, and flawless artistry; their sense of ensemble was perfect," she said.
She composed Kyria christifera in 1995, then returned three years later with Il nome del bel fior for Singer Pur and the Hilliard Ensemble.
"That was the composition that cemented our musical collaboration and our friendship, and to this day it remains one of those closest to my heart," Metcalf said.
In the liner notes for Among Whirlwinds, Singer Pur sings the praises of their long-time collaborator: "The works she has written for us are amongst those we perform most frequently in our contemporary repertoire."